Visit date: March 19, 20, 21, 2019
This is a report of Rif Island, which was the most impressive place in this trip. It is a continuation from the last time.
We moved from the main island of New Caledonia to the Loi Yote Islands. From Ubea Island, where we stayed on the first day, we took a small plane to Rif Island. Rif Island is the biggest island in the Loi Yote Islands, but what surprised me when I arrived was that I didn't see any tourists at all. We were also surprised that we were the only ones who traveled directly from Uvea Island. Is it such a minor island?
We stayed for two nights because it is big. It allowed us to visit a lot of places, although our only regret was the weather was not great.
There's so much to see!
Rif Island also had this map as well as Uvea Island. I got it at the hotel where I stayed.
The surface is a map, and you can see that it is indeed bigger than the island of Ubea. Still, the road is simple, though.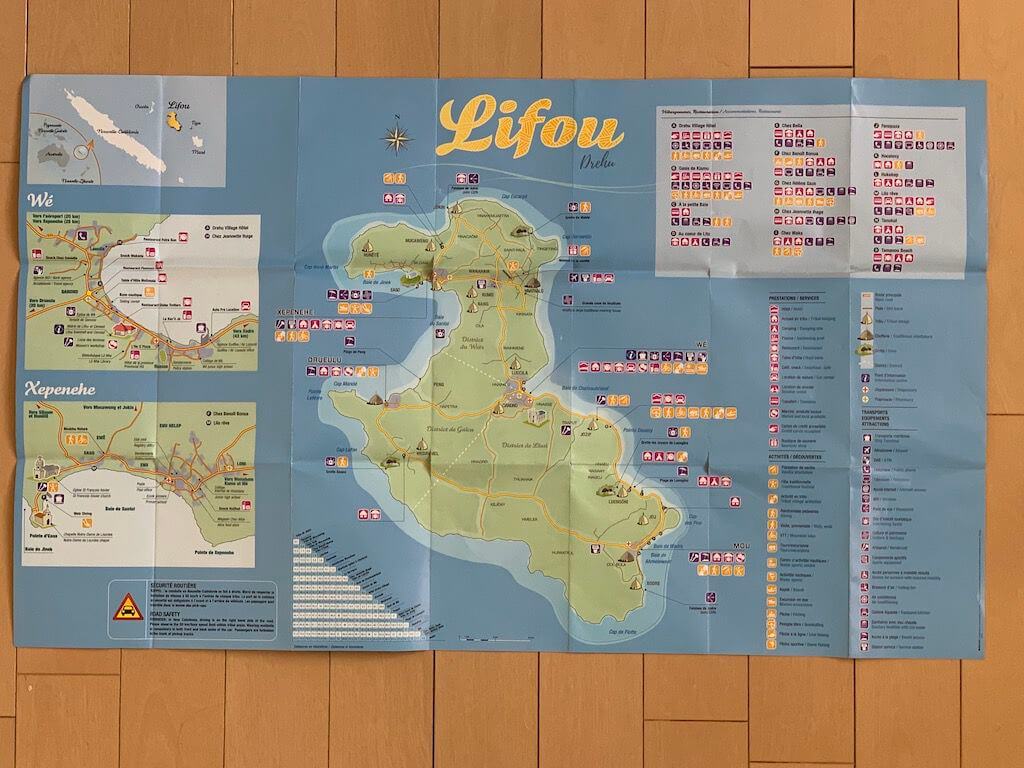 The back side was full of information about hotels, restaurants, sightseeing spots and tours. This is also the same as the map of Uvea Island. It is the item which I want to get by all means.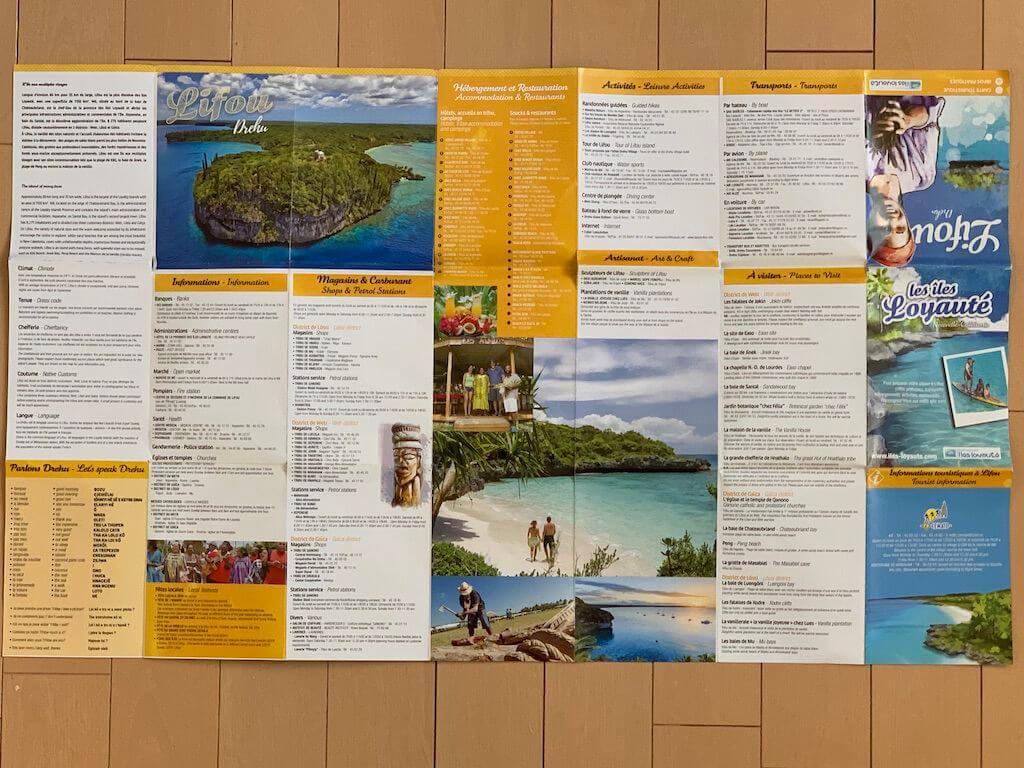 The white beach is impossibly white and beautiful, « La Plage de Luengoni » (Luengoni Beach)
When you think of New Caledonia, the southern island of New Caledonia, you can't help but think of the sparkling white beaches and emerald green waters. Longoni Beach is one of the most beautiful beaches in New Caledonia. It is located in the southeast of the island.
It takes about 15 minutes to get there from Weh town to the south. In addition, the hotel where we stayed is just in the middle of the town of Longoni and Weh, so I remember that it was less than 10 minutes away from the hotel. It is close.
You can just head south on the main road that runs along the east side of the island, but I don't know how to get to the beach. Anyway, I had no idea where to start because there were many private houses. There are no signs saying « This is Luengoni Beach (La Plage de Luengoni) » at all. In general, there is no signboard that says « This is the tourist spot » in this island.
But after driving for a while, I found a point to enter. I found a point to enter. A town called « Hukekep »? village? It is a town or a village called « Hukekep », and this signboard is a landmark.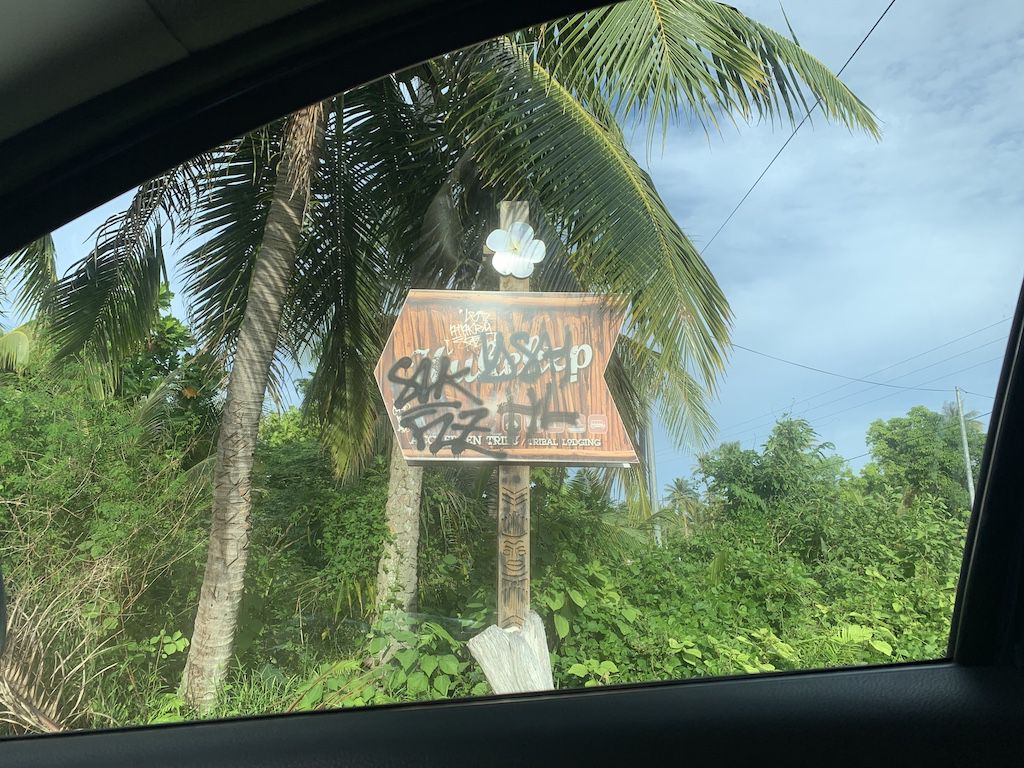 You can get close to the beach from here. You can drive pretty close to the beach. We visited Longoni Beach around 16:00 on the day we arrived and again around 16:00 on the next day. Keep your valuables in-house, take only the bare necessities and get to the beach!
First of all, to my surprise, there were zero people there on the first day! It was a private party! Maybe it was because the time of day was late, but even so, what a luxury. There were a lot of clouds, but the temperature was close to 30 degrees Celsius even in the evening, and you can enter the sea enough.
The main attraction of Longoni Beach is the quality of the sand.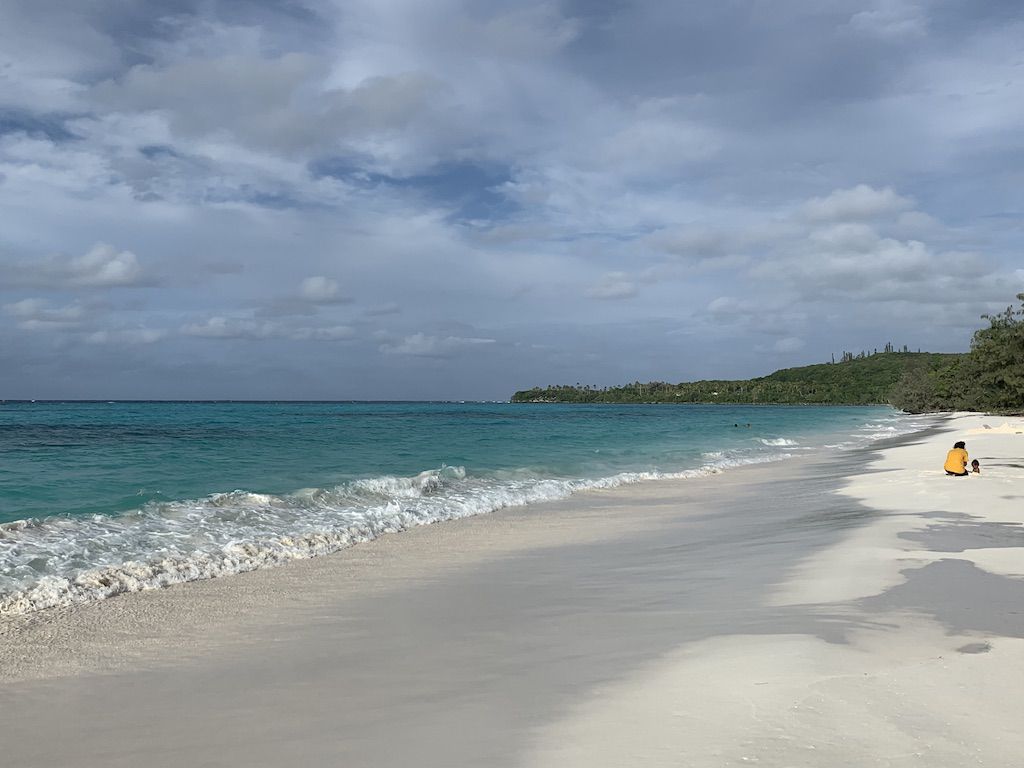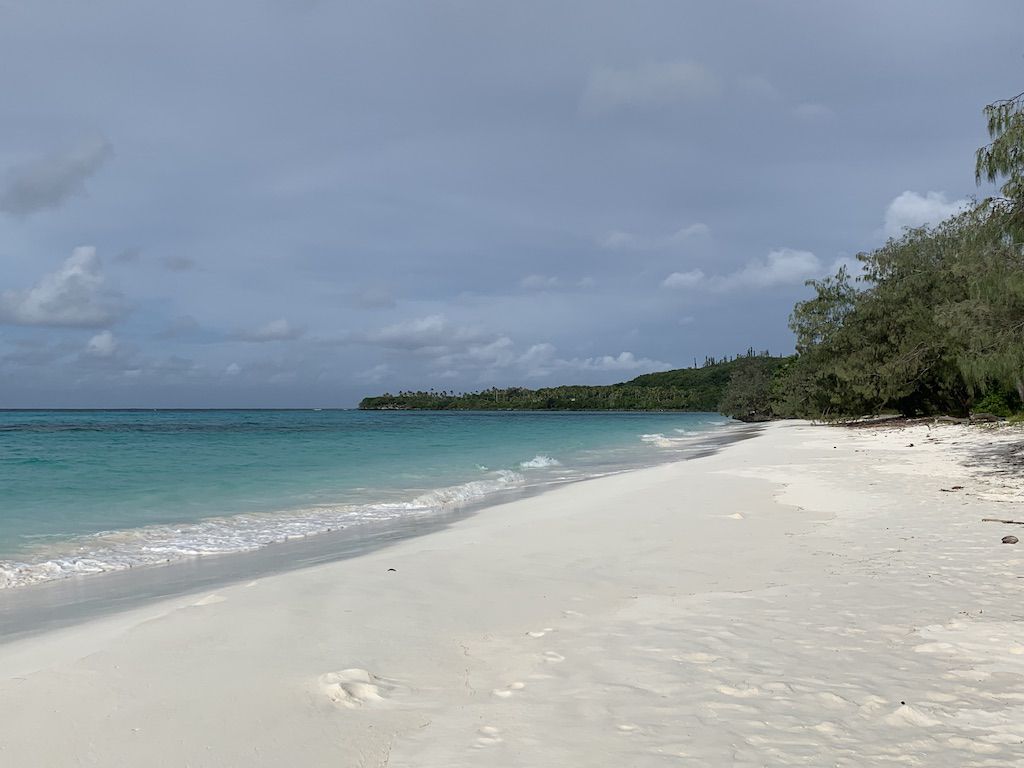 It's true that I enjoyed emerald green sea in Ubea Island, but the sand of Rif Island and Longoni Beach is like another world. Of course, the color of the sand was white, but it also felt like flour or vanilla ice cream because it was too fine. When you walk on the sand, you can feel its unique stickiness.
It was so impressive that we decided to visit again the next day. On the first day, I just arrived at the island and didn't have a bathing suit on, so I just walked around the beach, but on this day, I wore a bathing suit so that I could swim at any time, and this time I could swim in the sea. Because it was evening, or because of the weather, I think the waves were a little strong.
This beach is facing east, so it is better to take a picture in the afternoon, but if you want to swim, it is better to swim in the morning or the first afternoon.
La Plage de Peng (Peng Beach), the island's best harvest, is a beautiful, empty beach through a deep forest.
Peng Beach is the best beach in Koh Luhu, in our opinion.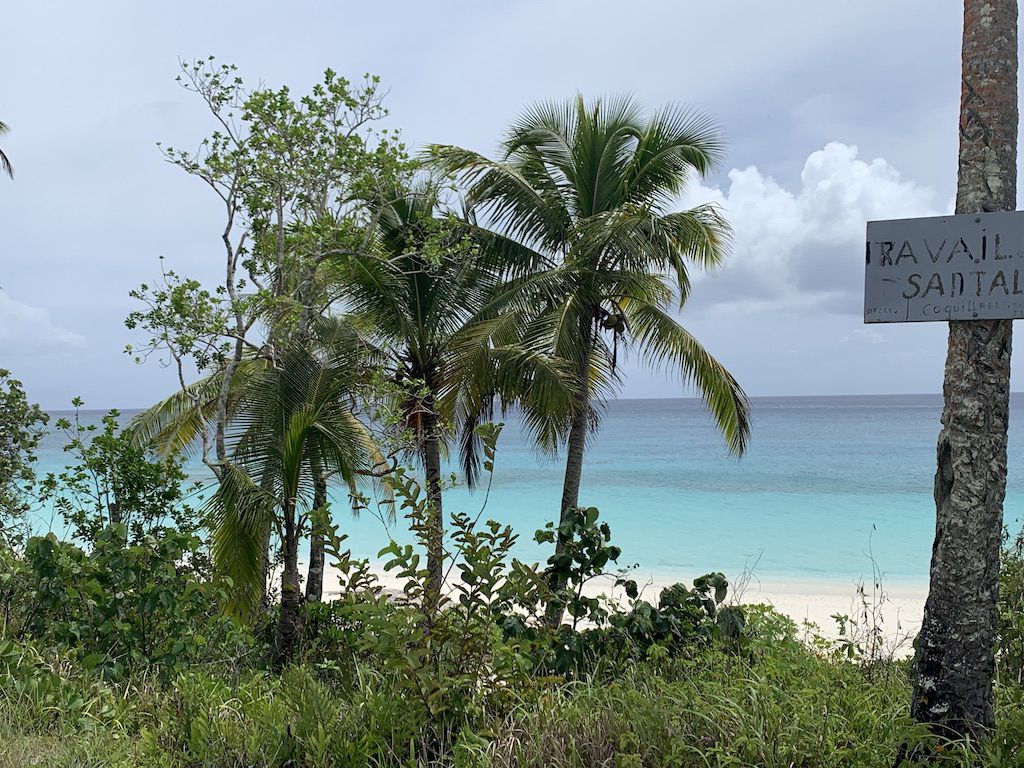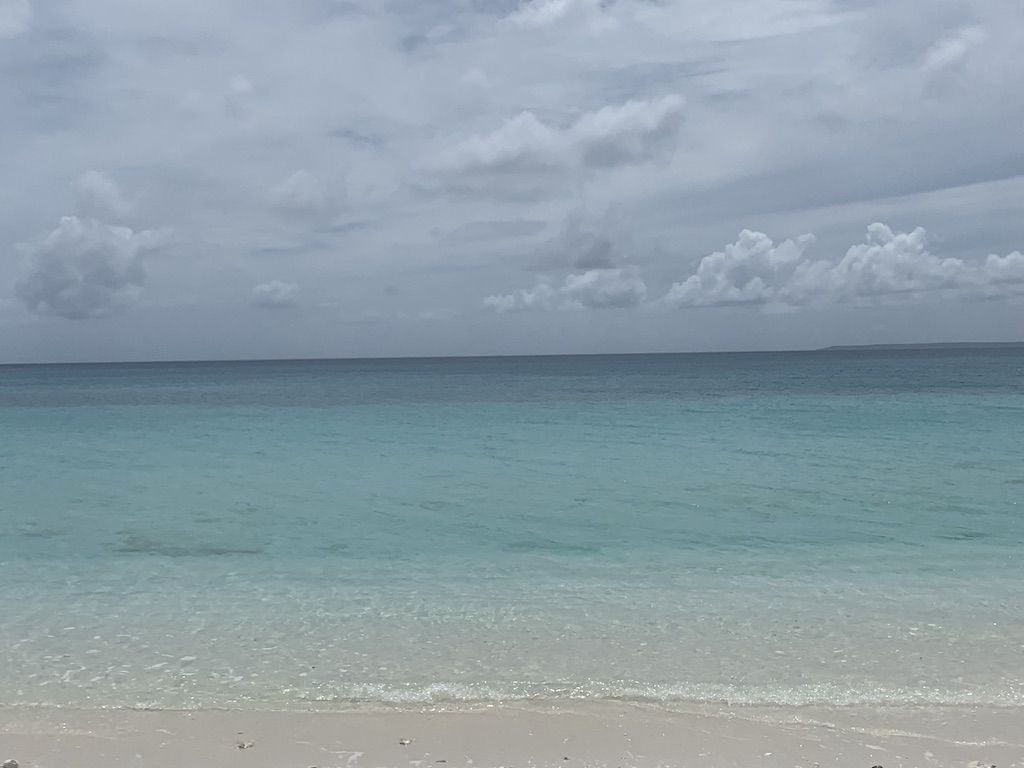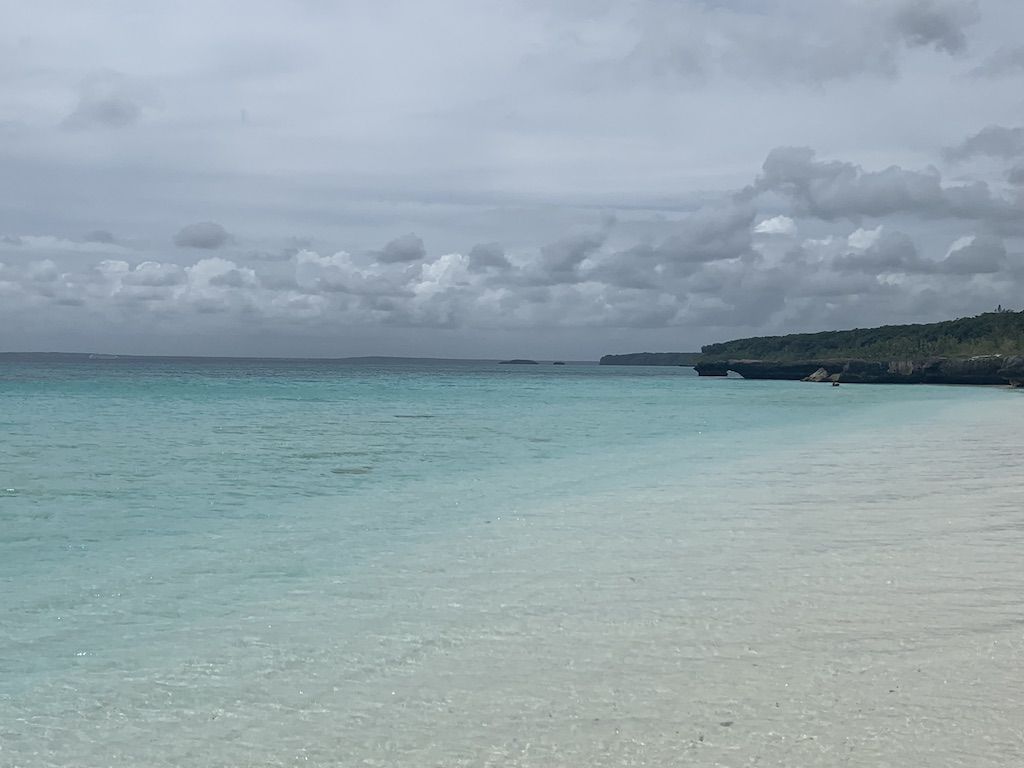 As for the beauty of the beach, especially the fine sand, it is a little inferior to Longoni, but here Peng Beach is also very beautiful. And it is quiet and calm. Even if I went there in the daytime, there were almost no people. Because it is quite difficult to access to this place. You have to take a side road from the main road connecting the town of Weh and the town of Dulur, which I'll introduce later, and then you have to go through the forest to get there.
First of all, the road to Peng Bay from the main road is hard to find. There are many similar roads and there is no signboard saying « Peng Beach is this way ». You have to push forward with a hunch.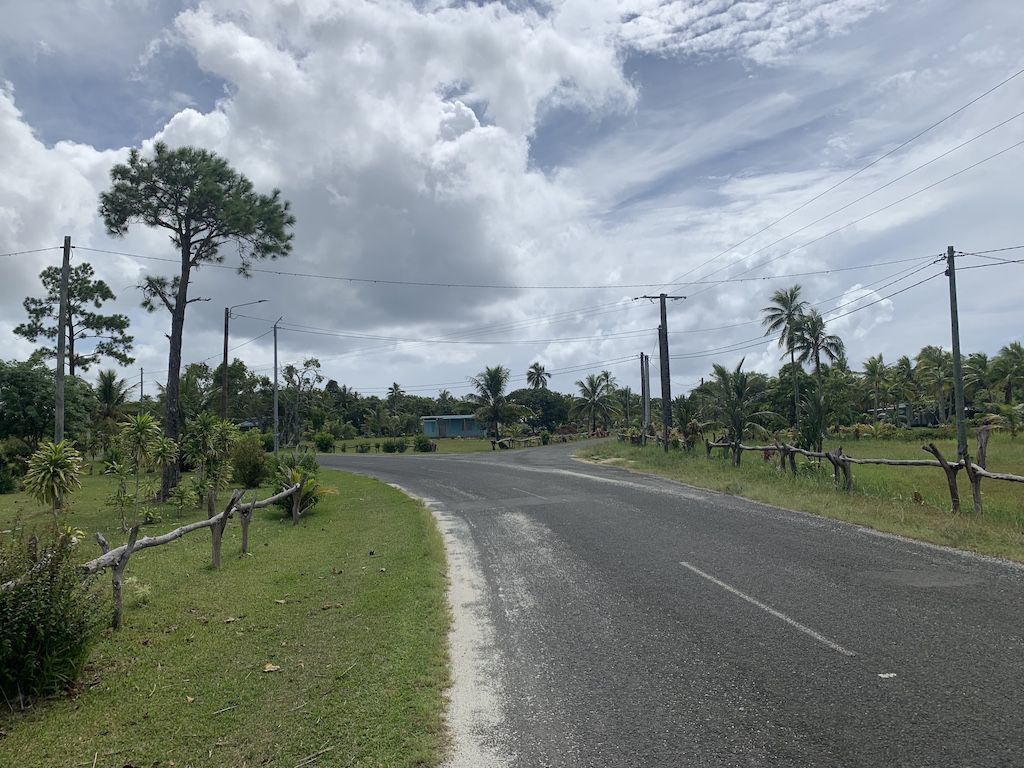 But the road to reach Peng Beach is like this. It goes through the dense forest anyway.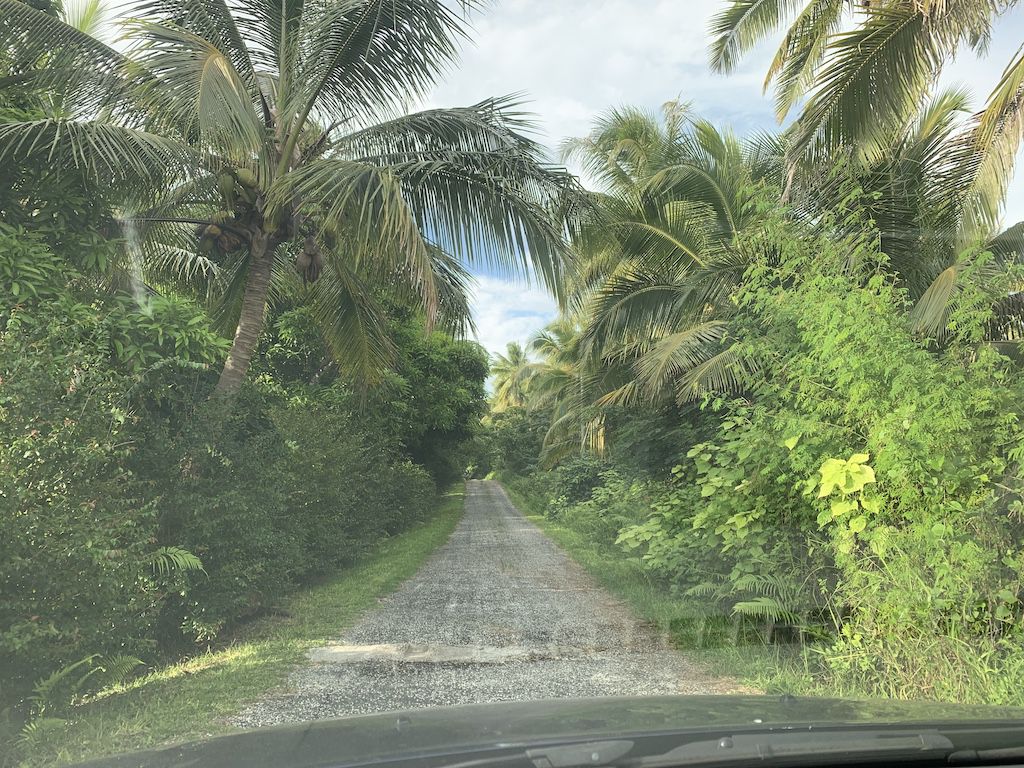 One of the information said that you have to follow an unpaved road through the deep forest, but at least when we went there, the road was paved. It is indeed narrow but you can drive your car without any problem.
After about 5 minutes on these paths, you will finally reach the beach. It was surprisingly long. I'm really glad the road was there. We arrived at the beach around 1:00 in the afternoon. There were about two families there, but it was almost private. There were a few clouds, but the sun was shining occasionally or consistently, and of course the temperature was over 30 degrees Celsius, so we were able to swim without any problems at all.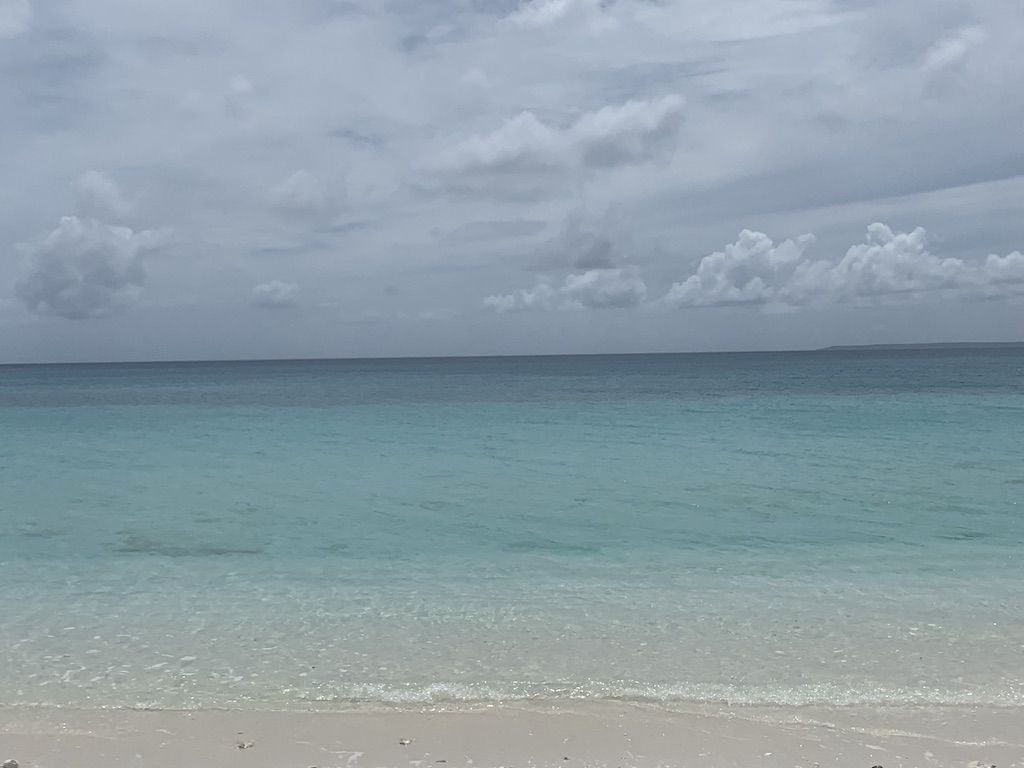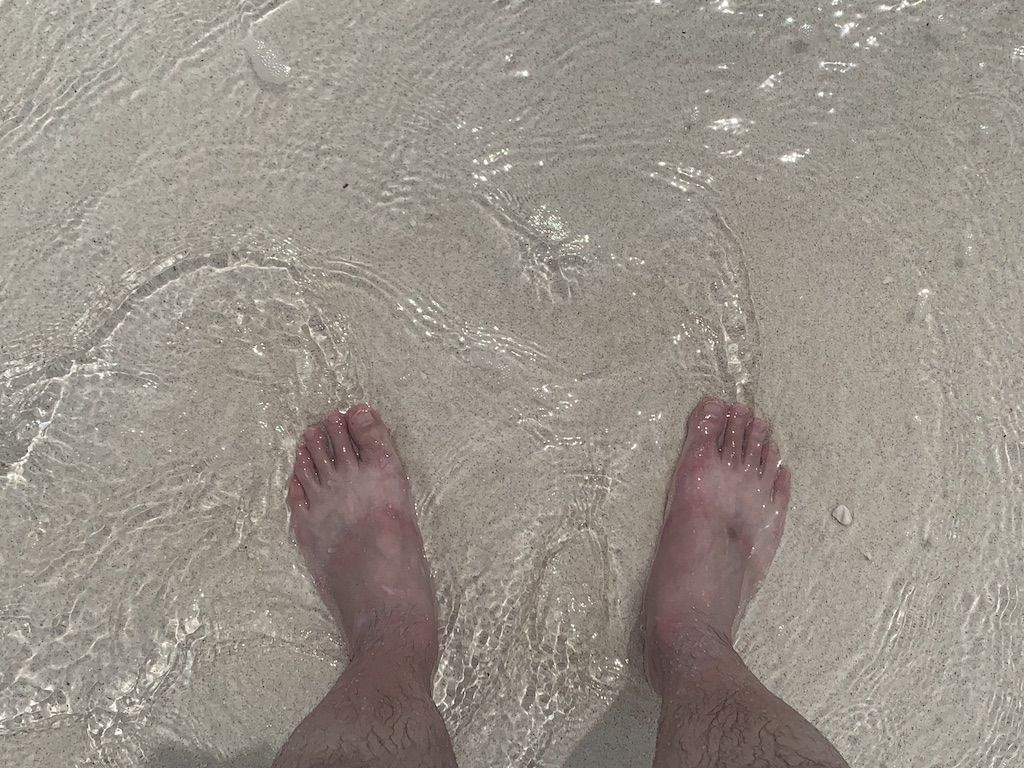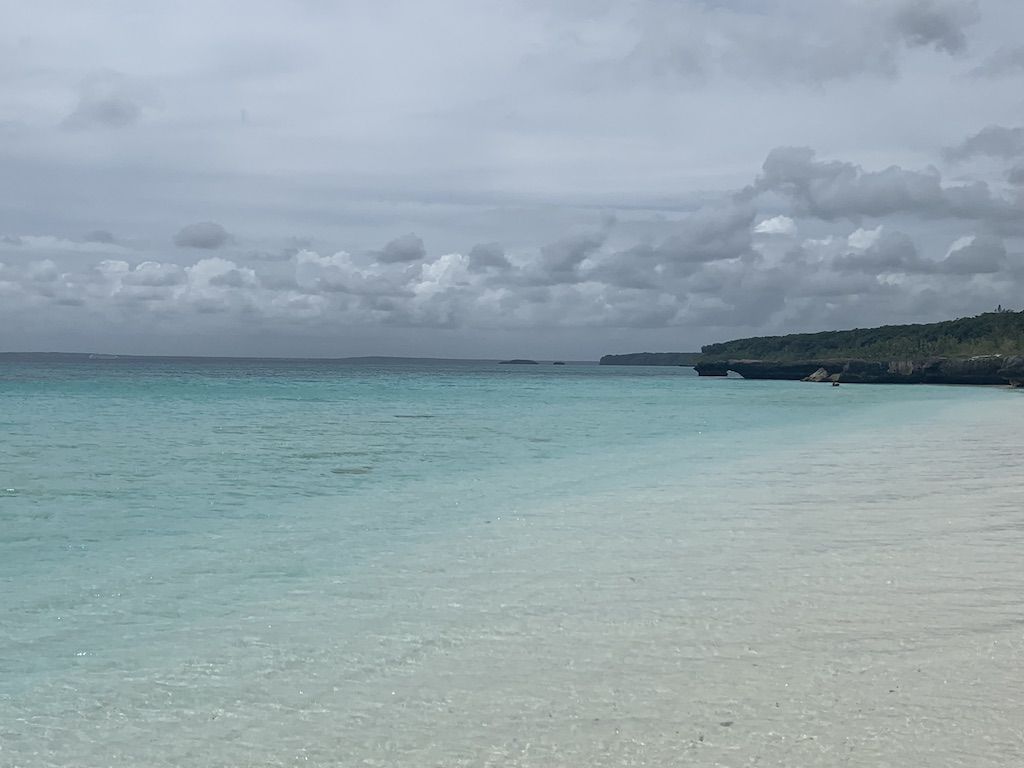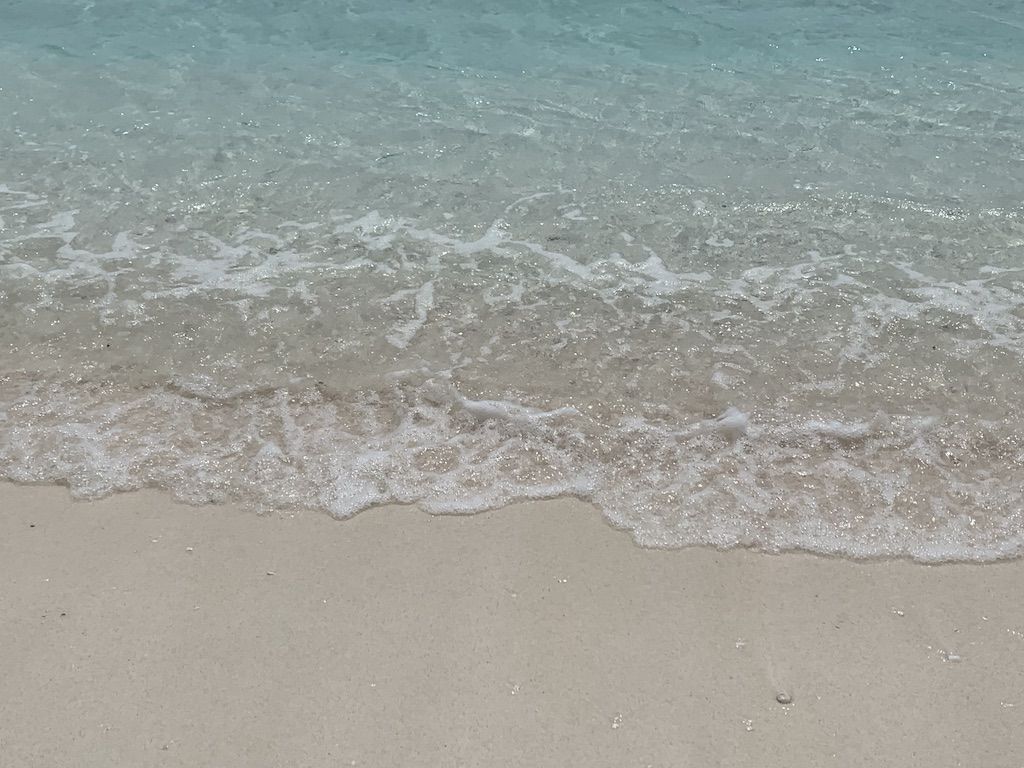 When the sand is this white, sunglasses are a must.
The sand at Peng Beach, just like Longoni, was soft and pleasantly sticky, like vanilla ice cream. The advantage of Peng Beach over Longoni is that it is a small bay, so the waves are very quiet and calm. It's also very shallow.
Maybe it was because there was no wind and it was calm at this time of the day, but the waves were really quiet and gentle, and even just floating on the surface of the ocean (on my back), I felt like I was sleeping on a waterbed.
The sea water is not muddy at all, so you can see the bottom even if it is more than 1 meter high. The bottom is also fine white sand, and you can go into the sea barefoot without any problem at all. This is the same in Longoni. Some beaches have large pieces of coral, so it is dangerous to go barefoot.
We were impatient so we cut it short after just over an hour, but it was a great setting for a day of picnicking and relaxing.
It's not bad, but it's not as good as other beaches.
We went to Dulur Beach before the aforementioned Peng Beach. It has a beautiful white sandy beach, but it is a little less impressive than Longoni and Peng because it is narrow and rocky.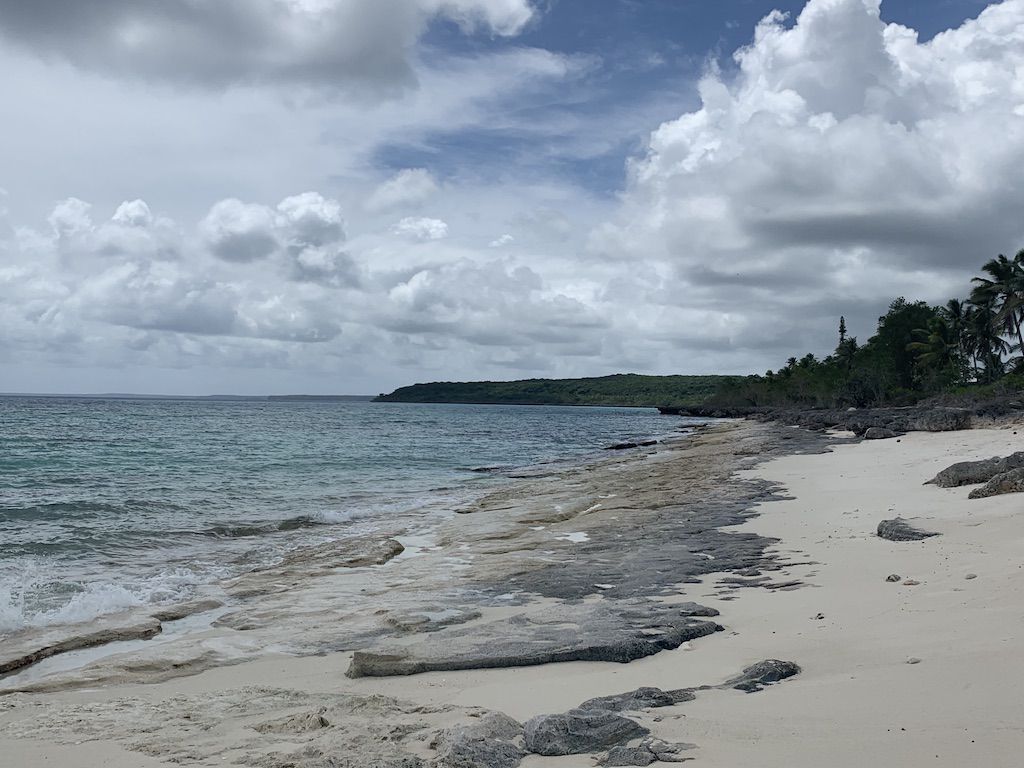 However, it was no problem to swim in the sea. The scenery could have been interesting with variety. I only regret the weather.
Ginek Bay, a natural pool on Rif Island and surrounding area that is fun to snorkel if it's not crowded.
Located northwest of Rif Island, Jinek Bay, also known as La Piscine Naturalle, a natural pool, is a popular tourist attraction. It is a very popular snorkeling spot for adults and children alike. Snorkeling equipment could be borrowed from the hotel for free.
We went twice, on the second and last day of our stay. The first time we visited, we were surprised to see a large number of Australian tourists at the site, whereas before we had only seen a few groups of tourists at most.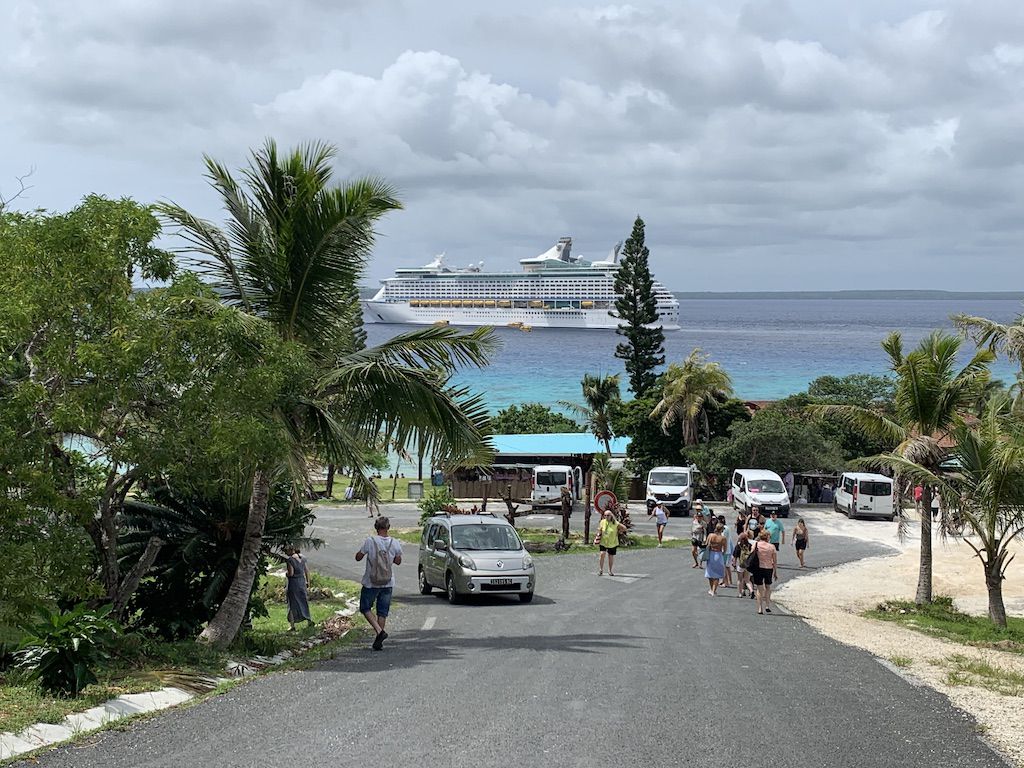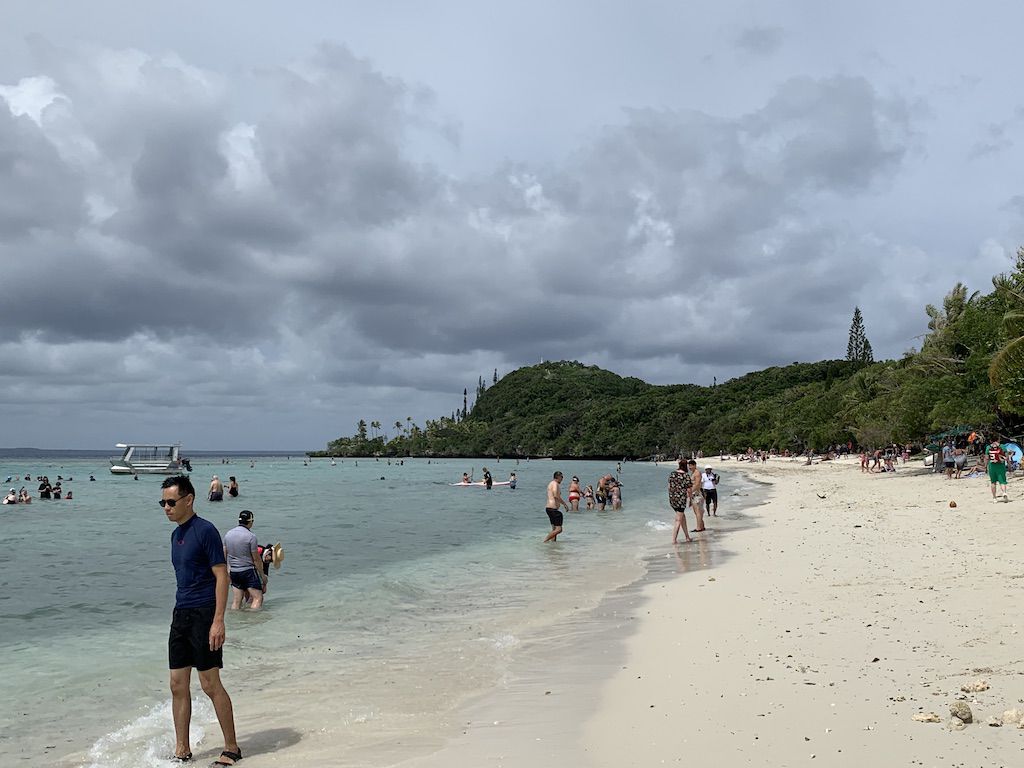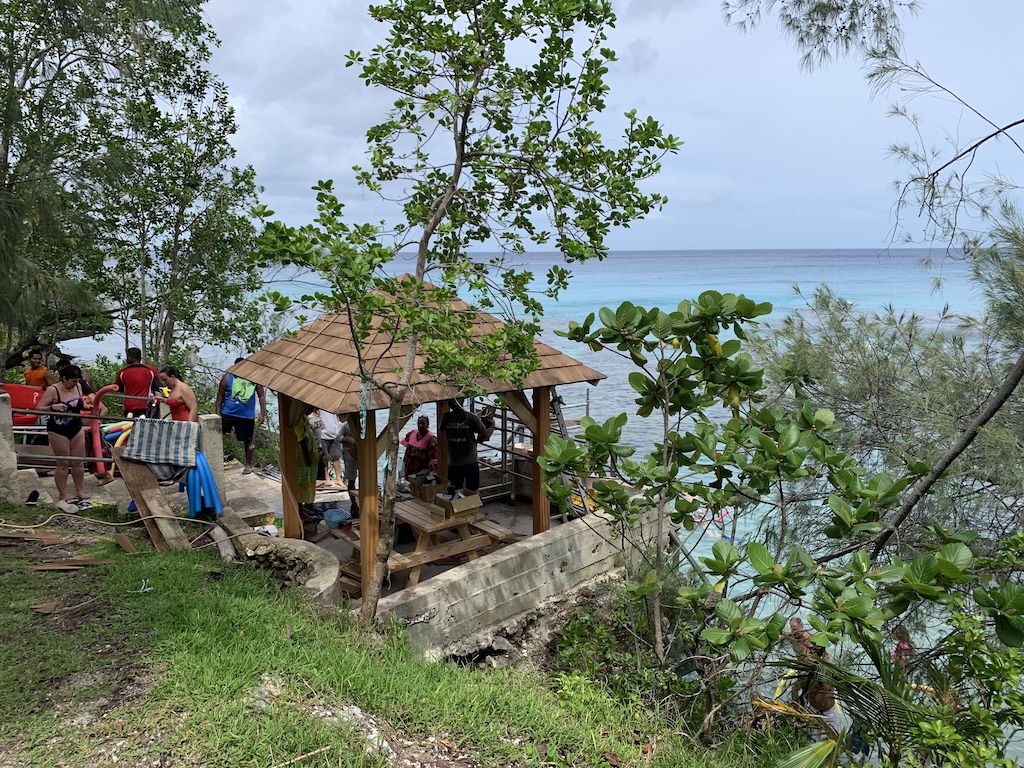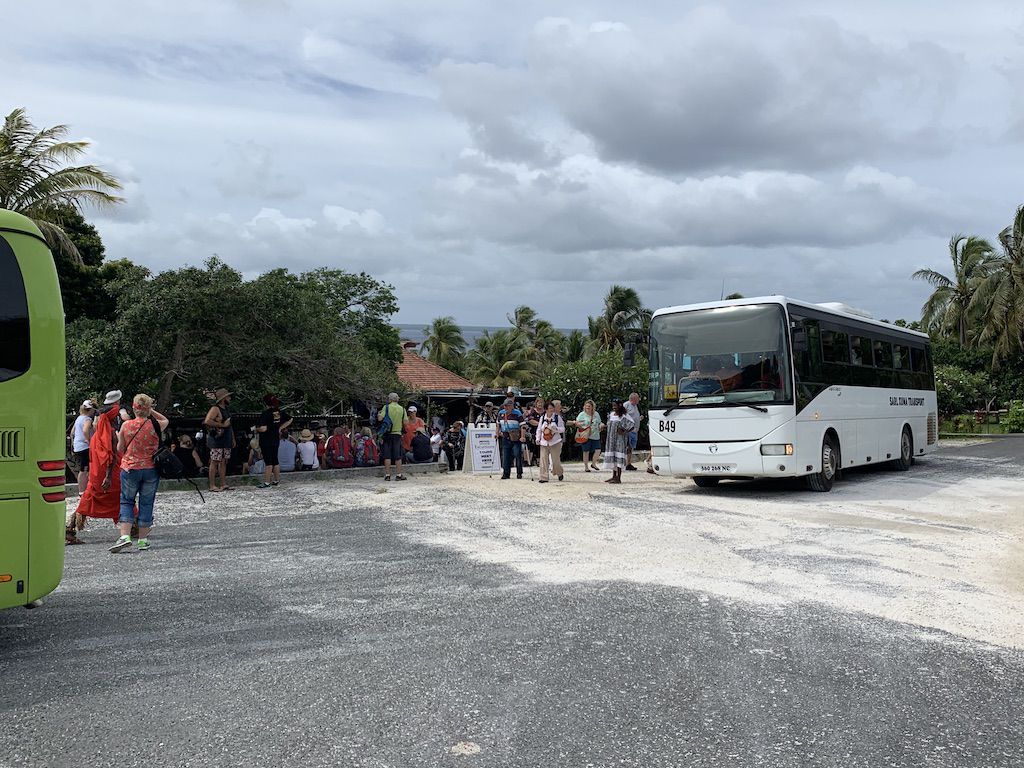 Apparently we came on this cruise ship. New Caledonia is a French-speaking country, but at this time, it had become an English-speaking country.
This place has not only a beach but also a natural pool called «  » which is very popular. This natural pool was really popular on this day, and it was so crowded that I was surprised. I was surprised at the popularity of Rif Island, but I didn't feel comfortable to go inside in such a crowded place, so I just looked at it.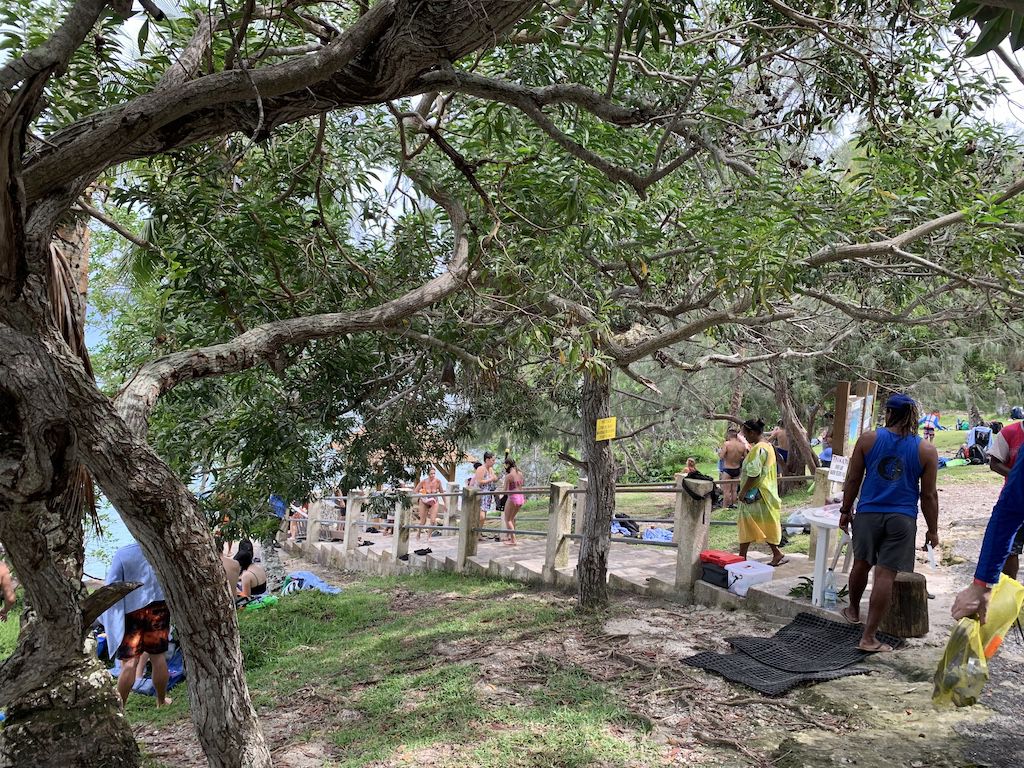 And if you look closely, there is a fee to enter…
However, when we visited again the next day, there were no tourists and all the shops were closed, which was a surprising change. We were the only tourists. And the natural pool, which was paid yesterday, was free, and we could go in as much as we wanted. But unfortunately, it was the day to return to the main island by airplane, so we didn't go into the sea. It was about to put a foot a little. But it was beautiful.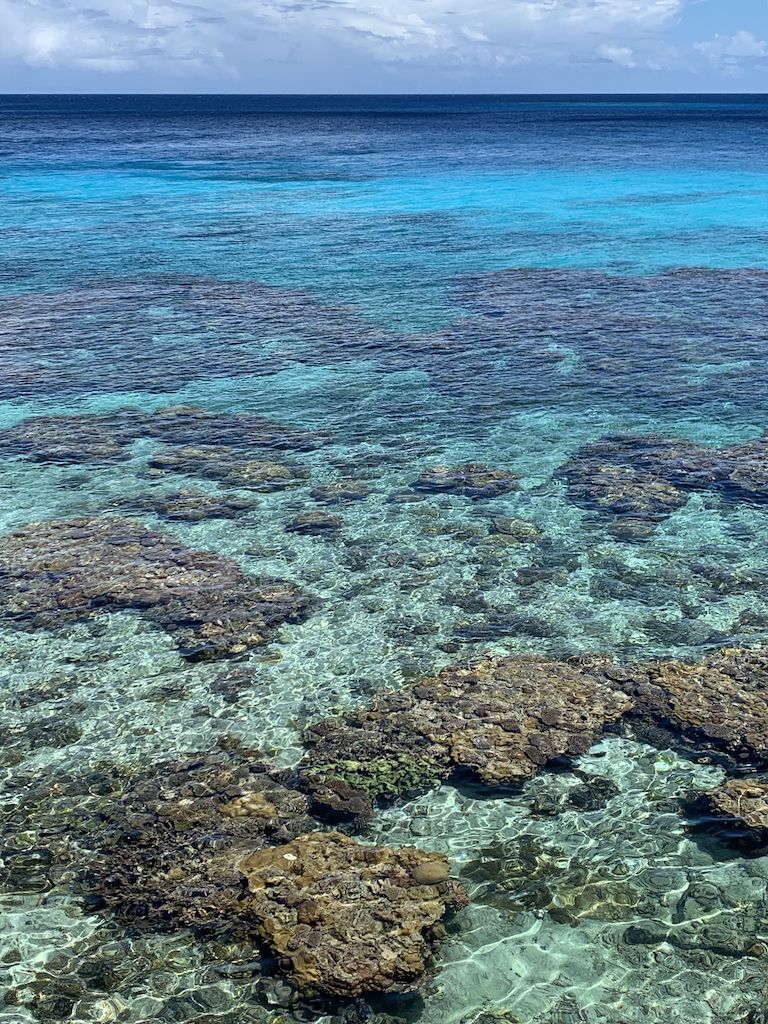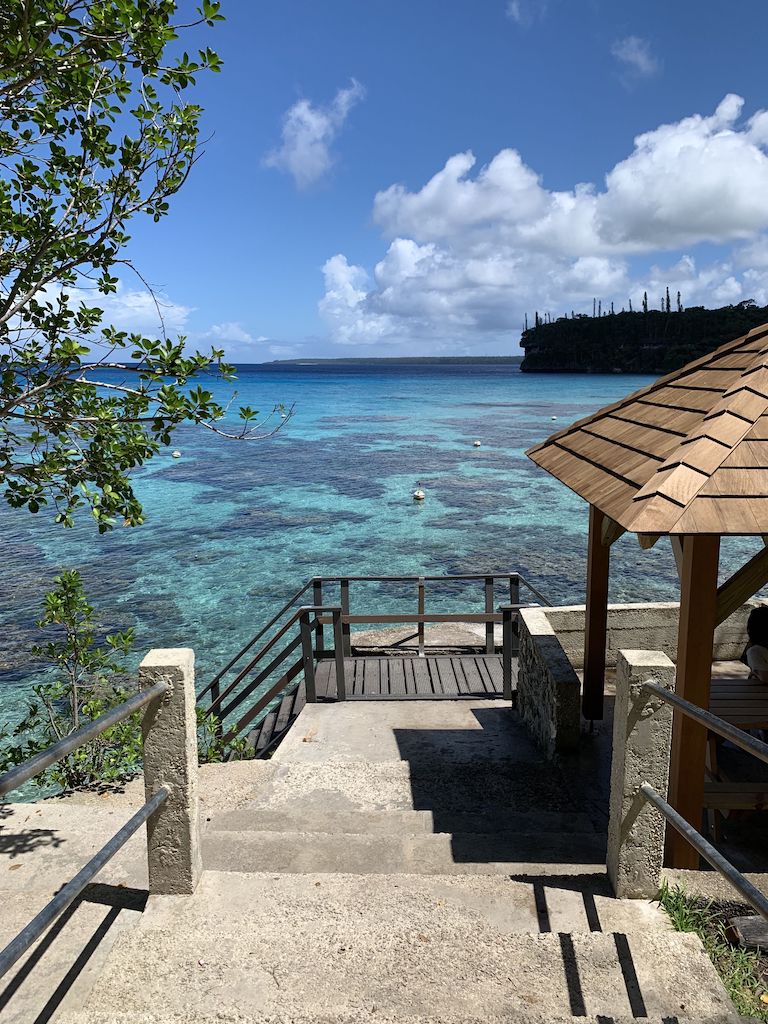 There are also two other churches here, both of which were busy on the first day of our visit.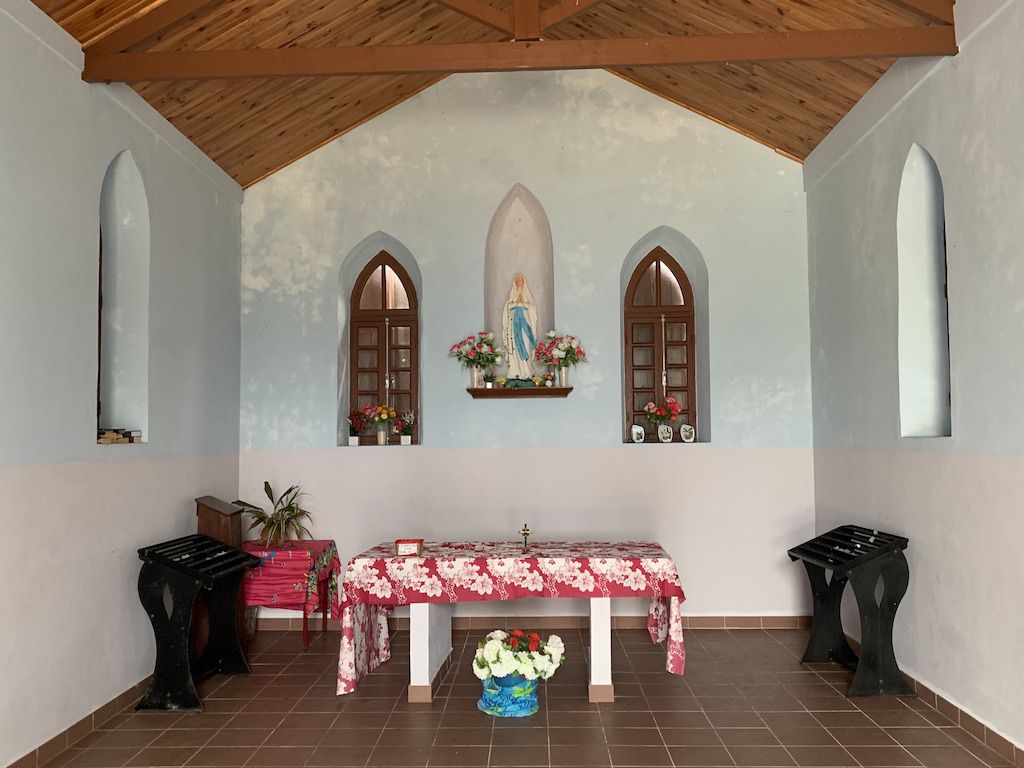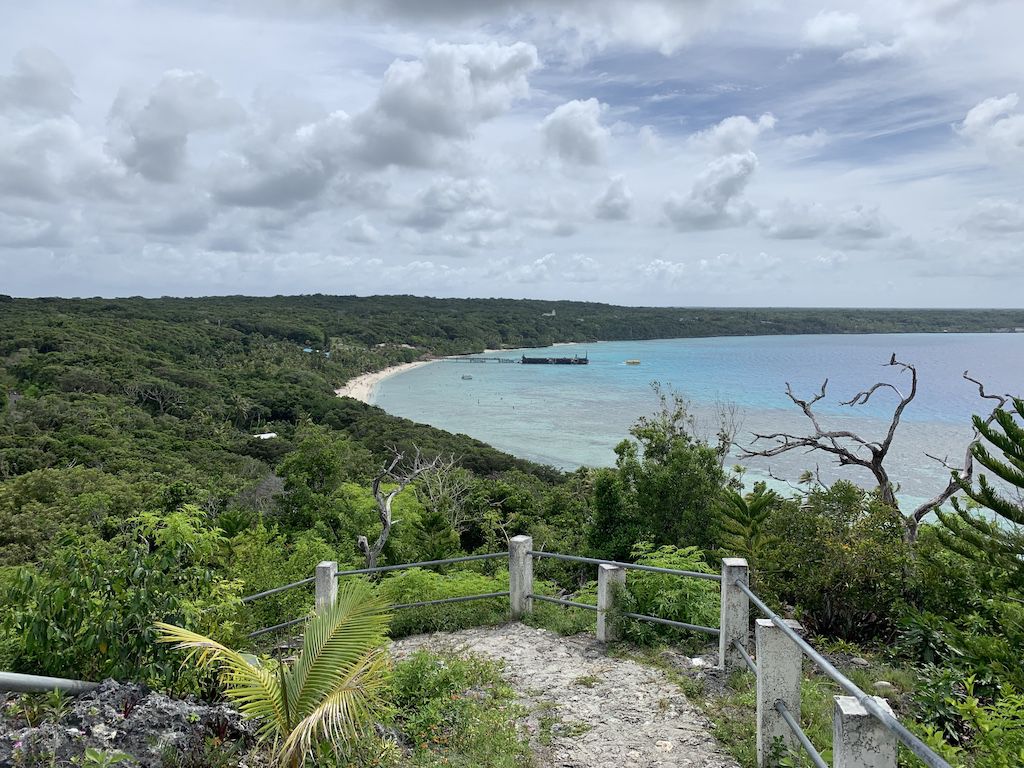 Private property? The cliffs near the chief's house, « The Cliffs of Jokin. »
We visited on our last day, the day we were leaving Rif Island. On the last day we finally had some sunshine and the bay was looking incredibly beautiful in all its glory. The only way to get into the sea was apparently through private property.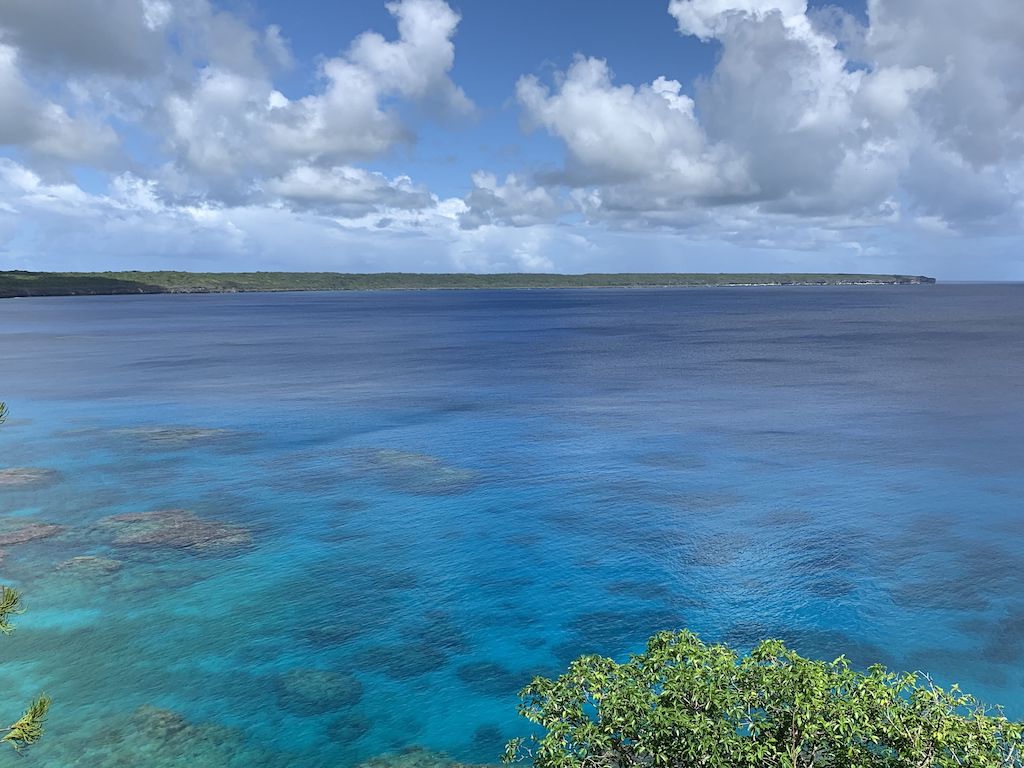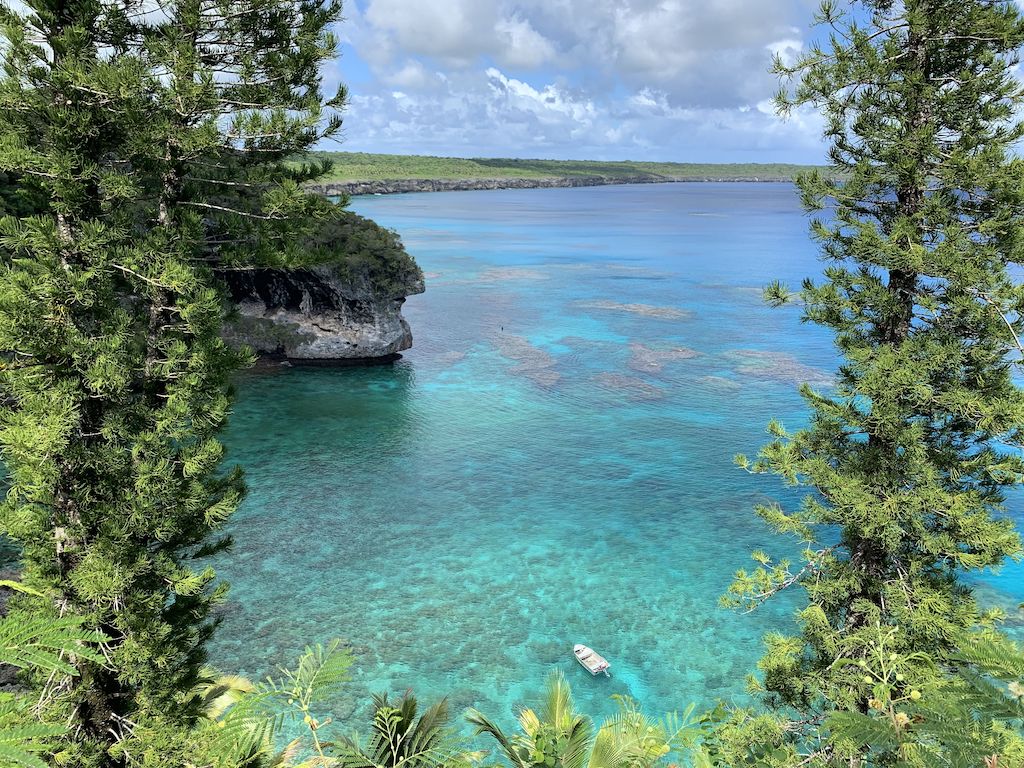 There is a guest house here, so maybe if you stay here, you can get close to the sea, and then you can go into the sea.
Pictures of the guest house.
In addition, there is a house of the chief of Rif Island in this crust. It was written in the guidebook that you can visit it if you apply for a tour. We only saw it from the outside.
Chieftain's house.
You can buy souvenirs but not good « Maison de Vanilla ».
Anyway, I was visiting because it was in my guidebook. It was located in a very confusing place near the airport. The facility is splendid in its own way, but there was no one tourist. It seemed to be able to visit the cultivation garden, but I did not visit.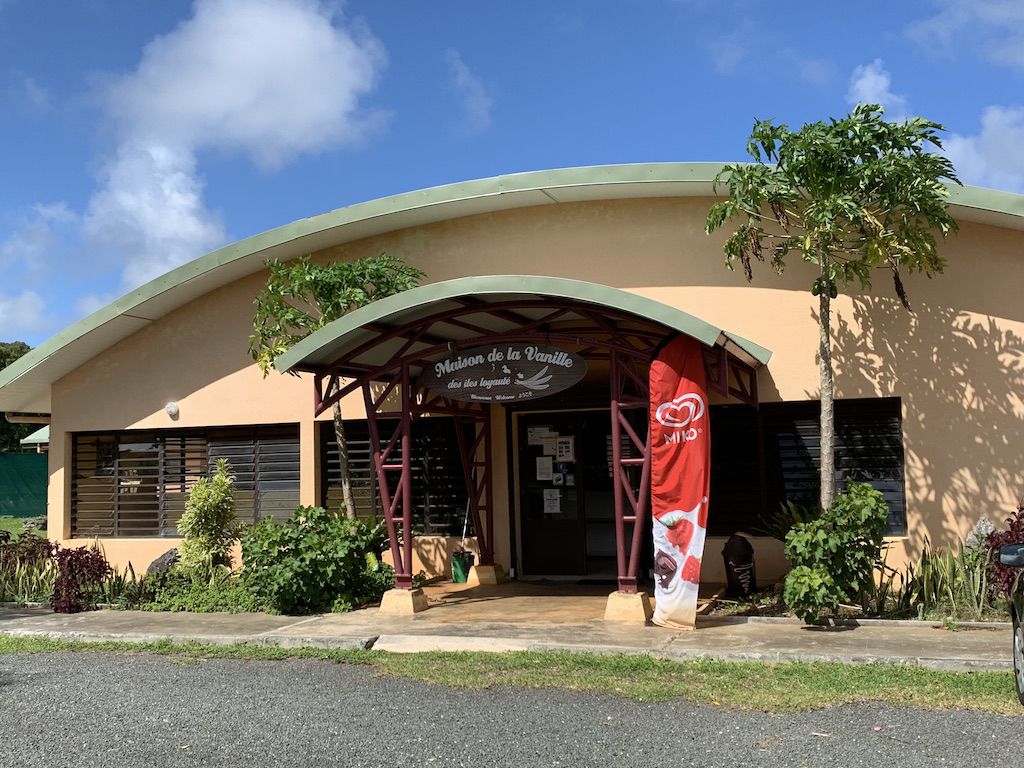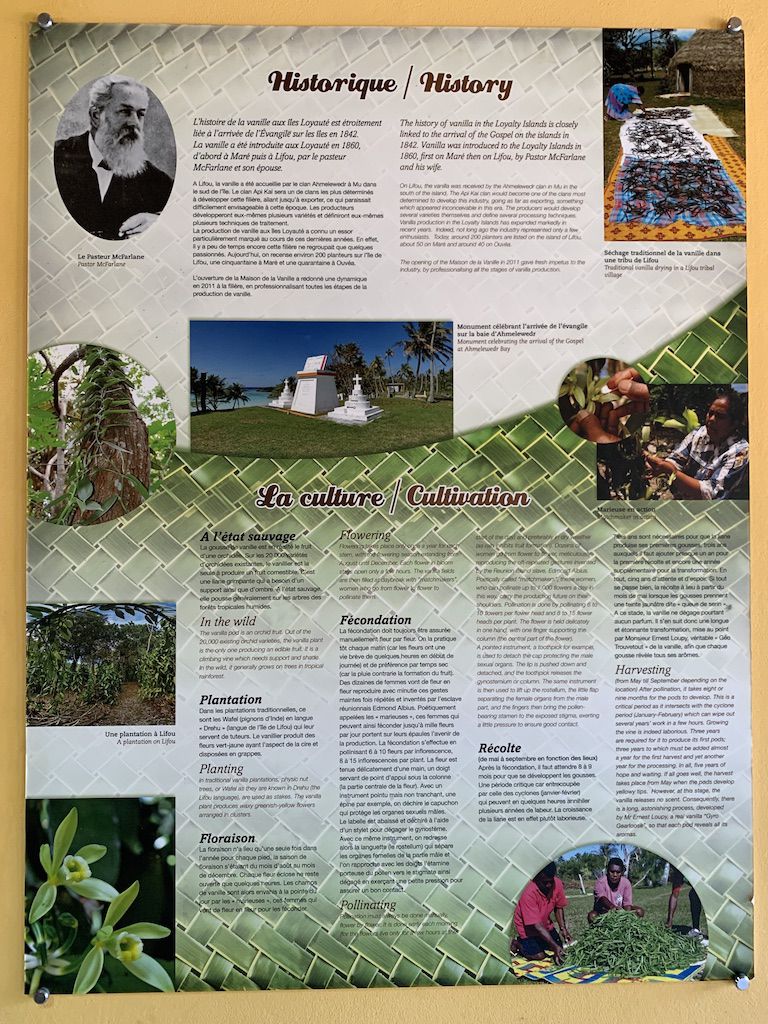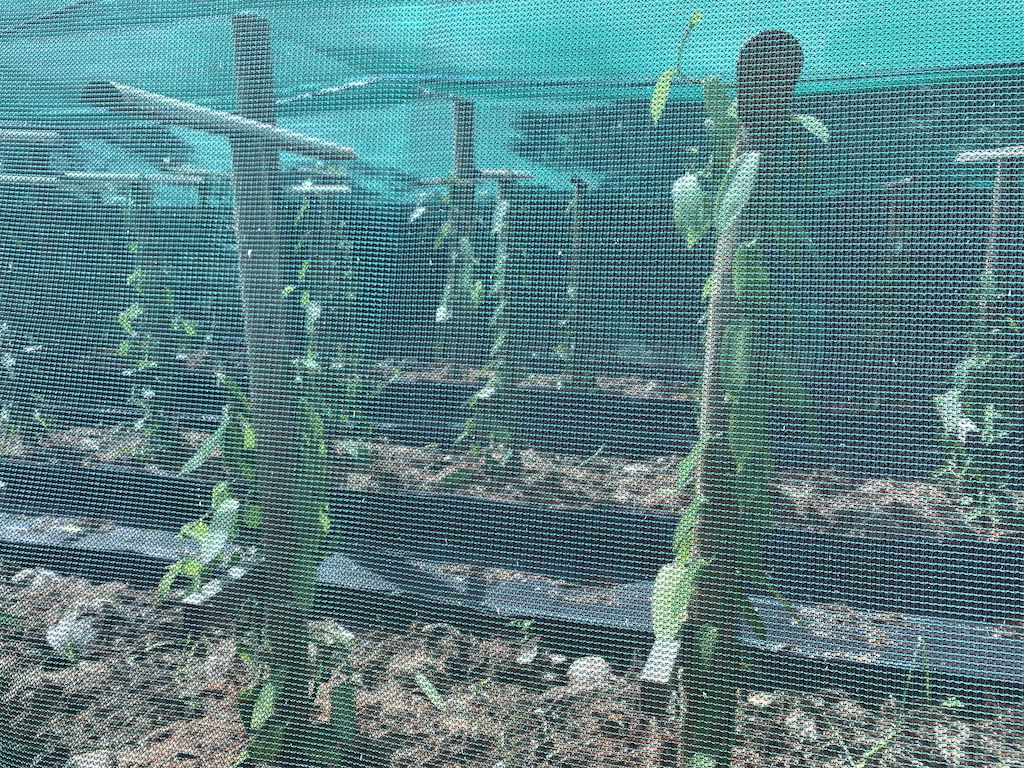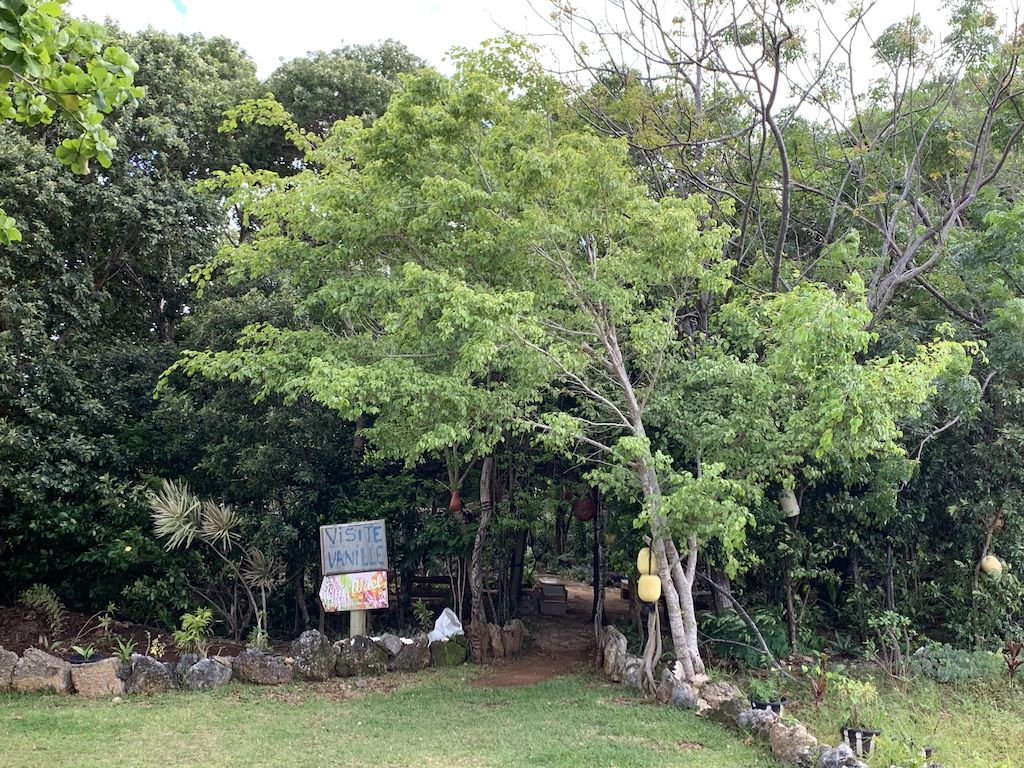 An unmanned lighthouse in the middle of the forest?
The guidebook says that you can climb up and overlook Longani Beach if there are people there, so I decided to go there. But I don't know where the entrance is….
However, I managed to find a side road from the main road to this lighthouse. Of course, there is no guide board.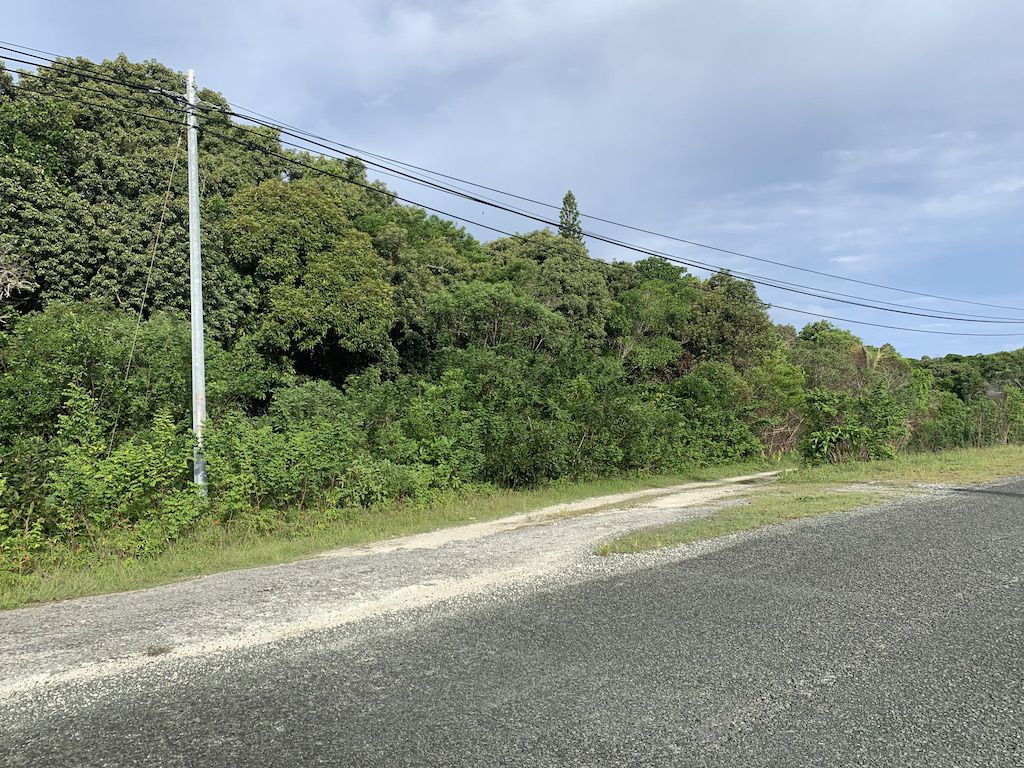 The road was not paved, but we were able to go deeper for a while. However, since the road was quite narrow and the hill was hard from the middle, we decided to get off the car and walk to the lighthouse which was unknown whether it was there or not.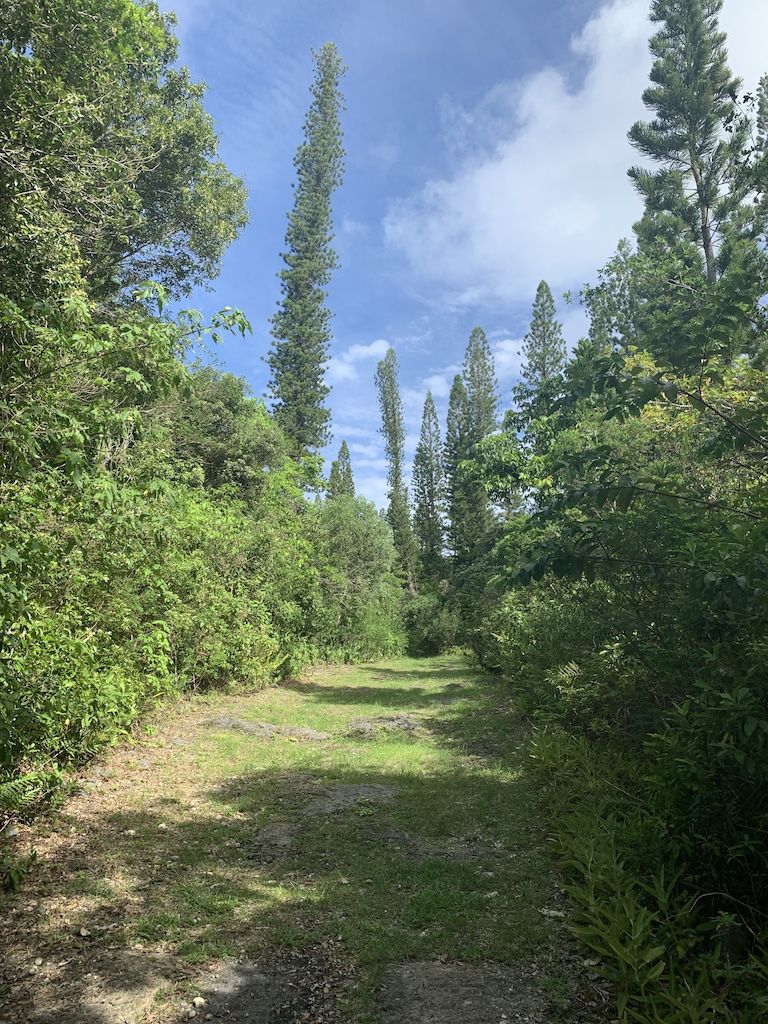 It goes through the forest, but the road is unexpectedly wide and solid. The width of the road was enough to go by car except for a part.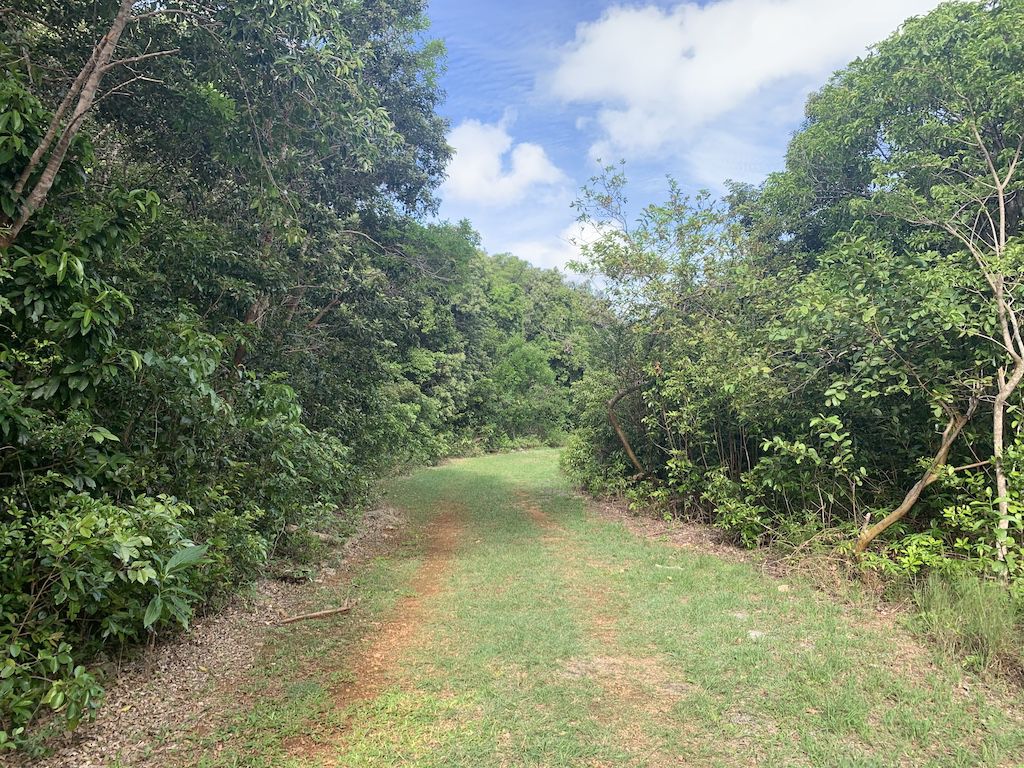 And the dead end, there was indeed something that looked like a lighthouse here, but I wondered if it was actually in use. In any case, there was no one there and it was locked, so it was impossible to climb.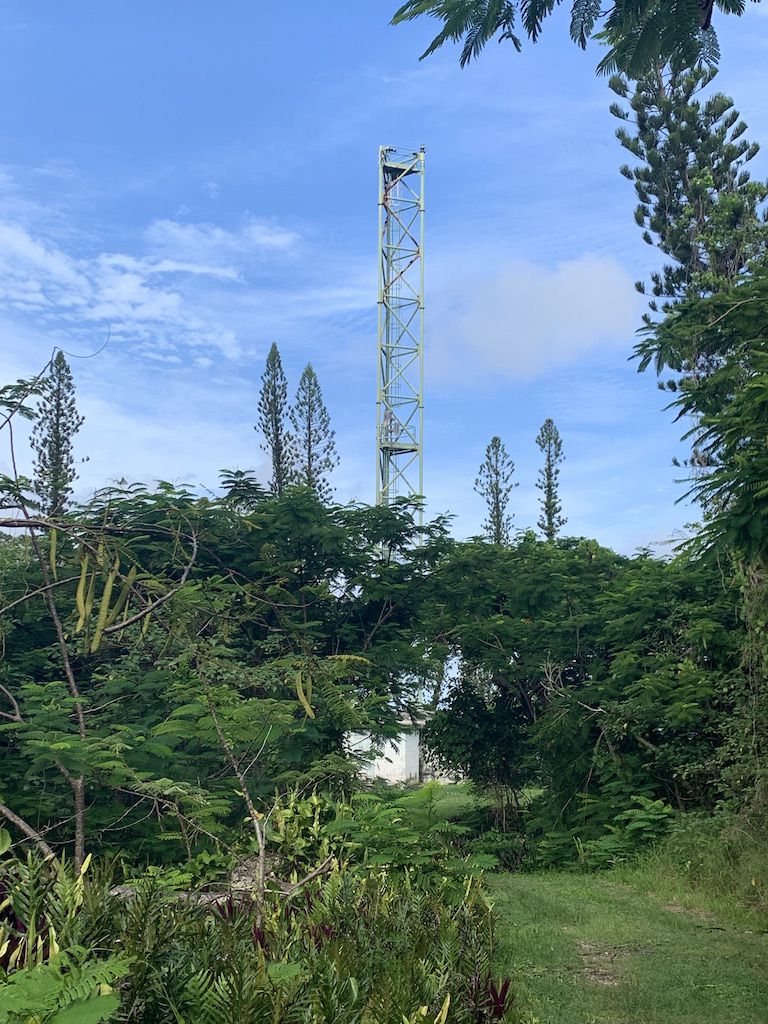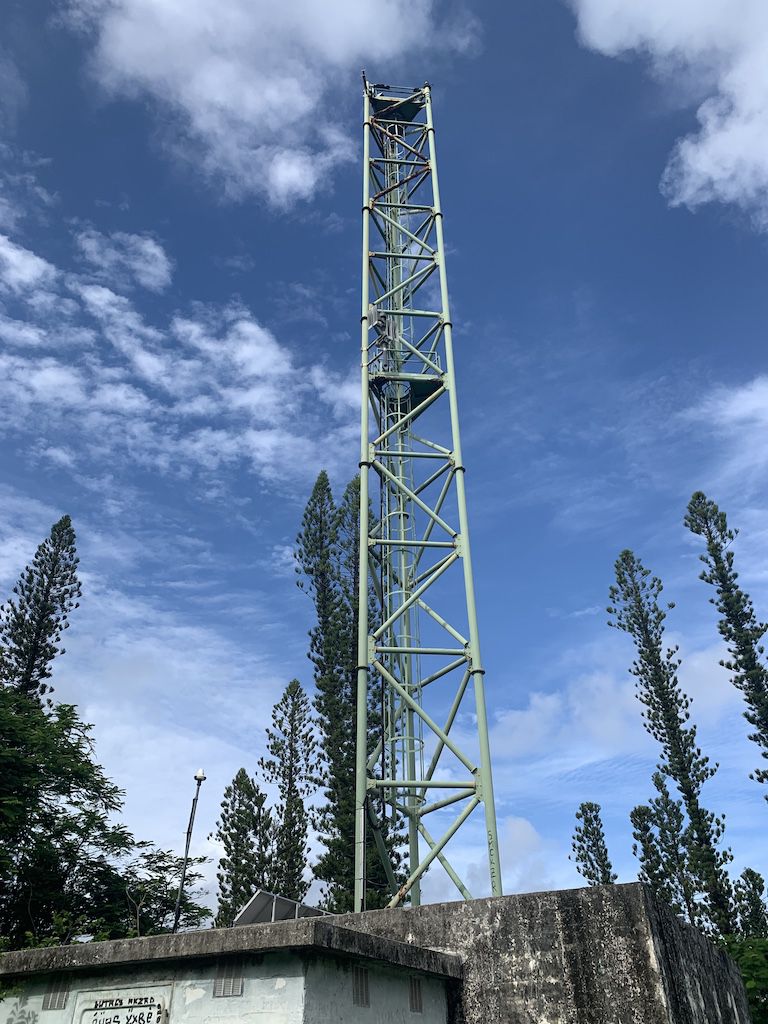 The southernmost cliff on the island, « The Cliffs of Zodol »
If you go further south from Longoni Beach for about 15 minutes, you will reach a dead end. There is a spot here called Zodol's Cliff.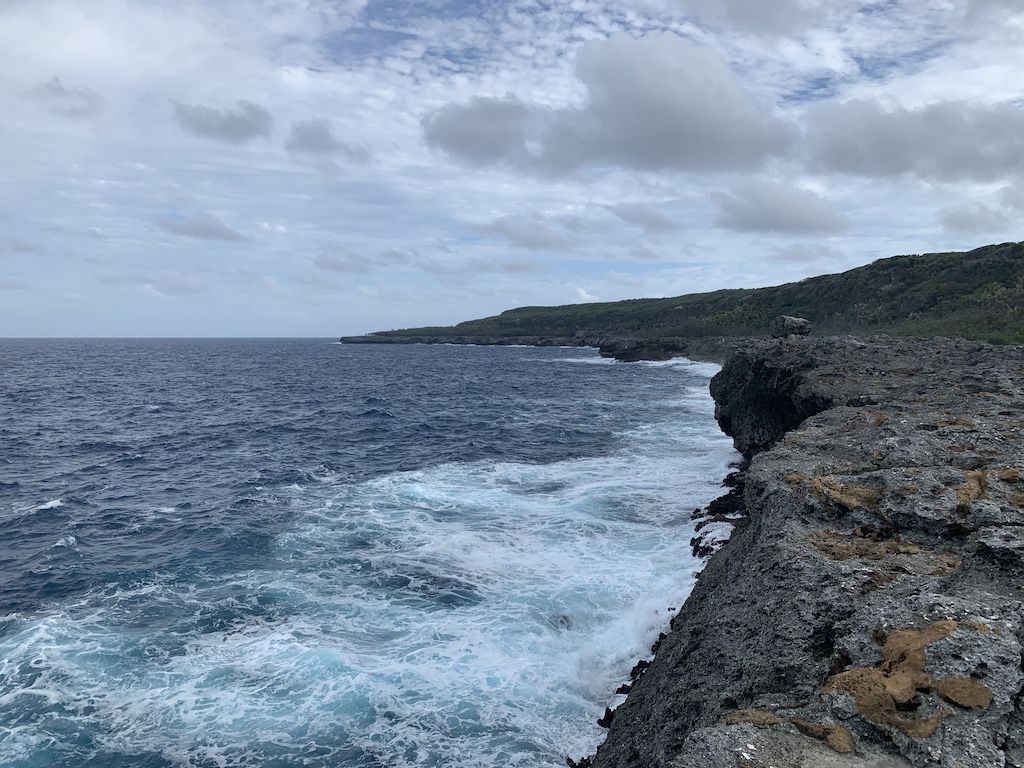 When I parked my car, a man came out of nowhere and told me that I could park in the lot around here, but he didn't turn back and asked for money. If I had parked on the street, I would not have been taken.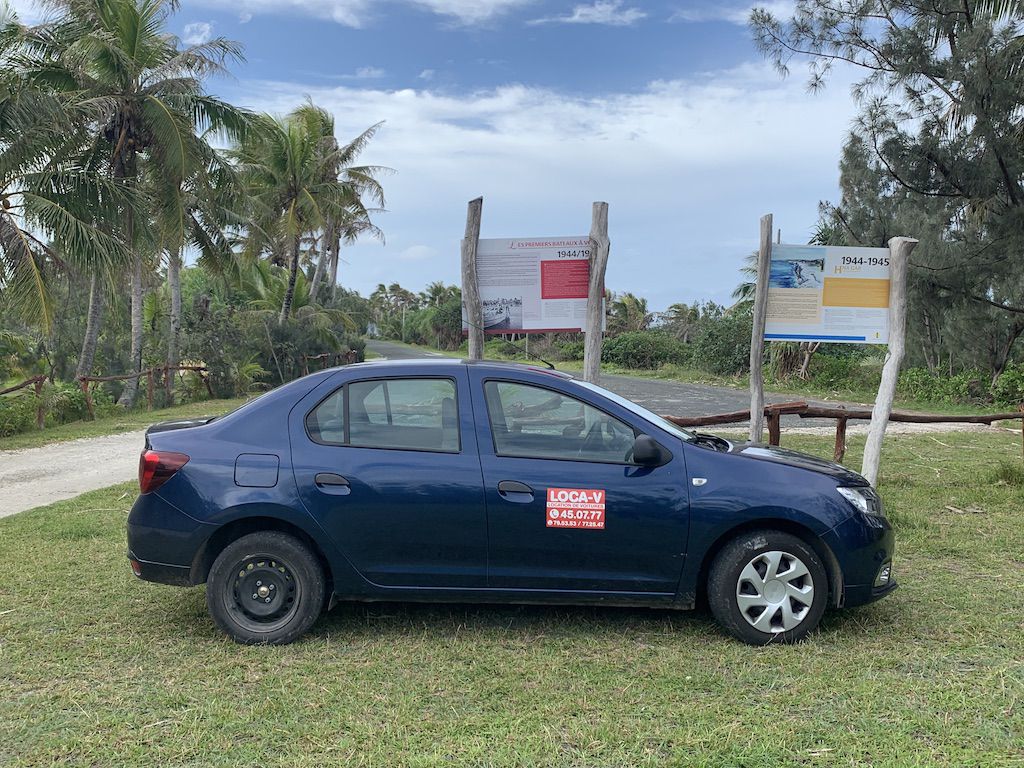 It is said that this cliff also served as a natural breakwater. A signboard at the entrance to the cliff explains that during the Second World War, the Japanese troops who tried to occupy the island could not break through and consequently could not capture it. I will write more about the relationship between New Caledonia and Japan in another post.
(Additional Information) About Accommodations
There are only two hotels on Rif Island that can be booked online (such as Booking.com and the Loi Yote Islands website), but there are guest houses nearby, such as Longoni Beach and Jokin's Cliff, which I mentioned above. Information was found on the back of this map.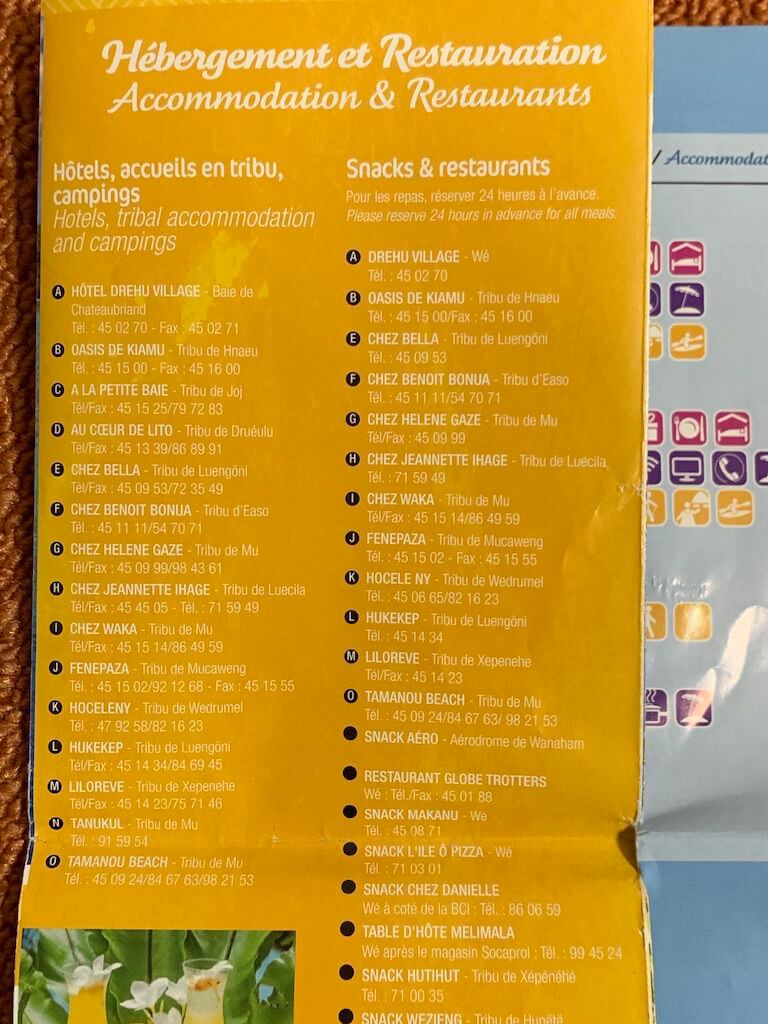 It is also available in Chikyu no Arukikata. Many of the guest houses don't have basic online reservations, only by phone, and don't offer airport pickup, so this is a very advanced accommodation. However, the location is definitely excellent for enjoying the spectacular view.
This is the end of the report of Loi Yote Islands. We will return to Noumea again. (To be continued)