The second of the Loi Yote Islands is Rif Island. It was the best place in this trip to New Caledonia. First of all, check the location. It is the largest island in the Loi Yote archipelago, located southeast of Uvea. I think it's about three times the size of Uvea.
Being a large island, we decided to stay here for two nights.
On the « Air Royelote » between the Royelote Islands
To get to Rif Island, we traveled directly from the island of Uvea, using the « Air Royelote », which allows you to travel easily between the « Royote Islands », a chain of islands in the so-called New Caledonia. It takes only 25 minutes from the island of Ubea to the island of Rif. It is easy to book online.

Air Royolete のウェブサイト:https://www.air-loyaute.nc
The number of trains is also not bad, about one per day.
The small plane is chartered.
On the day of departure, we went to the airport of Uvea Island where we arrived the first day before. I had to return the rental car which I had taken care of for a day here. I parked it in the parking lot of the airport, and I had to look for the person of the car rental company whom I met yesterday, but I'm sorry, I can't distinguish the face of the local person…. But I was able to meet the person I met yesterday by the atmosphere, and I was able to return the car safely.
Next, we checked in for the Aero Wyote flight. Actually the check-in place was different from Air Caledonie, Air Caledonie you can check-in in the main building, but Air Royalote you can check-in at the prefab next door. I wonder if prefab is popular here lol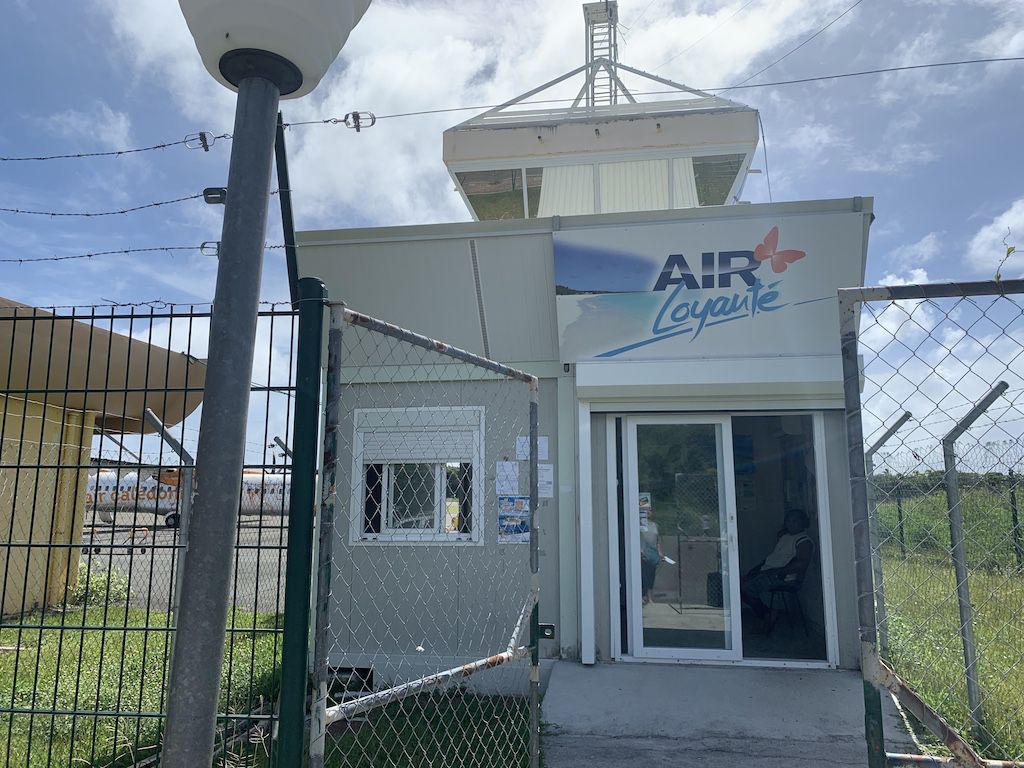 A friendly man was waiting for me inside, and I checked in without any problem. Checked-in baggage is limited to 23kg and carry-on baggage is limited to 3kg.
But the ticket is given such a thing and it is over. It's good for energy saving lol.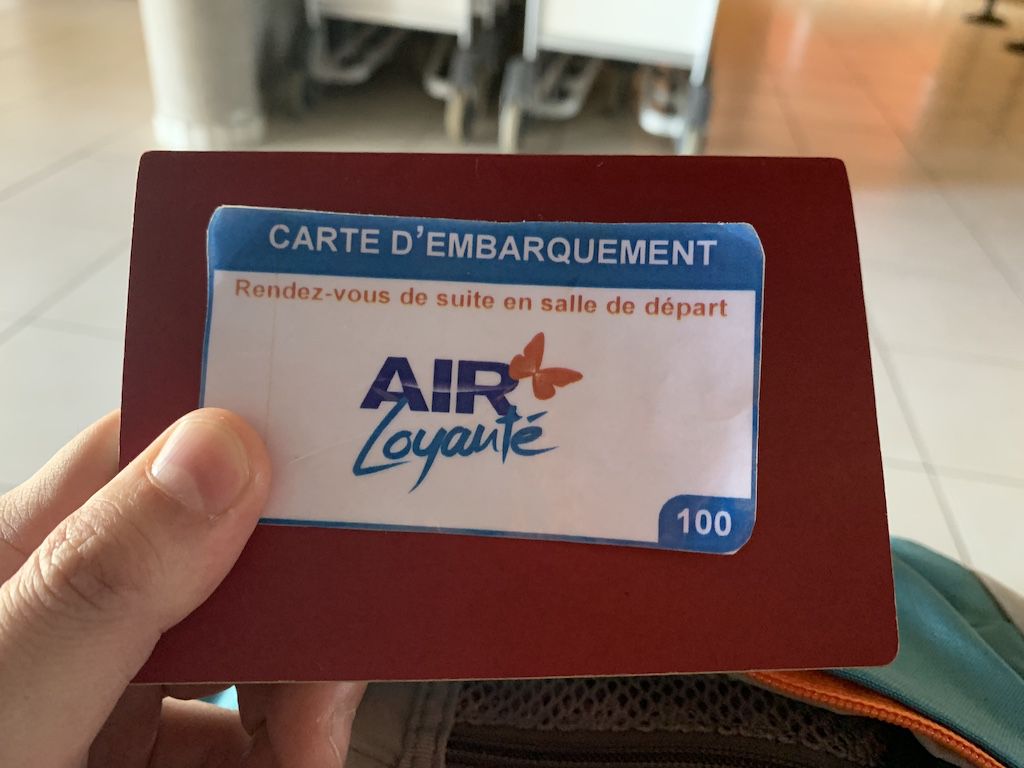 In the meantime, the Air Calenonie flight to the mainland departed, and we were the only two tourists in the airport. The only other person was the airport staff. We waited in the lobby for about 10 minutes, and the attendant told us to go to the boarding gate. We did as we were told and went to the boarding gate room.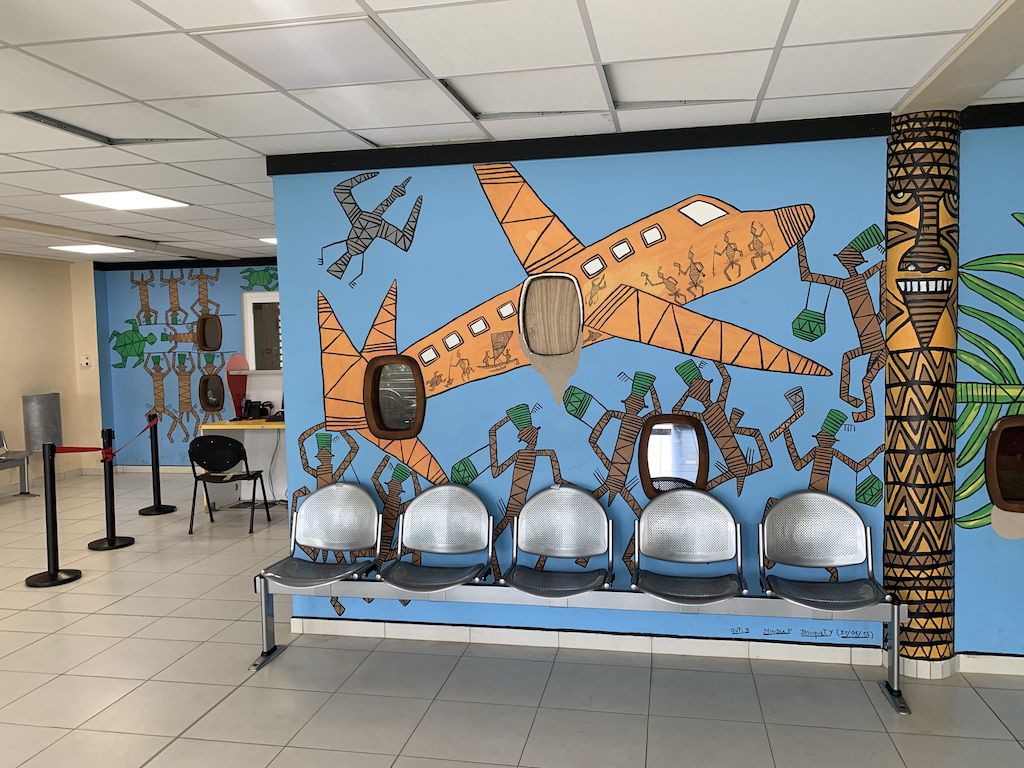 After waiting here for about 5 minutes, we were already instructed to board the plane. The flight was scheduled to depart at 11:00, but it was only 10:30 at this point. It was not bad to arrive early, but I had a rental car reservation in Rif Island, and I had a meeting at the airport at 11:30. I decided to take the airplane as I was told, because I could wait there.
This type of aircraft is even smaller.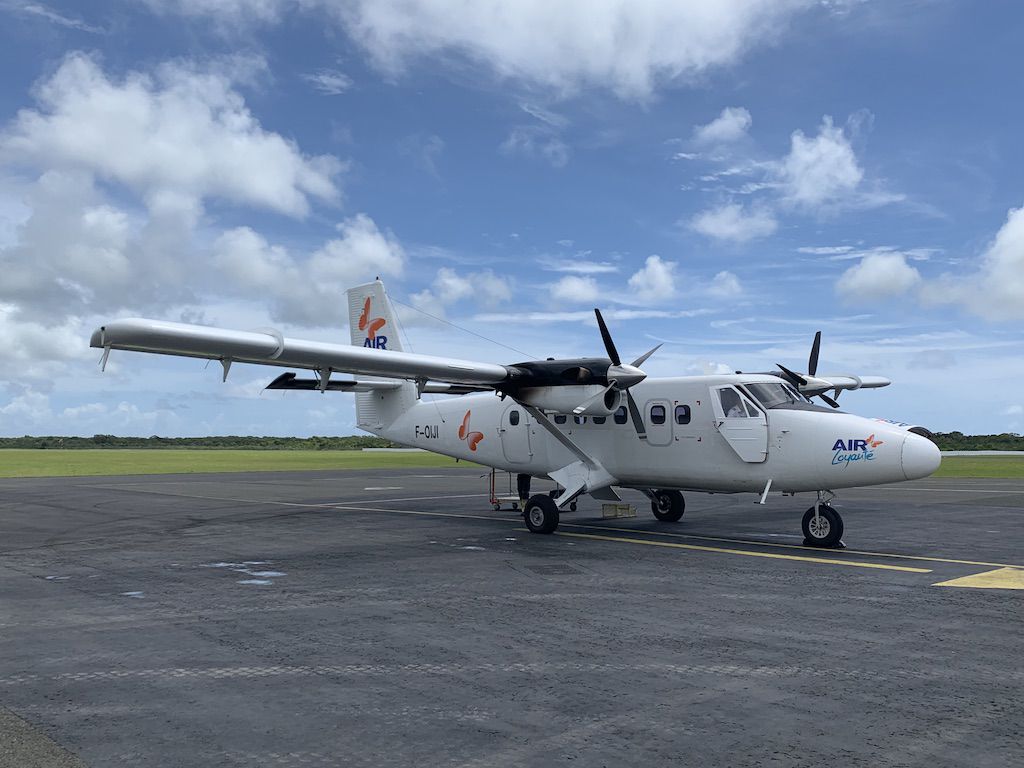 But the service is fine, as it's obvious but solid. We were escorted to the plane and into the cabin. We were instructed to sit in the fifth row, though it was empty because we were the only passengers.
When I sat down on the chair, the co-pilot gave me a verbal explanation in English about the safety measures on board (that you always get an explanation before takeoff when you get on an airplane). This is a general explanation. It's also written in Japanese.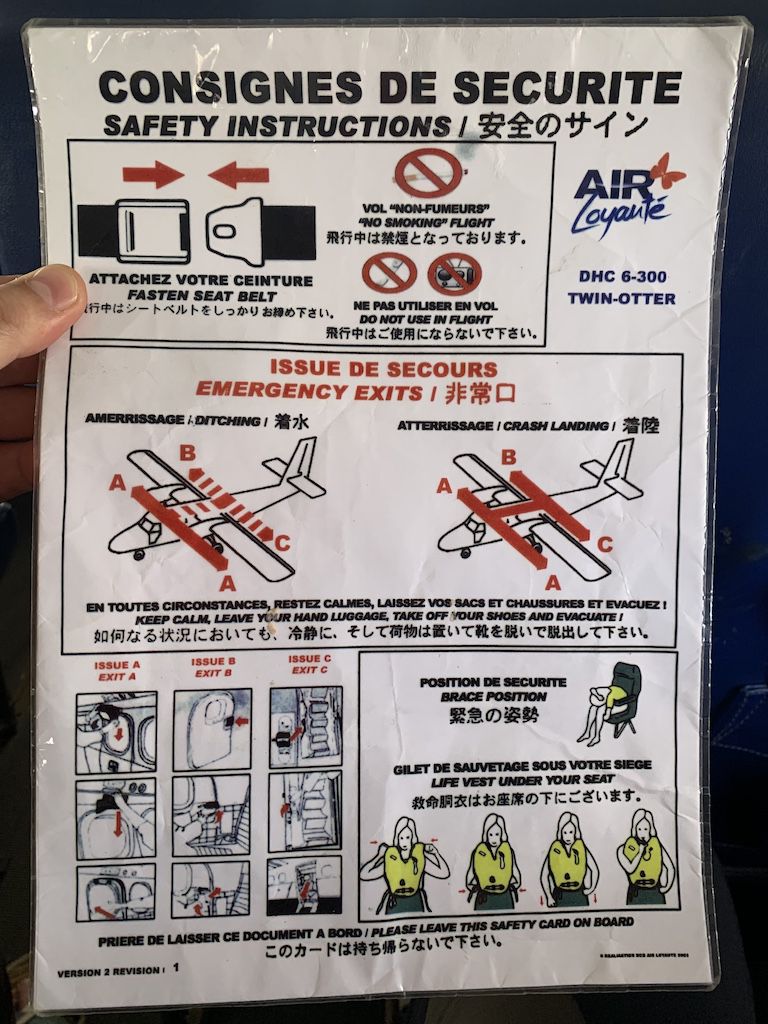 When the explanation was over, the co-pilot moved to the cockpit, and we finally took off. Because it is a small plane, it shakes more than a normal jumbo jet during takeoff and landing, so people who are prone to motion sickness should be careful, especially during landing. I got a little drunk.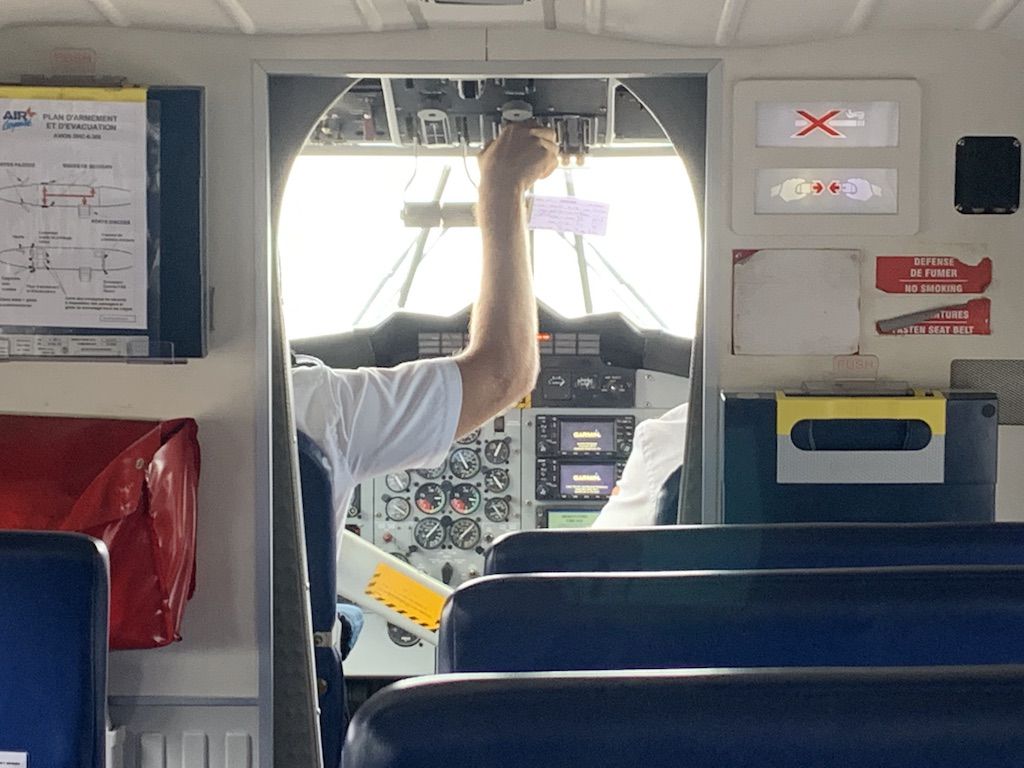 Airports in Rif Island
The airport of Lifu Island is also a small airport with a single runway like Ubea Island. I think the size of the runway was about the same. But the building of the airport, where passengers wait, was bigger than Uvea.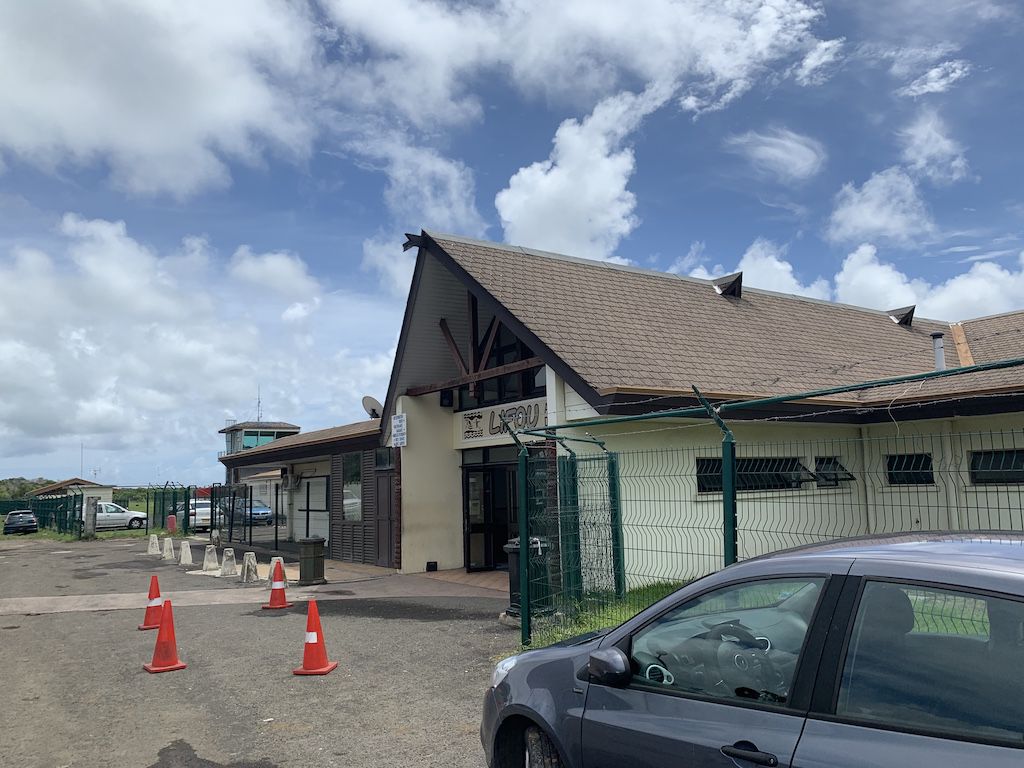 However, there were no other arriving passengers besides us, and there were no passengers who were about to depart. When the airport staff finished dealing with us, they disappeared from the airport one after another, as if they were just on their lunch break…. It might have been the first time for me to see an empty airport. But really there were no tourists….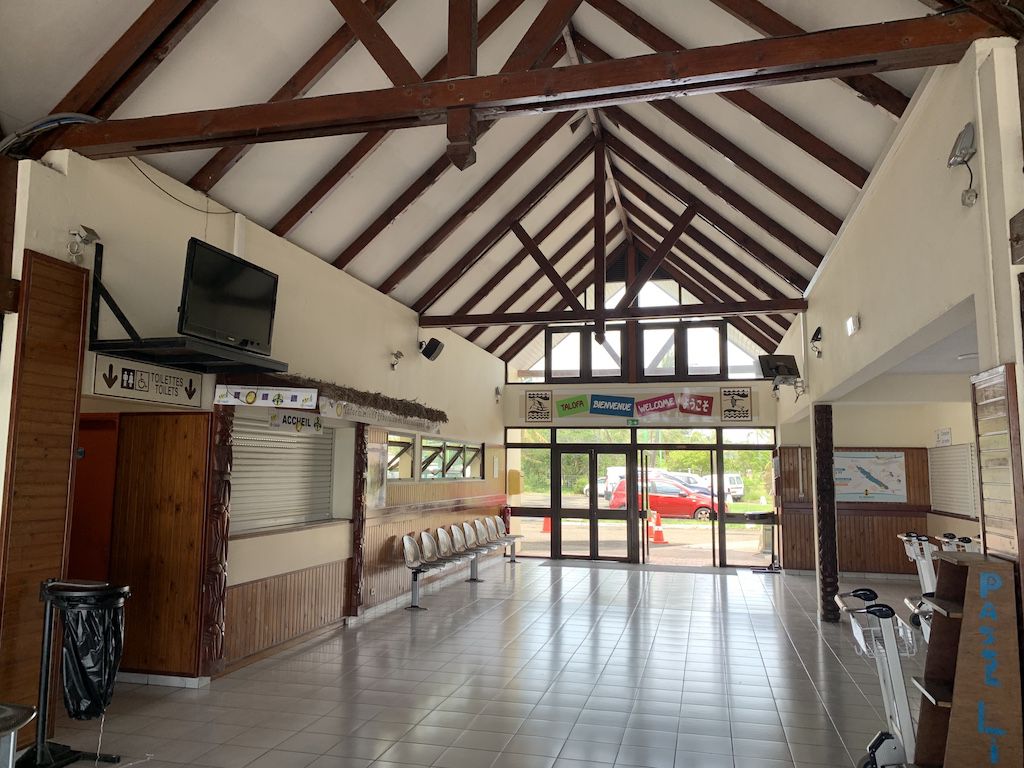 Car rental in Rif Island, waiting for 1 hour and 30 minutes
Of course, Rif Island is bigger than Uvea Island, so it's absolutely essential to have a way to get around. Again, we had arranged with a local car rental company in advance. Just like Uvea, I found out about a local car rental company from the Loi Yote Islands website, and contacted them through the contact form on their website to rent a car.
リフ島の交通に関するサイト:Transport Lifou – Location Voiture, minibus
Then they replied me within 24 hours too. However, I wrote in English as well as Uvea Island, but the reply was in French. If it's just an email, I can manage in French.
After several exchanges, the procedure was completed successfully. The rest was just a matter of doing something locally.
So we arrived there, and there was the office of the car rental company in front of the airport, unlike Ubea Island.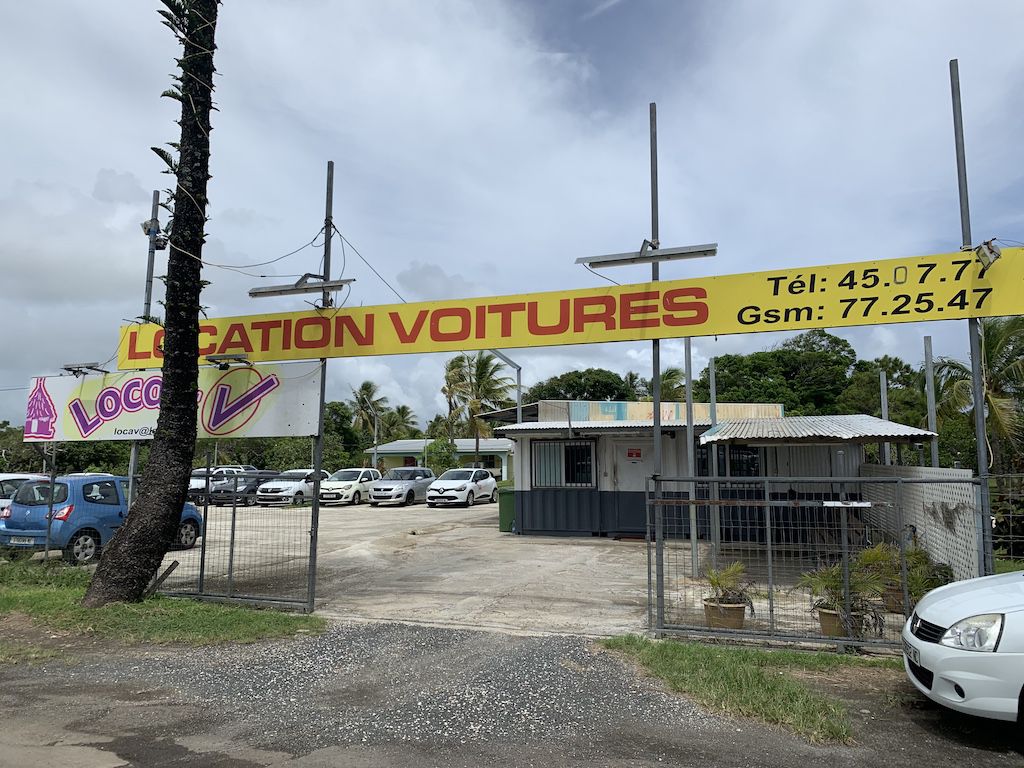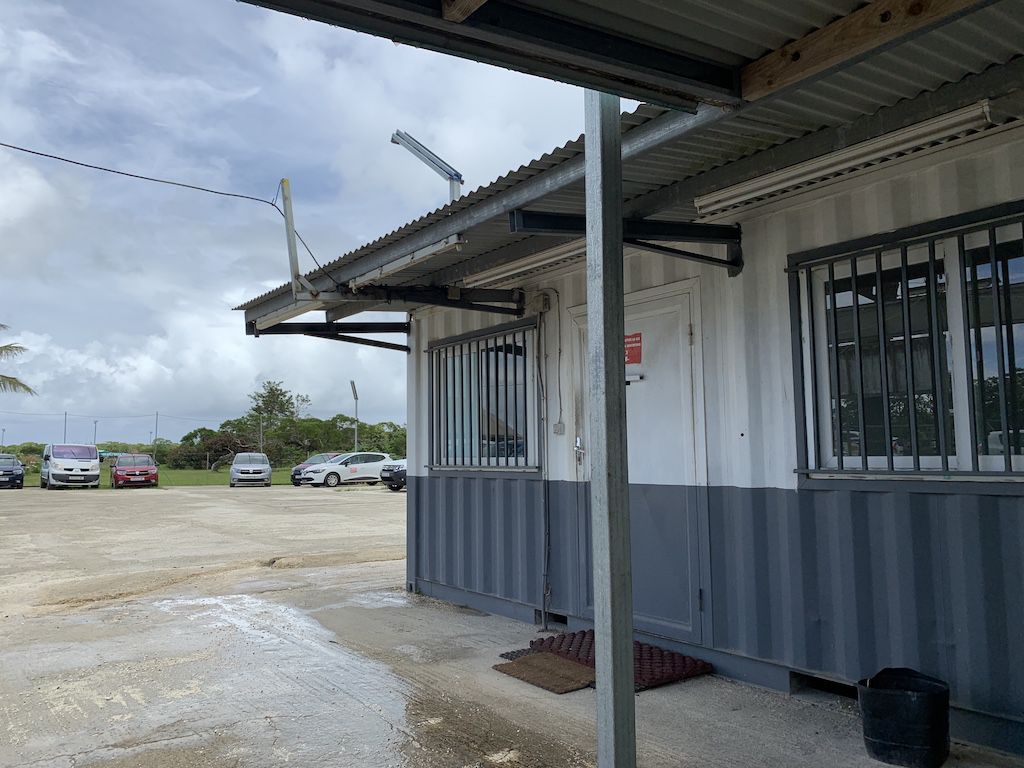 We had told them that we would be arriving at 11:30 from Ubea by Air Royote, and we were ready to rent a car at the airport at the same time. So we waited at the entrance of the rental car office in front of the airport until the scheduled time, but there was no sign of anyone coming after 11:30.
Well, I thought that waiting for 10 or 20 minutes is a common thing in overseas travel, but there was no sign at all even at 12 o'clock. As expected, I was not able to make a reservation, I'm getting anxious. I have to do something. The phone was useful there. The SIM that I bought in Uvea Island can make phone calls as well as data communication. So I tried to make a call. There were both landline and mobile phone numbers, but I was able to get through immediately on the landline.
However, the conversation was only in French. Even so, I seemed to be able to tell him my name and that I had arrived well, and he said « J'arrive ! (I'll be right there) » and we had to wait again. However, I was glad that I could confirm that I had a reservation.
However, after that, there was no sign of anyone coming at all. After all, another 30 minutes had passed. I called again, but this time I couldn't get through to either the landline or the mobile phone, so I kept calling at intervals of about five minutes, and finally at around one o'clock the landline came through. Just as I was complaining, the attendant finally arrived.
Now you can finally go through the procedure. The person in charge could speak only a little English, so I was able to go through the procedure without any problem, although some words and numbers were in French. The required documents are Japanese driver's license (this time, I was asked to show it and made a copy), foreign driver's license, and credit card. I could pay for the rental car by credit card on the spot. What was different from Ubea was that we had to return the car with a full tank of gas. This time, we rented a car for two days, and Rif Island is big.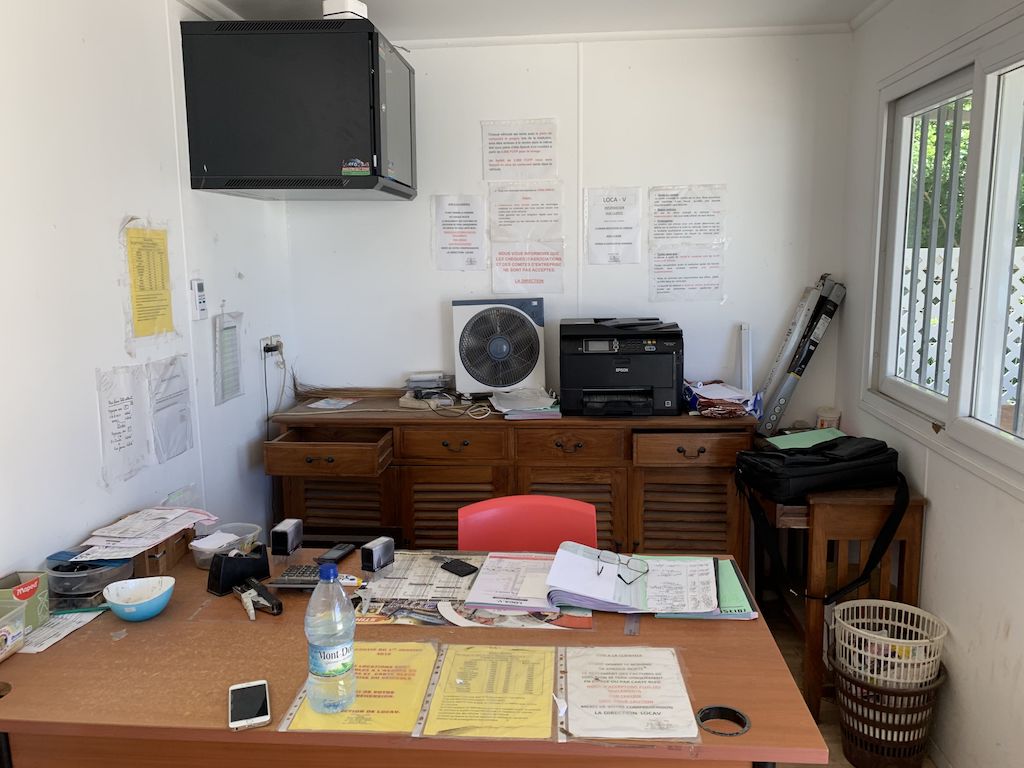 This is the car which I will take care of this time. this is the second time to use DACIA since Morocco. This is the second time to use DACIA since Morocco.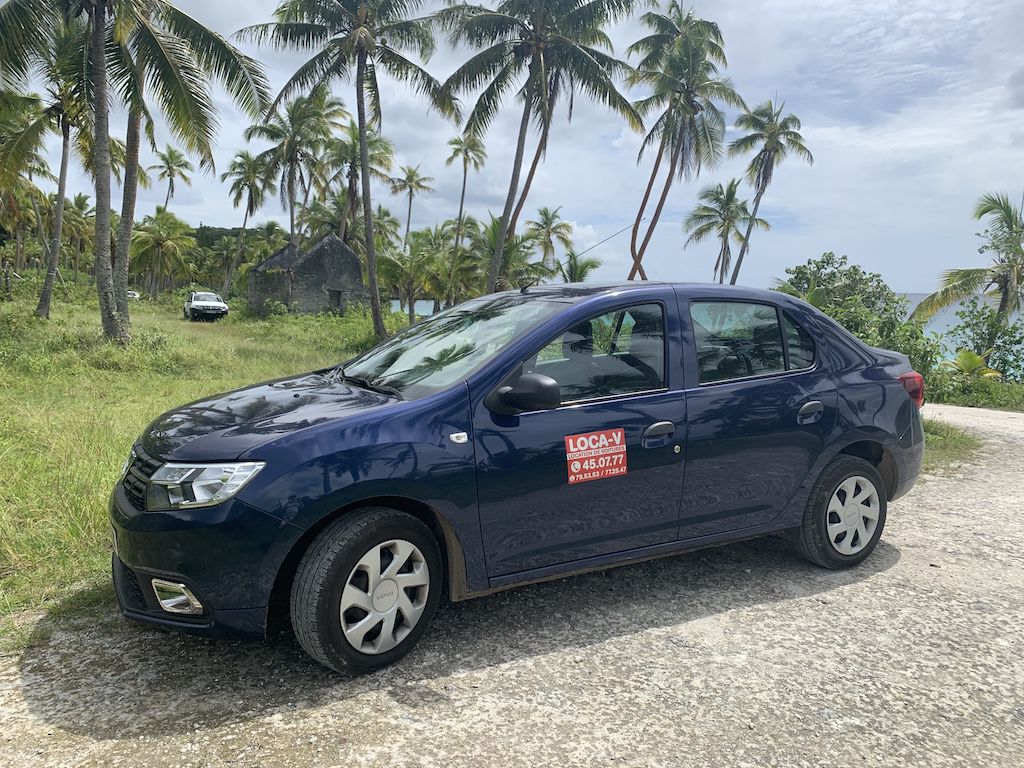 Road conditions on Rif Island
As you would expect from an island larger than Uvea, there were more main roads, they were better paved and wider. Of course, if you go into the side roads, there was also a road that is not paved. Generally speaking, you will not have trouble driving normally.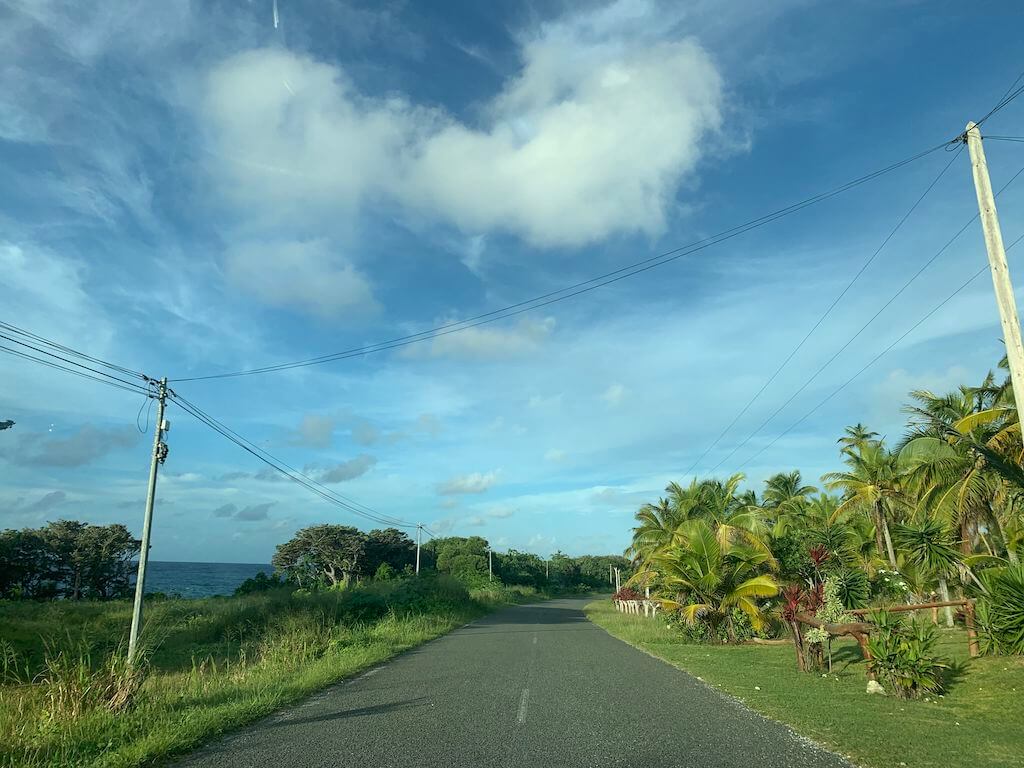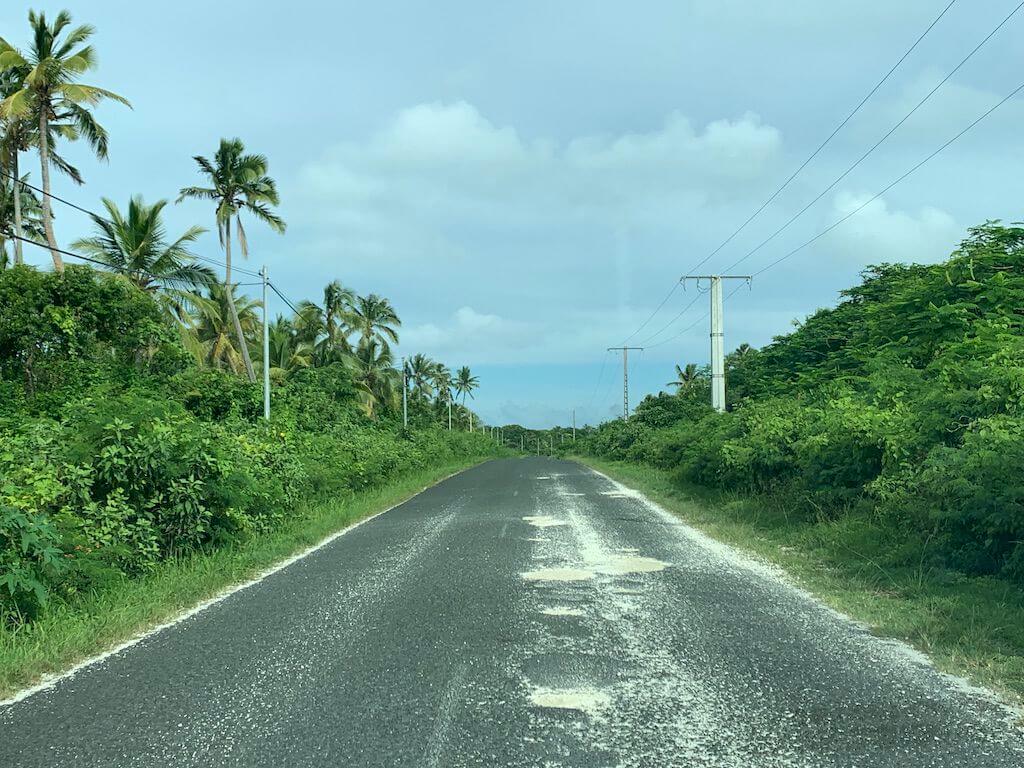 We were a little late, but we were able to secure our legs for two days with this. It's a devil's advocate. First of all, we went to the hotel we had arranged, but on the way we decided to stop at Wé, the central town of Rif Island. I hadn't eaten lunch yet, so I wanted to get something to eat, and also to get some mineral water because it was over 30 degrees Celsius during the day.
The roads in Rif Island are not as steep as those in Uvea Island, but they are still like this. Honestly speaking, you don't need to use Google navigation if you want to go around major sightseeing spots and towns.
Compared to Rif Island and Uvea Island, the trees were more dense and thick. There were many trees and forests on Uvea, but I thought it was more tropical, with more palm trees.
At any rate, I went to the central town of Weh, but it's hard to tell what a town is…
I thought I had arrived at the city of Weh, probably about 15 minutes from the airport, but at first I didn't realize that I was in a city. There were some supermarkets, gas stations, banks, OPTs, etc. on the side of the road, but there was no signboard saying « XX (town) » starts from here like in mainland France, and the houses and shops were only on both sides of the main road.
One snack bar in front of the supermarket, no other snacks in sight.
It was already past 2pm by this time because of the rental car problem on arrival. I was hungry before I hadn't eaten lunch. However, I couldn't find any snack bar that served proper meals at all, as I had in the town of Weh, Uvea. However, there is a fine supermarket.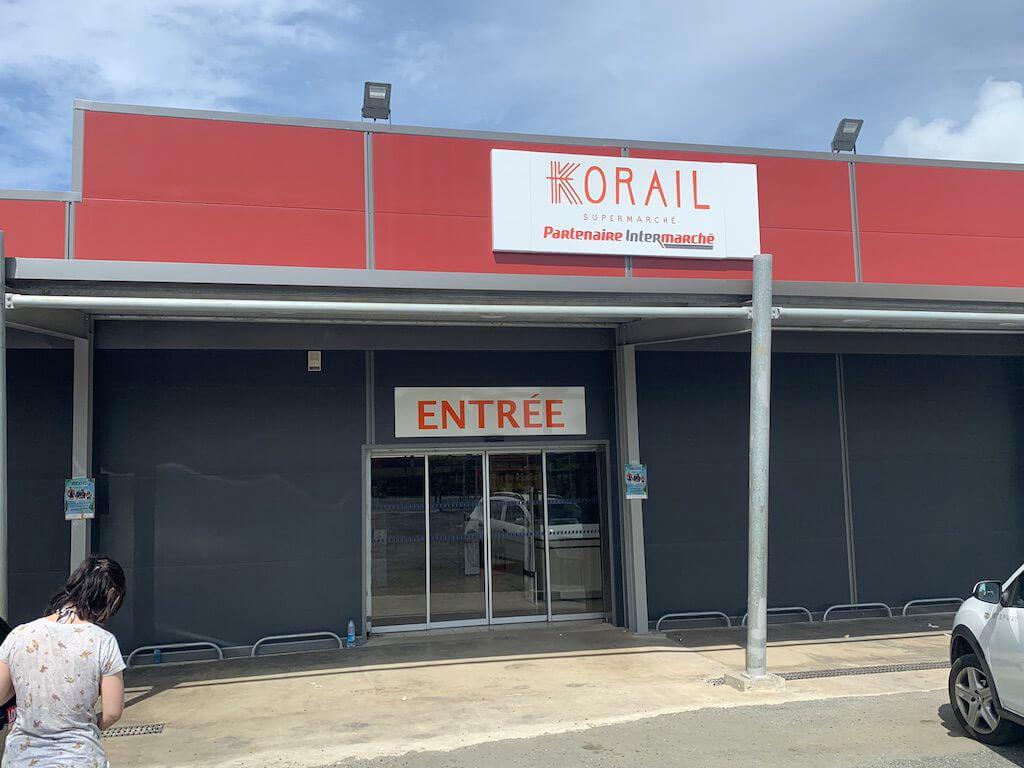 I guess I'll have to buy food here. But there was a snack shop in front of me that seemed to sell at least a sandwich. It was better than nothing and the taste wasn't bad, but to be honest, the shop was dirty and I didn't feel very good about it.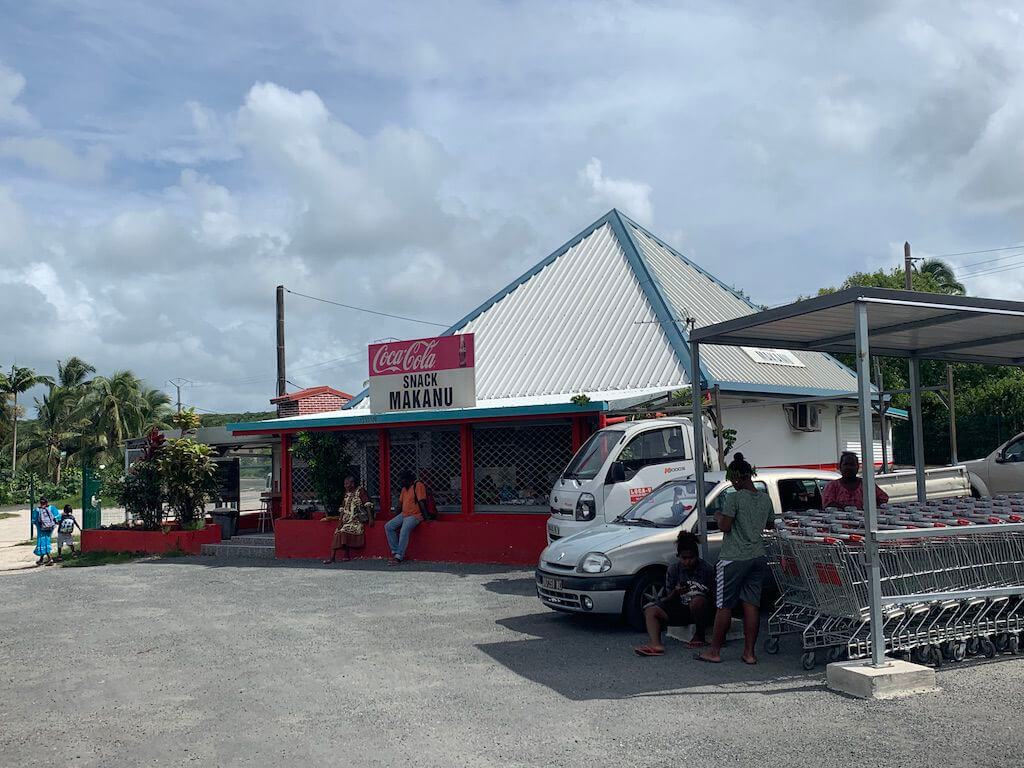 This supermarket had a very good selection. Not only groceries but also daily necessities were hoho. It was much better than the supermarket I visited later in Noumea. I only bought water.
To your hotel for two nights.
After stopping at the supermarket, we headed to the hotel where we would be staying for the next two days. The hotel is located less than 10 minutes south of the city of Weh by car.
お世話になったホテル:オテル オアシス ドゥ キアム(Hotel Oasis de Kiam)
The location is such that you can miss it if you are careless because the road in front is wide and can go 90 km.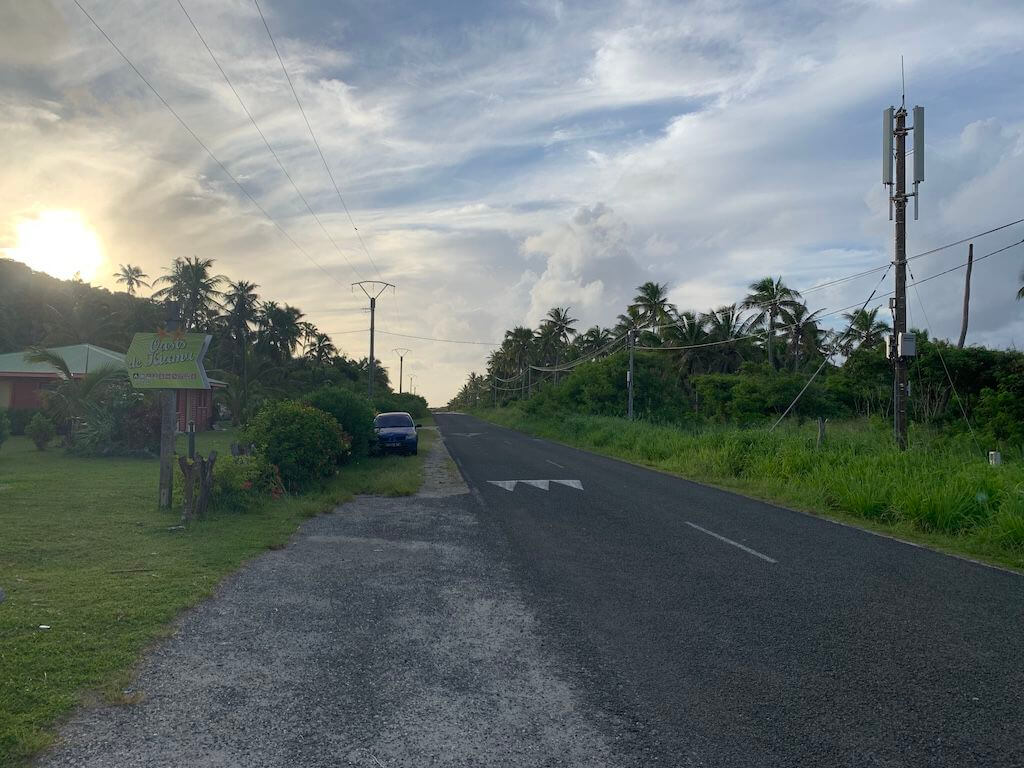 It's not in the city, and there's nothing around it. It was only my second day in the Loyauté Islands, but I was getting used to this kind of location.
This hotel and restaurant were excellent. We ordered French food, meat and wine two days in a row.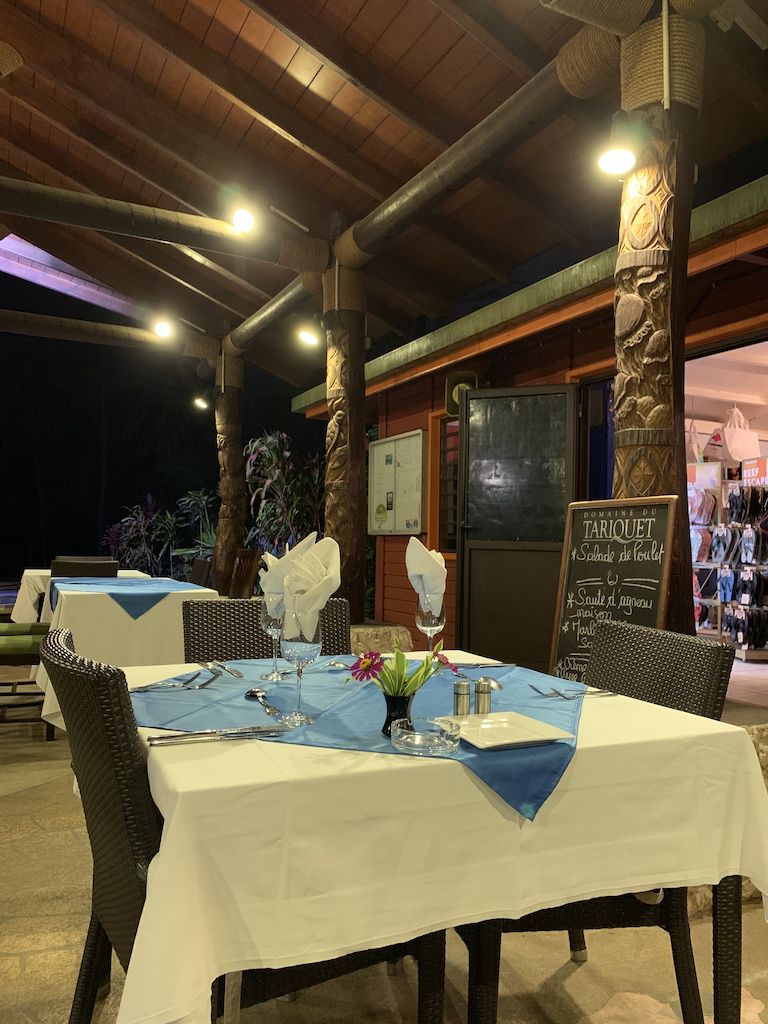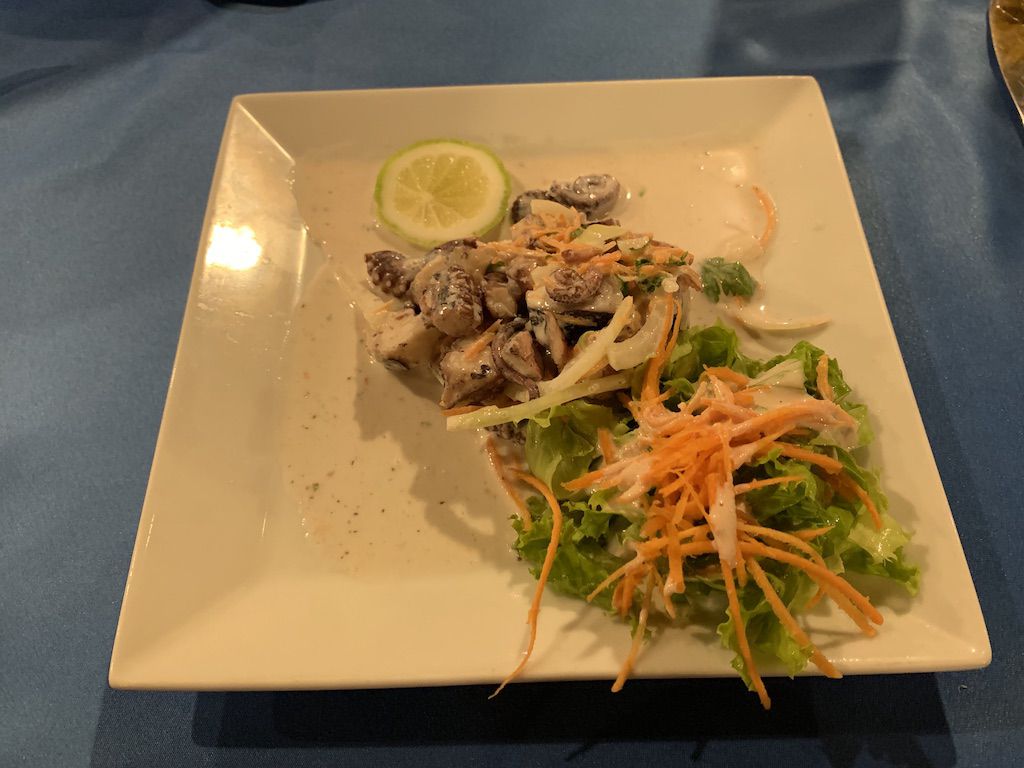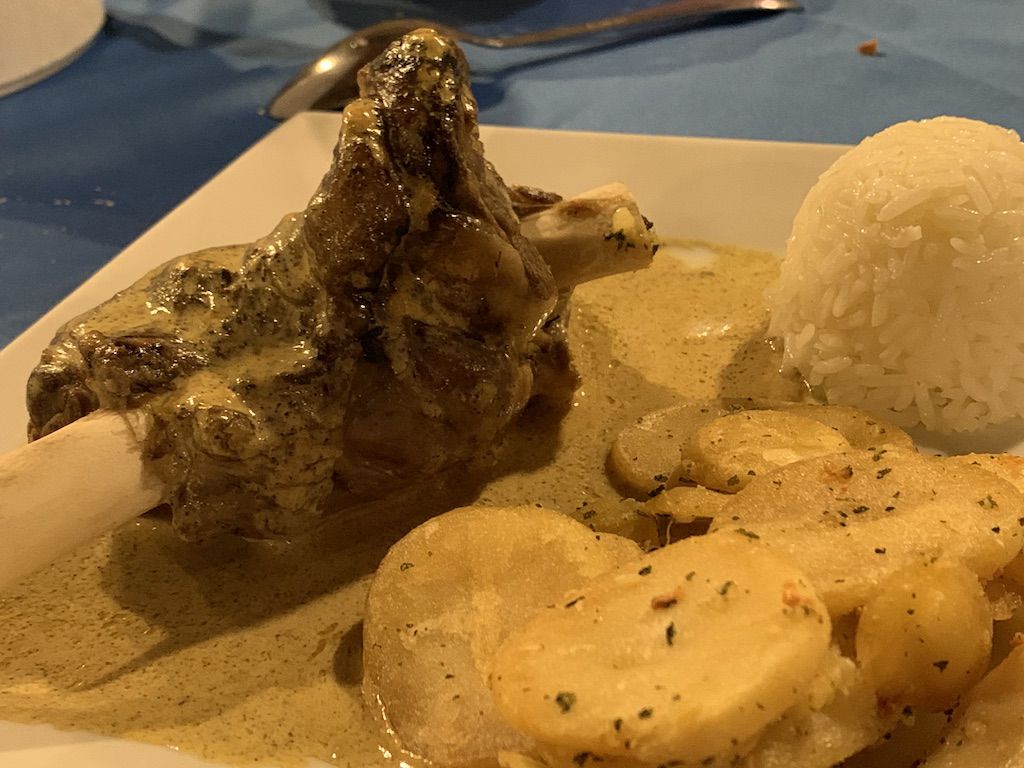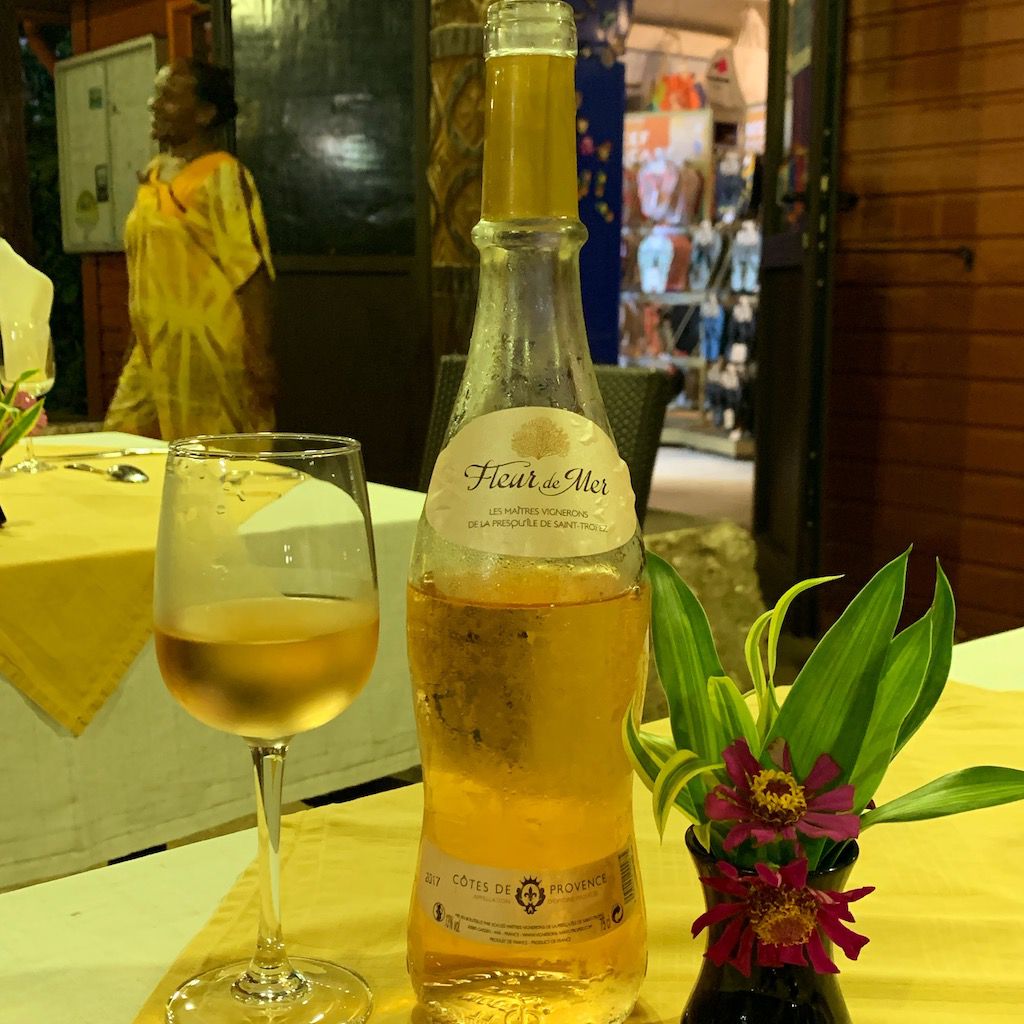 On the other hand, the hotel room was ordinary. No, the bungalow in Uvea Island was very comfortable, so I was a little disappointed compared to it.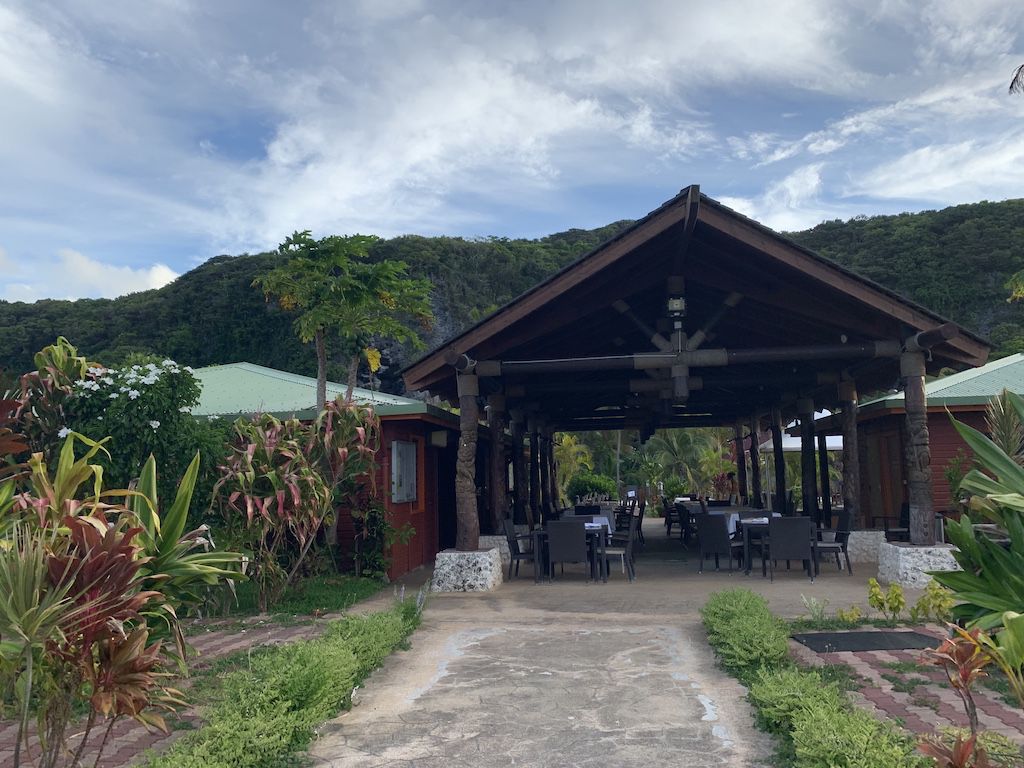 There was a swimming pool on the premises, but to be honest, the atmosphere wasn't great. However, it seemed to be under construction at this time and could not be used.
Full local information at the hotel
This hotel had a lot of local information that some guidebooks don't have. Contact information for local tours, etc. is also written. If you ask the hotel, I think they can arrange it for you.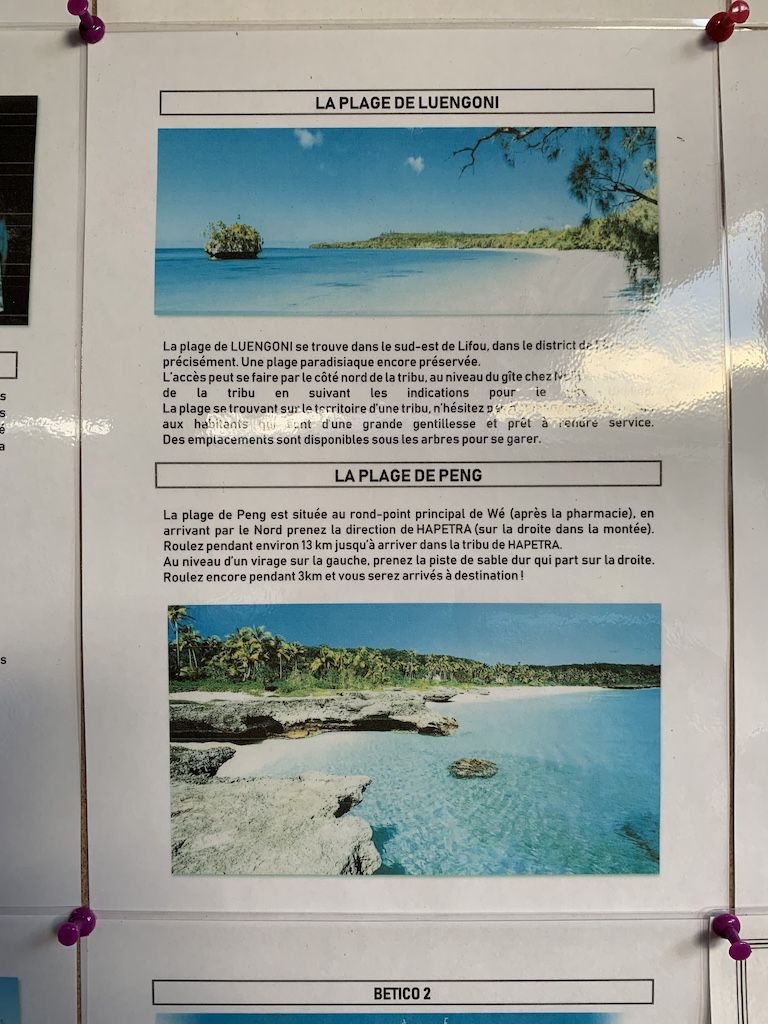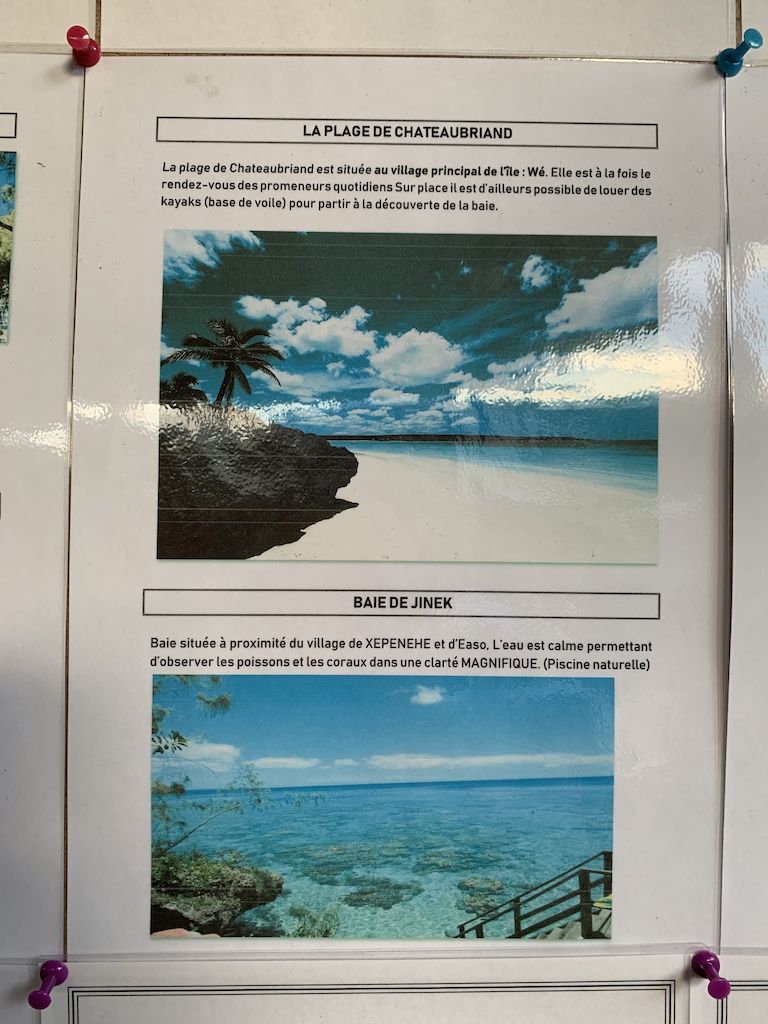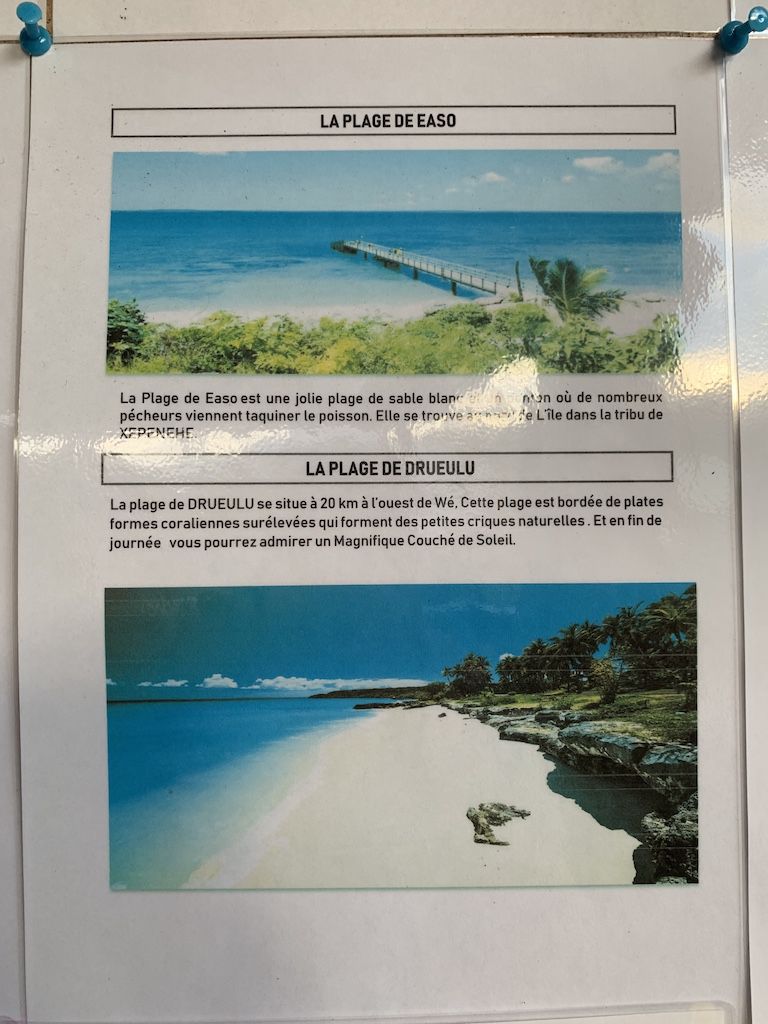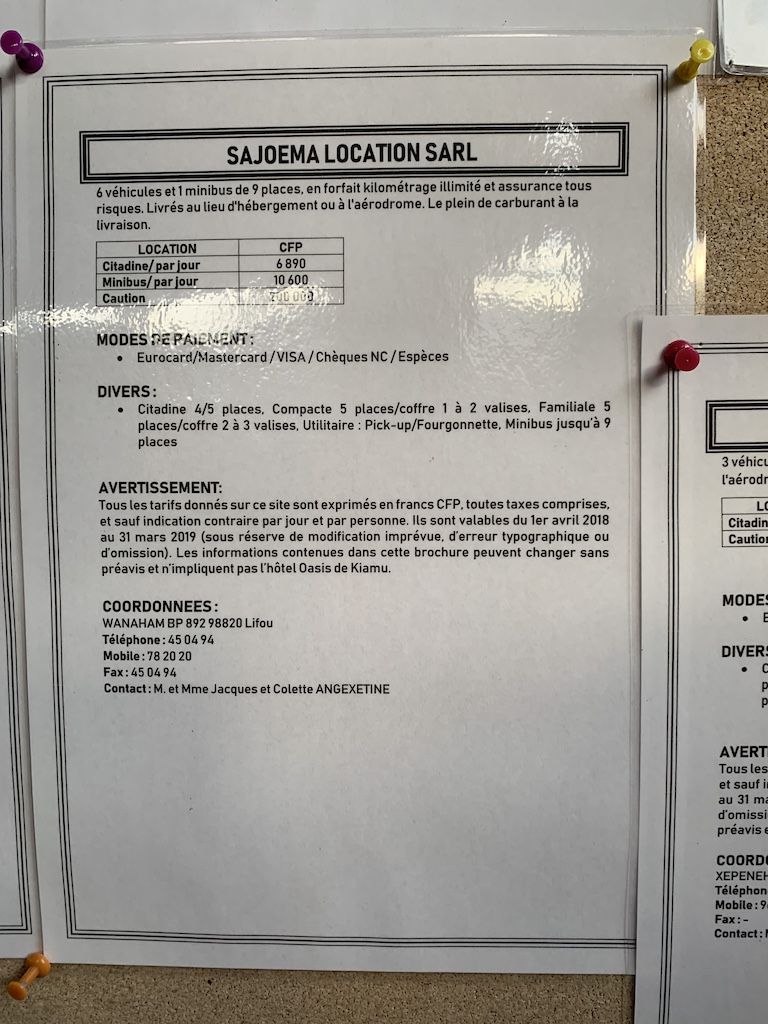 It was very useful to get a lot of information here.
A quick introduction to the highlights of Rif Island
We'll be sharing more details in the next few posts. This time I'll give you the highlights. Although we were not so lucky with the weather on Riffe Island, we were able to stay for two full days, so we were able to almost go around the island and visit most of the major beaches and sights.
The food at the hotel was one of the best we have had on this trip, but the tourist attractions, especially the beaches, were also one of the best we have experienced on this trip.
The white beach is impossibly white and beautiful « Longani Beach ».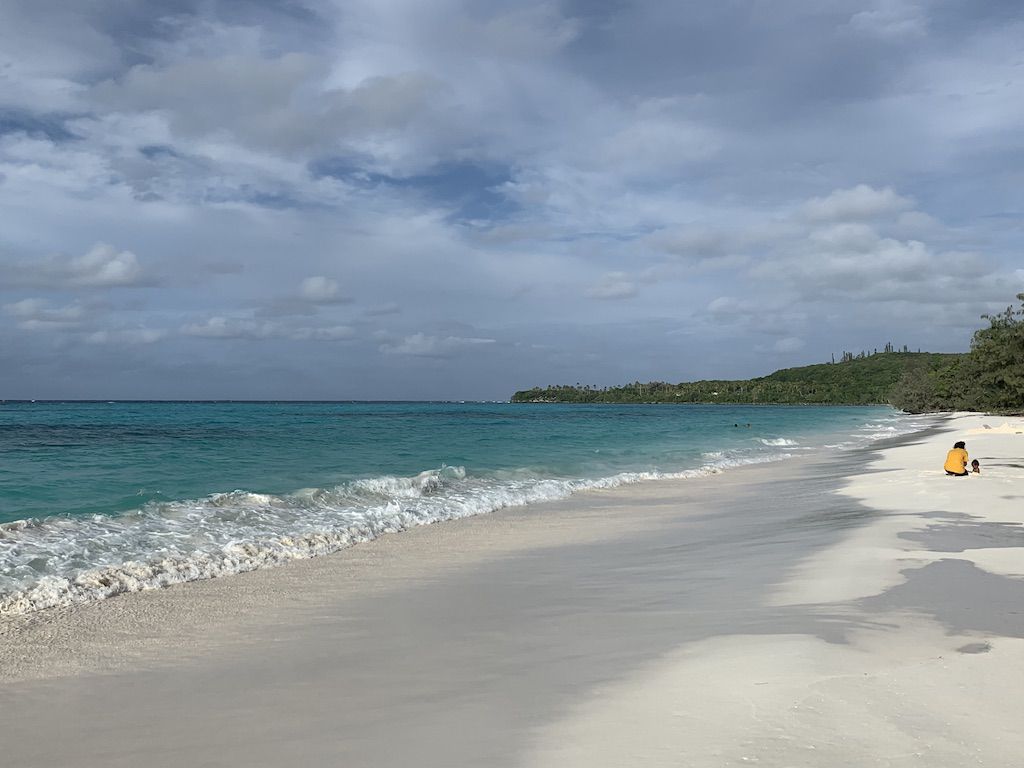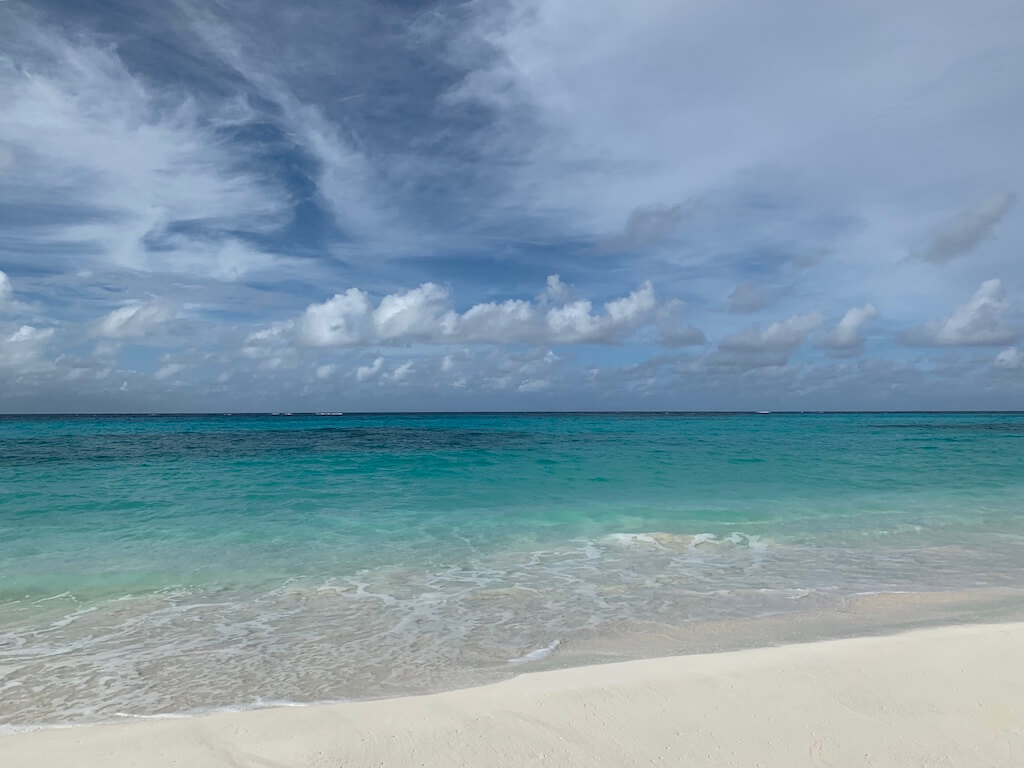 It's like the sand is vanilla ice cream, smooth and impressive!
After passing through the deep forest, there is a beautiful empty sea, the best harvest in this island « Peng Beach ».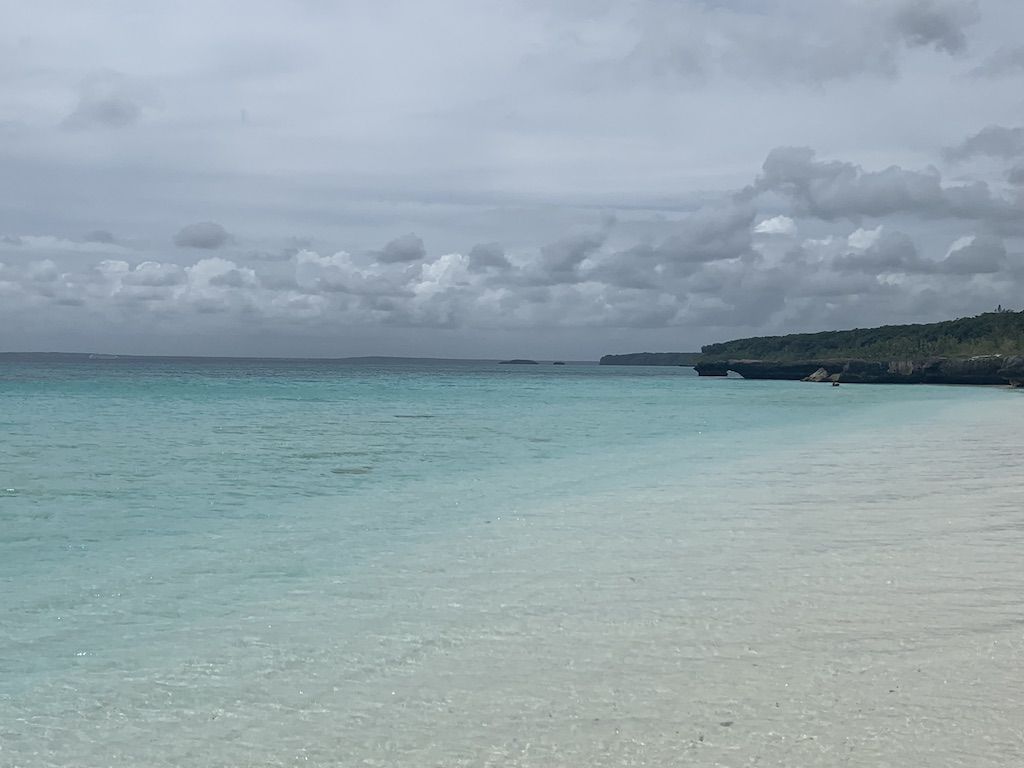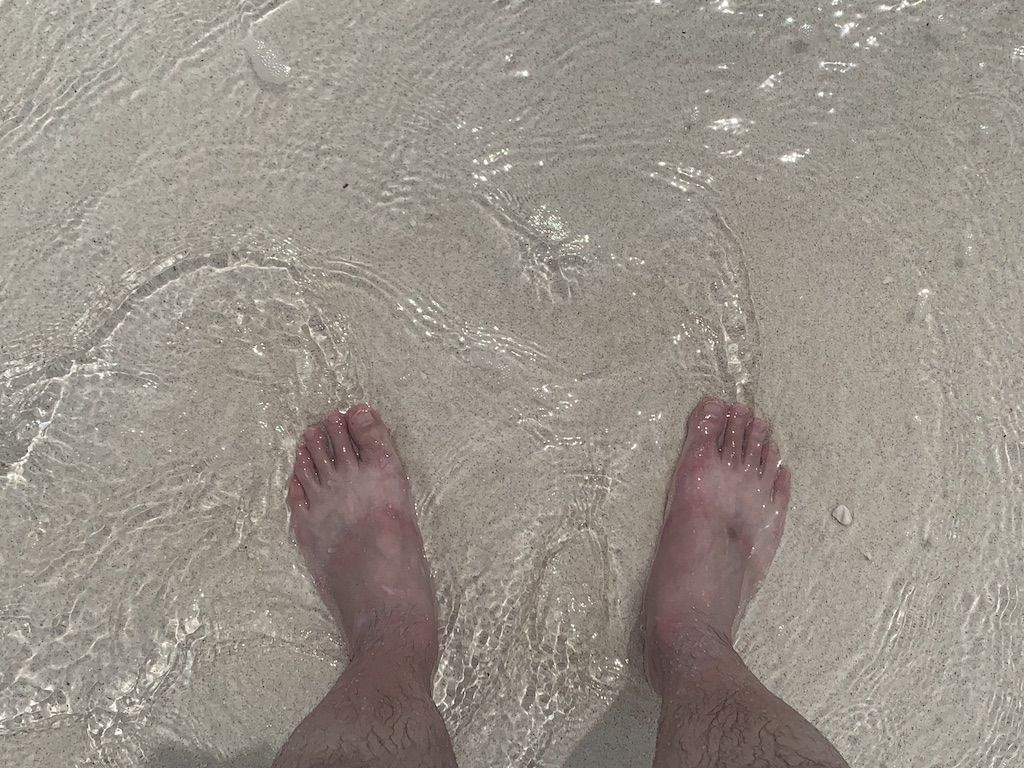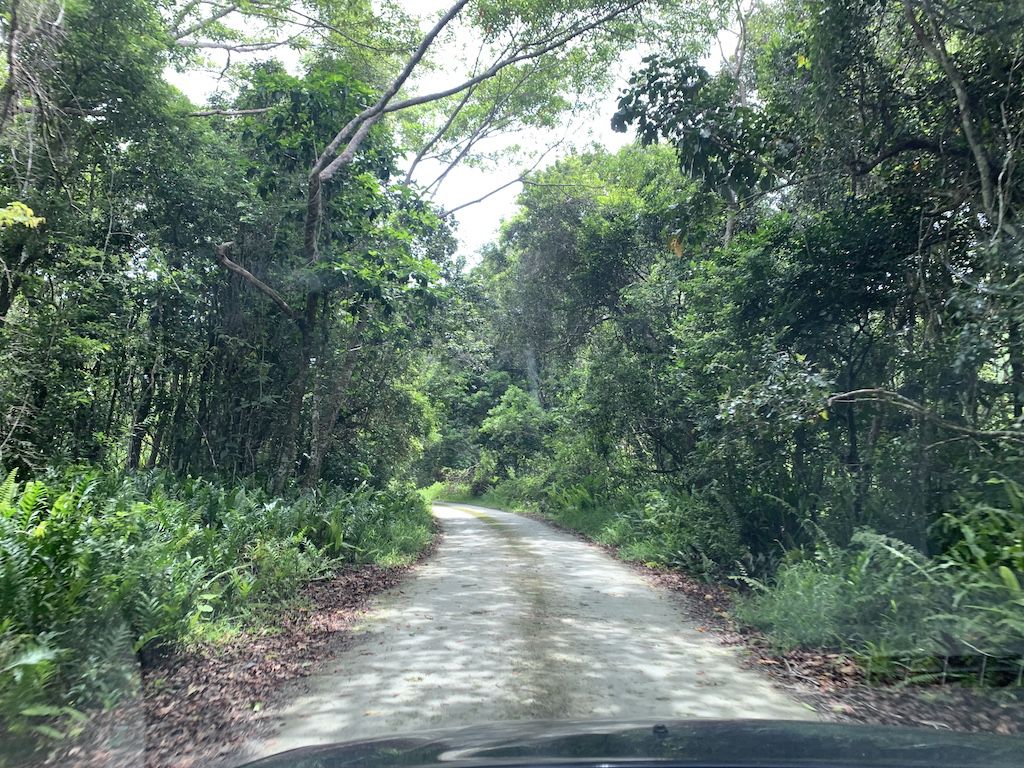 It's not bad, but it's not as good as other beaches.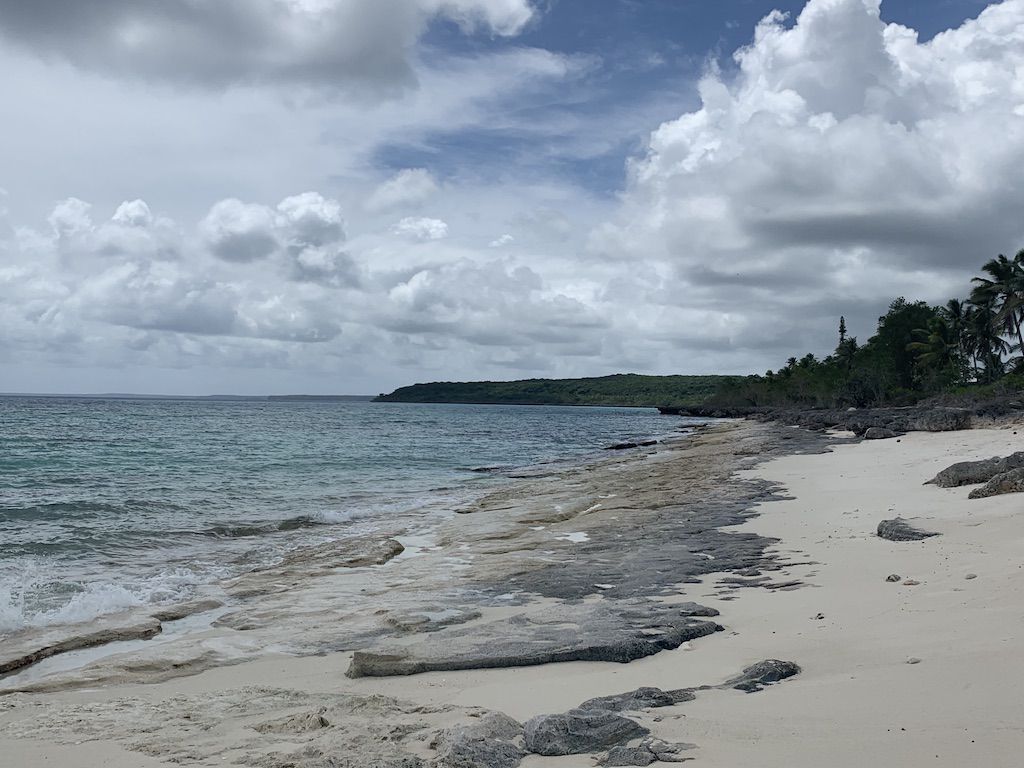 Ginek Bay, a natural pool on Rif Island and surrounding area that is fun to snorkel if it's not crowded.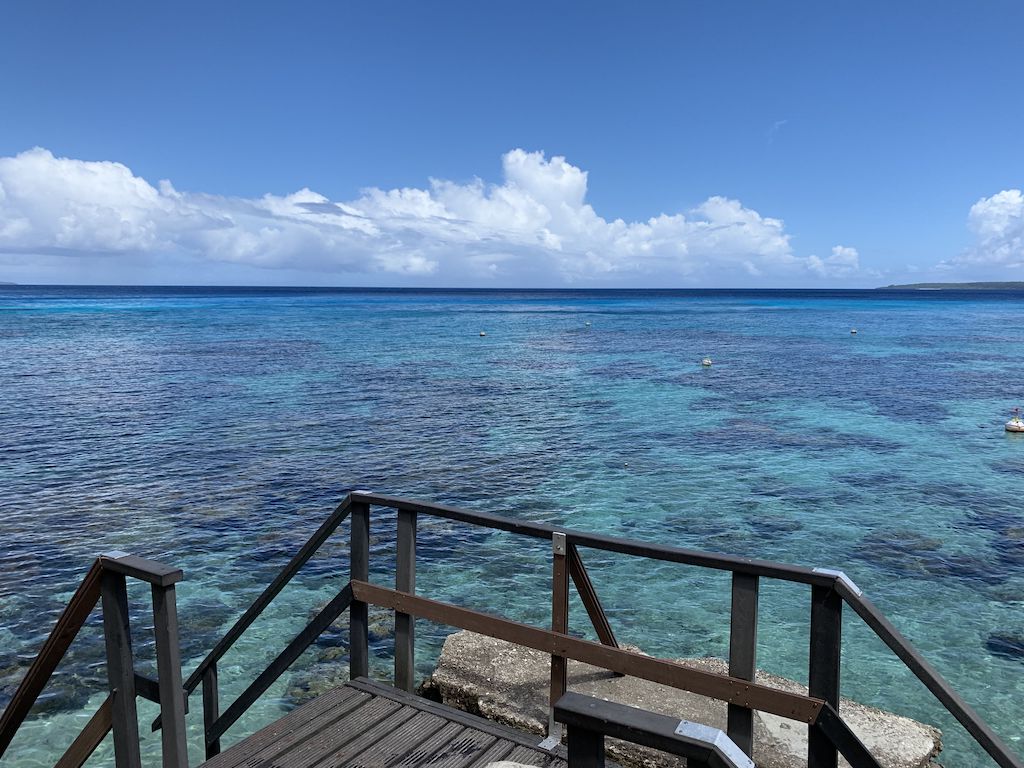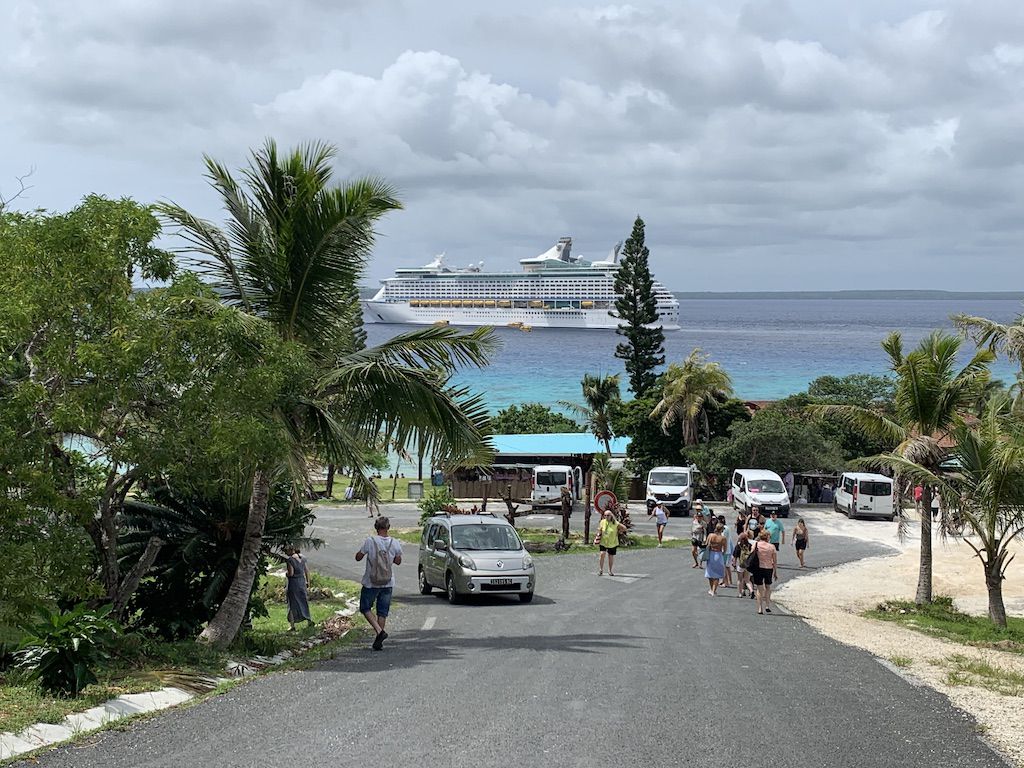 Private property? The Chief's house is near « Jokin's Cliff. »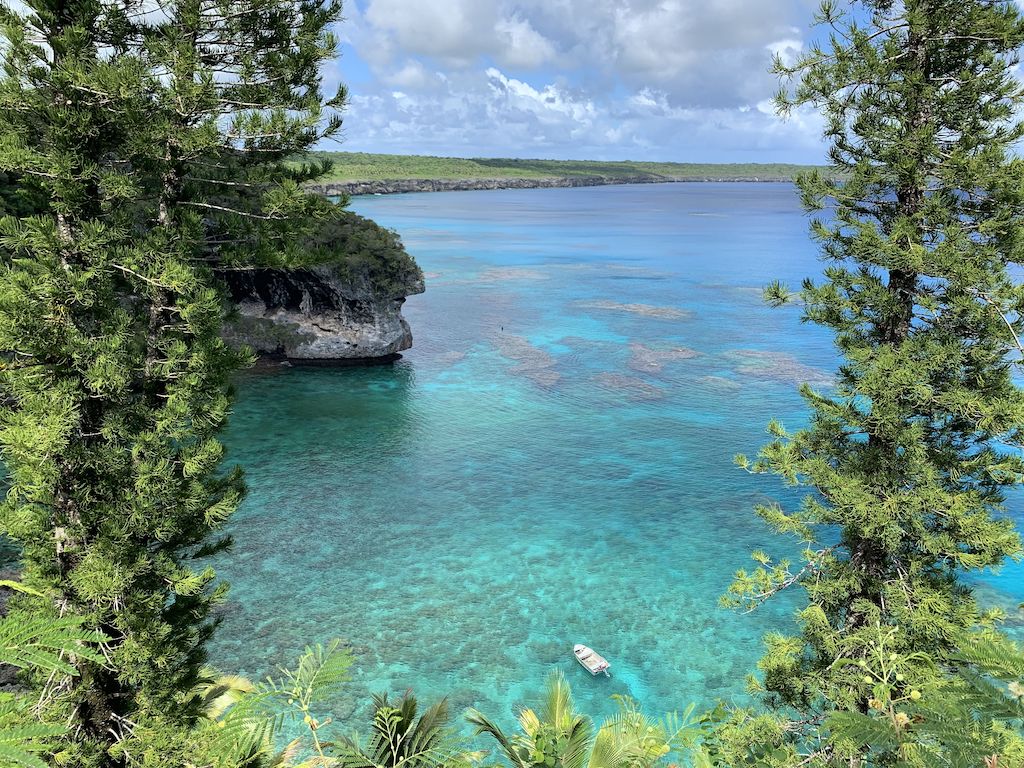 Maison de Vanilla, where you can buy souvenirs, but it's not very exciting.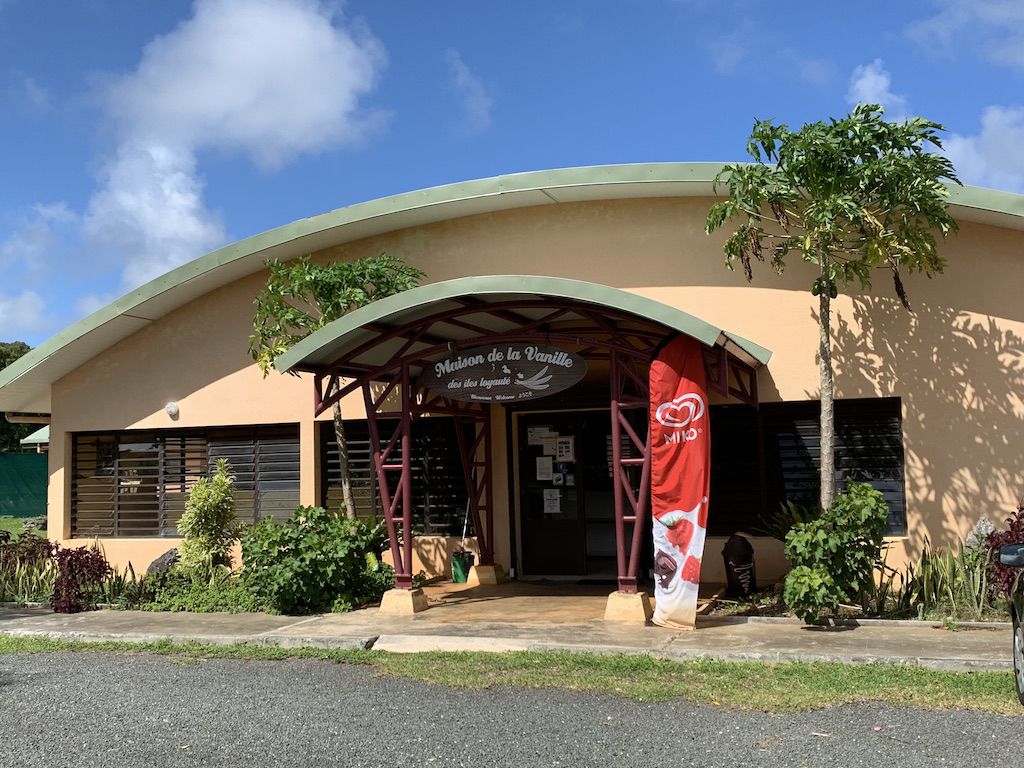 Mysterious unmanned lighthouse standing in the forest
I heard you can climb up and get a view of Longani Beach if there are people there?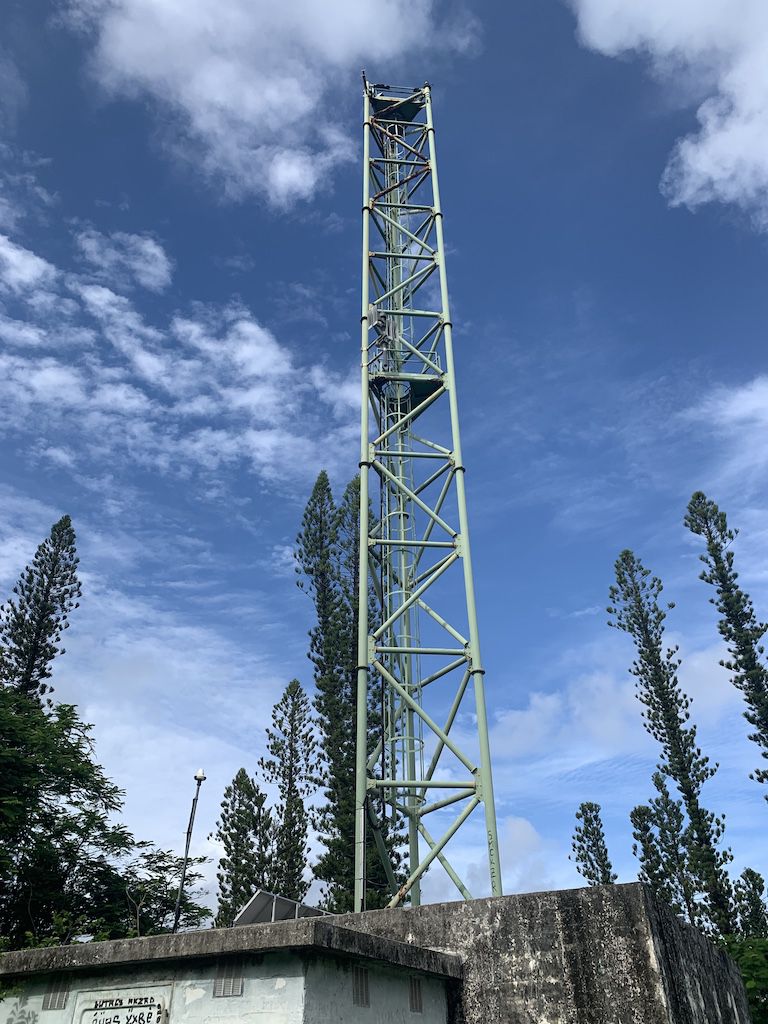 End of the road, the southernmost point of the island « Zodol's cliff »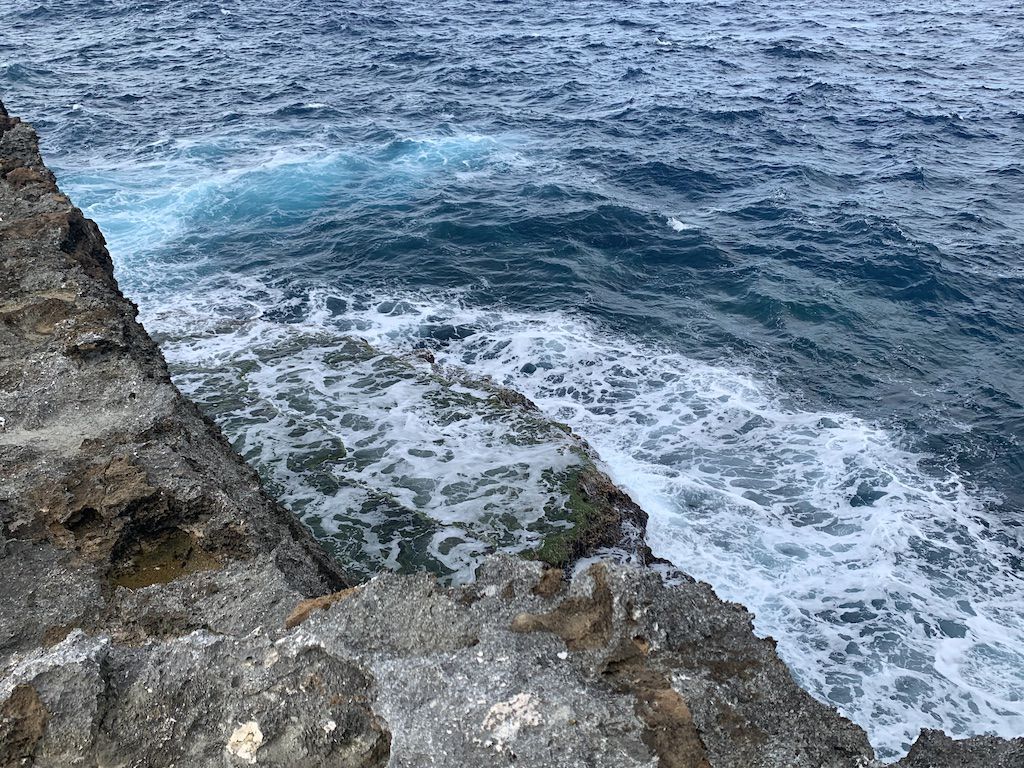 I park my car and out of nowhere my uncle comes.
We will report on these in more detail next time.