I went to New Caledonia for a week in March. I'll try to write about that time in several articles.
Arrange your flight tickets with Expedia
First of all, the air ticket from Japan to New Caledonia, this was arranged by Expedia. The direct flight of Aircalin departing from Narita Terminal 1 around 12:00. 81,000 yen per person round trip. I thought it was cheap, but if you apply for a tour of a travel agency may be cheaper than the price of the same degree, rather than including the cost of the hotel.
The flight time is about 8 hours and 30 minutes, and the time difference between Japan and New Caledonia is +2 hours, so you will arrive at Tontouta International Airport on the main island of New Caledonia after 10pm local time.
ATM at Tontouta International Airport
This is a very small airport, but as soon as you get your luggage and go through customs, there is an ATM on your left where you can use your credit card and cash advance.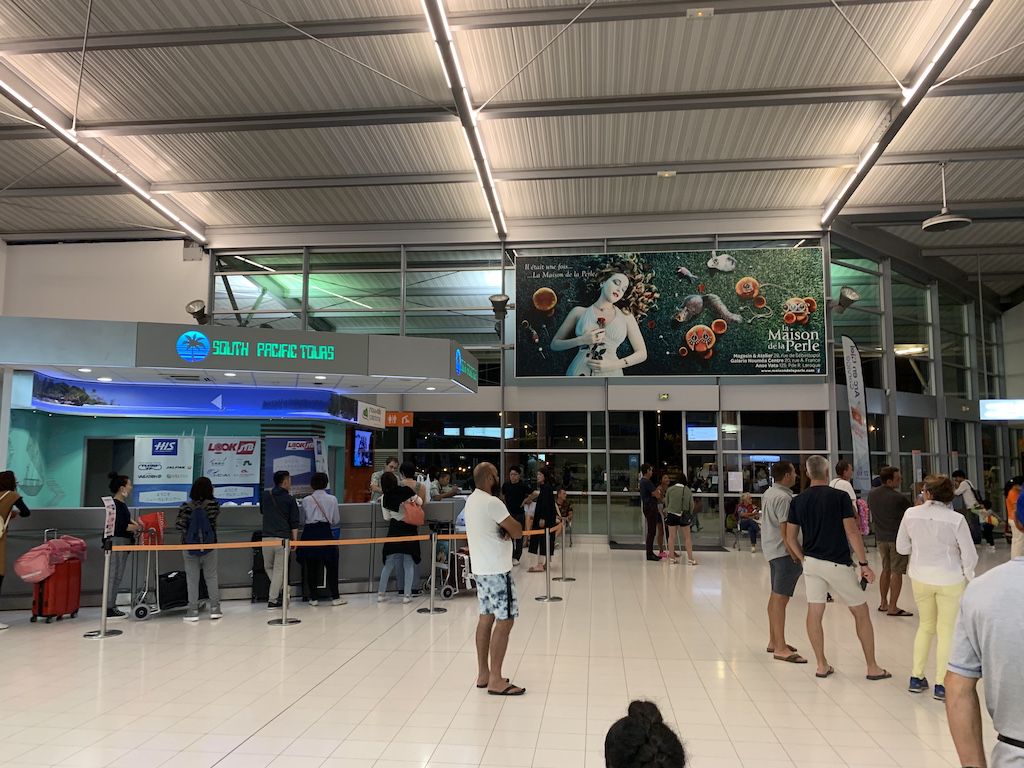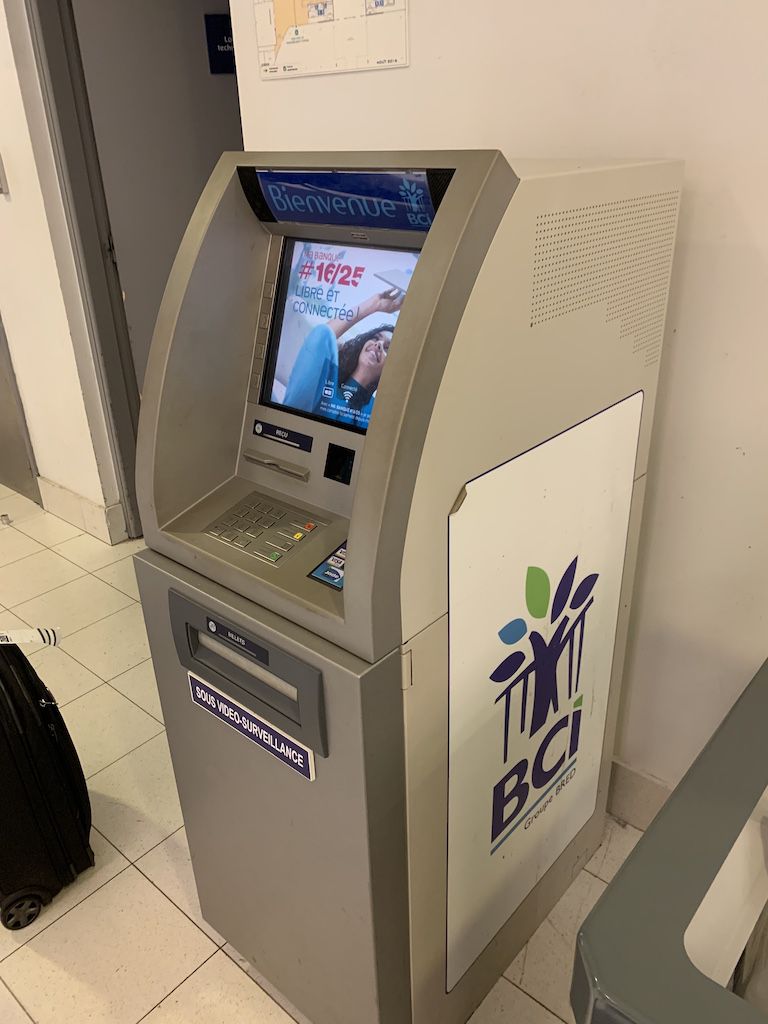 ATMs can be found throughout the city. Also, credit cards are accepted on the main island as well as on the outlying islands, so I think you will never have a problem with cash.
You can also exchange Japanese Yen at the airport. I think many Japanese tourists took this way. We didn't exchange Japanese yen directly, so we don't know the situation of conversion rate.
Prepaid SIM purchase at Tontouta International Airport, available at the Post Office OPT in the Arrivals Hall.
The very good thing is that this OPT is apparently open for business even if the arrival flight is late at night. Indeed, there was an attendant. I'm thankful for this. OPT is a post office in New Caledonia, you can buy a SIM at the post office.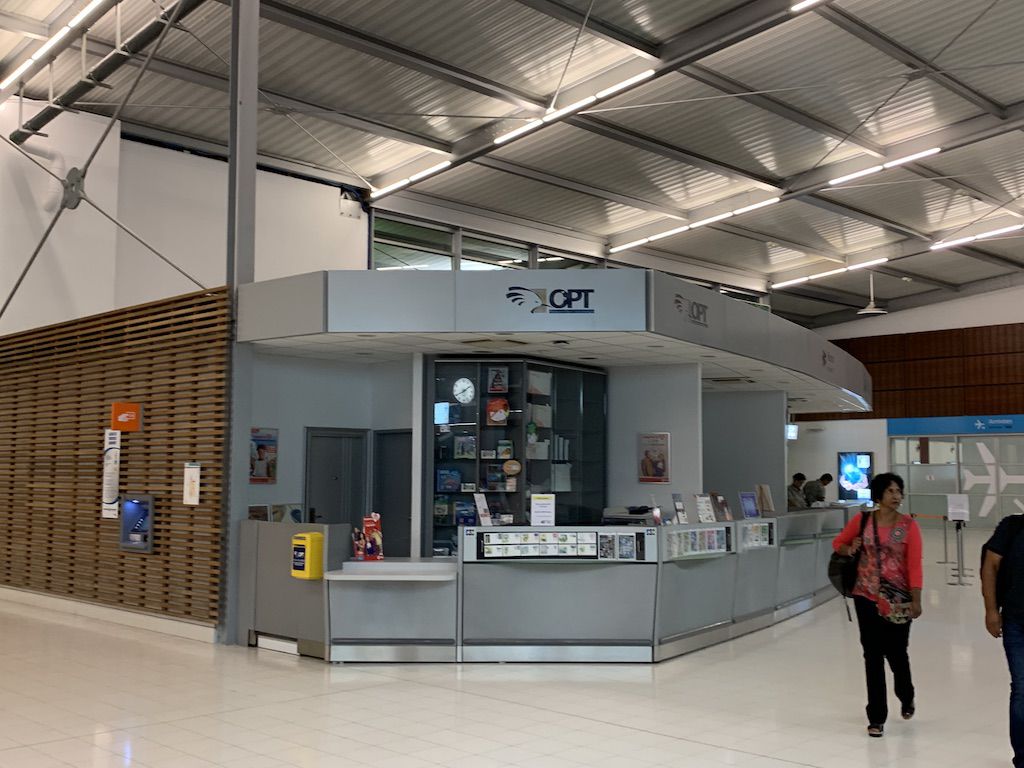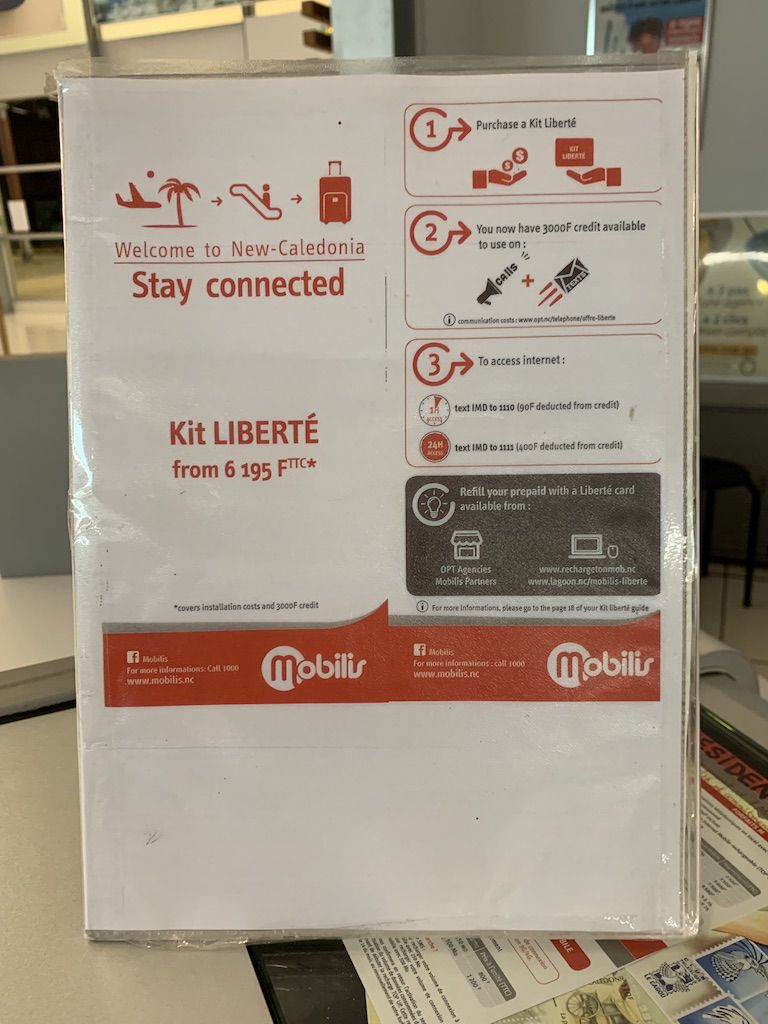 However we were not able to buy one here. Due to lack of prior research, we did not know when we arrived that you can buy a prepaid SIM in New Caledonia at the post office.
In addition, I was able to buy this Mobilir safely in Uvea Island later. I didn't think it was possible to buy it on a remote island, but it's something to ask and see. It was a little expensive, but I think there was only a plan of 6000 francs. But it can make phone calls and has a data communication plan of 3000 francs.
You can activate it by sending an SMS to a given number with the text « IMD » (or IM, apparently).
[highlight]後述しますがどう考えても「1111」一択です。[/highlight]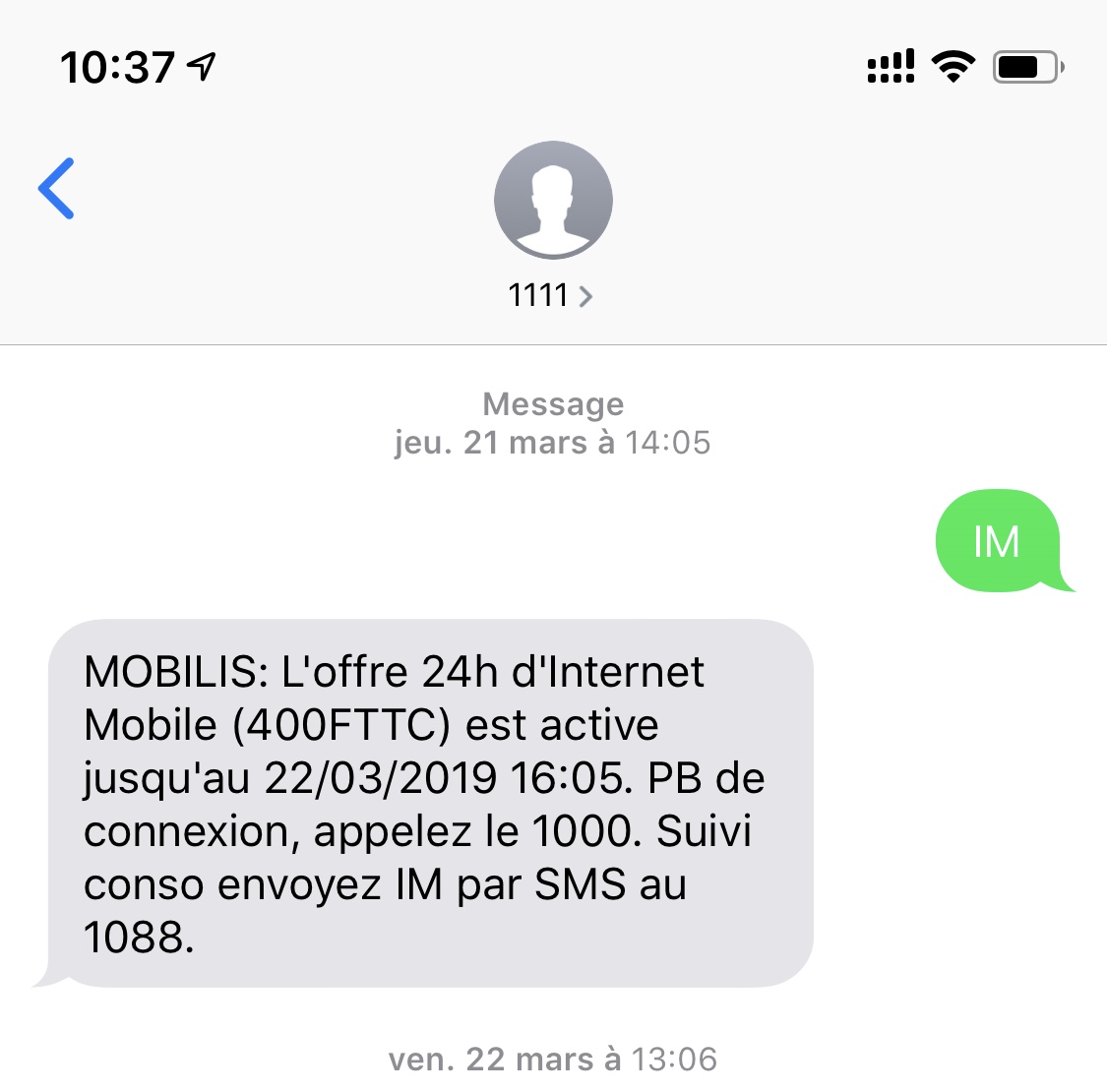 There are several SMS numbers for activation, and 1111 is the one that gives you unlimited usage for 24 hours. You will use 400 francs per activation, but the initial purchase already includes 3000 francs of data, so you will have unlimited access for 7 days or a week. But to be honest, the internet speed is slow throughout New Caledonia, so be careful. It is safer to do a little research on the internet or use Google maps.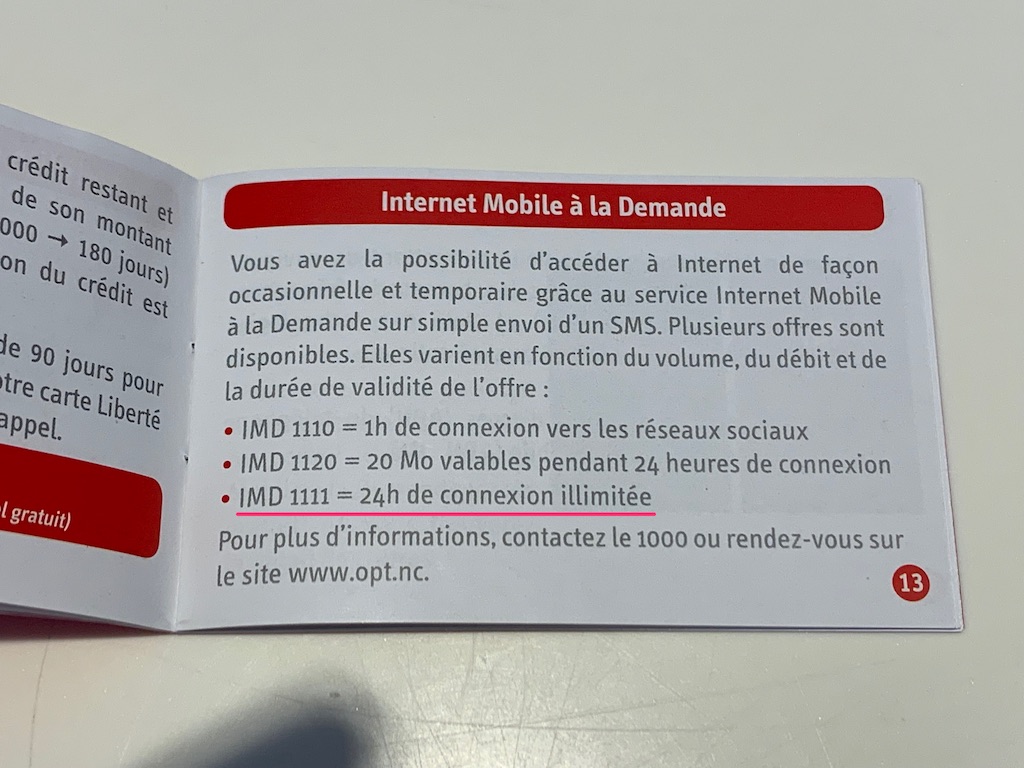 We'd love to have it upon arrival. However, it will take some time to make the purchase, so you should allow yourself about 20 minutes.
(Probably) you can also buy a SIM at the OPT in rural New Caledonia
I failed to buy one at the airport, but to my surprise, I was able to buy a SIM at the one and only OPT on Uvea Island in the Loi Yote Islands on Monday!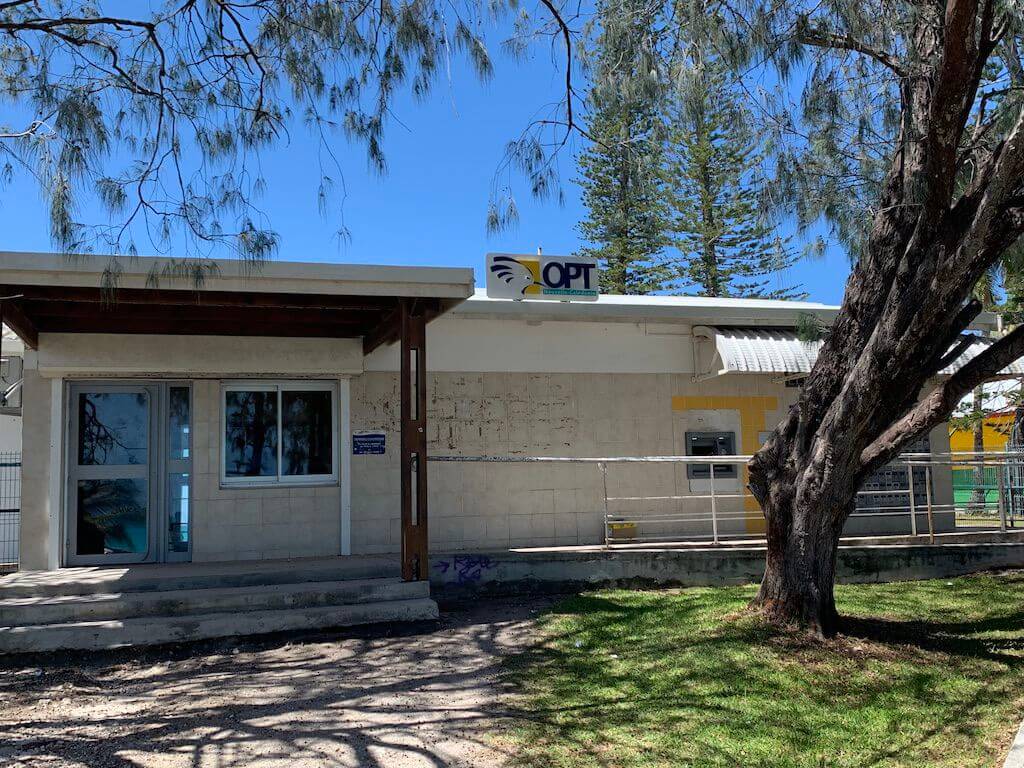 Even if you can't buy it at the airport or in the city, please don't give up and go to the nearest OPT. However, I don't think they speak English. I couldn't communicate with Ubea at all. I don't think there is a need to buy it here, because most of the trips to Loi Yote Islands are guided tours from Japan. Please refer to the case of all individual arrangements.
By the way, there is an ATM at OPT and you can cash out your credit card. Very convenient.
eSIM, GigSky did not support New Caledonia yet
One more thing about the SIM. I bought a 1GB French Polynesia eSIM through a company called « GigSky », but unfortunately New Caledonia was not covered. 6,000 yen was expensive, but I interpreted it positively as a lesson fee. I'll leave the overseas eSIM until Italy of GW.
Transfer from Tontouta International Airport to Noumea City
空港脇の地元バス会社「L'arc en Ciel」が便利です。しかしいくつか注意点が。
L'Aéroport International de Nouméa – La Tontouta » is the international gateway to New Caledonia, but it is more than an hour away from Nouméa, the largest city on the main island. However, it might be a little scary if you think that you can move around from the airport without any problem because many Japanese arrive by the midnight flight. In fact, I had a hard time because there were no taxi or bus at all in Reunion Island 5 years ago.
So, if you are traveling independently, you need to make your own arrangements. I had asked a local bus company « L'arc en Ciel » to make a reservation through the hotel where I stayed on the first day. The location was on the right hand side after the main entrance of the airport as the information on the internet.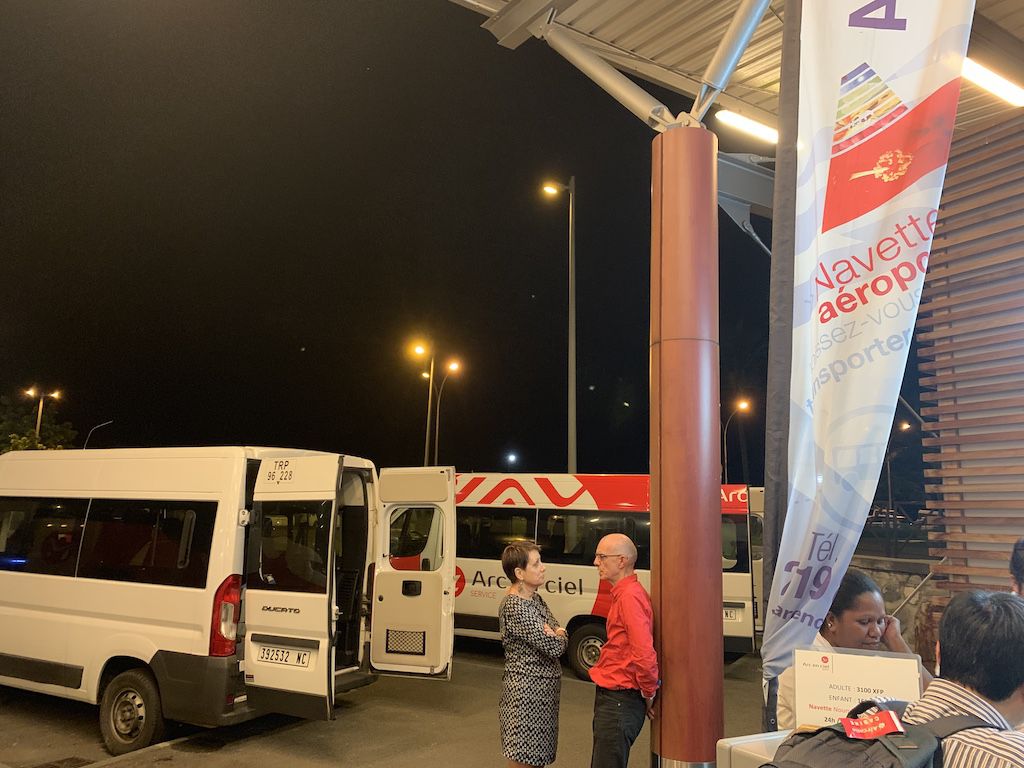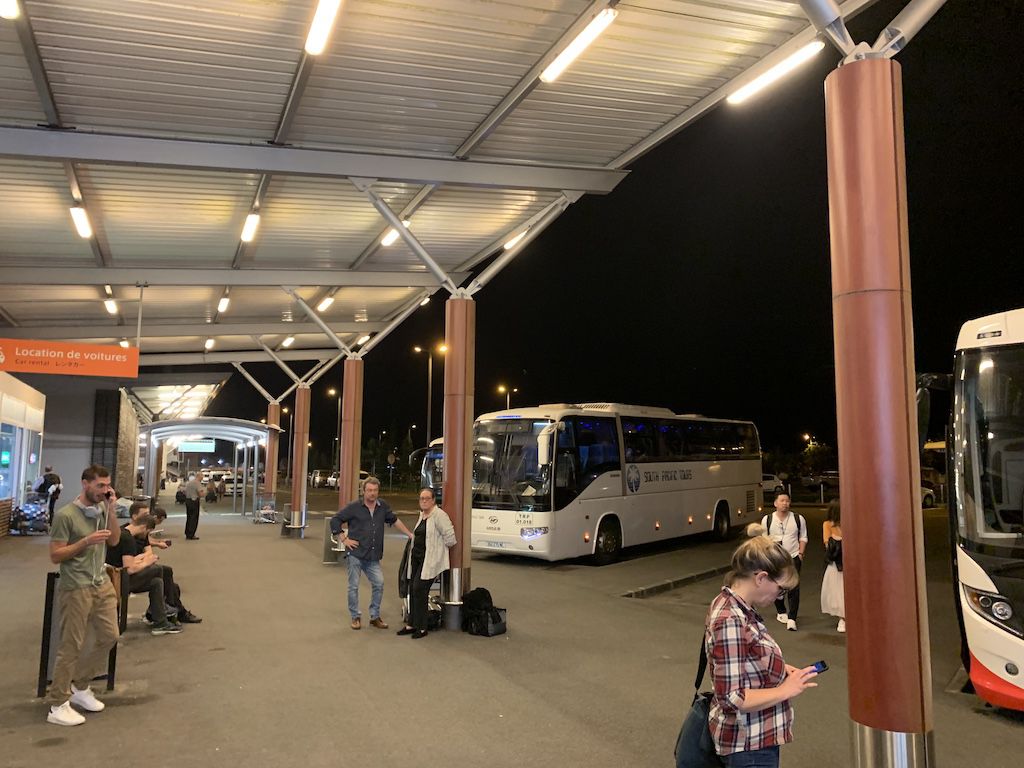 There were rumors that it was hard to see, hard to find, etc., but that was not the case at all. I understood immediately. Or rather, a lot of buses have stopped.
However, I thought I had arranged the bus, but it seemed that the hotel had made a mistake or had not reserved it. Fortunately, there were a lot of Japanese and French people who use « L'arc en Ciel », and there were a lot of people of the bus company, so we could talk to the person of the company and ask him to do something. In fact, I don't know if the hotel forgot to arrange it or what. At first, I heard that it was about 4000 Pacific Francs per person, but in the end, I was able to get on the bus without paying this fee.
However, I still think I should have ordered it myself instead of asking the hotel or something. Ainoori's wagon is as cheap as 2100 francs! I should have used this….

It was just before midnight when I left the airport because I arrived late. I arrived at the hotel after 1am. The hotel was open 24 hours, but it took a long time to check in because many guests arrived late at night.
The hotel is called « Nouvata ». The hotel is called « Nouvata » and it seems to be a famous place in Ansebata area. Booking is from Booking.com.
It seems to be often used for Japanese tour. However, we chose the cheapest plan, you can use the pool in the hotel freely, but the room is in this building which is a little bit far from the hotel.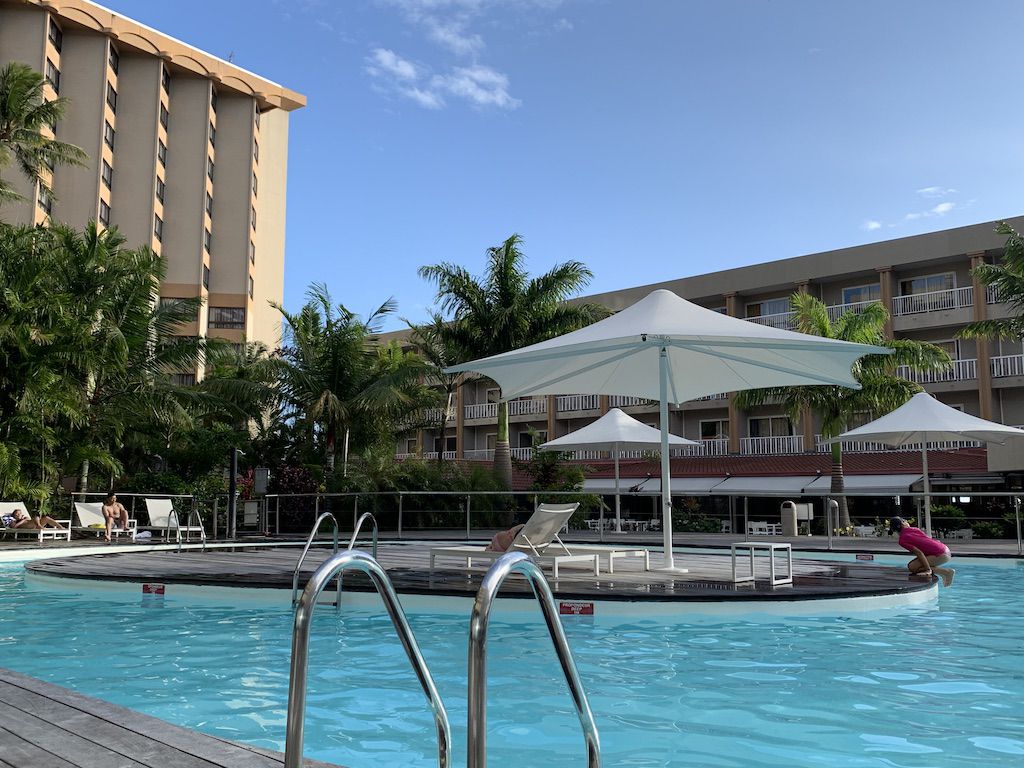 Still, it's a good spot with a view of the Ansebata coast in front of you.
(To be continued next time)