Visit date: March 18, 2019, overnight
New Caledonia is a beautiful island country in the South Pacific. It consists of a main island called Grande Terre and small islands around it. These small islands are also very popular with tourists. Of them, « Ildepan Island » is located in the southeast of the main island, and this island is called « the closest island to heaven » by Japanese.
Another popular destination is the islands of Ubea, Rif and Maré, which belong to the Loi Yote archipelago located on the north side of the main island. Ildepan Island and each of the Loiyote Islands can be reached within an hour by plane from Magenta Airport in Noumea City. They can also be reached by ferry.
Ubea Island is the most popular island in the Loiyote Islands because of its small size, which makes it possible to make a day trip to the island, and above all, because of the beautiful sea that cannot be seen on the main island.
How to live to Uvea Island: by plane from Noumea Magenta Airport
I went to the island of Ouvéa by plane. The domestic flight of New Caledonia, Air Calédonie, flies every day from Magenta airport in Noumea. They fly on Saturdays (S: Samedi) and Sundays (D: Dimanche). It's easy to make an itinerary.

Air Calédonieウェブサイト:https://www.air-caledonie.nc
To get to Magenta Airport, we recommend taking a taxi to or from the city. A taxi to or from Noumea will cost you around Php1,000 to Php1,500, while a taxi to Ansebata will cost you around Php1,500 to Php2,000.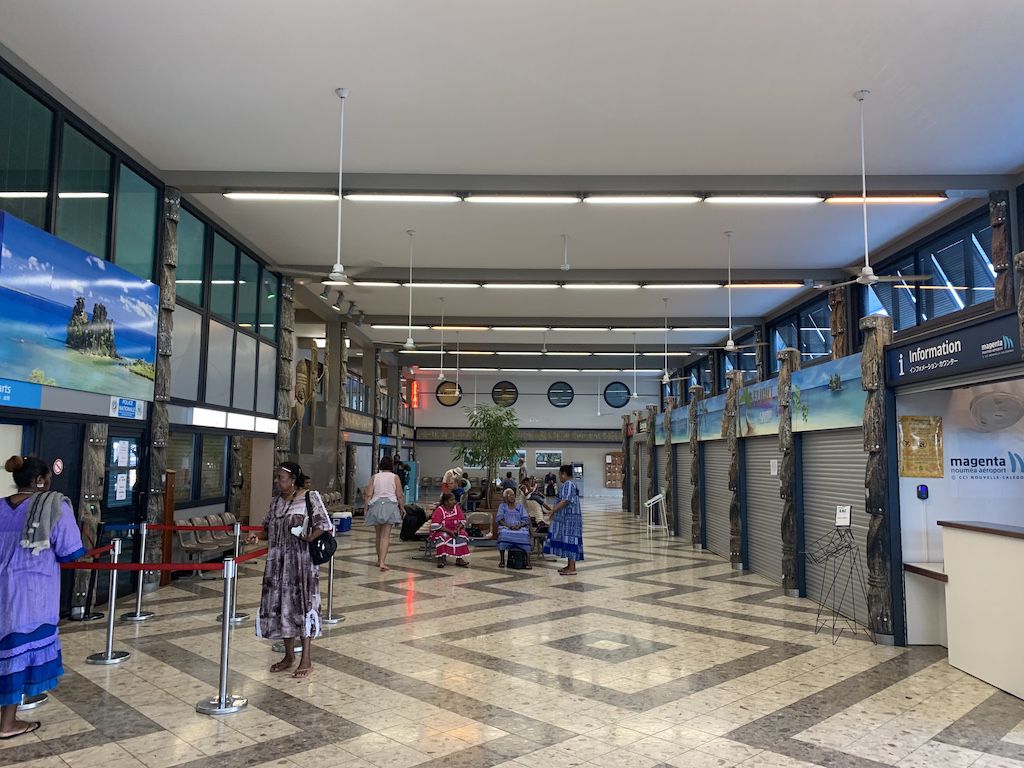 In addition, I could find very good information about « how to get to Magenta Airport from Noumea center » on the web, but I could find almost no information about « how to get to Noumea center from Magenta Airport ». As a matter of fact, there is no bus stop or taxi stand in this airport at first glance. There are no taxis parked at the airport all the time.
However, if you ask the person at the information desk in the airport, they will call you right away. It is easy to find it because it is written in Japanese.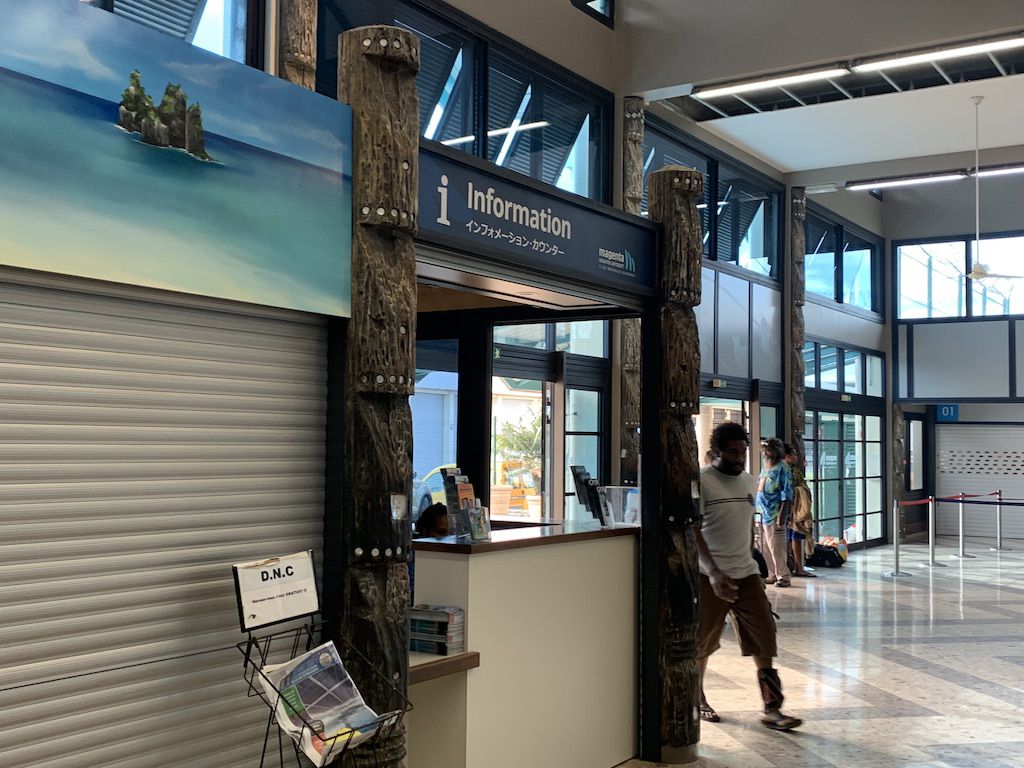 You can check in 70 minutes before departure time, and it must be done at least 30 minutes before departure. There you will check in as you would on a normal flight.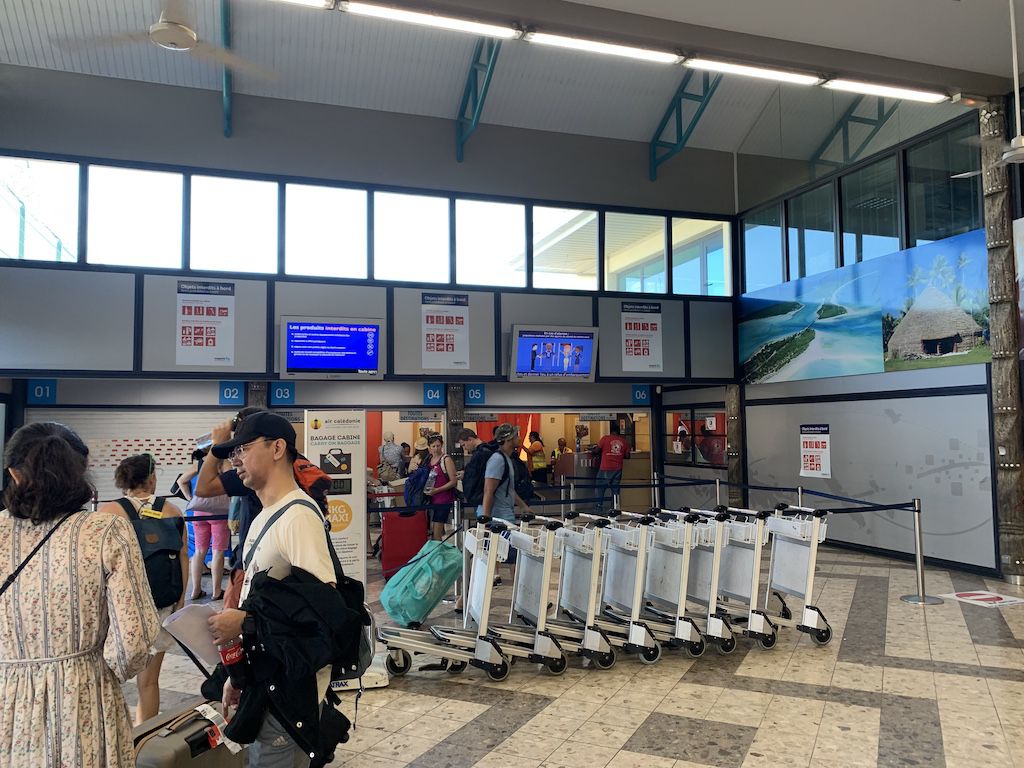 Checked-in baggage is limited to 23 kg and carry-on baggage is limited to 5 kg. You can go to the boarding gate as soon as you check in. There is a cafeteria on the first floor of the lobby (the second floor in Japan), but it is not air-conditioned and not clean, so I thought it would be better to have breakfast before going to the airport and go to the boarding gate as soon as you check in.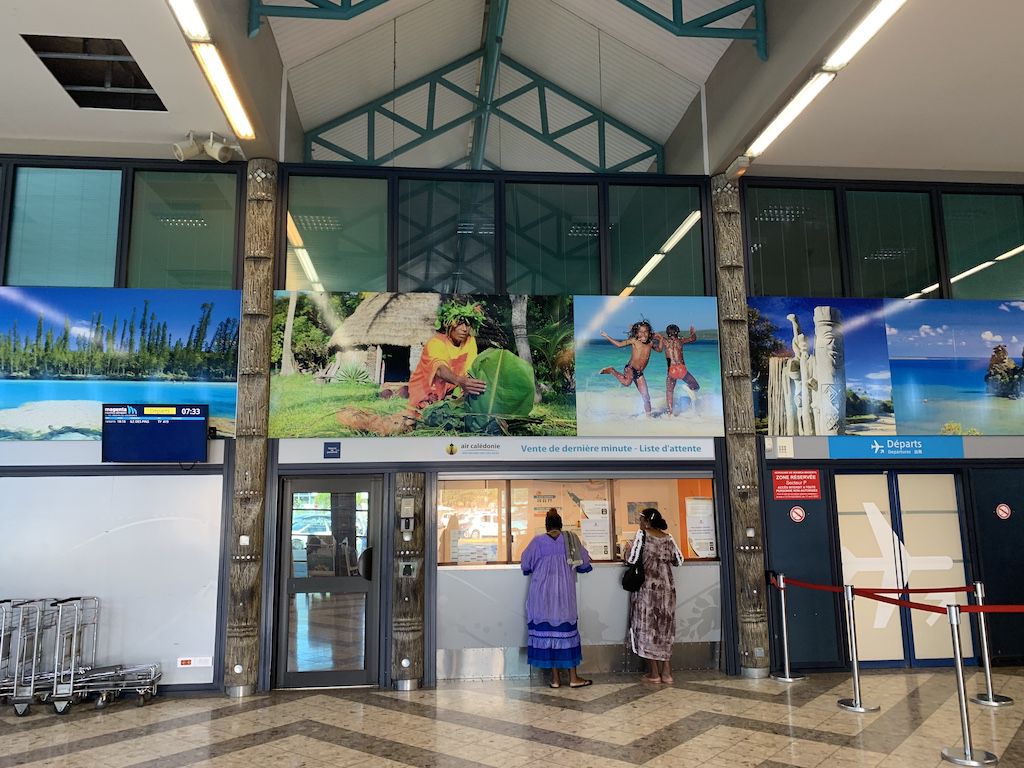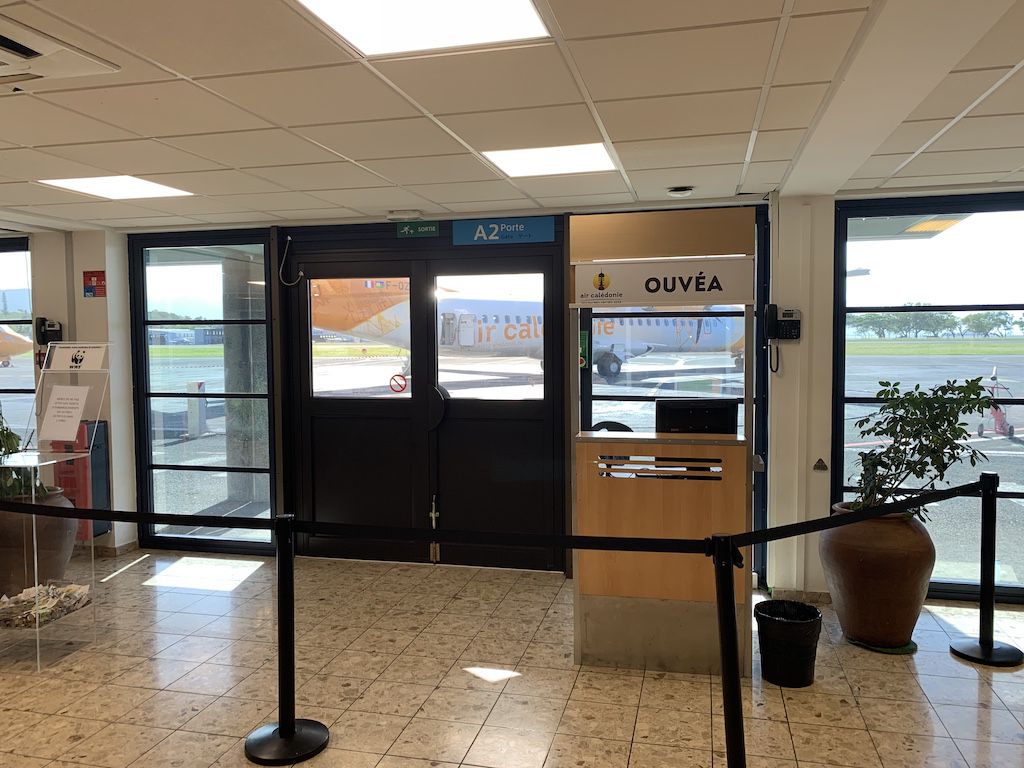 It's a small airport, so you'll have to walk around the grounds to get to your plane. The plane is parked right near the airport lobby, so you won't have to walk long.
The plane is a little smaller with a propeller here, but there is no problem at all with the space and comfort.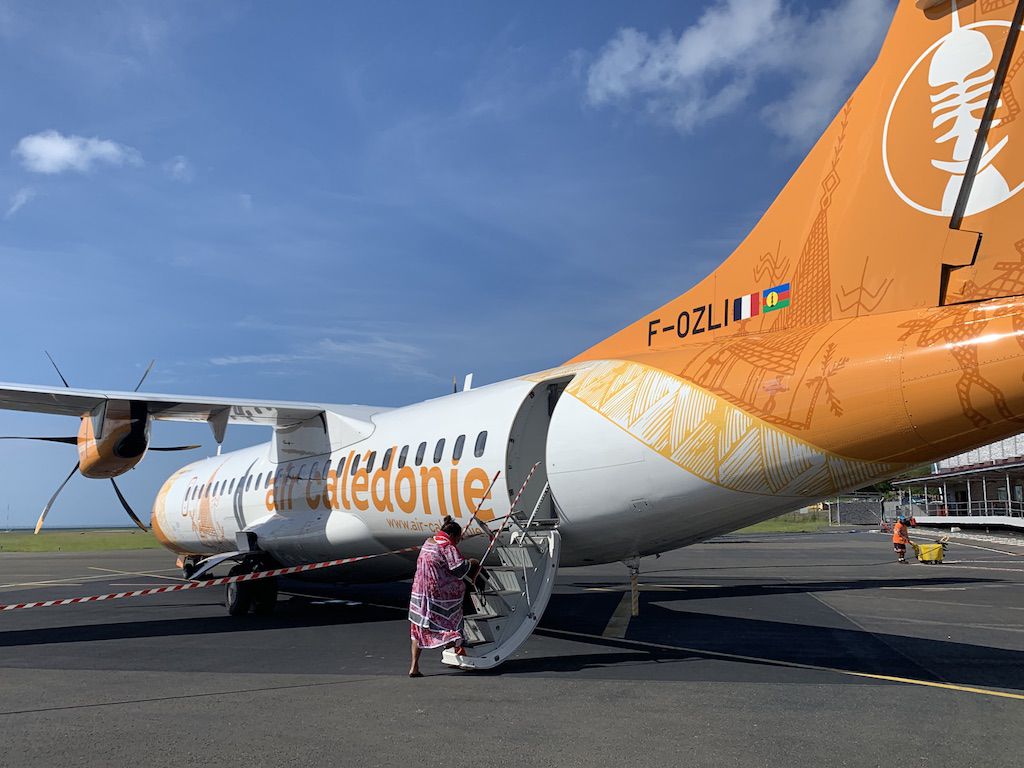 It took only 40 minutes to get to Uvea, and we arrived there in no time at all. How beautiful the island looked from the window of the plane!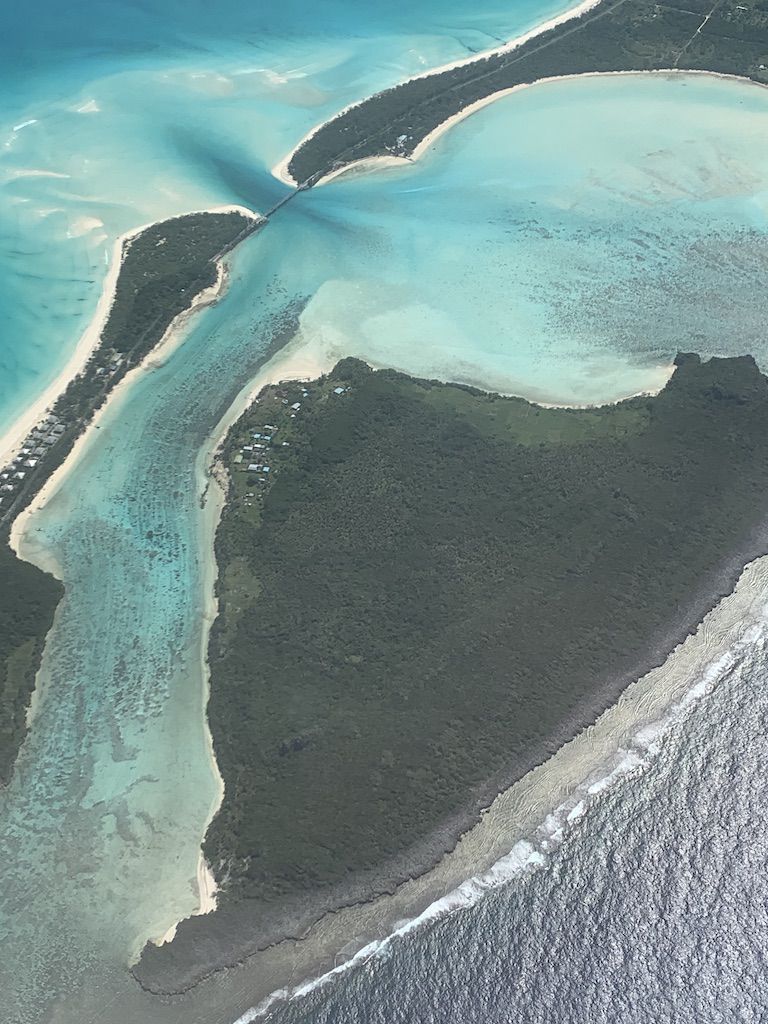 Airports in Uvea
It is a very small airport with one runway. There is only one boarding gate and one arrival gate. It is located in the forest, but there is no public transportation. There are some taxis in the area, but…. I had arranged to rent a car as described later.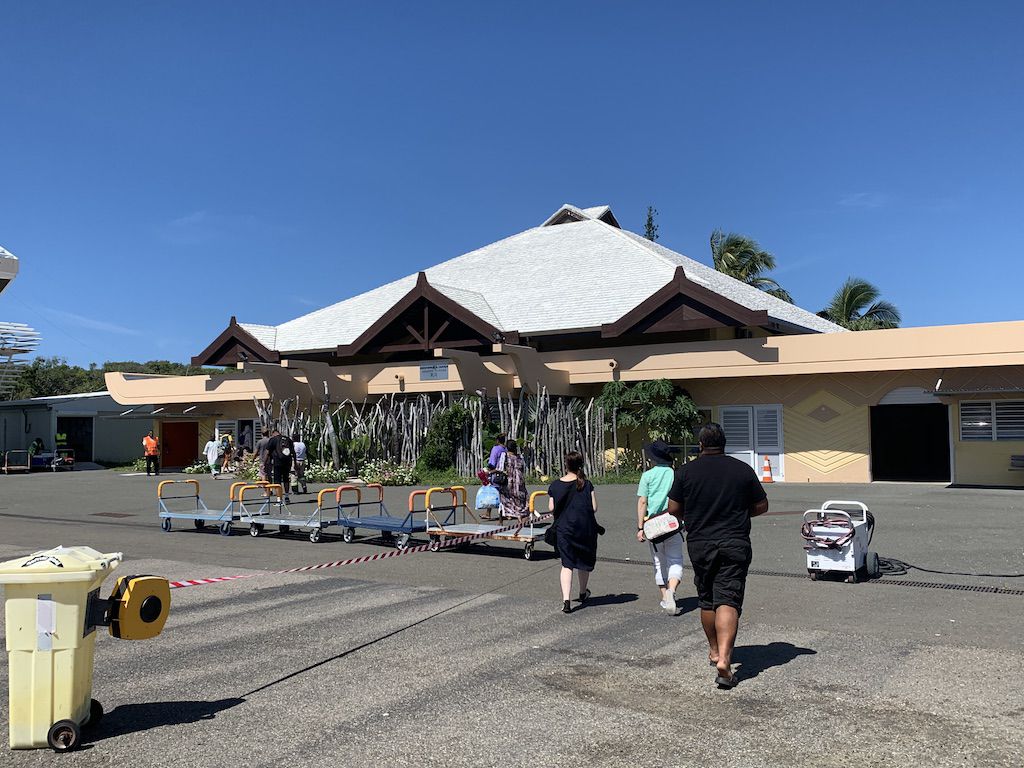 The best way to get around the island is by renting a car.
If you do not want to use a guide at all, you can almost always rent a car. New Caledonia is a French territory, so the necessary documents, traffic rules, etc. are basically the same as in mainland France.
You will need to contact the island's own company to arrange a rental car. I contacted them from the inquiry form on this site.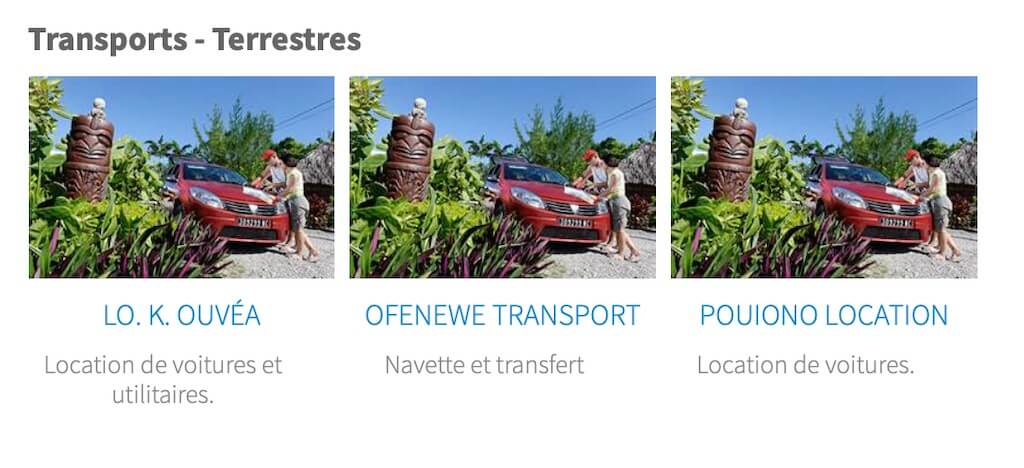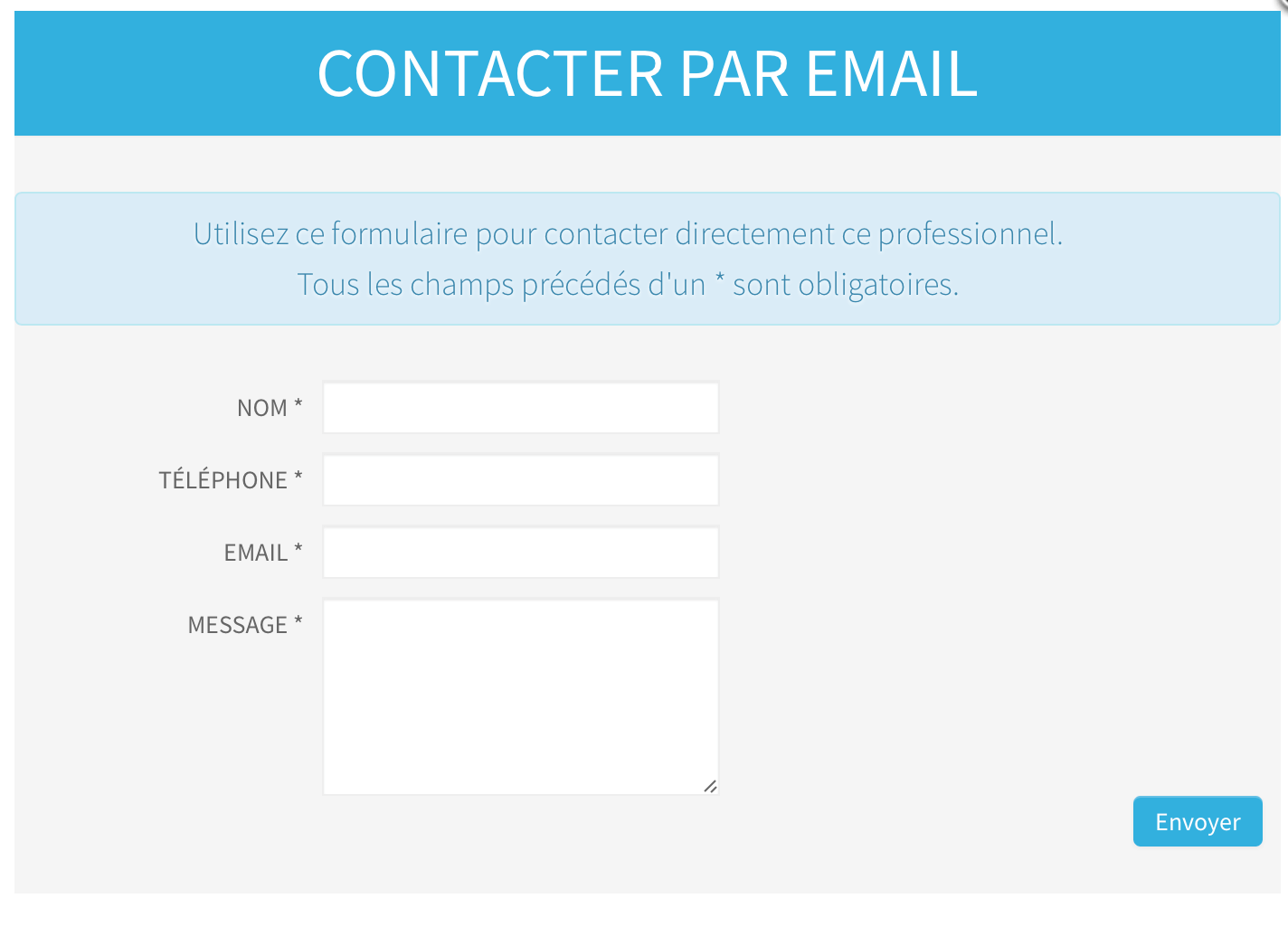 ロワイヨテ諸島のウェブサイト:https://www.iles-loyaute.com/fr/ouvea/transport
Anyway, I wrote it in English like this.
Hello! I would like to rent a car for 1 day at 18 March 2019. I prefer the cheapest class, Citadine. I will arrive at the airport at 10:00, 18 March from Noumea. I I will leave the island for Lifou at 11:00, 19 March.
I was worried if they would really contact me, but they got back to me in English within 24 hours after I contacted them. I requested the cheapest class because I could choose the car model. I requested the cheapest class because you can choose manual car. I got a reply that I can rent a car at the airport, but I don't know how it works. Well, I thought I could manage if I went there.
When I arrived at the airport of Uvea Island, I picked up my checked luggage and went out of the airport, there were many people welcoming me. But I had no idea who I should talk to. However, there was a guy who had arranged a rental car in advance like me, and he was about to start the procedure to rent a car, so I was afraid to talk to him. The person in charge was a local woman. The person in charge was a local woman.
The procedures for renting a car are the same as those for renting a car in France. However, you can go to any open place in the airport. You need to present your foreign driver's license, your Japanese driver's license (which you were told you don't need to present, but you really do), your passport, fill out the necessary documents, and present your credit card for deposit. If you want to pay in cash, you can pay immediately at the airport, but if you want to pay by card, you have to go to their office which is a little bit far from the airport. In that case, you have to go to their office which is a little bit far from the airport. I chose to pay by card, and my girlfriend who was in charge of the rental car led me to the office by car.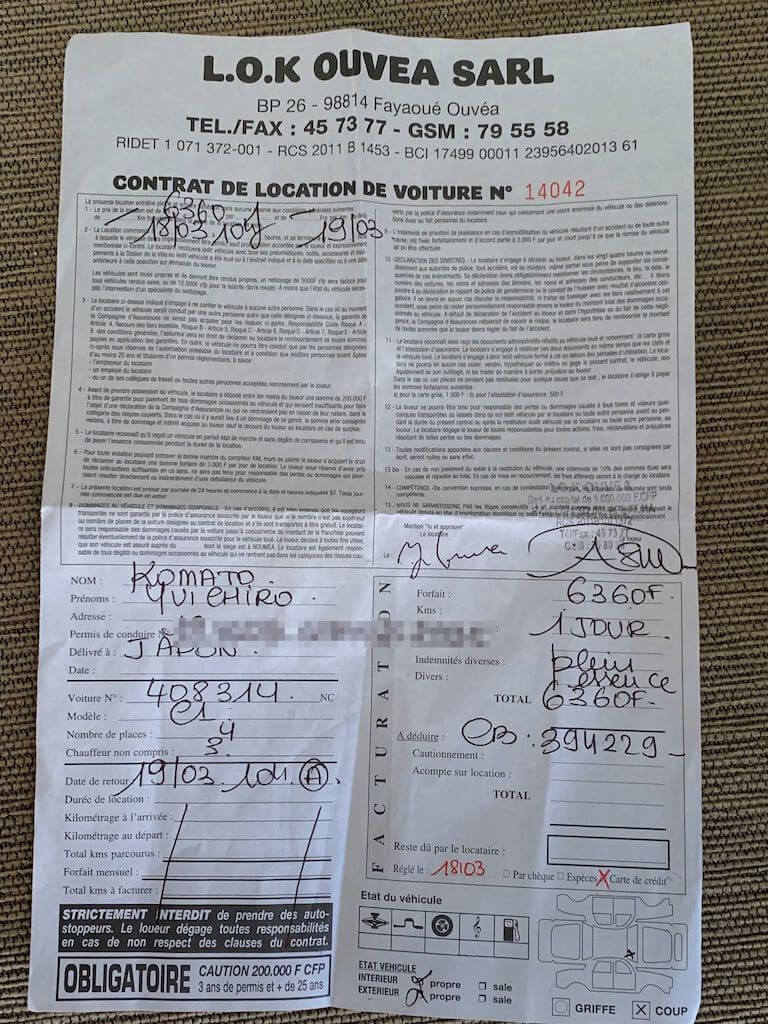 I was worried about the office, but there was a clerk inside. I was worried, but there was a clerk inside, the air conditioning was working well, there was a PC, and I could pay by card without any problem. The price was 6360 francs for the whole day rental, and I didn't have to fill up the gas tank when I returned the car, because they didn't say anything at all.
Discover OPT, buy a prepaid SIM and withdraw money.
Now we can finally start sightseeing. The island looks like nothing but a really beautiful sea. By the way, as you can see on the google map, the main paved road on the island is only the main road that runs along the west side of the island, and there are also side roads, but I don't know how well they are paved. The main road is in good condition.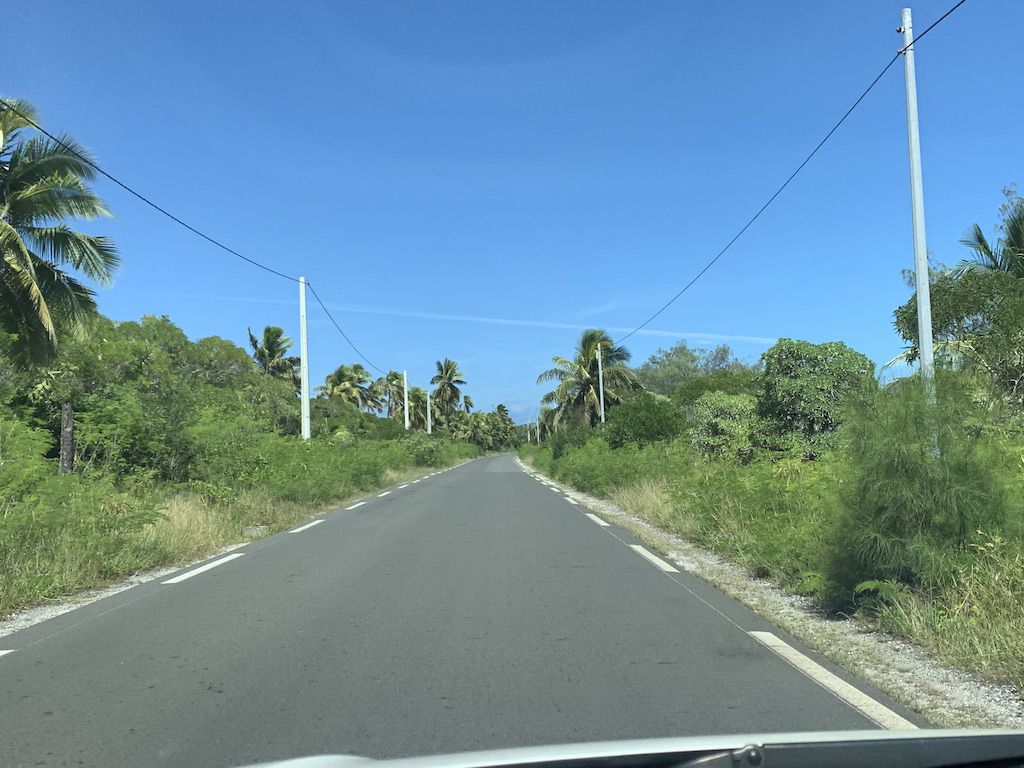 First of all, we bought some water at the supermarket we found immediately. It's very hot. And first we went to the biggest attraction of this island, Muri Island which is located on the south side of the island.
But on the way we found the only OPT on the island (that's the post office in New Caledonia).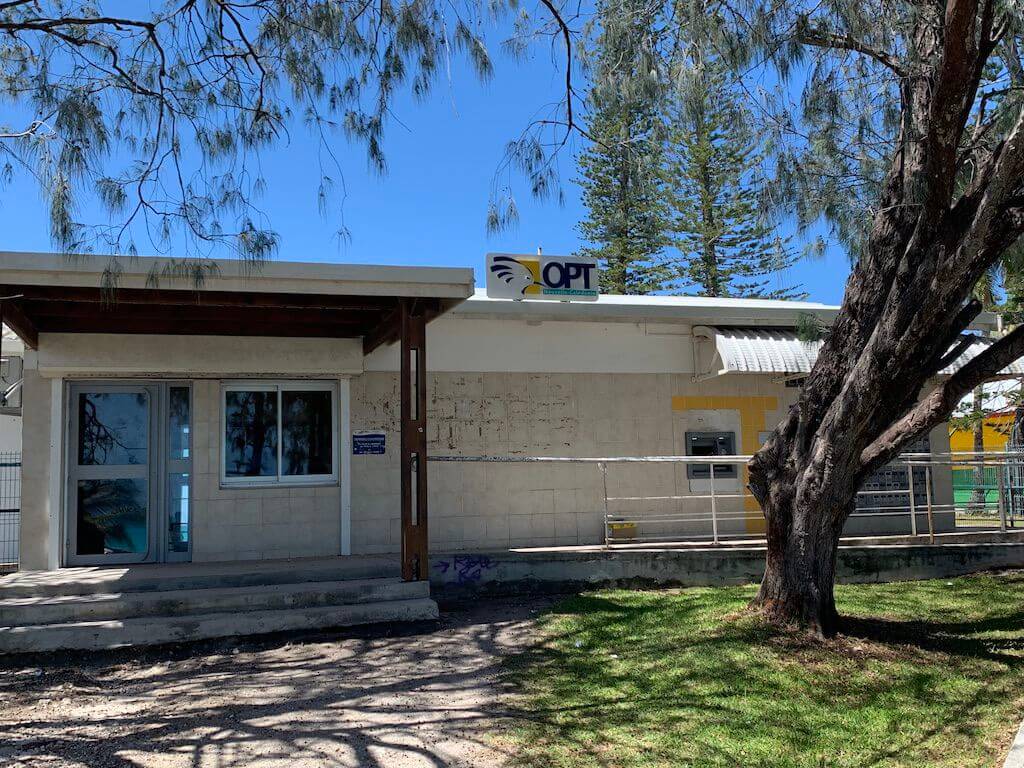 Just this day is Monday. I arrived in New Caledonia late Saturday night, the day before was Sunday, and this Monday, I flew to Ubea Island early in the morning. So I couldn't buy a prepaid SIM in Noumea. So I went to an ATM (yes, there was one!) ) to withdraw money from the ATM, I decided to ask if I could buy a SIM, though I felt it would be difficult because it was a remote island.
By the way, when I just passed in front of the OPT at around 11:00, I thought it would be closed in half an hour or so, so I decided to stop by right away, but my hunch was right! But my hunch was right! The OPT at Ubea Island was open until 11:15 in the morning. We were just in time.
As I mentioned in my previous post, I was able to buy a SIM here successfully.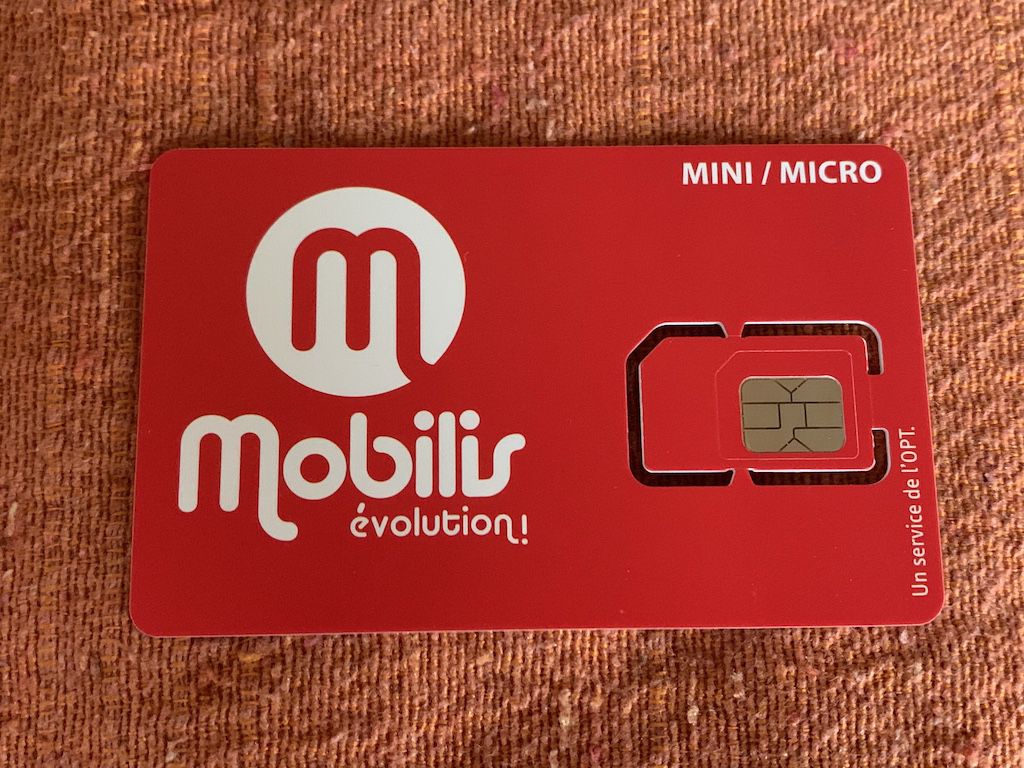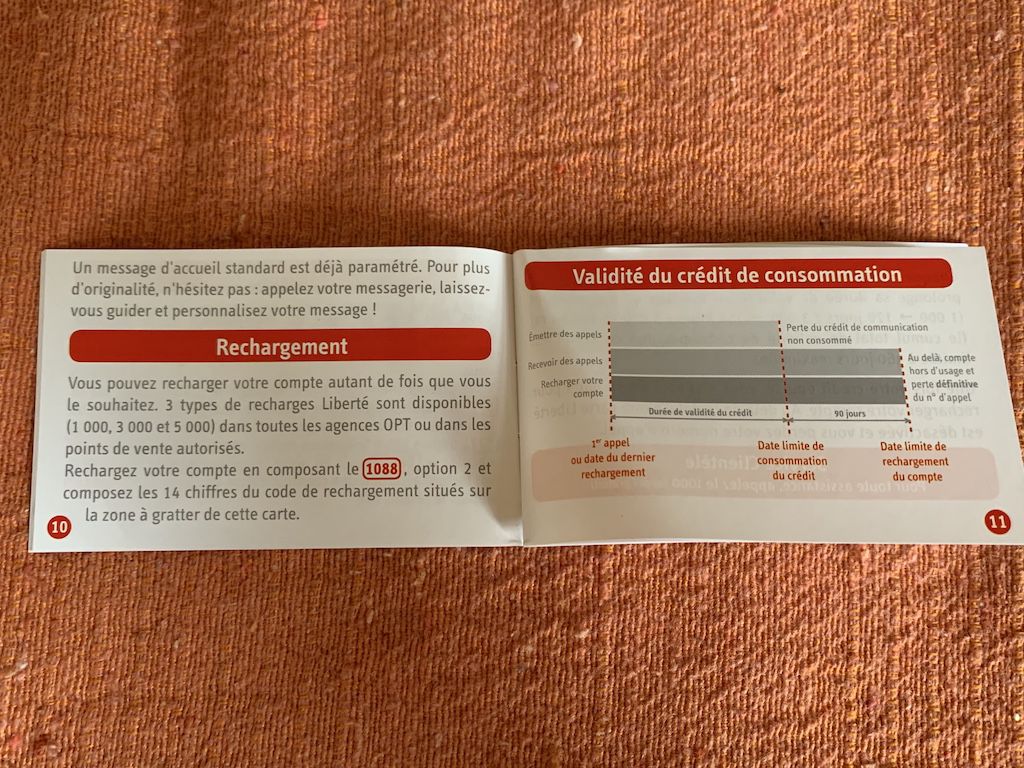 It's a bit expensive, but I think the only plan available was 6000 francs. However, you can also make phone calls and it comes with a data plan of 3000 francs. However, I didn't know at that time that I had to send SMS to 1111 to activate it and use the internet, so I couldn't use it on this island. To activate the phone, you need to send a text « IMD » (or IM, apparently) to a certain number by SMS. I'll explain later, but for all intents and purposes, « 1111 » is the only choice.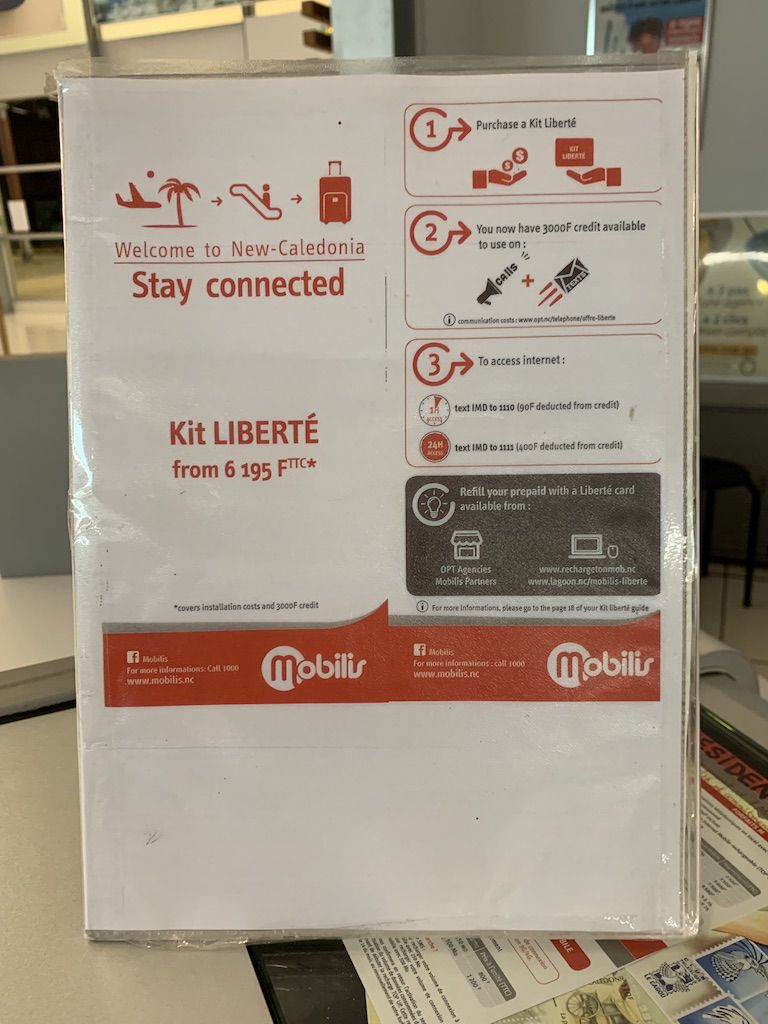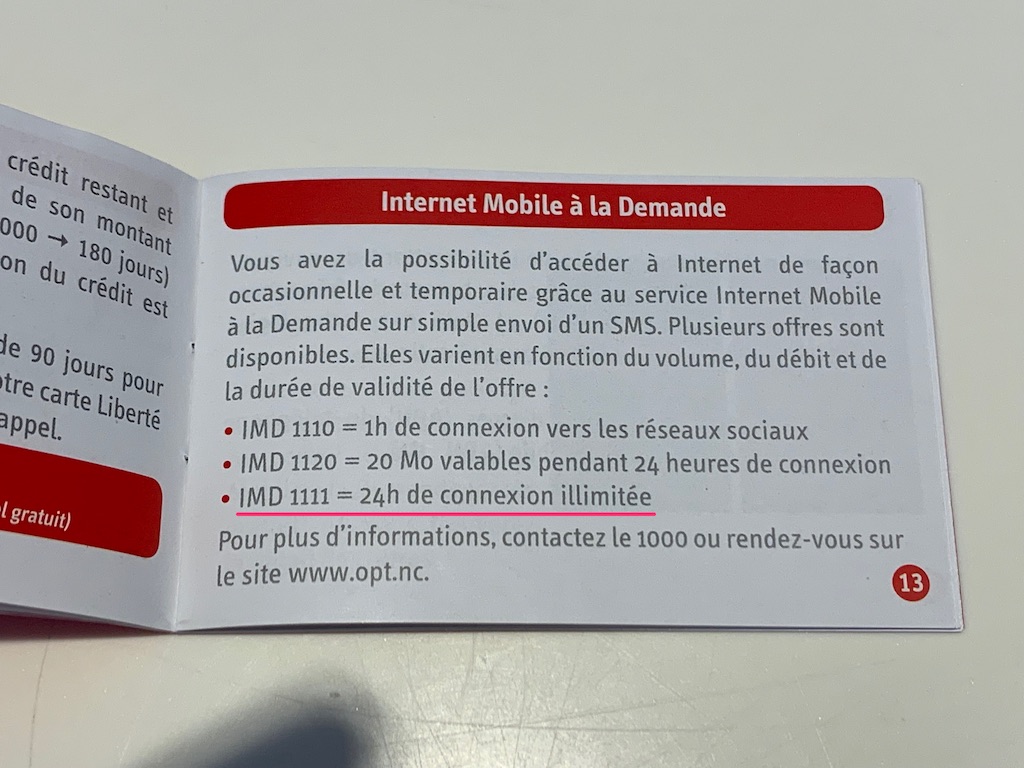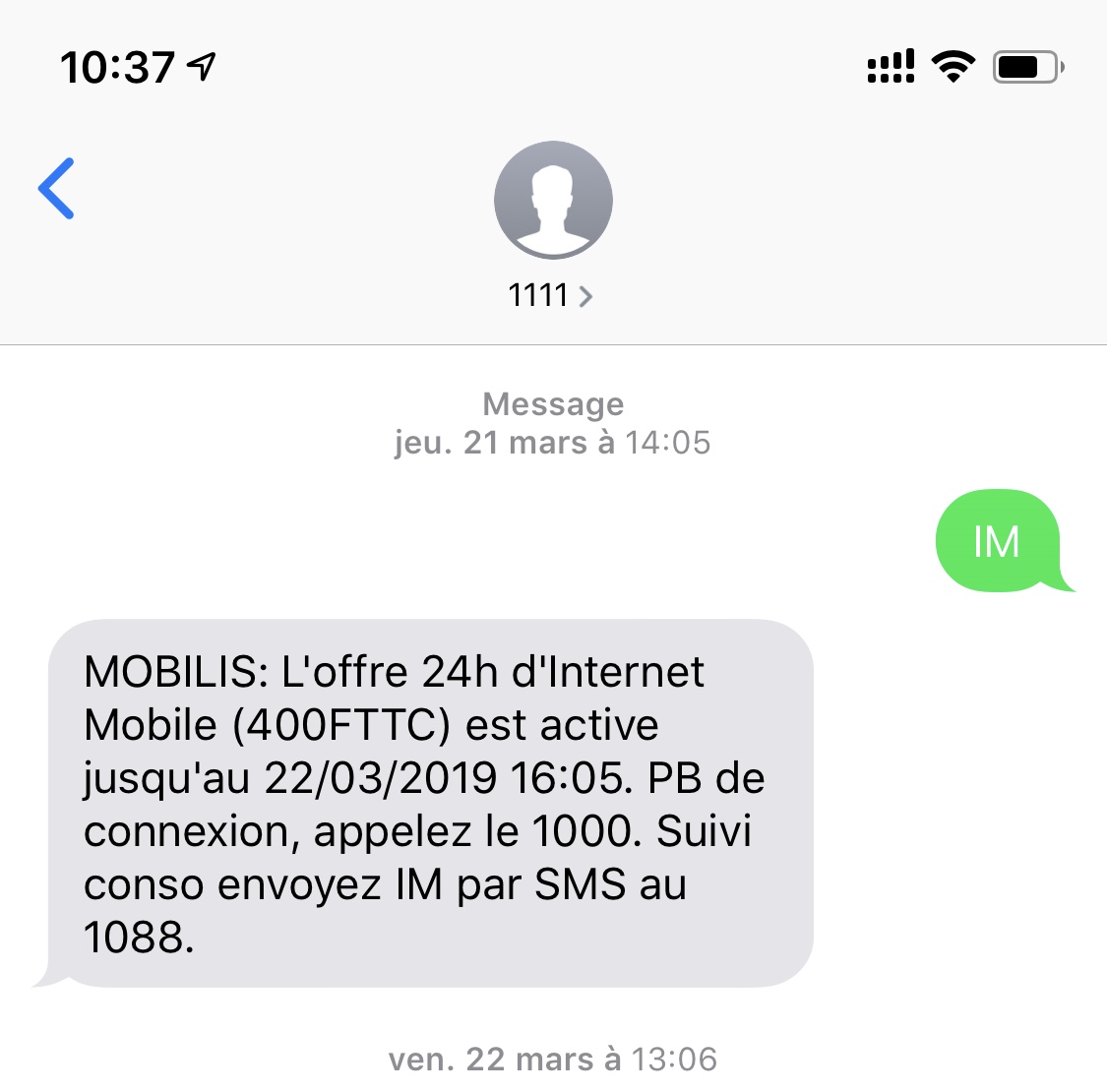 Impressed by the beautiful sea of Koh Muri!
It's been a long time since I've been here, but I'm finally going to introduce Ubea Island. Uvea is a small island, but it is divided into the main island and small Muri Island in the south. We decided to go to Muri Island first. The scenery of this island is the very image of Uvea. It's the beauty of the color of the sea!
This is the small bridge connecting Muri Island and Ubea Island.
It is said that the south side of the bridge that connects Muri Island and Ubea Island is a sanctuary of this island, and it is prohibited to bathe in the sea though it seems to be easy to enter the sea. It seems to be a place called the cliff of Regin.
It is written in the earth walking guide that this sanctuary is prohibited to swim, but it seems that even the local hotel has such a warning. It seemed to be a sanctuary or a nature conservation purpose.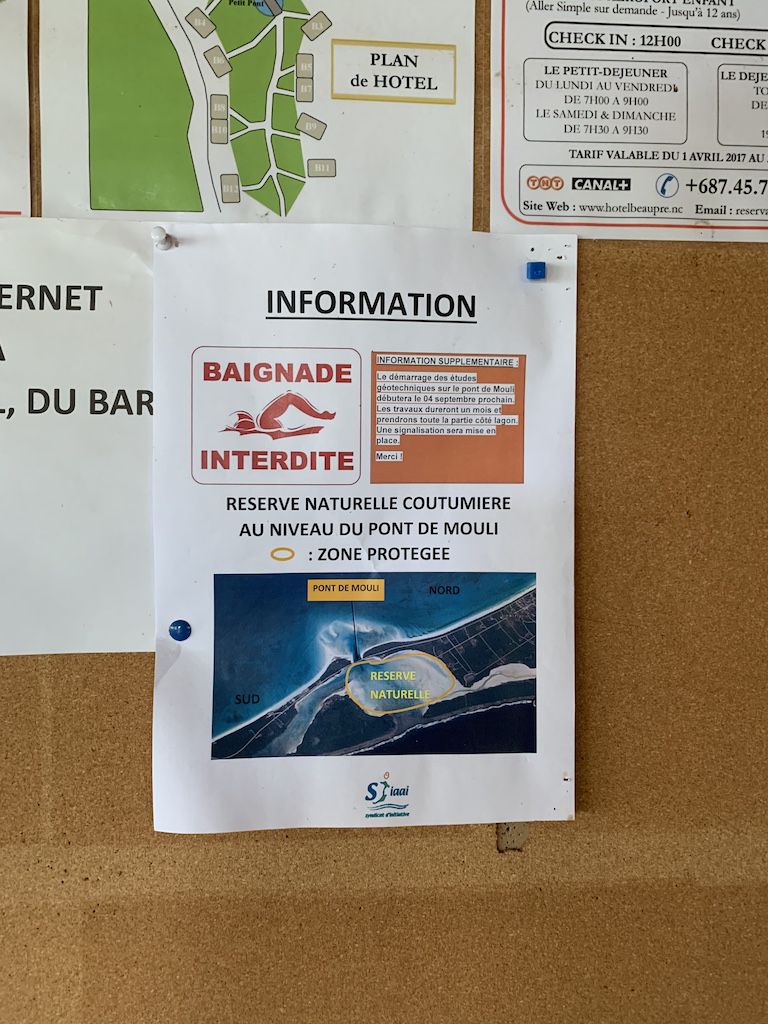 It is possible to see it from the opposite shore (where you can walk from the edge). The other side of the river is a campground, so we were able to drive to the front of the beach. Definitely a must-see spot.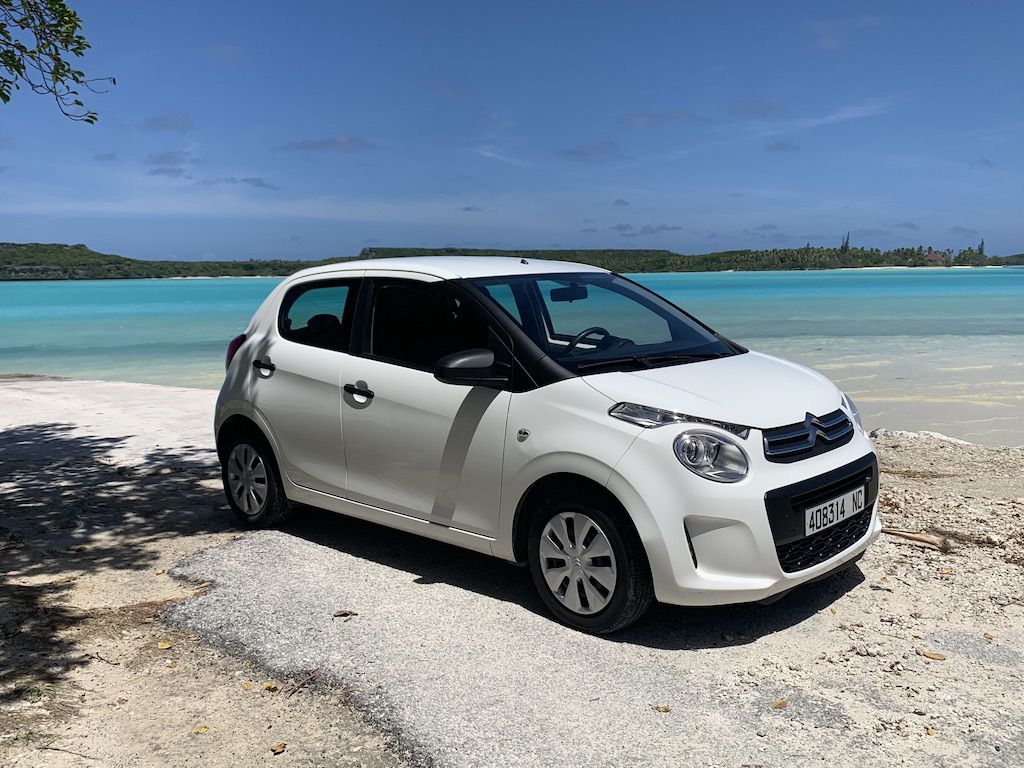 The north side of the island seems to be open for swimming and snorkeling. This side has the biggest hotel on the island. If you sign up for a tour, you will probably stay here or stop by.
We went further, to the tip of Muri Island. The road was well paved, but it was quite a jungle. There were several groups of tourists enjoying a leisurely swim.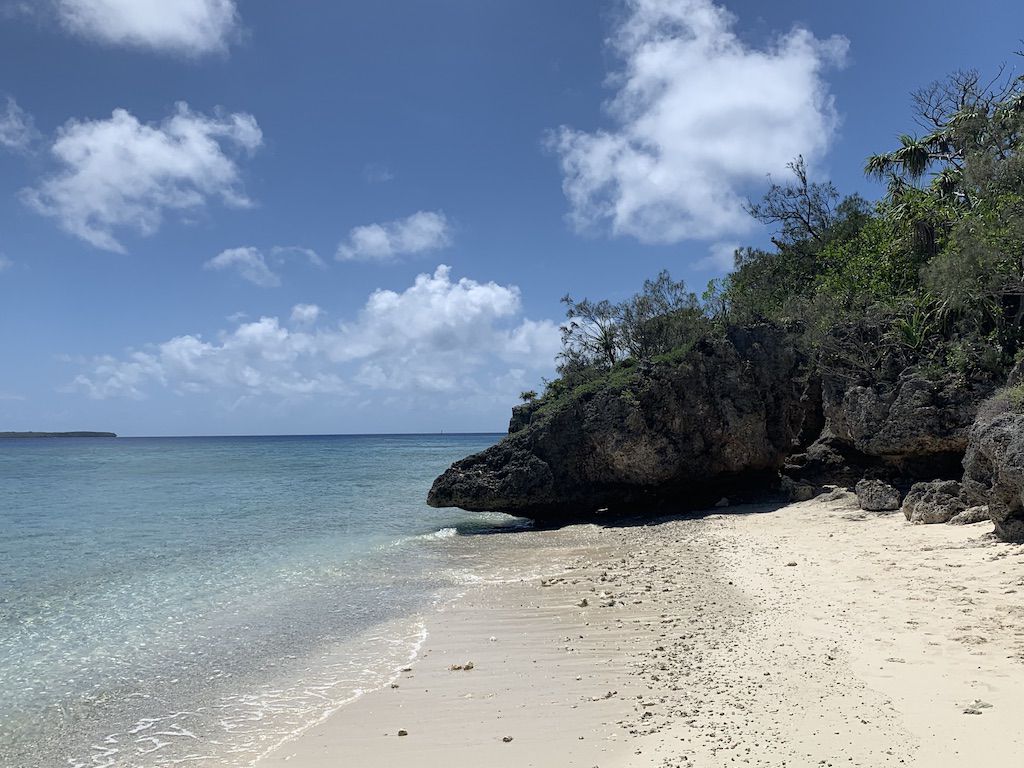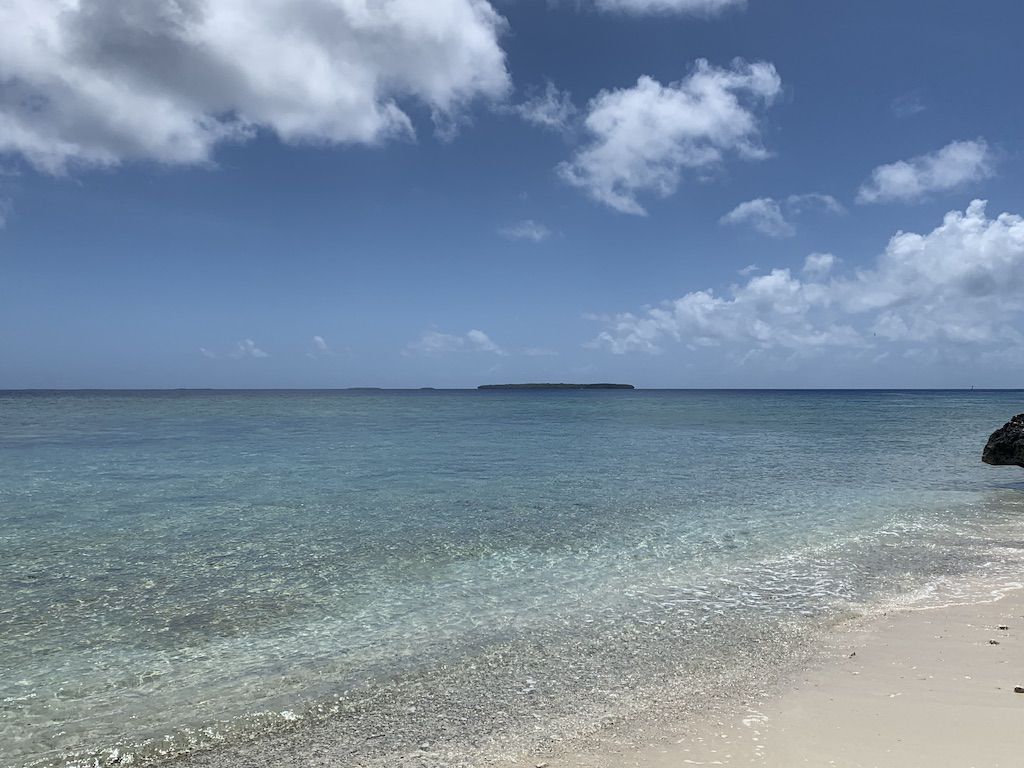 Snack Mafatou in Koh Muri
The snack shop introduced in No.3 is located in Muri Island. If you drive slowly, you will see a man in front of the shop and he will wave his hand to you, so you should use that as a guide. If you drive slowly, you will see a person in front of the shop who will wave you down.
https://www.yuu-koma.jp/?p=13340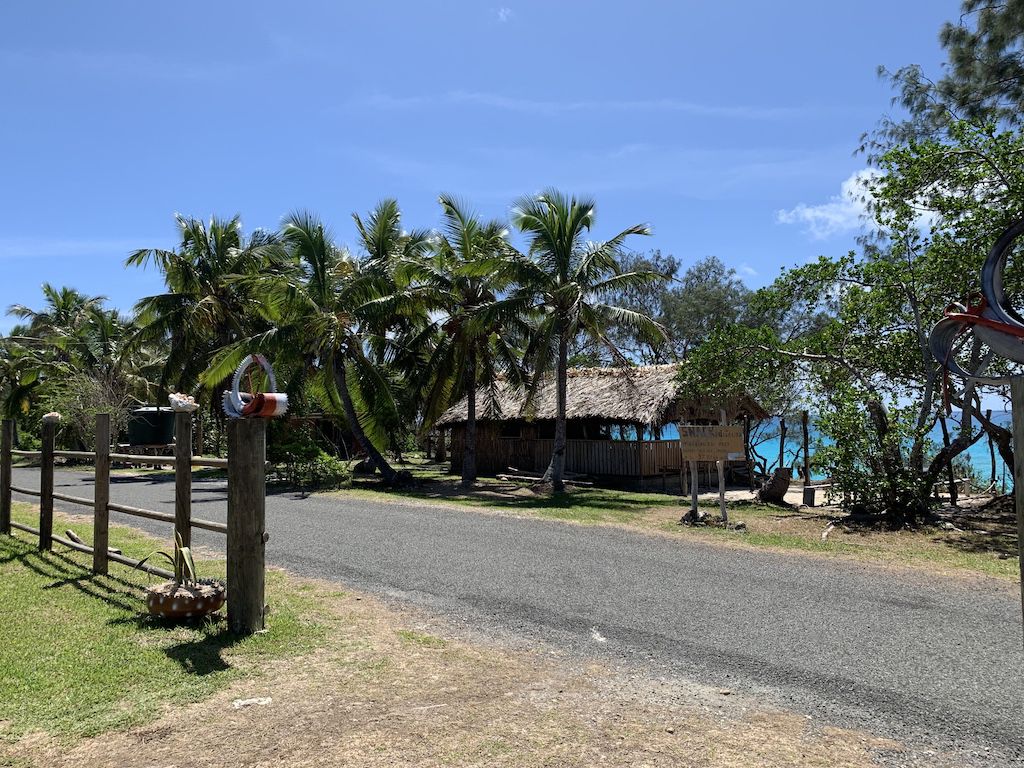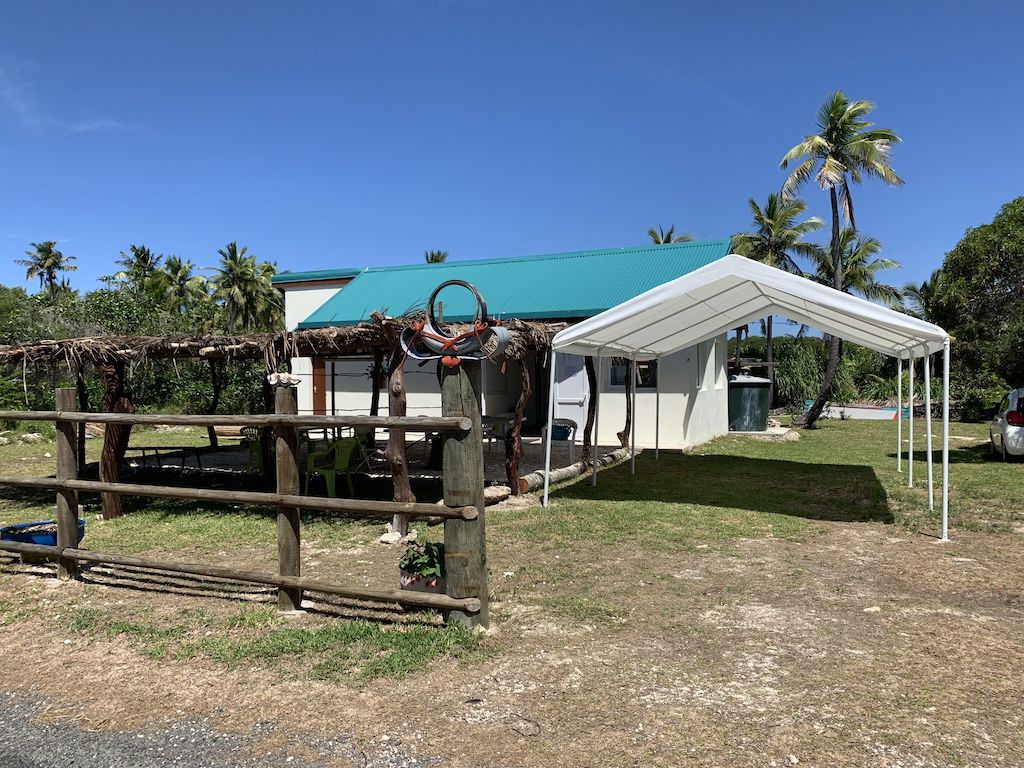 As I mentioned in No.3, the food was very solid and delicious. I had a local coconut flavored curry for the first time here.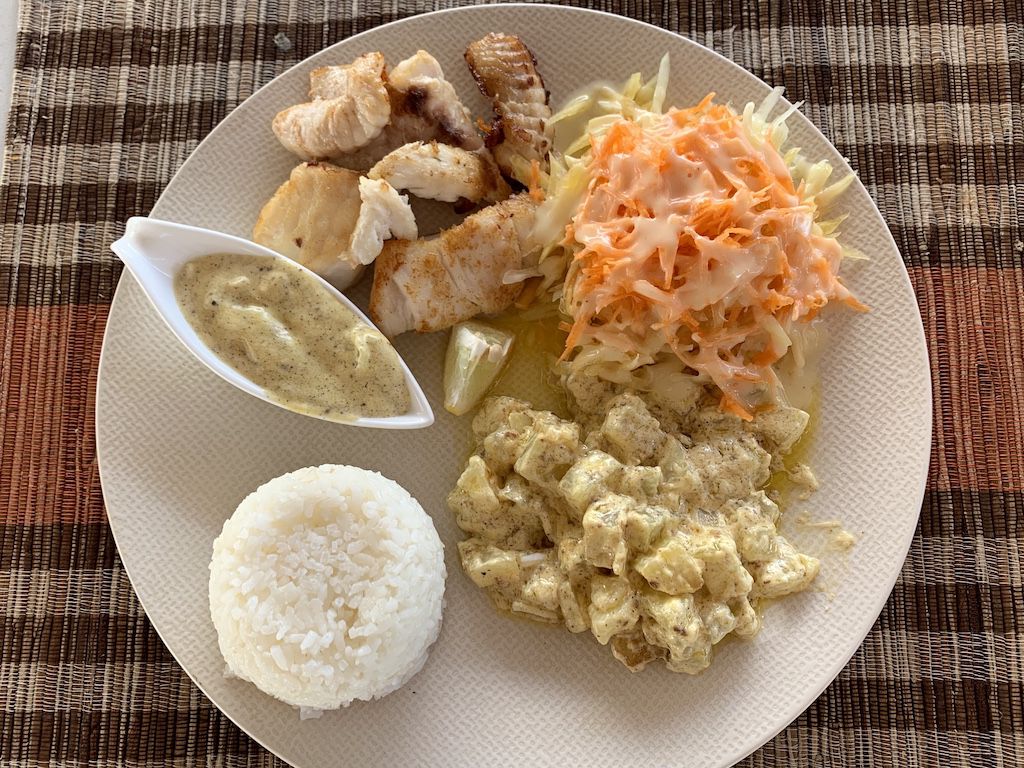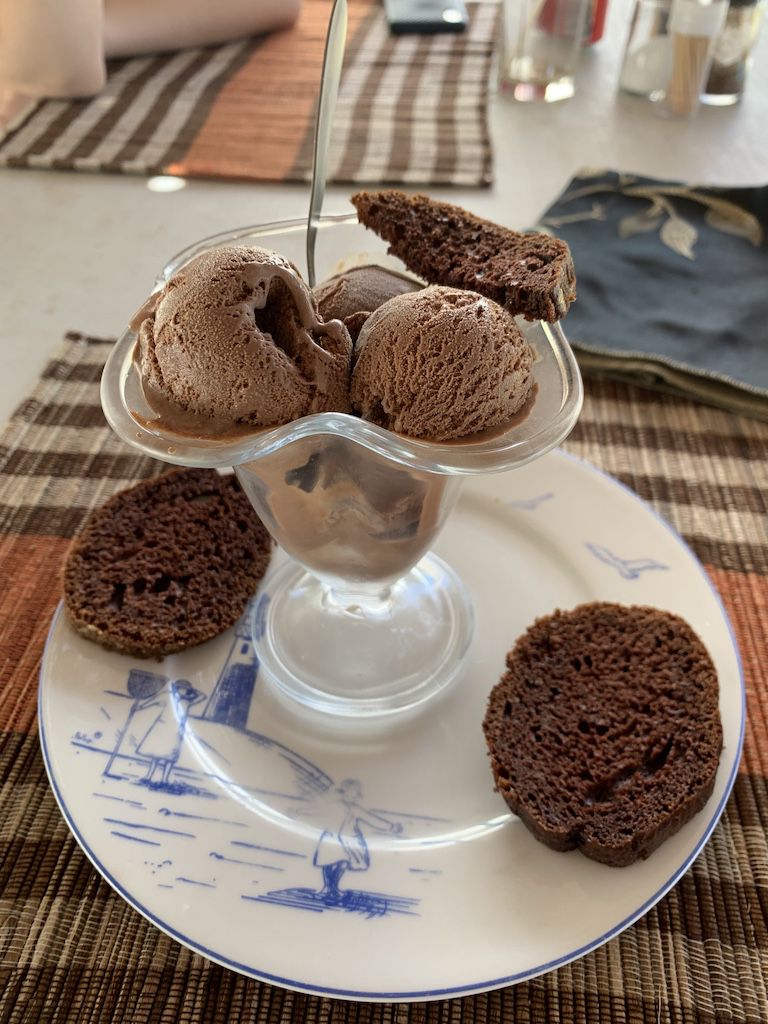 The coconut flavor was very gentle, not too strong but still coconutty, and not spicy at all, but milky. It was very delicious. There was also a dessert.
Go to the hotel and the nearby tourist information center
It was past 1:30 p.m. when we finished eating lunch. We decided to head back to the hotel where we would stay for the night. We crossed the bridge of Muri again to the main island of Uvea. Today we will stay at a bungalow hotel called « Le Beaupres ». It is located in the middle of Uvea Island, near the airport.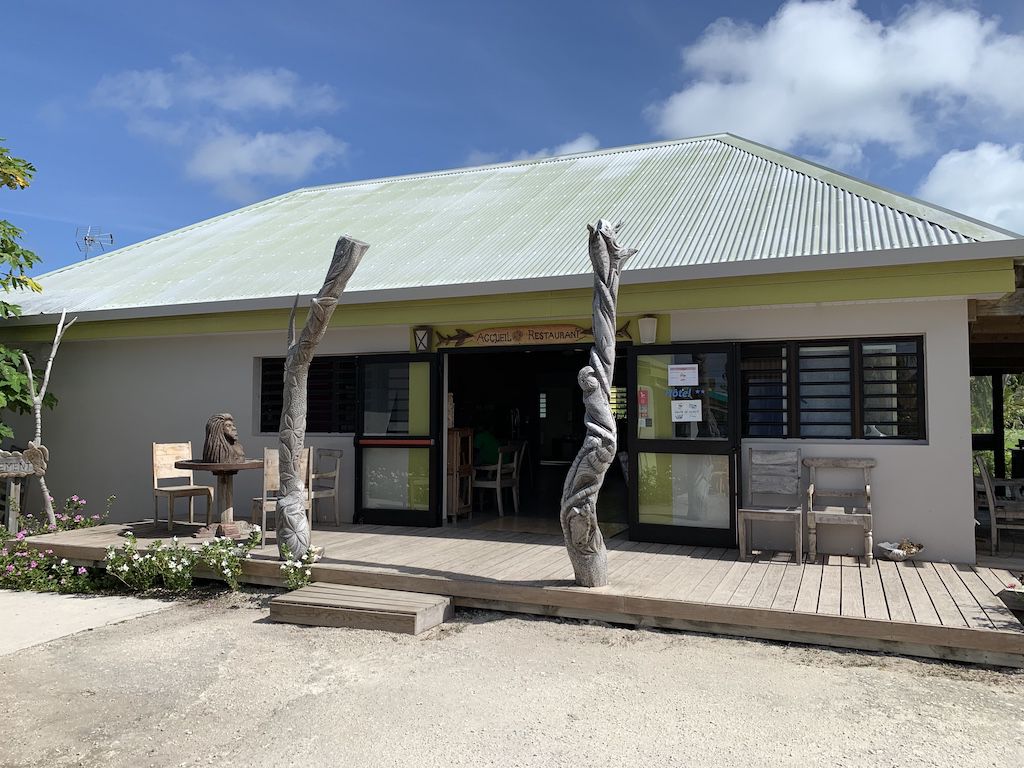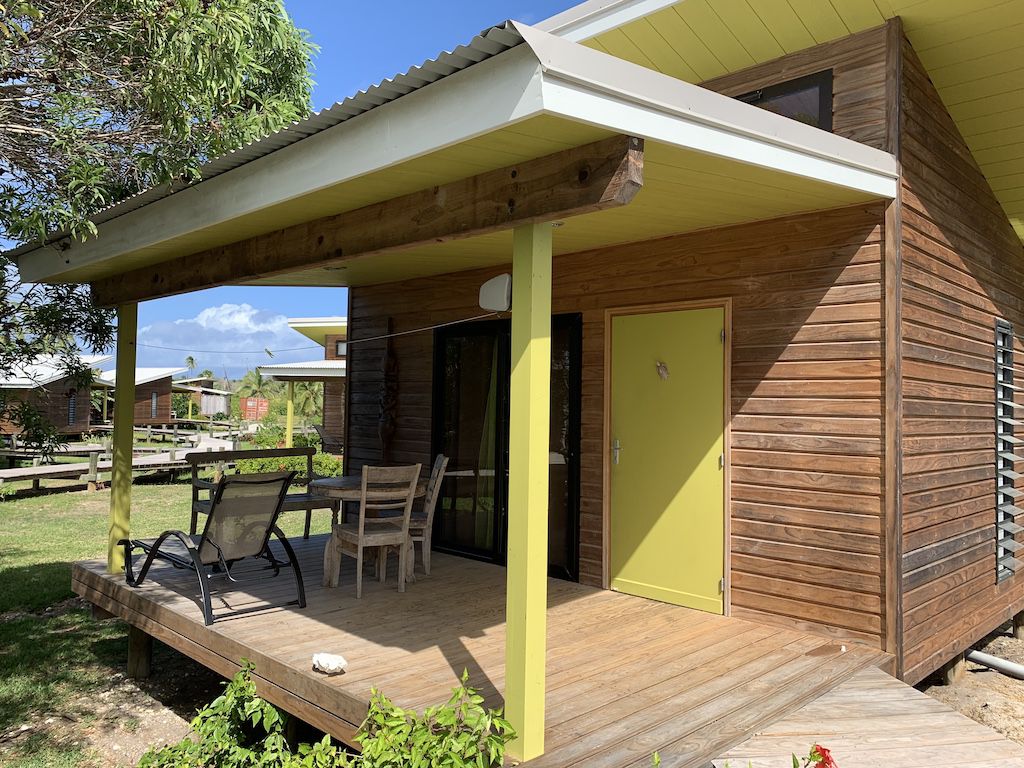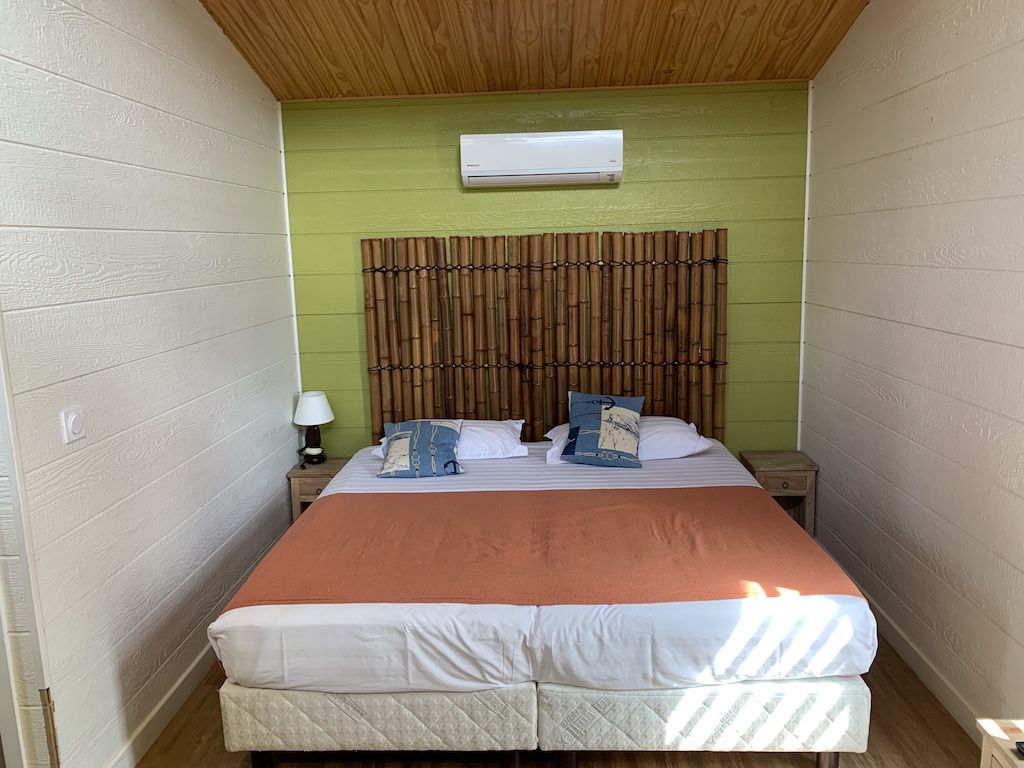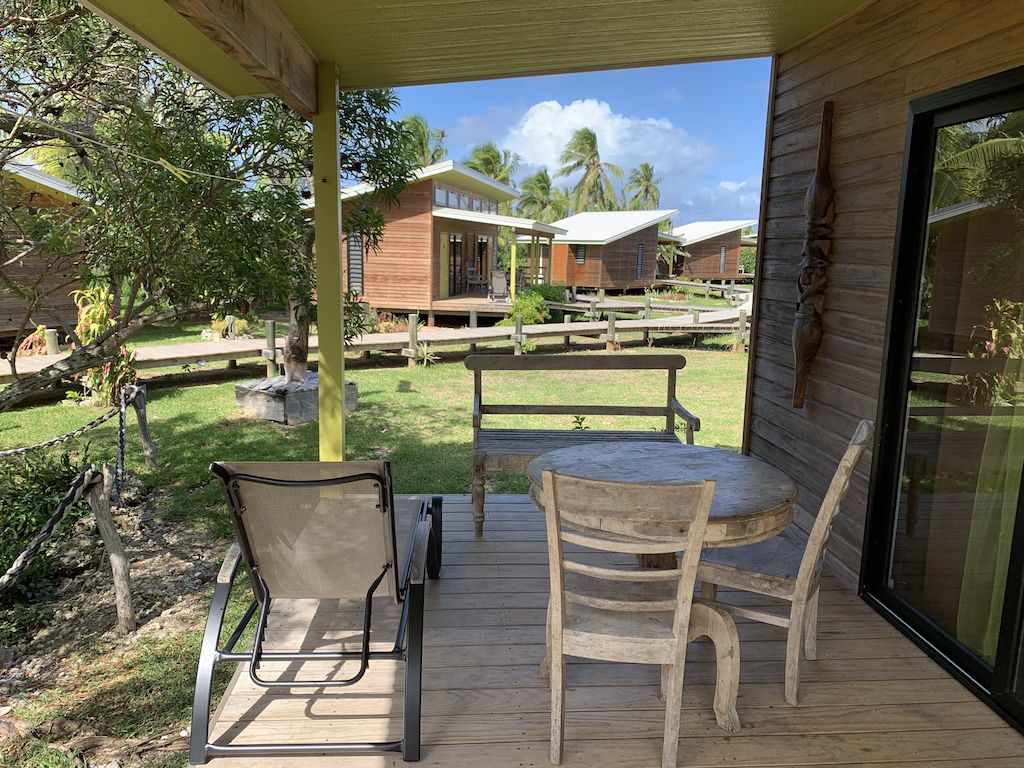 By the way, there was a tourist information center a little north of the hotel.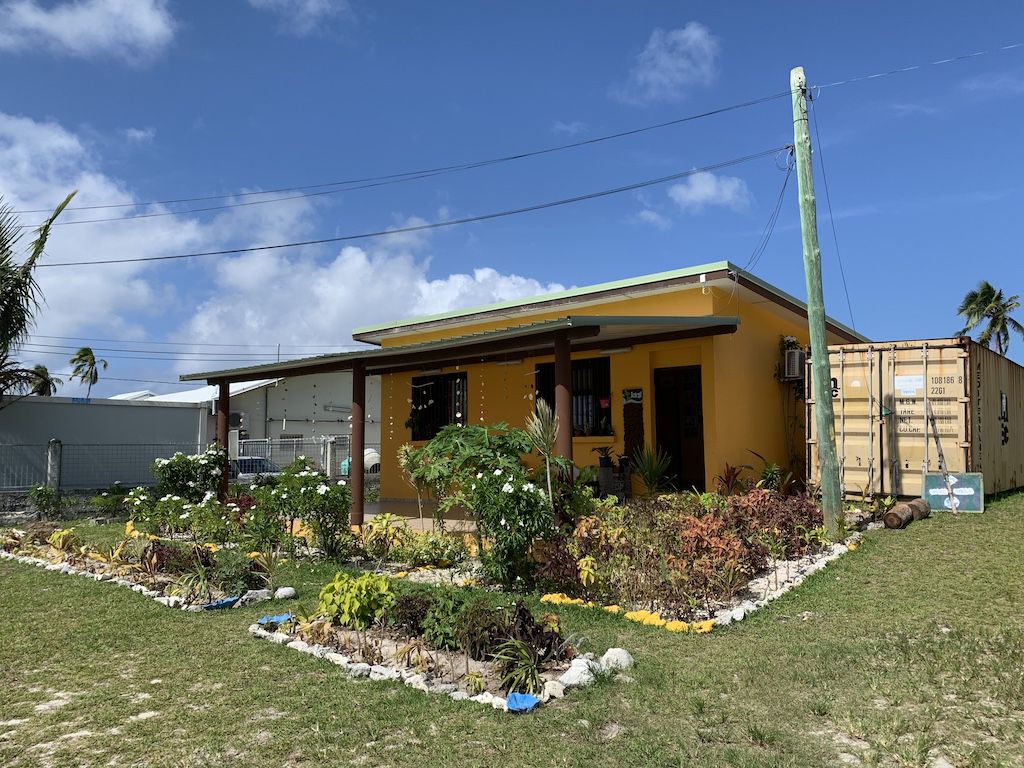 I got a map of the island here. It's a simple map, as you can see.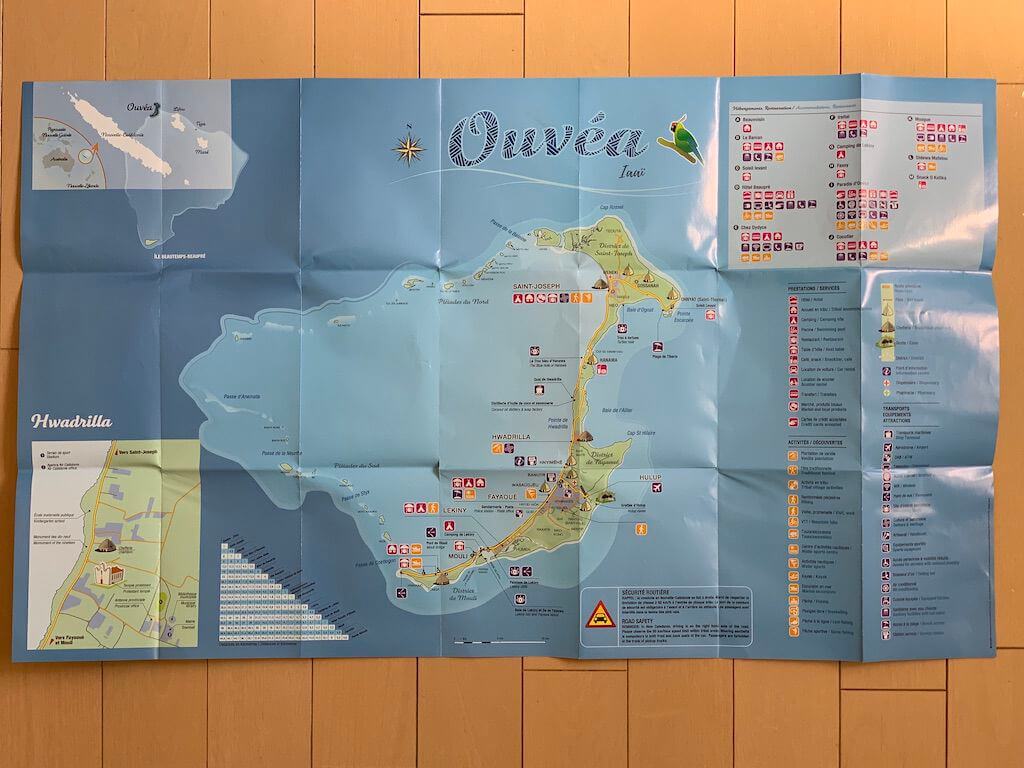 The back side of this was full of local information on restaurants, transportation, hotel info, etc. Most of the time it seemed like the only way to make reservations was by phone, lol.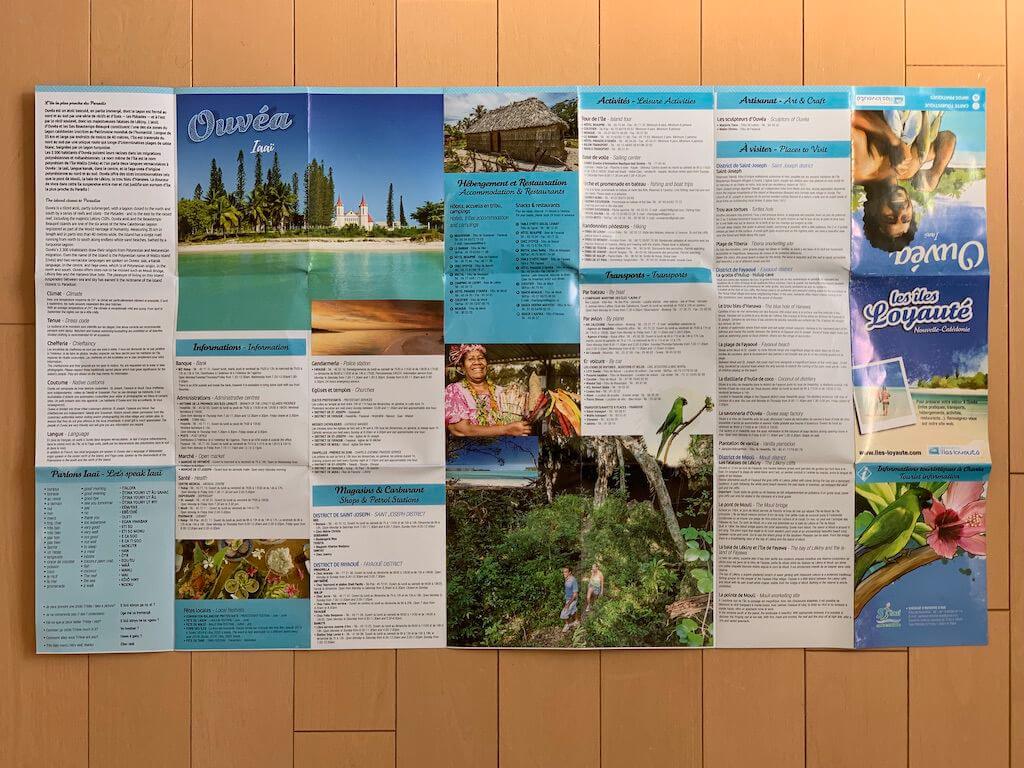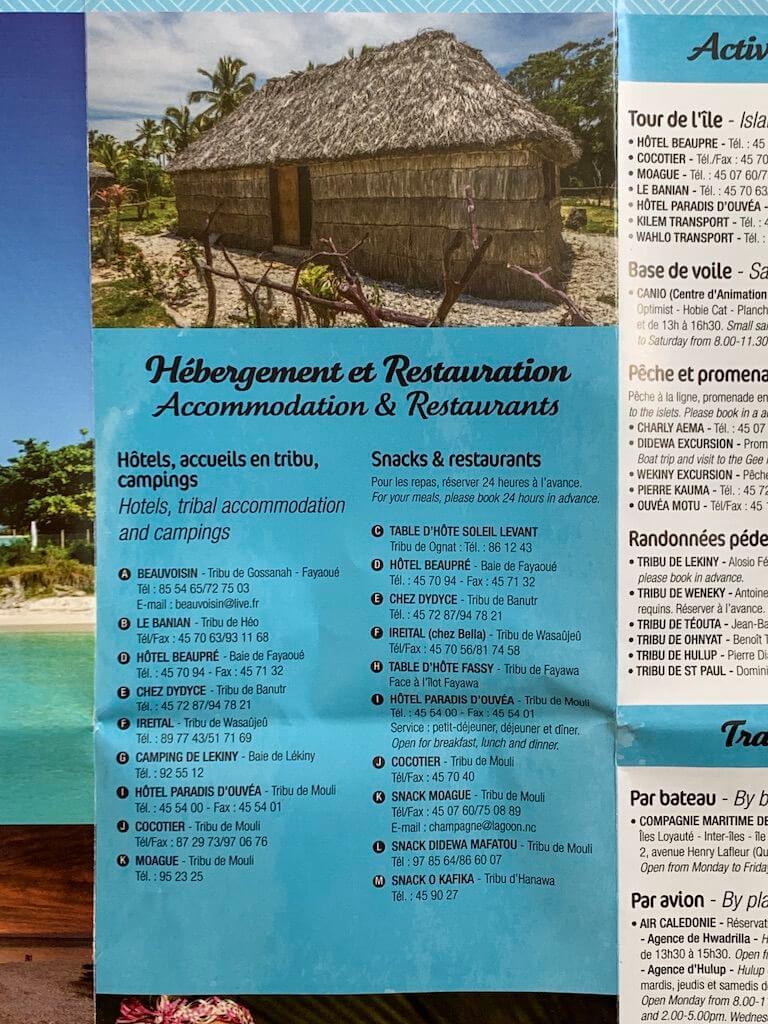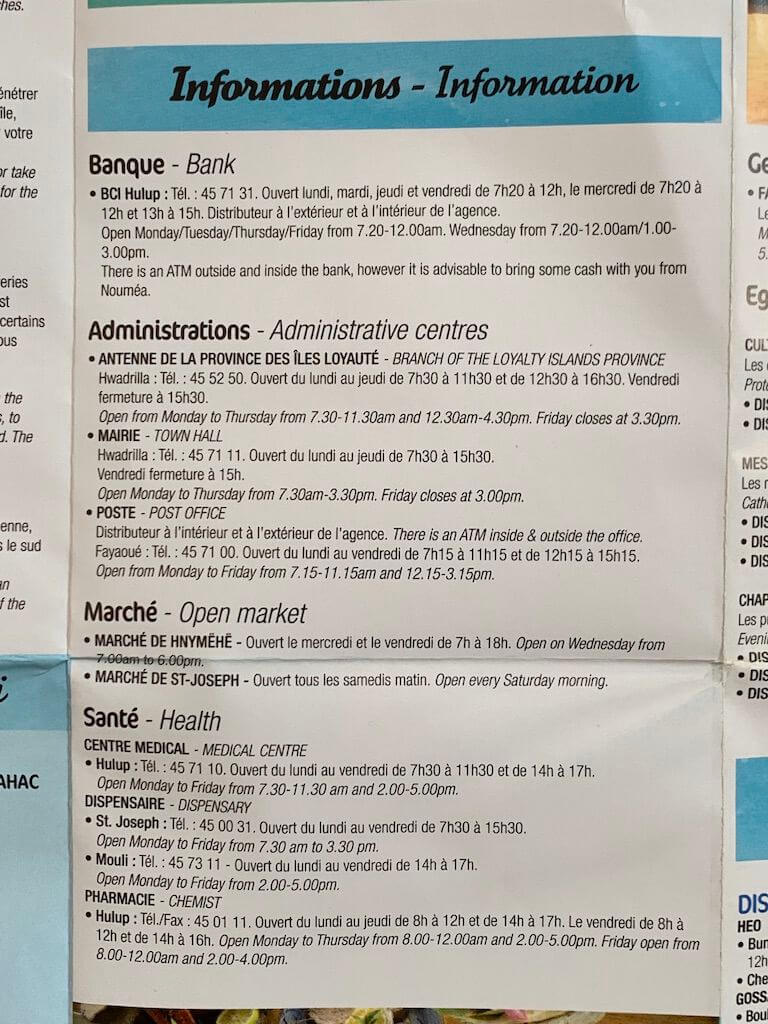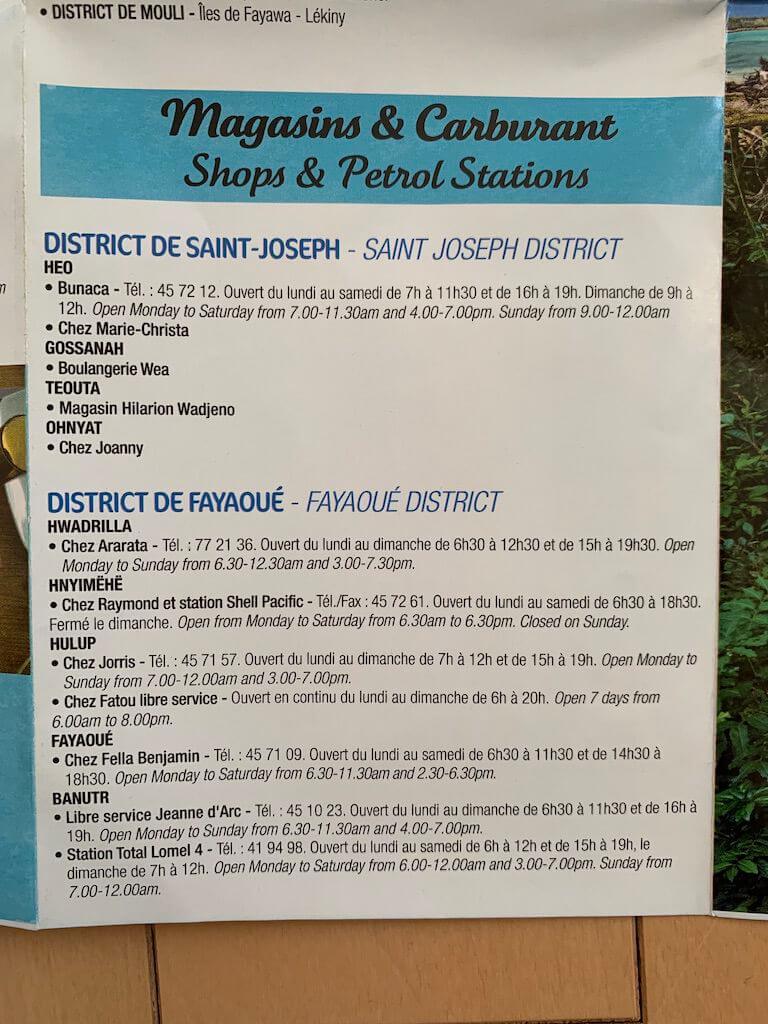 However, there is a website for the Loiyote Islands that I mentioned when arranging your rental car, and it may help if you research it in conjunction with this site.
Further north on the island.
We still had time until dusk, so we decided to visit the northern area of Ubea Island by car. I relied on the map I got at the tourist information center. I went to the northern part called Onya Bay. It is located about 10km to the east from « Saint Joseph's Church » in the north. But I'm not sure if it's the right place. It was a place like that.
But it was a great atmosphere with no one on the beach and only the sound of the waves to be heard.
On the way back, we also dropped by « Saint Joseph Church ». The outside is ordinary, but the inside was very bright but also solemn and nice church.
Dinner at the hotel
As I mentioned before, the hotels in the Loyauté Islands have good restaurants. It's not exactly a dress code kind of place, but the food is authentic.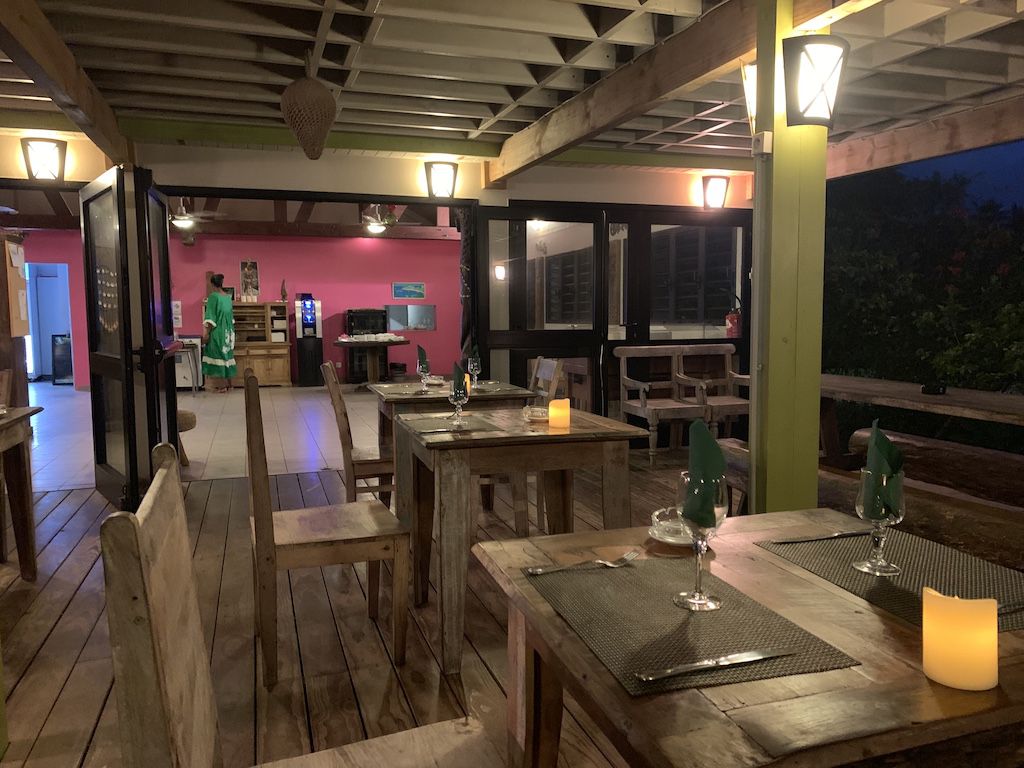 However, most of the restaurants on the islands require reservations, but for the more mundane dishes, you can do without, although you will need to make a reservation about 12 hours in advance for the coconut crab and other unique ingredients. These were attractive, but we decided to try the standard French cuisine.
We stayed at « Le Beauprés » for one night, and the bungalow here had a good reputation for its food. We had a seafood salad as a starter and a shrimp curry as a main course. It partially overlapped with our lunch, but it was damn good!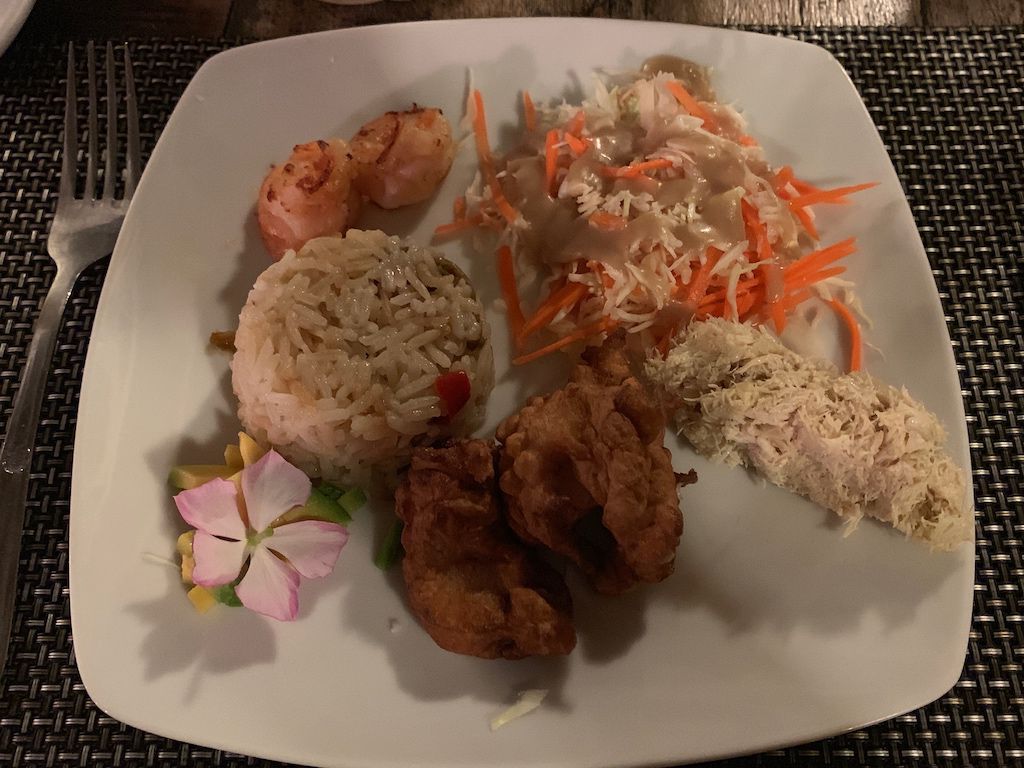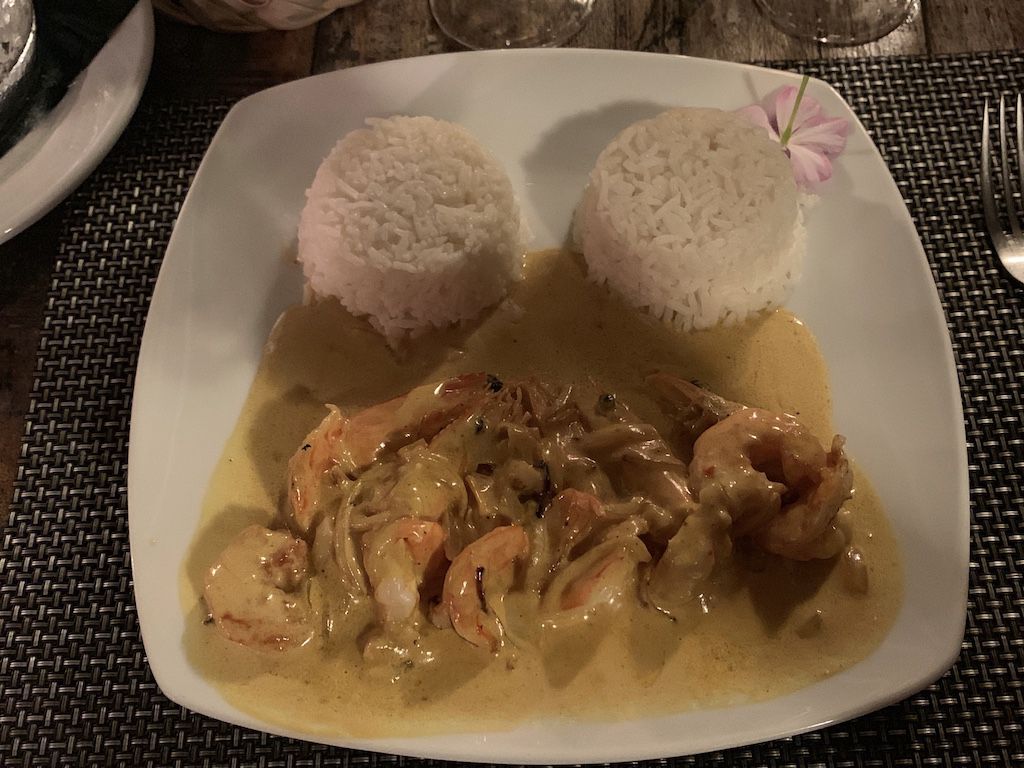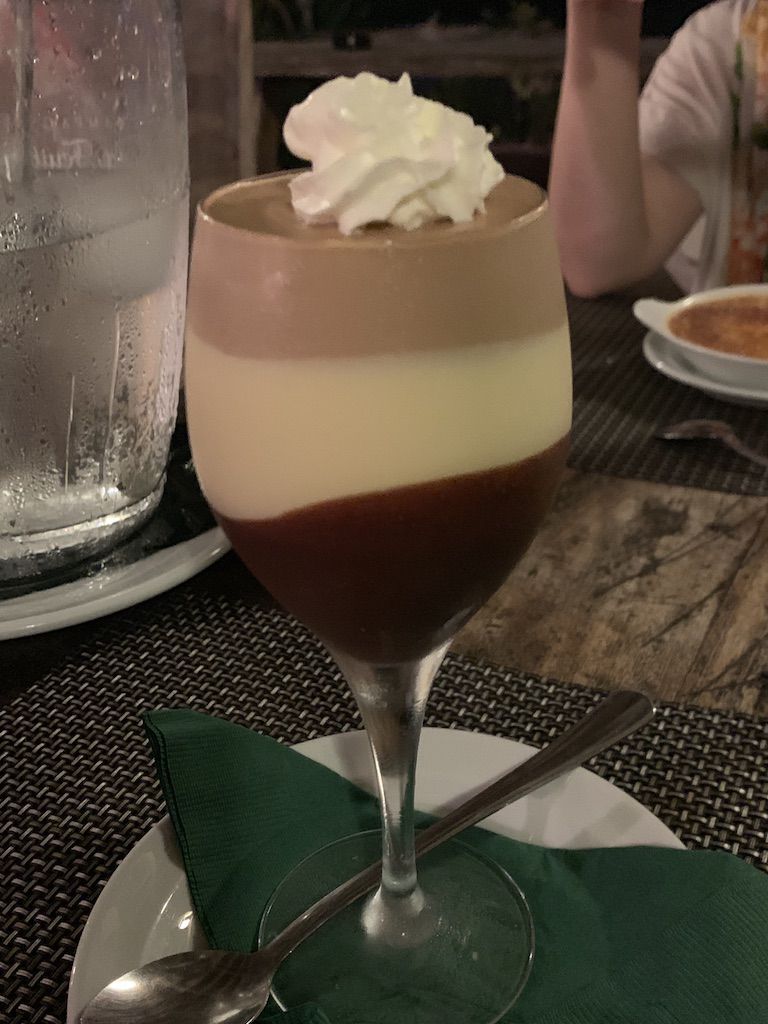 It is a wine, but basically mainly French. Including the main island of New Caledonia, there seems to be a wine of the month (Le vin du mois) in most restaurants in the Loi Yote Islands, and this time it was Provence rosé. Rosé in a tropical resort is very fashionable! I had this rosé without hesitation. I don't usually drink rosé, but on this occasion, I felt it was especially delicious because of the good meal and the uplifting mood. In fact, it was delicious.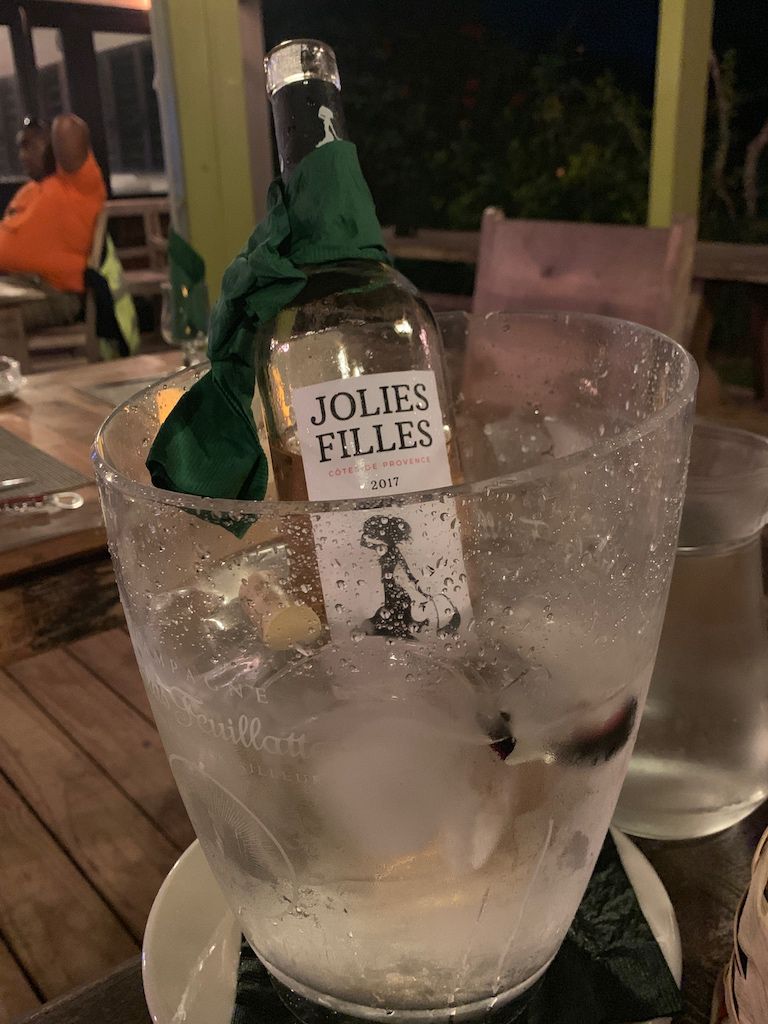 Uvea Island has a lot of hurdles for personal arrangement, but I strongly thought that it is still better to stay one night, whether it is personal arrangement or tour. I finally encountered the sea that I had imagined. It was really a happy feeling.