Date and time of visit: April 22, 2017, approximately 1:00 p.m.
We didn't go to so many places, 8 in total, but we went to the most beautiful villages in Spain again this year as last year.
The first one this year is Candelario, a village in Castilla y León in the western part of Spain.
After finishing my work as usual, I went straight to the airport and took a midnight flight via Beijing to Madrid. I arrived at Madrid at 7 in the morning. Because my luggage was delayed, I had breakfast and bought a prepaid SIM, I was able to rent a car after 10:00 in the end. It took us about 2 hours and 30 minutes to get to the area near the Portuguese border. The place is around here.
It is a parking lot, but I could not park in the center of the so-called village, I parked there because I had prepared a parking space for tourists just outside the village. There is no problem because it is about a minute walk to the village.
Candelario(カンデラリオ)の駐車場の詳細はこちら
Well, the first one is Candelario, the most beautiful village in Spain. This area is mountainous, and the village of Candelario is located at the foot of the mountain. It seems to get quite snowy in winter. In fact, the pictures in the official guidebook show a snowy landscape as you can see.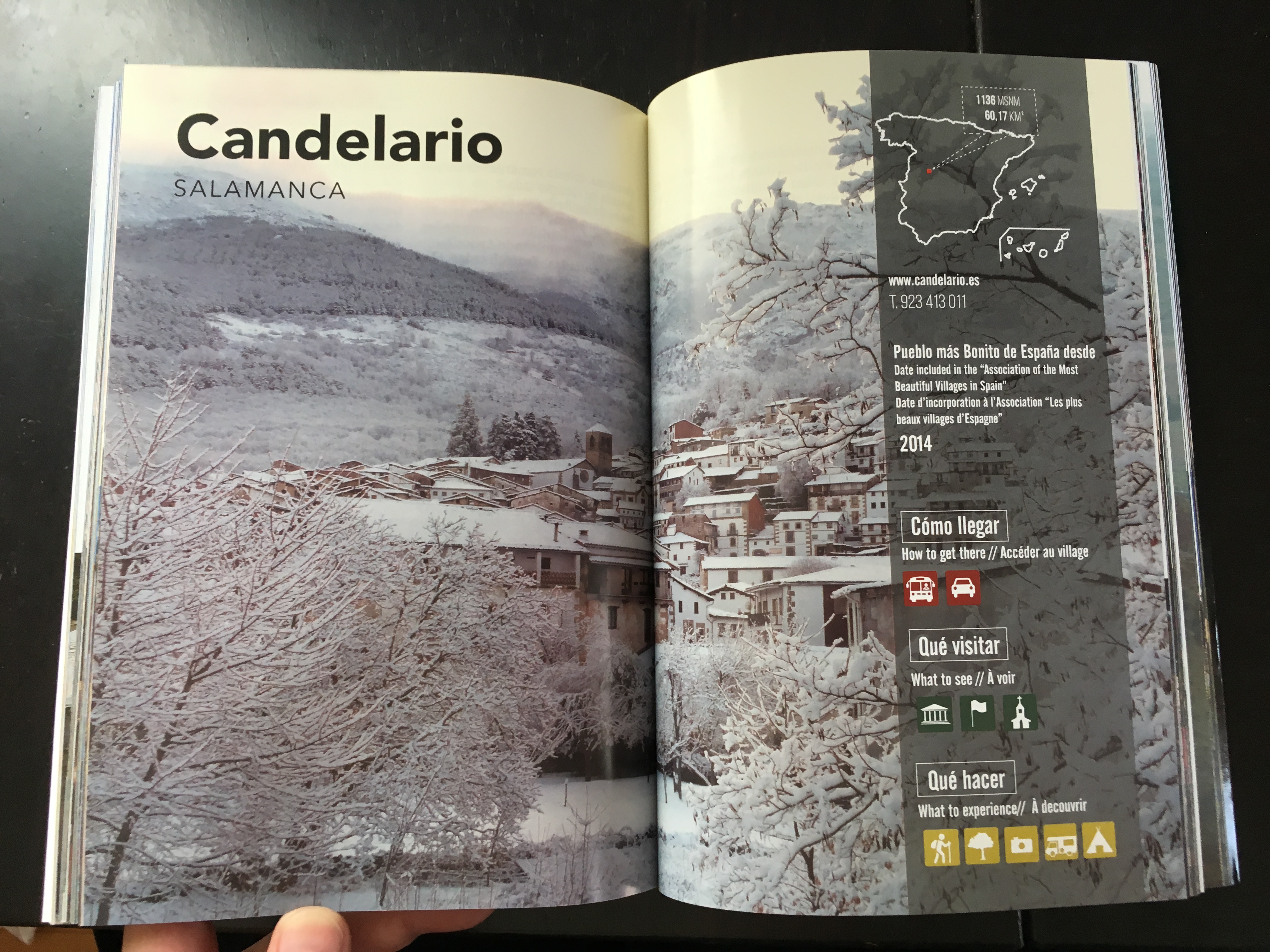 It is a village with a long history, but it was only recently, in the 18th century, that it began to develop economically. This area is famous for producing Iberian ham and sausage, which are also very famous in Japan, and it seems that it was around the 18th century that the area became known as a producer of these delicious foods.
However, as far as I walked around the village, I didn't feel that there were so many ham and sausage shops. However, there were many tourists, restaurants, hotels, and bars in the village for a small village in the countryside far from a big city. It was just past noon when I arrived, so many people were having lunch at bars.
Just after I arrived, I took a break at a bar for a while.
Now, when you go to this village from this highway, you will see this central square first of all.
The little church where this cross pole stands: the
According to the nearby information board, it is a boundary called « Ermita » and it was built around the 16th century.
From that central square, we go up the alley toward the high ground. Because it was weekend, there were more tourists than I expected. But it's a beautiful village in the countryside, so there were only a few groups at most. When I take pictures of these alleys, I realize that I've started visiting these villages again this year.
At the highest point of the village, there was the biggest church in the village. But we couldn't go inside because the time was just siesta lunch time. I felt that I was in Spain.
It was a good start for the first village.
There are 4 beautiful villages concentrated in this area within an hour drive. It's only the first day, but we'll go at once!
(続く)