Visit Date: April 24, 2017, 11:00 a.m.
The second World Heritage Site on this trip was the ancient city of Guimarães, located northwest of Porto. I didn't know this city at all until I heard about this trip. It was registered as a World Heritage Site in 2001. It seems to be known as the city where the first King Alfonso Ià of Portugal was born.
Please refer to the map below for the detailed location.
I went to this city from the Spanish side. It was a rather cloudy morning, but the weather seemed to be improving. I entered Portugal from the north along the A25 motorway, and this is my third border crossing, since I entered Portugal once yesterday. As I explained in my previous post, I finally registered for the EASY TOLL which is required to drive on the Portuguese motorways at this entry.
ご参考:第一部:スペインとポルトガルの高速道路の仕組み、EASYTOLLへの登録 2017年4月 スペイン西部とポルトガルの旅
By the way, the previous night's destination is here, the most beautiful village in Spain. After leaving this village, we arrived at our destination in about 3 hours.
前泊地の美しい村:Puebla de Sanabria(プエブラ・デ・サナブリア)スペインの最も美しい村巡り No.24 ★★★★☆
It was the Monday of the first day of the week when I went sightseeing there, but I had an impression that there were many tourist buses even though it was a small town. I wonder if it is popular. Also hard to find a parking lot. I can not find a good place to park near the old town, I ended up parking in the public space a little far away. It is here.
場所へのリンク:こちら
However, it actually took us less than five minutes to walk to the old town from here, so I'm glad we were close as a result.
Well, the weather was cloudy and it was hot and humid in this somewhat inland city. Anyway, we moved to Santiago Square, where people seemed to gather. It's a place like this. It's a small place, but it has a very nice Portuguese atmosphere.
First of all, there is a church, so we admired this one. It's called Nossa Senhora da Oliveira Church.
After that, we found a tourist information center at the square behind the Plaza Mayor. We got a map here. There were many young staffs who could speak English. Well, when I got the map, they explained the highlights of the city briefly.
But it's still a very nice map with a handwritten style.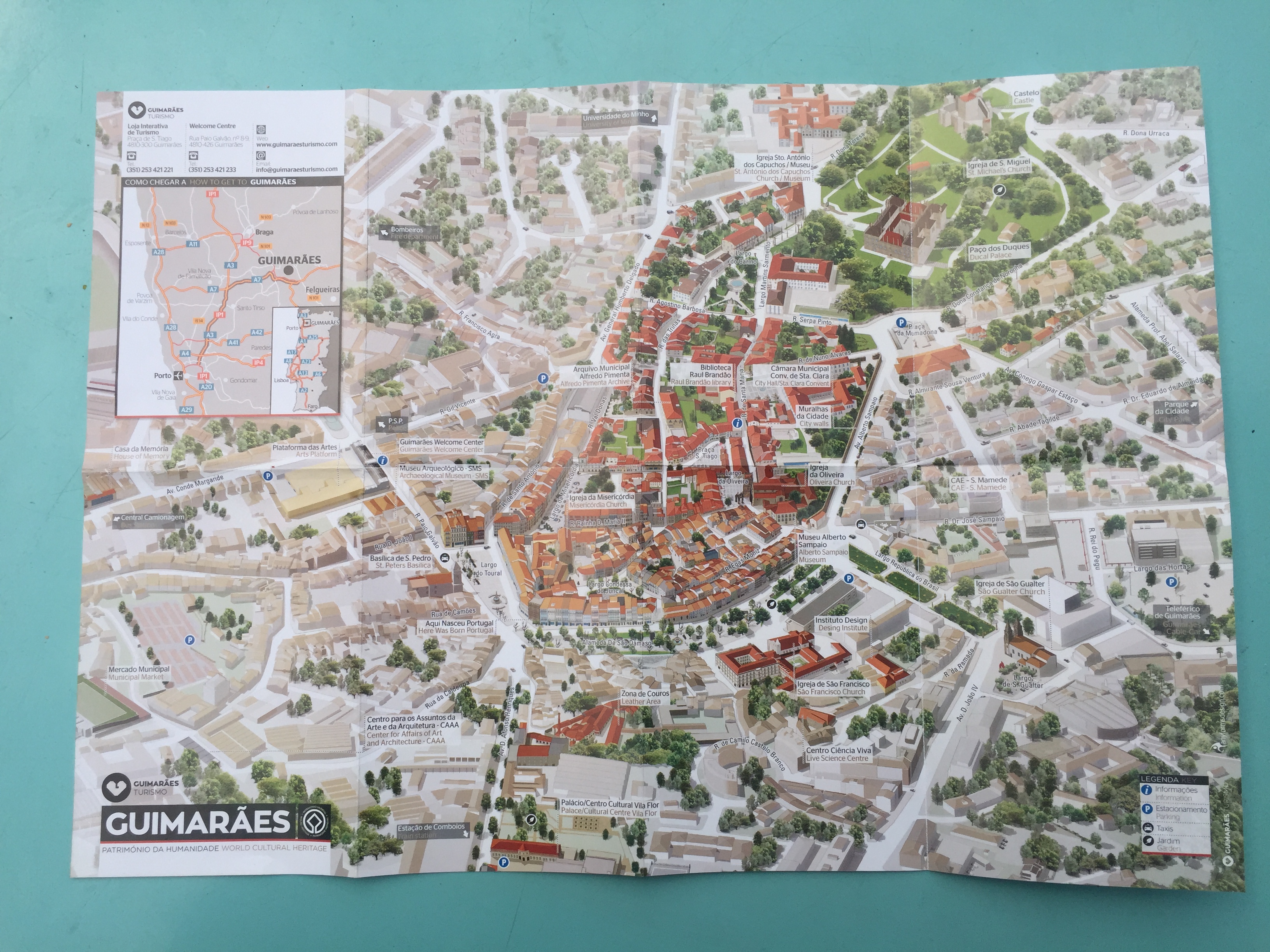 Now, there is a castle in this city. It is located in the north of the city. The name is the same as the name of the city, « Guimarães Castle ». However, this day was « Devil's Monday » (*Most museums in Europe are closed on Monday). So this castle was also closed on Monday.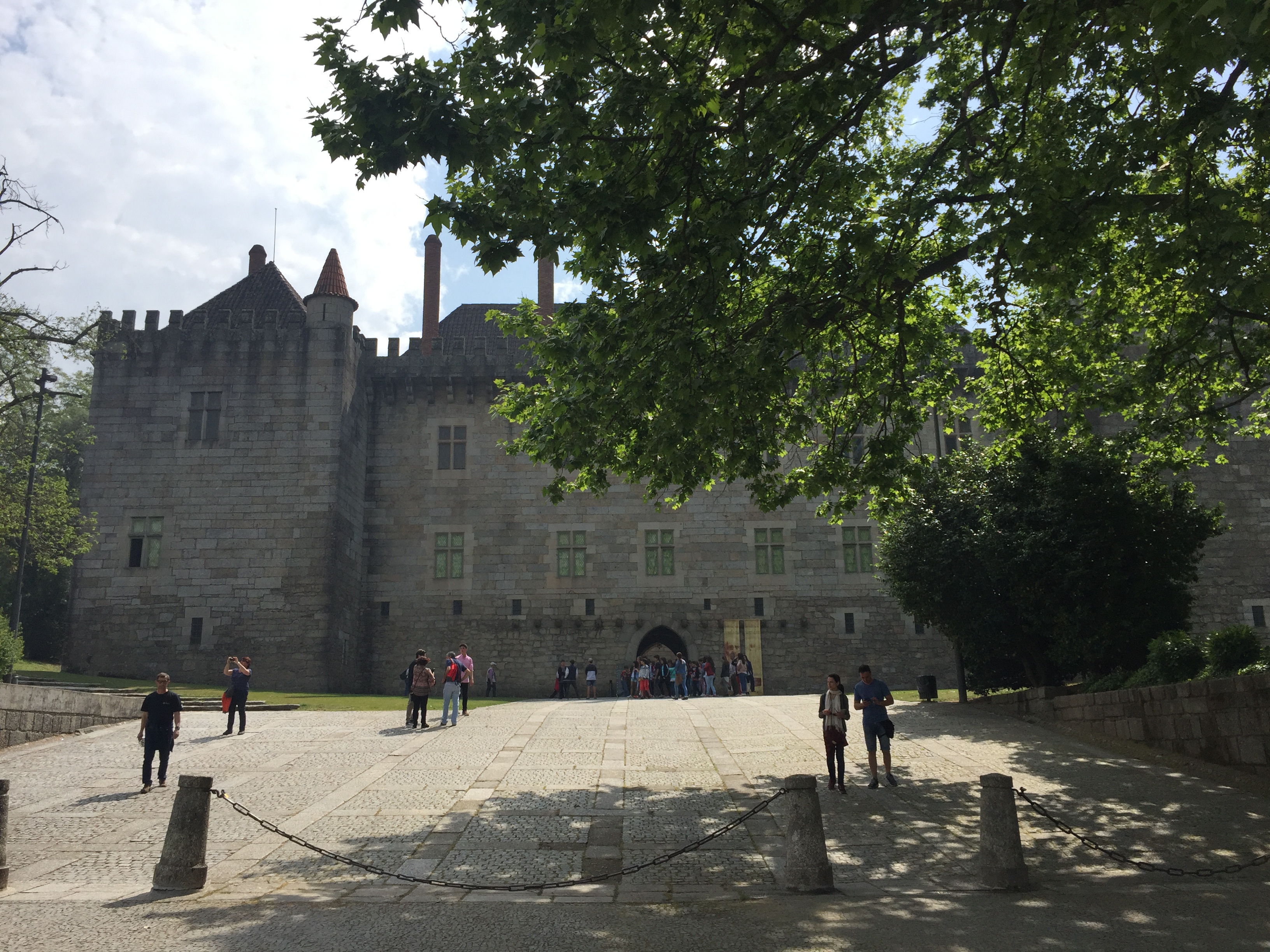 I went back to the old town side once I had lightly greeted (probably) Mr. Alfonso I who was in front of the castle.
Come to think of it, this city is small in the old town area, but the town itself is quite big, so there are various shops. Yes, I decided to look for a prepaid SIM for Portugal here. Fortunately, I found a Vodafone shop not far from the old town.
I bought a prepaid SIM here, and I was surprised to see that the price was only 10 euros for 5GB. To be honest, I can't use up that much in a week, but this is the cheapest so I can't help it.
There is a Vodafone shop on the right hand side about 200m down this hill.
Was not much sightseeing, but just lunchtime and hungry, so it's lunch time here. I entered a place that looks like a set meal restaurant with local people. It seems to have a good reputation on TripAdvisor.
トリップアドバイザーのサイト:Mumadona
The food is hearty, the taste is good, and the menu includes a glass of wine, which is a good deal. However, the amount of wine is too much…. We had to have at most two sips because we had to drive afterwards, but we couldn't drink it all, so we left quite a bit behind.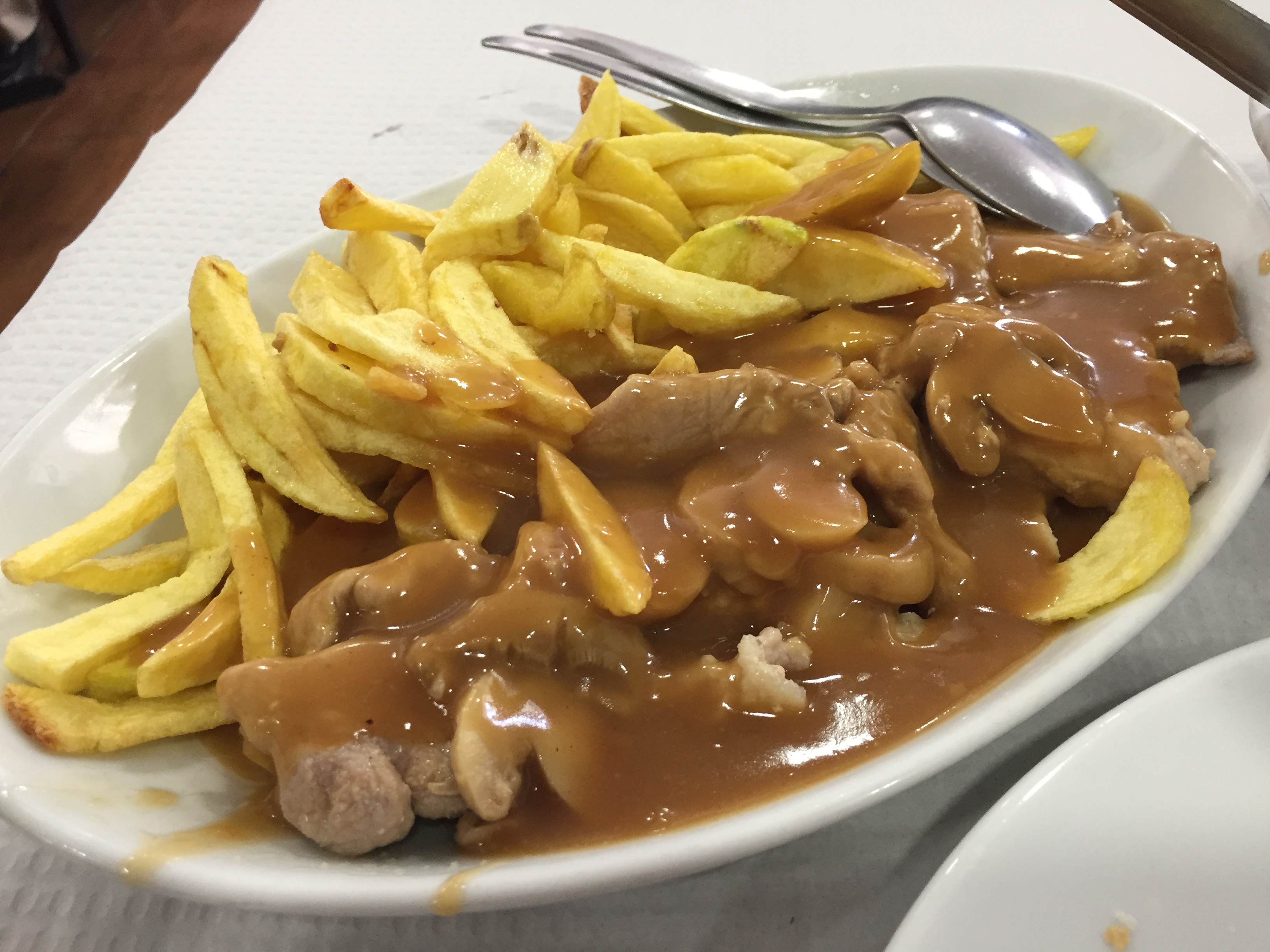 Either way, it was cheap.
食事のあとは、もう一度街中をゆっくりと散歩。結局14時の出発、気がつけば小さいまちながら3時間近く滞在していました。