Visit date: September 19, 2017, overnight
This is probably the most famous of the most beautiful villages in Switzerland. As a famous tourist destination, it may seem a bit mundane at times, but it is definitely the number one recommended village for its ease of access, accommodation and restaurants. Our overall rating on this site is an unqualified five stars!
The most famous and most beautiful village in Switzerland
« You've probably heard the name Gruyère before. Yes, it is Gruyere cheese. Gruyere cheese is used for cheese fondue, which is one of the most popular dishes in Switzerland. Of course, this cheese is made in Switzerland. It is a French-speaking area. The village itself has a long history. It is said to have been inhabited before the Middle Ages like other areas in Switzerland, but as far as there are records, the Count of Gruyère started to live here at the end of the 11th century and continued until 1554. From 1554 onwards, his descendants were granted independence, but formally they were still under the control of the Savoie family.
We're staying.
We decided to stay here because it is the most famous and beautiful village. Because of its fame, accommodations were crowded, but we managed to arrange a hotel facing the central square. It was relatively expensive. There were many parking lots before entering the center of the village. What? I forgot whether there was a charge. In any case, you won't have any trouble.
Many shops, but a good balance without spoiling the scenery
We arrived in the evening, when it was almost dusk. Unfortunately, we were not blessed with good weather, and it was rainy or cloudy including the 20th of the next day. Still, the beautiful cityscape is still there.
さすが人気観光地ということもあり、レストランもおみやげ屋も豊富。ただお店の多さは楽しい一方で街の景観を損なう可能性もはらんでおり、自称美しい村評論家としては、有名すぎる点は悩ましい点でもあります。いろいろありすぎてもらしくないんですよね。ですが、ここグリュイエールは思ったよりもよいバランスを保っていると感じました。村の規模がいい感じなのでしょう。
For dinner, we also chose the local specialty « cheese fondue ».
We had a lot of trouble deciding what to do for dinner, but in the end we decided to use the restaurant at the hotel where we were staying that day. I think it was 10% off if we used the hotel facilities…. I don't remember the discount rate, but I'm sure it was cheaper. Well, I ordered cheese fondue menu. This is the first time for me to eat this in Switzerland, I used to eat raclette more than 10 years ago in eastern Switzerland. This is also a famous Swiss cheese dish. Both are slightly different in style, but they are the same in that you eat the hot melted cheese with bread, boiled onions and potatoes. Of course it was delicious. But I think I can taste it in Japan too.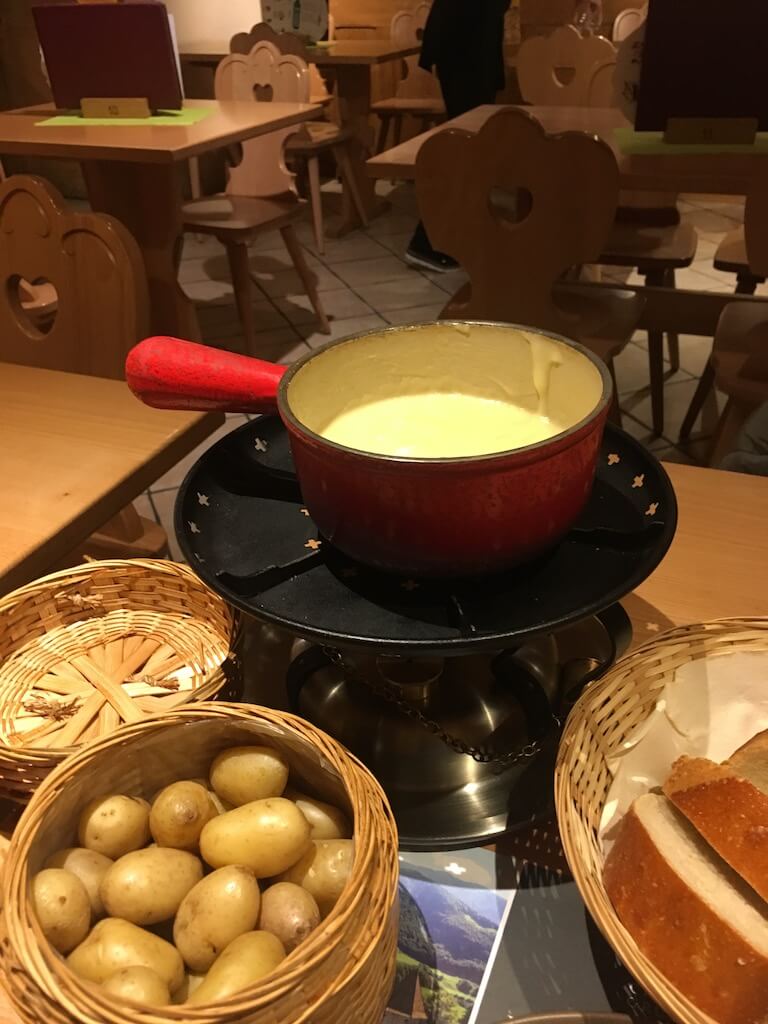 By the way, I wasn't sure about the wine, but I chose a wine from the Valais. I remember it was a blend of mainly Merlot and other popular varieties.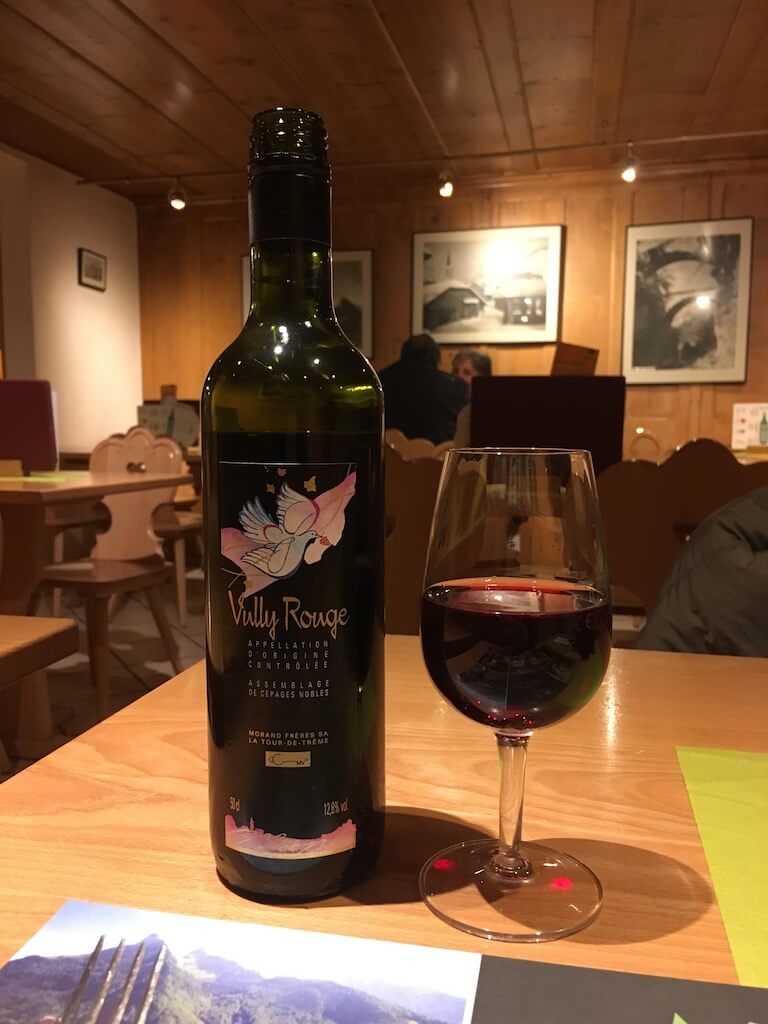 Gruyère Castle
The next day, I went to Gruyere Castle which I couldn't go yesterday. Because it was first thing in the morning, or because the weather was bad, I was the first one to get there and I was the only one for a while. Apparently, there was a bus that left first thing in the morning, and it seemed that many people left the village on it.
There was not much to see in the castle, but it was a waste of time (excuse me!). There was a hall to watch a video about Gruyere, which was very splendid. I saw it alone, though it was quite large. I was rather grateful that they showed it just for one person.
The content is mentioned a bit above, but the main focus was an introduction to the history of this village before and during the Middle Ages. It also touched on some of the history of Switzerland. I think there were screenings in English, French and German. I listened to it in English. The view of Gruyère Castle from a distance is spectacular. Yesterday we arrived in rainy weather and in the evening, so we couldn't see it clearly from a distance, but the next day, right after we left the village, we drove to find a spot where we could get a good view of the castle. There was a lot more traffic on the surrounding roads than I expected, and I had a hard time finding a place to park, but I was able to get the shot below.
And by the way, chocolate is delicious.
By the way, Gruyère cheese is famous, but chocolate is just as delicious. There were some chocolate shops in the village square. In this season, Switzerland is cool or rather cold, so I bought a lot of chocolates without any problem.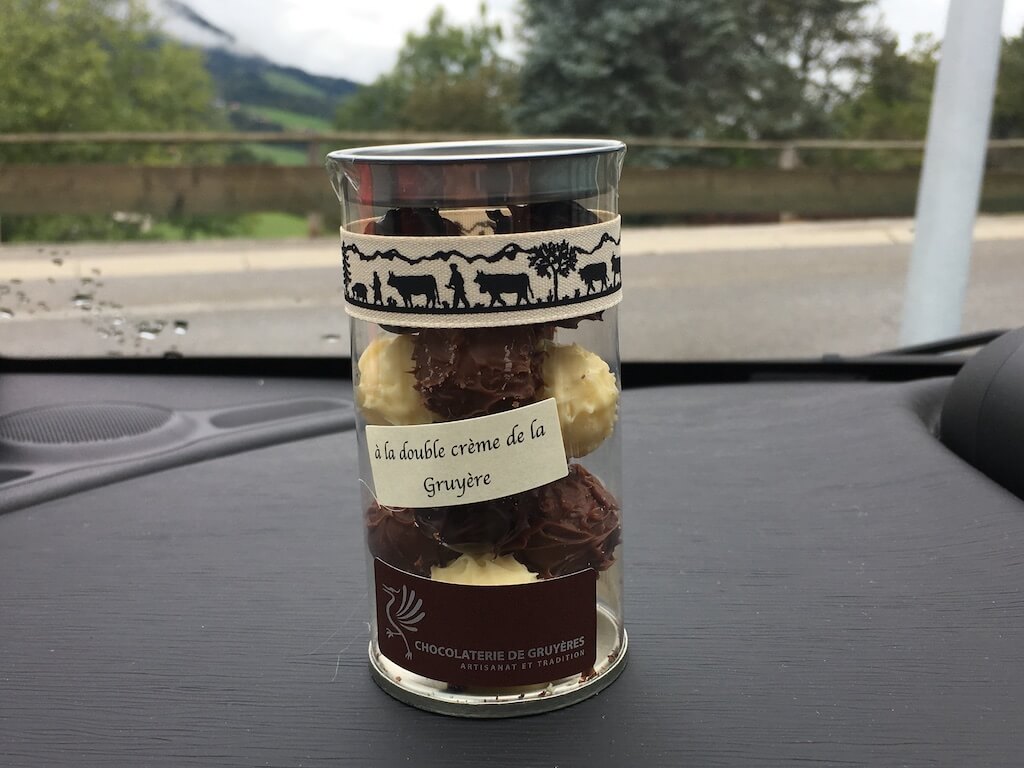 Of course we tasted it right away, it was delicious. Of course we bought enough for souvenirs, but we also made sure to buy enough to eat in between driving. I think we had enough for a few days.
It's a famous tourist destination, so it can be a bit mundane, but it's definitely the number one recommended beautiful village in terms of accessibility, accommodations, and restaurants. Our overall rating on this site is an unqualified five stars!