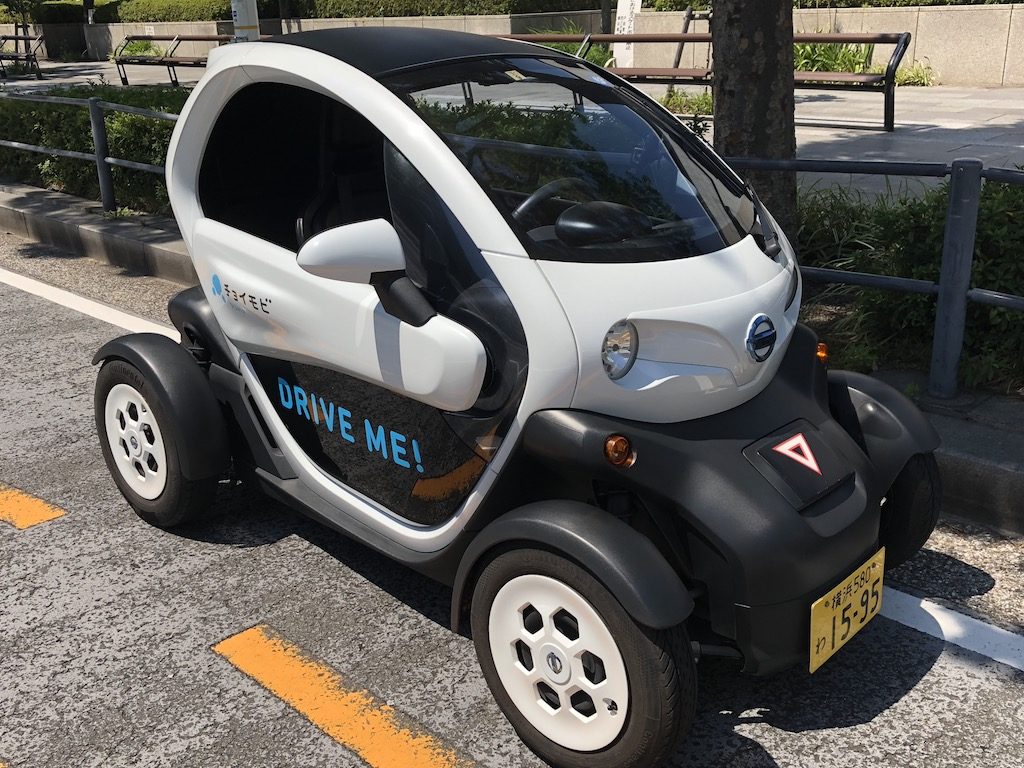 I know it's a little late, but I made my debut on Choimobi. It was very fun. This EV car share makes me want to play with it from time to time.
Initially started as a one-way car sharing verification experiment
Choimobi is a one-way car-sharing system for ultra-compact EVs that Yokohama City was experimenting with until a few years ago. This was with the cooperation of Nissan, a local company. I had high hopes for it, but the experiment eventually ended. Unfortunately, I was not able to experience it.
公式ウェブサイトはこちら:チョイモビ
I don't know why I didn't try it when it was a one-way type, because I had to go to the course. I gave up because I had to go to the course, which was only held on weekdays. But I was not so busy at that time…
However, a while after it ended, it was revived as a round-trip car-sharing service. Round-trip means you have to return the car to the same place where you borrowed it, but that's half the appeal. This is the third EV after Leaf and Tesla.
On this day, I had paid for the concert of the orchestra I belong to in Minato Mirai, Yokohama on the previous Sunday, and it had been exciting all day. I woke up in the morning better than I expected and had more time on my hands, so I decided to drive around Minato Mirai with this Choimobi and have some fun.
Arrangements can be made easily via our website, with as little as 30 minutes notice.
You can easily apply for a ride or a car through a website with a design and form that is not so cool nowadays. You need to follow the instructions on the website to register your ID and credit card. Actually, I had already registered my ID but not my credit card. It was easy to complete the registration before arranging the car. In addition, I tried to change my address because it had changed since I created my ID, but I couldn't for some reason…
The website was certainly not great, but it was surprisingly easy to arrange. After booking, if you don't get in the car within 30 minutes, it will be automatically cancelled. It seems to be a good system. At any rate, I thought it was the best to use it just for hanging out.
It was only a five-minute walk from the place where I applied on the web to the place where the Choimobi I rented this time was located, but since this was my first attempt, I was afraid that I would lose time looking for the station (where the Choimobi was parked) and moving the car. So I went to the station immediately after making a reservation.
The place I arranged is Choimobi at a place called « Station: Colette Mare (JR elevated side) ». It is just in front of Landmark Tower. But be careful, because there are two Choimobi at this Station: Colette Mare, one at the entrance of the parking lot in front of the Landmark Tower, and the other at the side of the sidewalk near the JR elevated tracks. The one I arranged was this one near the elevated tracks. It was a little difficult to find. There is a large parking lot here, but both cars were not in the parking lot, but parked in a position where they could be easily seen from the sidewalk.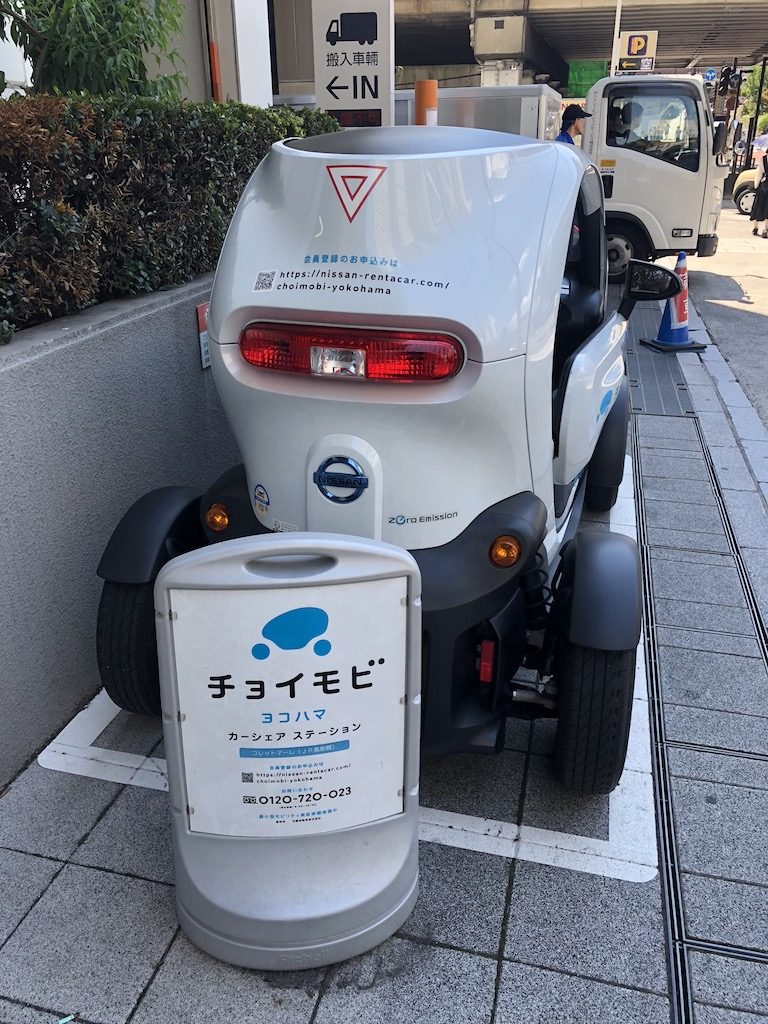 It's gonna take some getting used to, but I can't move the car.
I had a hard time finding the station, but what was more difficult was how to move the car. I downloaded the pdf file from the website and had a quick look at it, but it was difficult to actually move the car like this.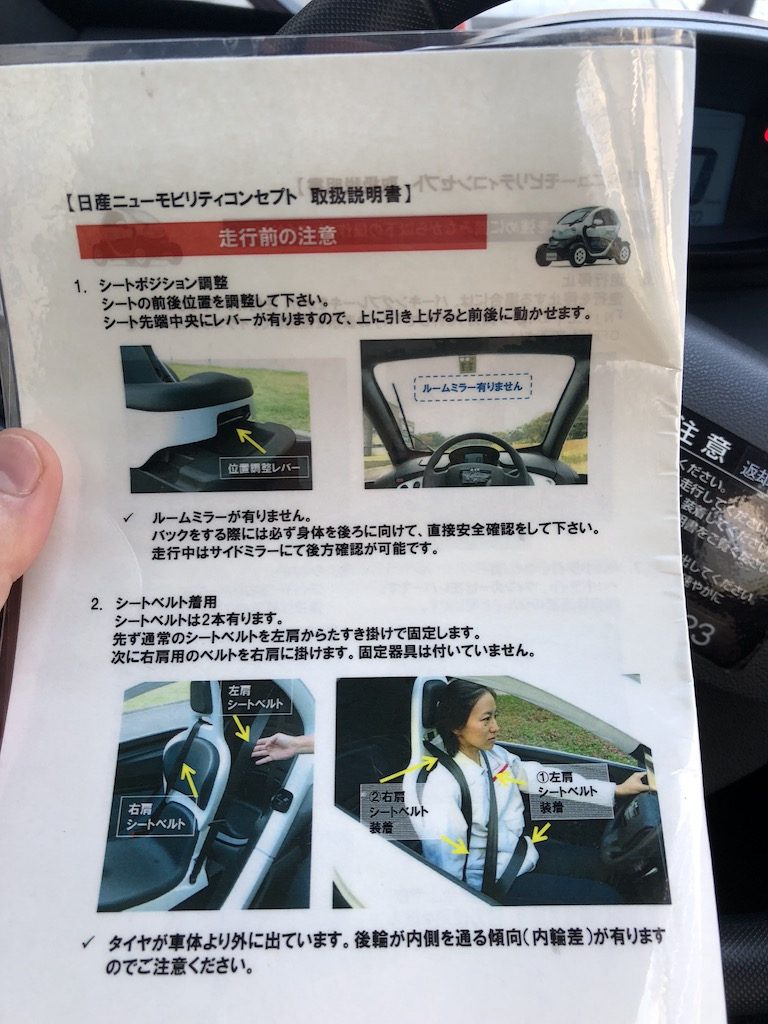 For example, turning on the power, releasing the handbrake. Other than that, operating the blinker. It's on the left, isn't it? But I'm more used to this way. But actually, this blinker is also a bit tricky. No matter which side I moved, the display on the dashboard was emergency lights, that is, both sides were blinking, so I couldn't tell if the blinkers were displayed properly from the outside. So I decided to get out of the car once with the blinkers on and check the flashing yellow lights on the front and rear. Properly checked both sides, first the right blinker and then the left blinker. I confirmed that the yellow light was blinking without any problem.
The manual was also on the dashboard (left side of the steering wheel) in the company. This helped me a lot.
Entry with driver's license is very convenient
However, the lending confirmation method can be easily done by simply holding your driver's license over the card reader in the upper right corner of the company. Times Car Share, for example, requires a special card. This is also easy to use, but it is still very convenient to be able to start with just your driver's license. It's a great system to be able to enter with a driver's license. I might want this technology to be available for regular cars as well.
Your door is adorable!
What's interesting is that the doors open and close in a unique and interesting way. What do you call it, it's Lamborghini type lol. I didn't understand it at first and I was confused, but it's convenient to get in and out even if the space is small. When you open both sides of the door, it looks like « Banzai », it's so cute! By the way, this door doesn't have a lock on it.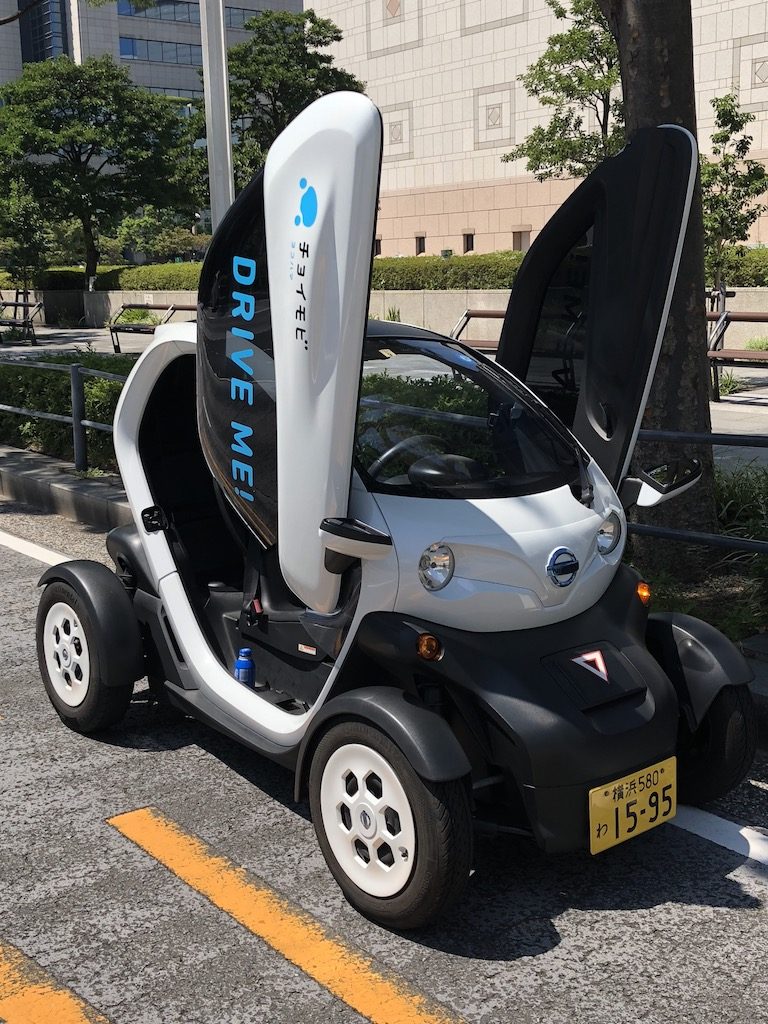 It is true that you cannot temporarily get off and leave your luggage inside, but the so-called key is the driver's license of the registered person, so there is no problem. Also, of course the doors are locked, but there are no windows, so there is no air conditioning. Of course, there is also no navigation system. However, there was a smartphone stand, and charging by USB is possible. (The power is strong).
Good driving performance.
Now, how was the all-important driving performance and driving feel? It was more comfortable than I expected! The manual says that there is no play in the accelerator, but I felt that I could accelerate straight as I imagined without any useless elements that Japanese cars tend to have. The speed also comes out quite well. If it is a flatland, it will not be a problem in power. It might be tougher on the uphill. (I only drove around Minatomirai this time.)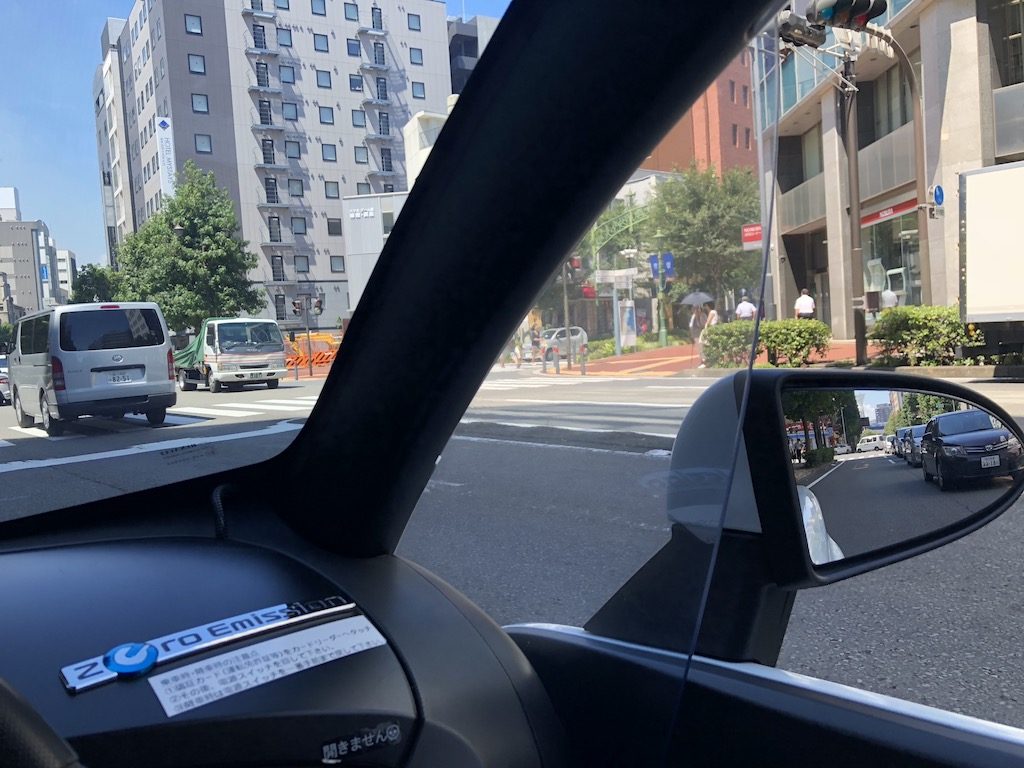 If there is a difficulty, it is the brake. Once you get used to it, you'll be fine, but you'll have to press down pretty hard to hear it. You have to be careful with this « Choimobi » because it goes very fast. It was a little scary at first. The car body is small and the safety is remarkably inferior to a normal car, so be careful not to go too fast.
Free parking spaces should be maximized.
One thing I regret is that I did not know the free temporary parking space well in advance. I parked in an ordinary parking lot. I parked in the parking lot of the Yokohama Museum of Art, and although it was cheaper than nearby parking lots at 500 yen for 90 minutes, I later learned that there were actually free parking spaces on the museum grounds. Free parking spaces are few and far between. I thought it might be one of the reasons why it is not widely used.
It may be difficult to spread
Finally, I would like to think about whether this mechanism will be widespread. Personally, I thought again that it would be tough.
By the way, what about Tokyo? In fact, there is an EV car-sharing service called Ha:mo in Tokyo, which is run jointly by Toyota and Times. However, this service is difficult to use. This is because you have to become a Times Car Share member and get a grade of Stage 2 or higher and maintain it. In addition, if you don't use the car share service that much, you won't be able to accumulate enough points to get to Stage 2. It's really a terrible system. Yokohama is still more user-friendly in this respect. I wonder how much this Ha:mo is actually being used. I have never seen it running or parked.
What about in other countries? I don't know much about it, but there is an EV car sharing service in Paris called autolib. I just looked it up and found out that it was discontinued this year…. Oh well.
パリで電気自動車AUTOLIB'に乗ろう! | O'Bon Paris | Easy to be Parisian

Autopartage à Paris et en Île-de-France ? 100% électrique | Autolib
I don't know how widespread it is, but I've seen people using it in Paris. I have an account with them.
Now, I personally think that one of the reasons why abandoned car services are so popular in Paris is because of the well-developed on-street parking system. If you already have a parking space on the street, it would be relatively easy to convert it into a car sharing space.
But what about Japan? In Japan, there is not so much custom of parking on the street using parking meter like Europe. That's probably why there are so many cars parked unnecessarily compared to big cities in Europe. Therefore, the only way to create a car-sharing system is to create a dedicated space in an ordinary parking lot, but this also seems to be unrealistic. If you take into account that you have to open to some extent, it is because the utilization rate of the parking lot will obviously fall. This is because the parking lot is basically owned by a private corporation, so you have to think more about the business aspect.
Personally, I would like to see the development of this type of ride-and-leave car sharing using ultra-compact EVs, both in Tokyo and Yokohama.
↑といろいろ書いてしまいましたが結局パリでもうまく行かなかったのか…。残念な限り。