For a while, I'd like to alternate between the Most Beautiful Villages in Switzerland series I visited last year and this new series, Bulgaria and Romania in July 2018, with a target of 3 to 5 posts. In order not to lose my memory, I'm recording this introduction to Bulgaria and Romania in July 2018.
We will proceed as planned as declared in the
The motivation for the trip is actually the most beautiful village in Romania?
According to the intro post above, the first part is « Planning the trip, going to Bulgaria via Istanbul, renting a car ». First of all, I'll write about how to plan the trip.
In fact, I had a more direct motive. It was because a few years ago there was talk of starting an association called « Romania's Most Beautiful Villages ». I had always been interested in Eastern Europe, and I thought that if this association existed, I should make it a priority to visit. Unfortunately, I don't know why, but it seems that this association was never established after all. I wonder if I was mistaken…
This was my first visit to the so-called former communist bloc since Poland, Hungary and Slovakia in 2009, but my first visit to Bulgaria and Romania.
Purchase an airline ticket
It's the most important, the first thing you do. And I'm also wondering how you guys do it. In my case, I usually make arrangements in the following steps.
エクスペディアとエアトリ(旧DeNAトラベル)の2つの航空券サイトでチェック。手数料ゼロのエクスペディアのほうが安くてアプリも使いやすく便利なのですが、微妙に手配可能な航空券が違うのでやはり比較するために両方見ます。
直接航空会社から予約できるかチェック。代理店経由よりも直接のほうが何かと融通がきくことも多いし、意外と安いこともあったりするので、代理店での検索結果にもとづいてこちらでもできるだけチェックすることににしています。
Of course, there may be a way to increase the number of agencies and portals to check in step 1. But to be honest, I don't have the luxury of spending that much time looking into them at the moment, so I only use these two services because I'm familiar with them and have used them many times in the past. If you look at these two services, you can see a trend. It's not that different, but there are some subtle differences. Also, compared to other services, I think I can always see the latest information.
By the way, I booked on Expedia for this trip to Bulgaria and Romania.
Car Rental Arrangements
As well as the airline ticket, the rental car, I directly look at the portal site Rentalcars.com and the sites of major car rental companies such as Avis and Sixt and compare. This time, I decided to use Rentalcars.com because I had no idea what kind of car rental companies were available or strong in the country I was visiting for the first time.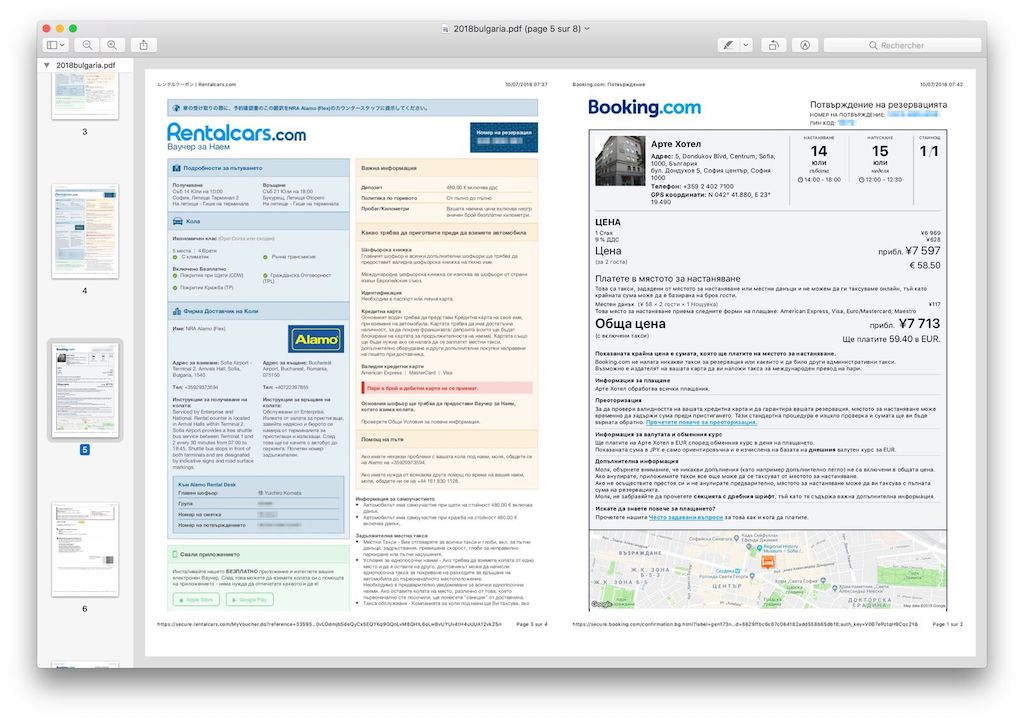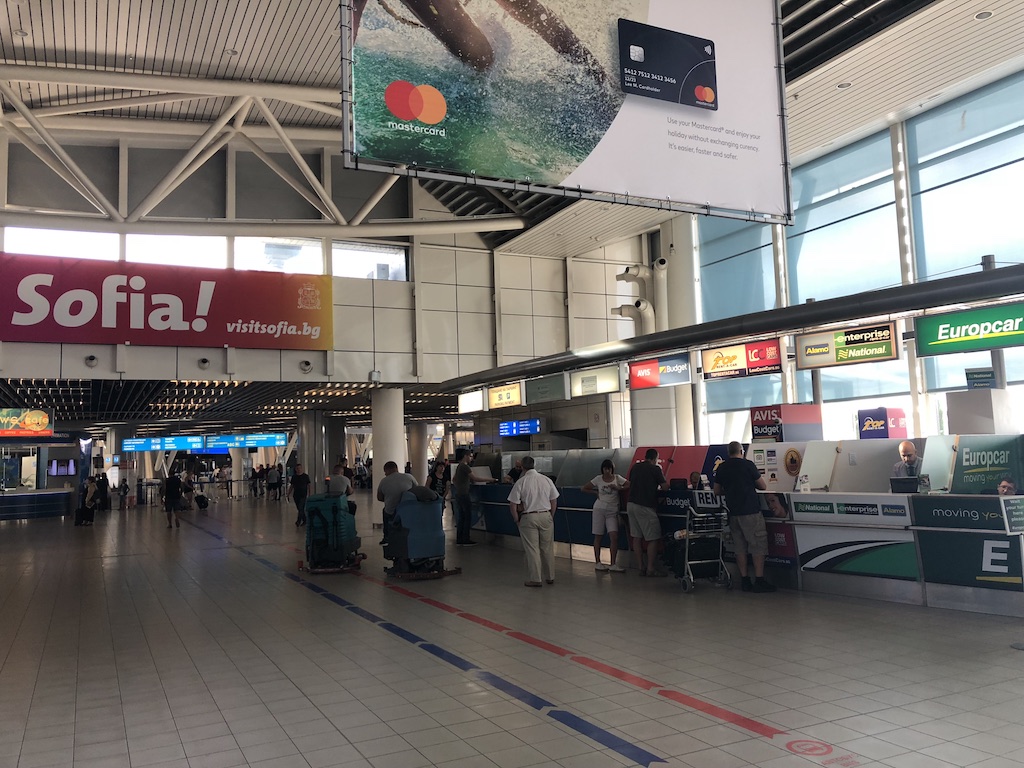 The place where I rented a car was Sofia Airport in Bulgaria. It's a small airport, and there was a booth of car rental company just in front of the arrival lobby. English was OK, and the procedure was smooth. What was a little different from other Western European countries was that we received a set of documents such as car insurance card or car inspection certificate at the reception. I was advised to bring them with me at all times. Here it is.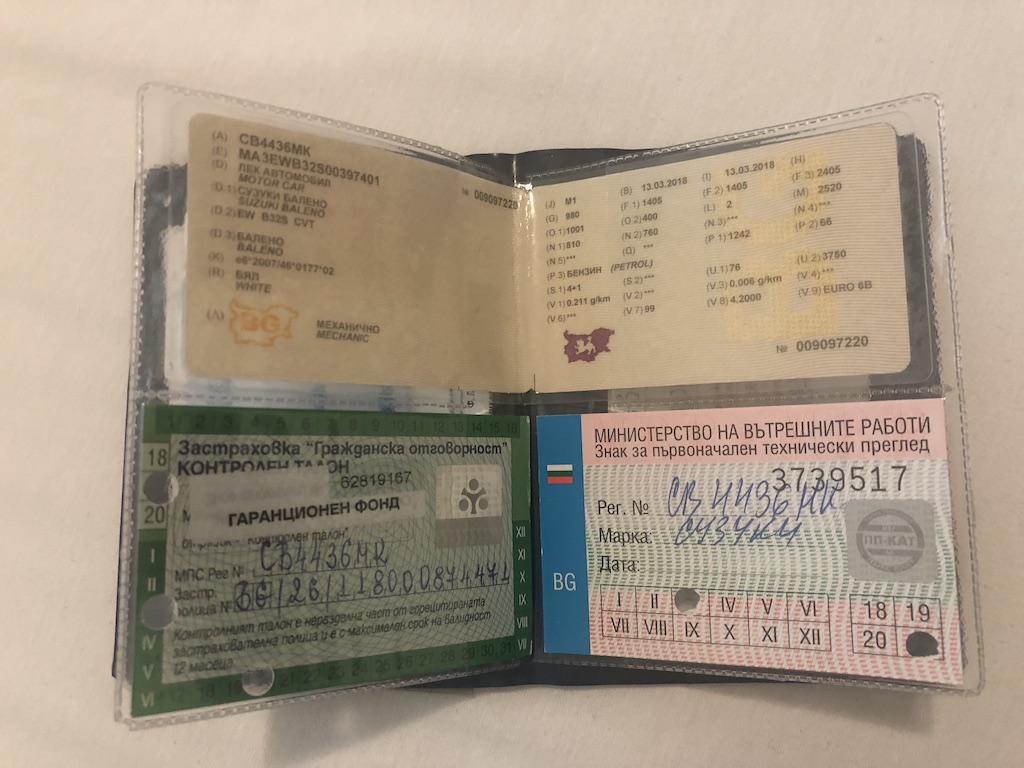 This time, I actually rented a car for the first time in a country at all, that is, I returned it to Romania, which may have had an effect on my decision. In fact, I was asked to present this set of documents at the border when I entered Romania from Bulgaria. In addition, the highway between Bulgaria and Romania was the same as in Austria and Switzerland. But this time, we told the car rental company in advance that we were going to visit both countries, so they gave us a vignette by default. (I think the explanation was given at Sofia airport, but I couldn't understand it in my English…)
About Prepaid SIM
This time, I bought this SIM which can be used in Bulgaria and Romania via Amazon in Japan before departure. I was able to use it immediately there. I was able to use it immediately after insertion without any special settings. I had no problems with the speed or range of the connection.
Threeデータ通信専用プリペイドSIM【3GBタイプ】【最大90日間有効】

In Bulgaria, I bought a local prepaid SIM (3GB for 500yen and 4G or LTE connection) a few days after arrival and used it. I bought it in Plovdiv city. Pre-purchase has the advantage that you can use it immediately after arrival, but it is best to use local one.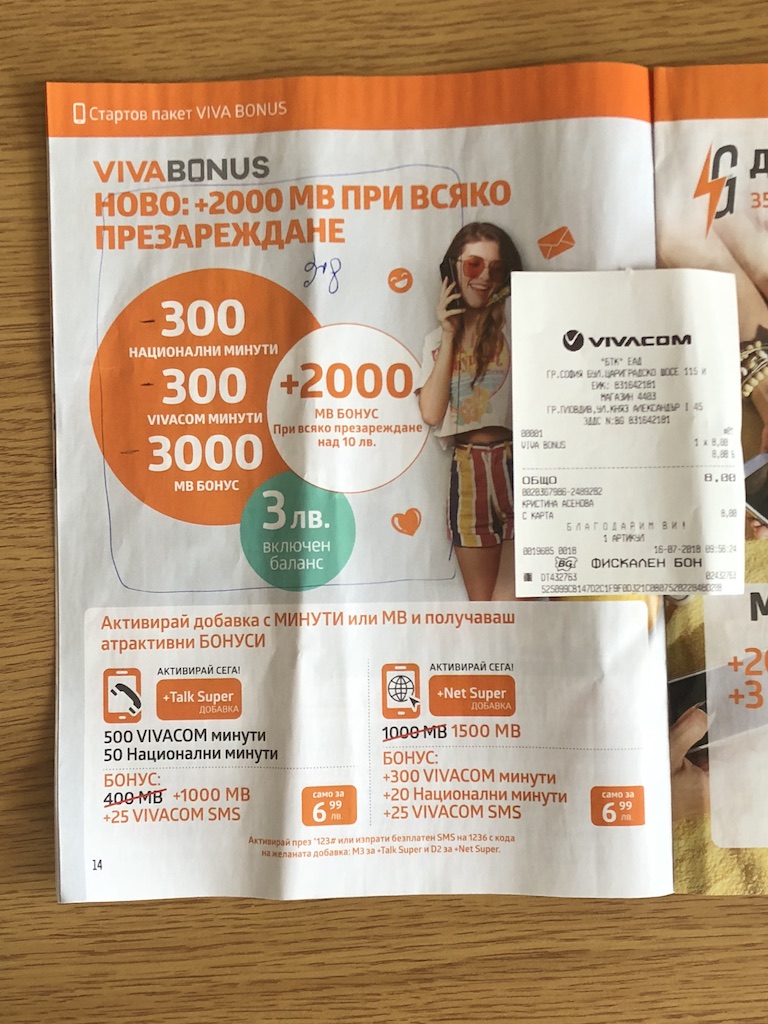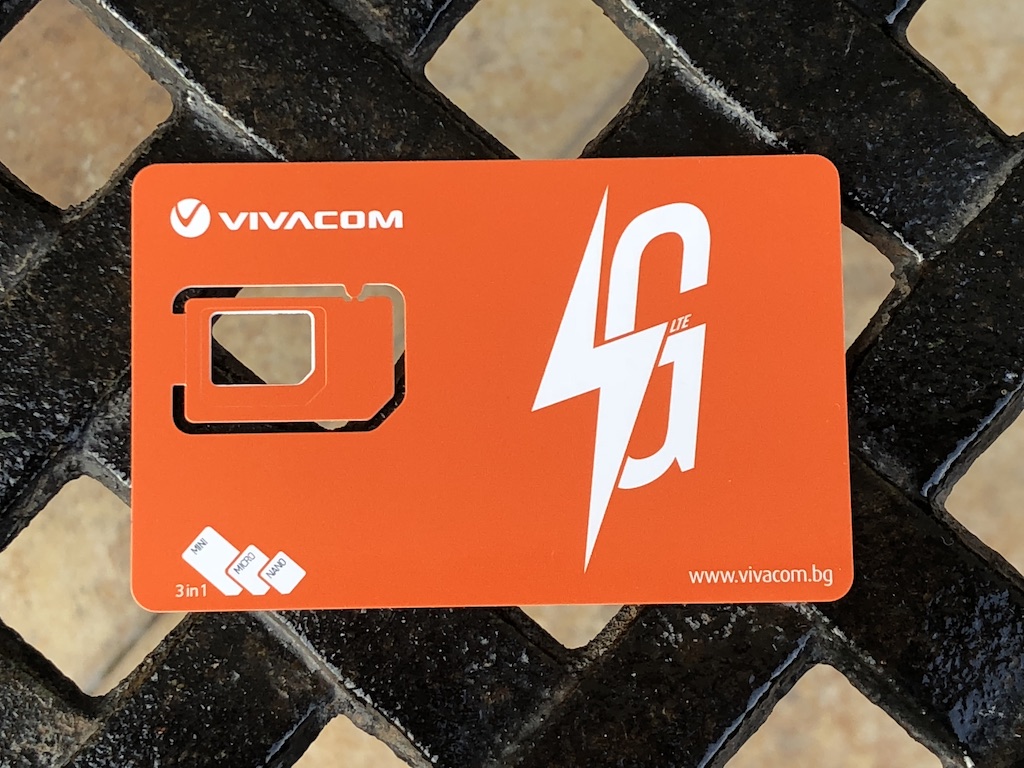 Travel plans are based on the density of stars in Google Maps' « Favorites ».
Since it is difficult to predict how long it will take to see the sights, it is best to think flexibly about where to see the sights and where to stay on a case-by-case basis, but even so, the time and days you have to travel are limited, so of course some advance preparation is necessary.
However, it is important to have a clear image of your trip by preparing multiple scenarios and simulating them in your mind, rather than having a clear schedule.
As I mentioned at the hotel, you can freely use the internet on your smartphone in the area, so Google Maps is the only choice for the so-called car navigation system (called GPS over there). I use it to the maximum. Of course, it is an application that can be useful as a navigation system, but in fact, the function that can save the place you want to go as a favorite as follows beforehand is very useful.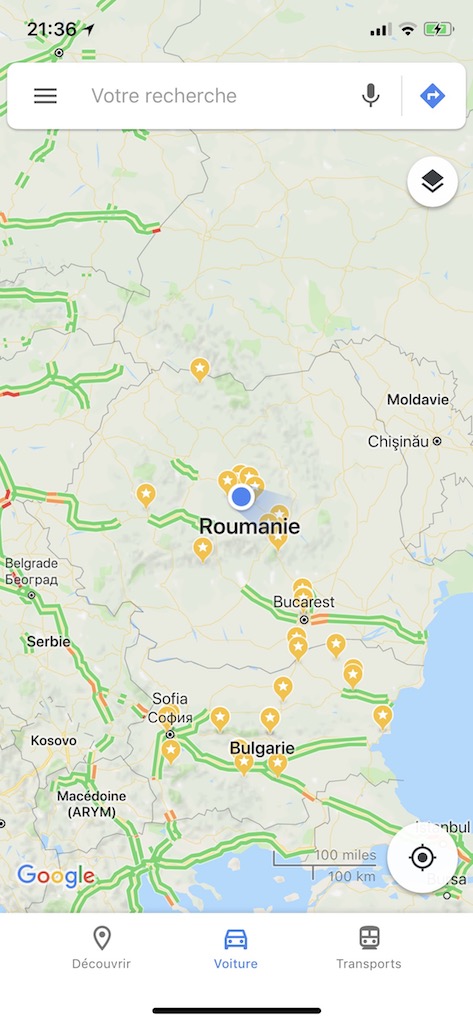 How do I get the information I want to visit? Recently, I've been choosing the Kindle version. To be honest, it's not easy to use, but it's very convenient to use only one smartphone, and there is also PC version, so Kindle version is easy to use to check your travel plan (where you want to go) on PC.
I guess I start researching on the internet only after I have some knowledge of the destination from guidebooks such as Globe-Trotter. If I have visited a place many times before, or if it is not in the guidebook like a beautiful village, I will look it up directly on the Internet from the beginning.
As you repeat this process, you will accumulate stars on Google Maps. Once the stars are accumulated to a certain extent, you can see the approximate routes and places to stay by looking at the degree of concentration and the geographical arrangement of the stars.
But even so, it is often difficult to get a clear image. In such a case, we sometimes use a machine learning method, such as solving an optimal problem called the traveling salesman problem, which we tried several times when we toured beautiful villages.
Of course, when you are there, you can tap this star and ask Google Maps navigation to show you where to go. This alone will greatly improve your travel efficiency.
Hotel arrangements are basically local.
I almost always choose Booking.com, but when I visit the regions of France and Belgium, I sometimes look at the Michelin website. In some cases, especially when visiting beautiful villages, I don't book on the web at all, but on Booking.com, where I have been using it for many years or where I can get Genius benefits, and on the first and last day, I often make arrangements in advance, but during the trip, I often choose a place based on my progress on the ground! .
It is true that you can travel by car with more mobility and flexibility than you expected, but on the other hand, it often happens that a village or town in the countryside is smaller than you expected, or has more attractions than you expected. This means that planning well in advance is often a waste of time.
It's been a long time since SIM-free smartphones were available in Japan, and you can buy a prepaid SIM from Amazon and simply insert it into your phone without any special activation, so it's much easier to book a hotel locally using your phone than it used to be. These days, I often choose to stay in a city of some size or in a hotel with a reputable restaurant to enjoy an evening meal. Before choosing a city, I often check TripAdvisor first to see if there are any good restaurants and then decide.