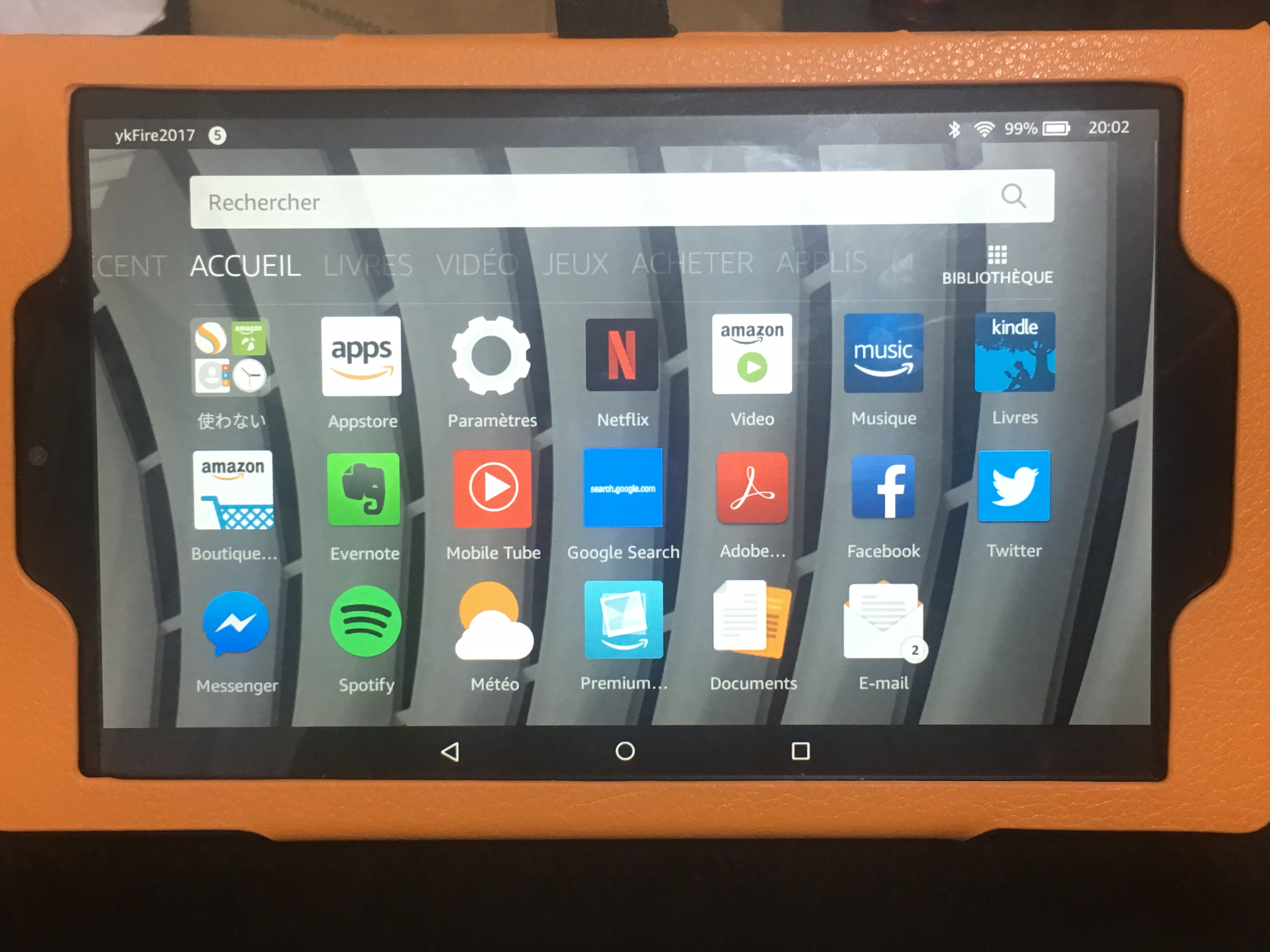 Bought my first tablet in a long time. It's for Air China, lol. Of course, it's not just for that purpose.
Amazon Kindle (Amazon's electronic book device) Fire HD 8 , cheap but a bit heavy
As a person who usually carries MacBookPro in a bag, I honestly feel unnecessary such as a tablet. No, actually it was, but this time, I decided to buy it for a strange reason.
購入したのはこちらの[highlight]「Fire HD 8 タブレット (Newモデル) 16GB」[/highlight]です。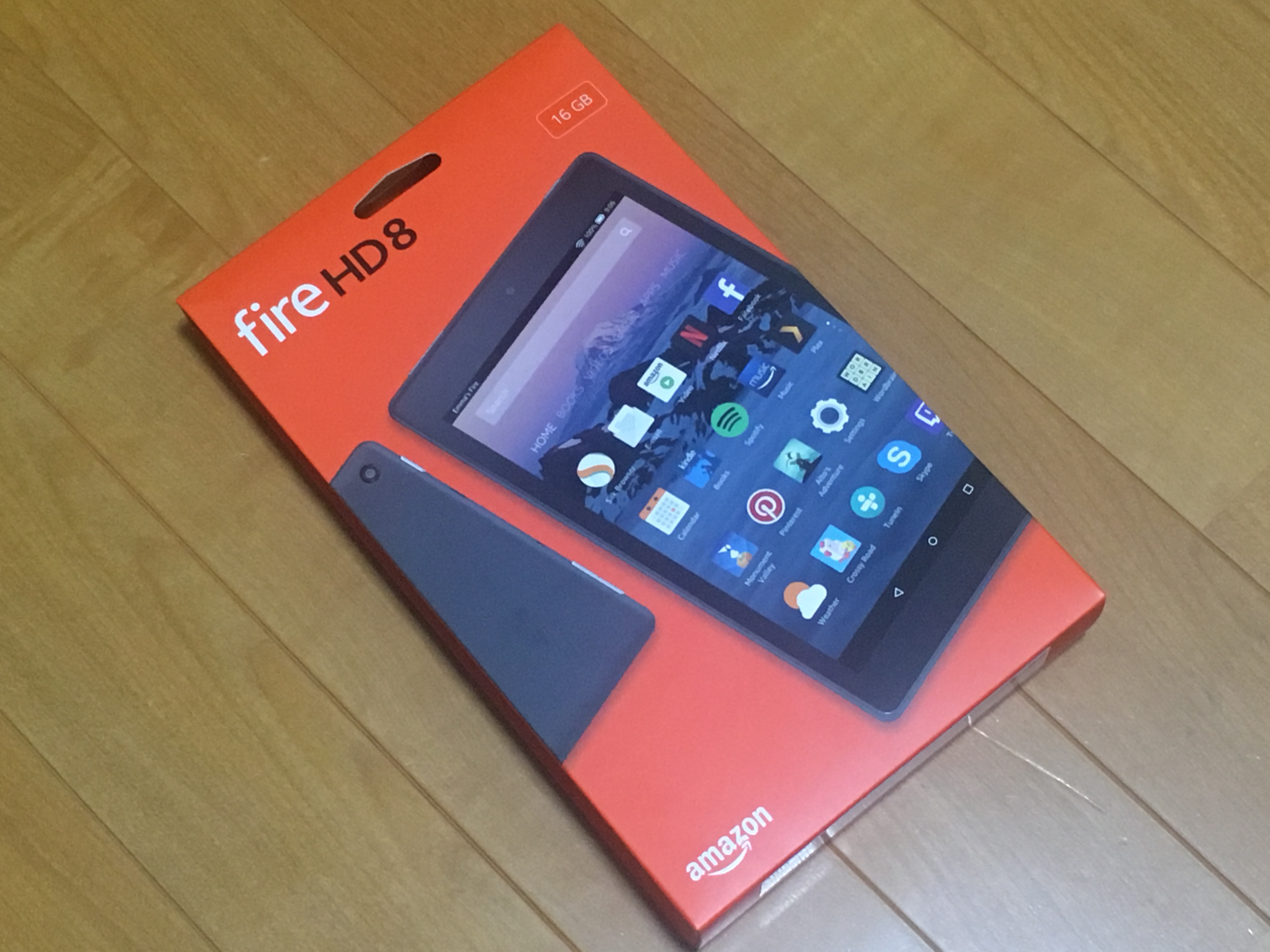 購入はこちら:Fire HD 8 タブレット (Newモデル) 16GB、ブラック
The first thing you'll notice about this device is its price, even the 16GB model is only 11,800 yen, and if you're an Amazon Prime member it'll be here soon. But still, what a simple packaging. I admire the thoroughness of not spending money on unnecessary things.
It's an actual tablet, but it's pretty heavy. It's 369g, which is a bit disappointing, but Amazon says it's tougher than the iPad for that reason (I heard it was twice as tough as the result of a drop test), so that's good.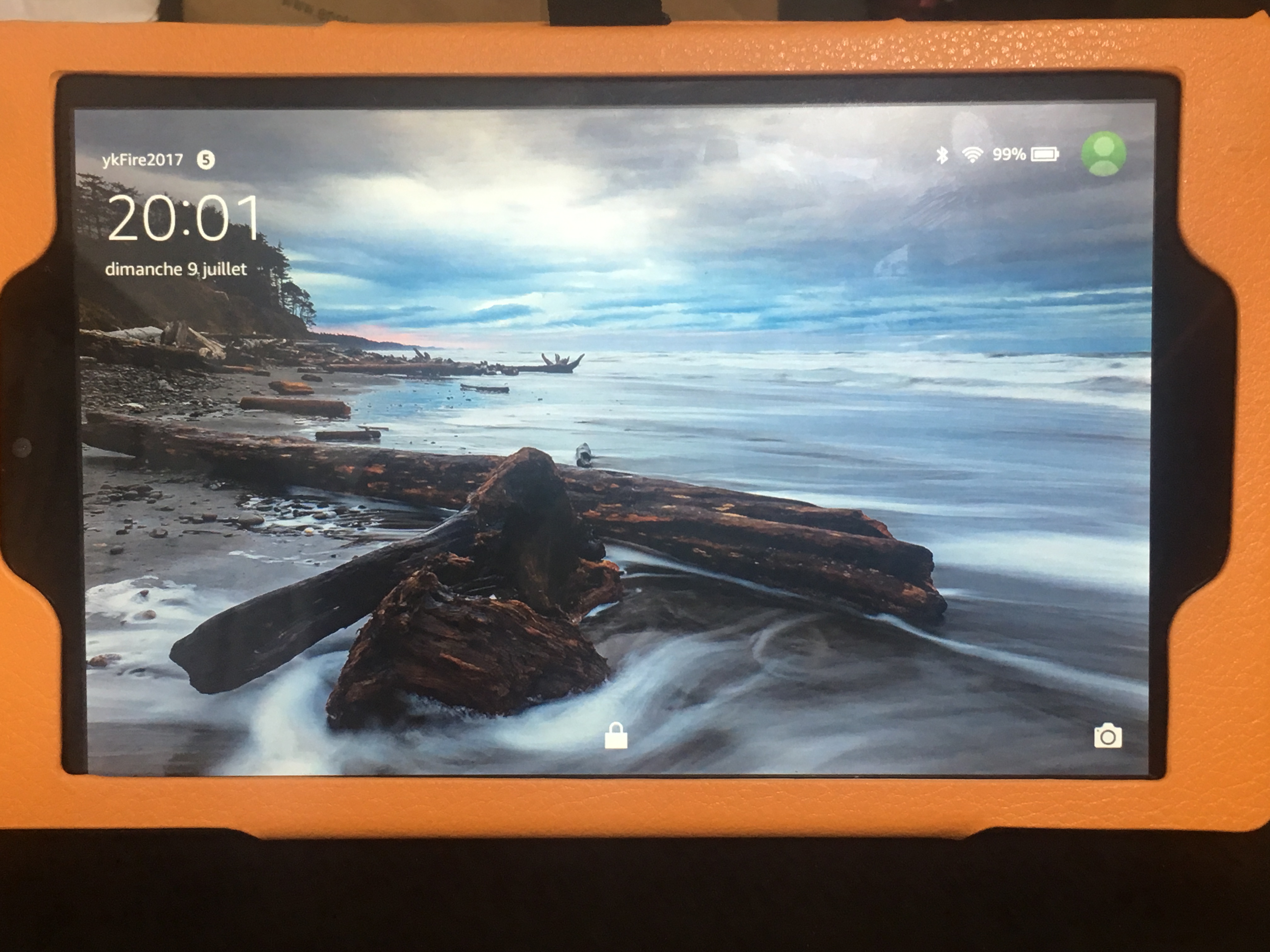 I bought it because I thought it would be more convenient to have a cover, but it became more and more heavy. there is a genuine cover which is rather expensive like iPad, but I think this was better.
In addition, the setting language was set to French for the study as well as iPhone.
Don't forget the coupon code for Prime members!
買ったあと気づいたのですが、現在(2017年7月10日時点)プライム会員向けキャンペーンを行っていて、[highlight]このクーポンを利用するとなんと4,000円も安くなります![/highlight]なのにそれを見逃していた…。iPhoneアプリだとそんなコード表示されなかったのに。
I was going to cancel the order and order again, but it was already too late. It was too late.
Fire OS is unexpectedly good at being « superfluous ».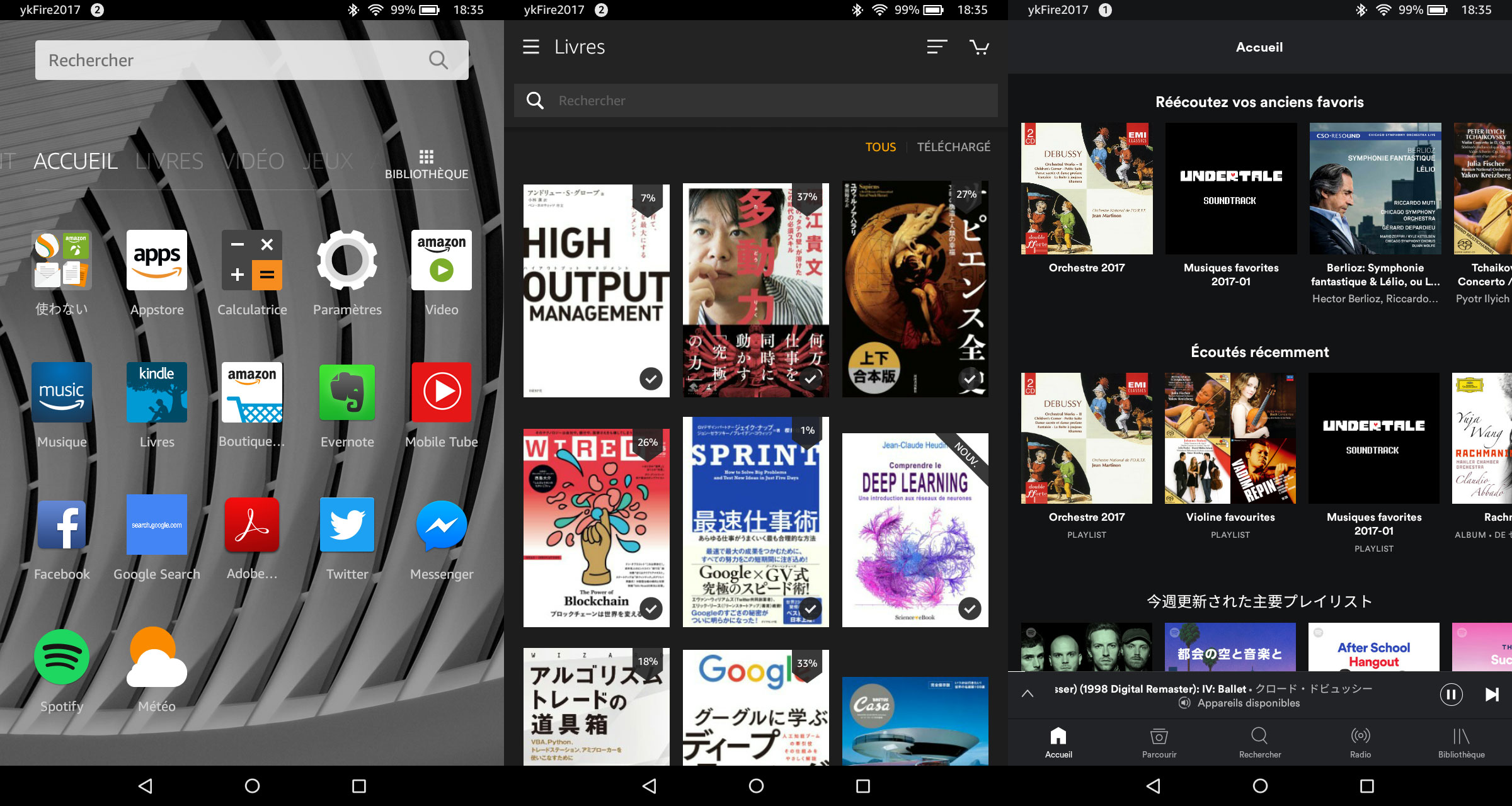 Fire OS, perhaps it is Android base, but I think that the point which specializes in some yesterday can be evaluated instead though the application which can be used is few. Because it is bewildered if it is possible to do this and that conversely, and it is not possible to use it, rather such a concept can sympathize. The early iPhone was like this, too.
Kindle (Amazon's electronic book device)
Of course, the most heavily used one is Kindle (Amazon's electronic book device). iPhone is usually enough for me, but when I'm looking at magazines or studying programs, tablet size is more convenient and easier to read.
Speaking of which, there are various perks for buying kindle books.
Music Apps
The sound quality isn't great, but the music apps are Amazon Music and of course Spotify, so this is pretty good.
Video apps
And then there's video. This one has Netflix and Amazon Prime Video. The tablet's speakers are out of the question, but the sound quality is tolerable if you listen with Bluetooth-enabled earphones or headphones. (If you're a stickler, it might be tough.)
Especially, I thought that 8 inches was enough for the extent that I watched while watching a movie. Video, I watch well, but iPhone is still small, and when I watch it with iMac at home, I have to become a view that concentrates only on it. I thought that I could use it unexpectedly to watch a rather unimportant, light video (such as a drama) while streaming appropriately. It is the center of streaming at home, etc., but when going out, especially when moving long distance such as an airplane, it is good because it is possible to download contents.
SNS applications
We also have all kinds of social networking sites.
There are some unfortunate aspects to this.
Even though it's a limited feature, there are some things I personally think you should try a little harder for, as expected.
Photo-based apps
First of all, the photo and the camera, I don't know if I can use this to be honest. If I want to take photos, I'll use iPhone, and if I want to take photos, I'll use DSLR. Amazon Drive seems to be able to store unlimited photos from this device, but I don't think I'll use it.
Memo system, storage system application
Next is the lack of Dropbox and Dropbox Paper. It's a pity because I use them a lot in daily life. However, there was Evernote. This is a relief.
Google Apps
I feel like I'm not dealing with it at all. I don't think it's necessary to divide the village so much, though. I think that I want you to do something about mail and calendar. I want them to get along.
game series
Oh my god, there's Final Fantasy IX! I bought it by accident. However, it was too heavy and painful… heavier than PS era… I gave up and uninstalled it. It looks like I can only enjoy light games.
ちなみに、今回はじめて知ったのですが、[highlight]Kindle (Amazon's electronic book device) Fireで有料アプリを買う場合には断然Amazonコインがお得[/highlight]です。FFはこれを買ってゲームをインストールしてみました。無駄になってしまいましたが…。
For Air China's in-flight measures
However, I can say that the main reason I decided to buy it was to use it when I travel. Oh, that was the title lol.
I often use Air China to go to Europe these days. Anyway, it's cheap! Because, I will be taken care of in November last year, April this year, and also in July (I will introduce next time). At the most, you can get a round trip for less than 70,000 yen, which is frighteningly cheap.
It's true that the transfer in Beijing is a bit of a hassle and the service is not great, but it's not bad and I have no other choice. Especially, there are many flights to Paris.
しかし、この中国国際航空の最大の欠点は、[highlight]機内でiPhoneが使えないこと![/highlight]このため機内ですることが全くない!映画?ええ、なんかありますけど面白そうなものが全然ない。もともと映画など見ない人ですが…。中東系の飛行機と比べると格段のコンテンツのなさ。
しかし、理由はまったく不明なのですが、iPhoneやスマホはスイッチを入れるだけで怒られるのに、[highlight]タブレットは一切お咎めがない[/highlight]んです。なんだかなーってずっと思っていましたが、そうであれば、今後もきっとお世話になるであろう中国国際航空、その利用者として何らかのタブレットはやはり持つべき。
I think I can put it to good use for a while.
Of course, it's not impossible that I will eventually stop using it like the PaperWhite I bought before, but I'm very happy with my purchase of the Fire because it has unexpectedly found new uses, especially for home use only, even though its uses have only expanded a little beyond the Kindle (Amazon's electronic book device) I'm very happy with my purchase. If you're going to buy a badly made, expensive iPad or Android tablet, this might be the way to go.
このタブレットをより活用するためにも、もっと旅行しなくてはいけなくなるかな。なお、通常の外出時には持ち歩かないでしょう。