Date and Time of Visit: September 17, 2017, approximately 1:00 p.m.
It was hard to get time to update at the end of the year, but now that I'm finally on vacation for the New Year's holiday, I'm going to do my best to update my travelogue from last year (it was 2019, so it's a year ago).
Visit the historic heart of the Swiss watchmaking industry
The World Heritage Site introduced here is the city of La Chaux-de-Fonds, located in the Jura region of northern Switzerland. La Chaux-de-Fonds is the third largest city in the French-speaking part of Switzerland, the center of the Swiss watchmaking industry, and the birthplace of the architect Le Corbusier. La Chaux-de-Fonds and Le Locle, Urban Plan of the Watchmaking Industry » and was named a UNESCO World Heritage Site in 2009.
The day before this, I had dinner in the French city of Mulhouse with a French person I met on a social networking site. The next day, I came back to Switzerland from the French side again and drove around one of the beautiful villages « Saint-Ursanne » in the mountains of Jura, and then came to this city of La Chaux-de-Fonds. The weather tended to be cloudy and I was hoping it would hold, but unfortunately it started to rain when we arrived at La Chaux-de-Fonds. That's why there are no pictures of the city at all.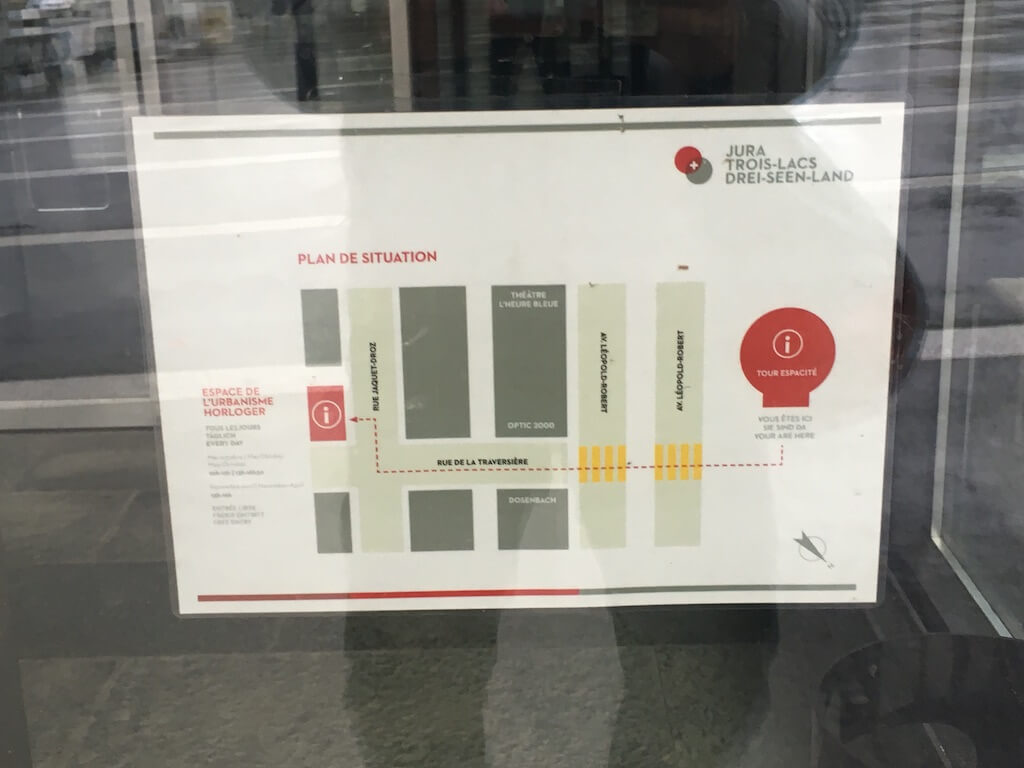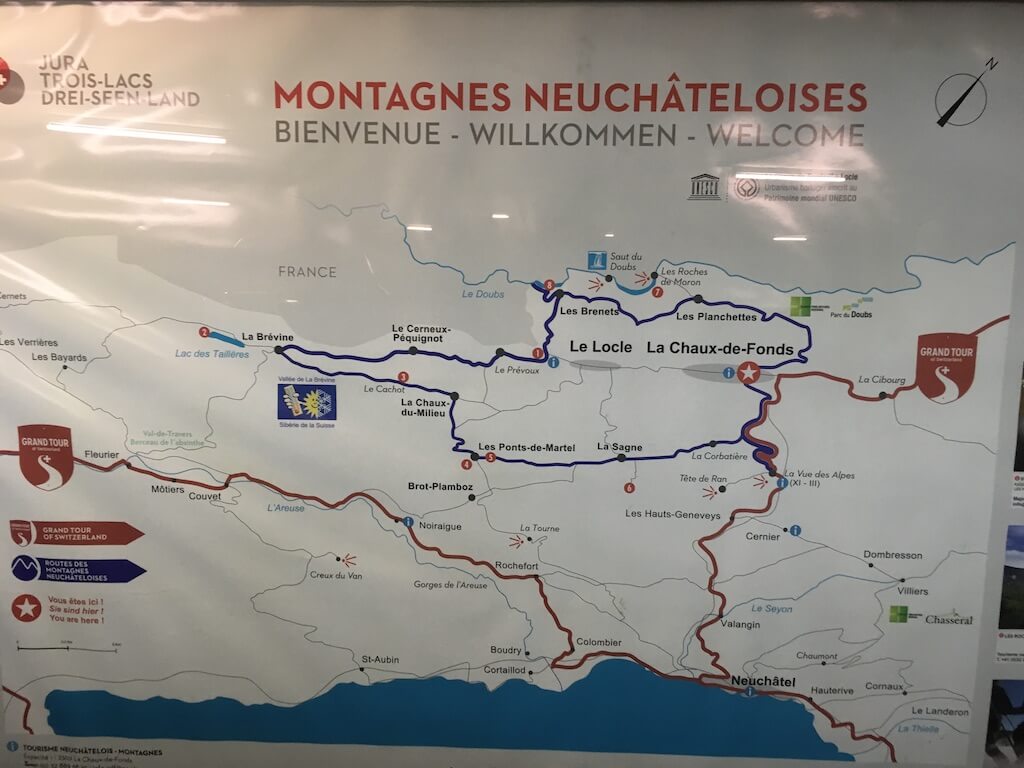 I arrived just before noon, and anyway, there was not much information, so I hurriedly went to the tourist information center first. But I just got a pamphlet and a map of the city. But there are so many kinds of pamphlets available at the information center in this city!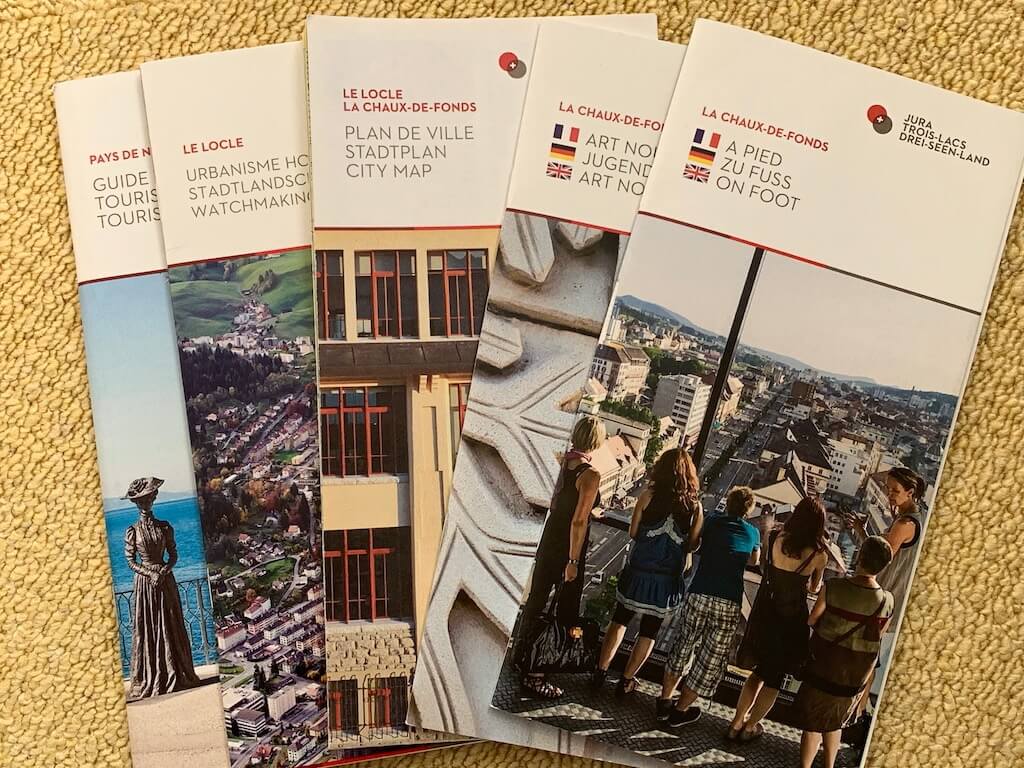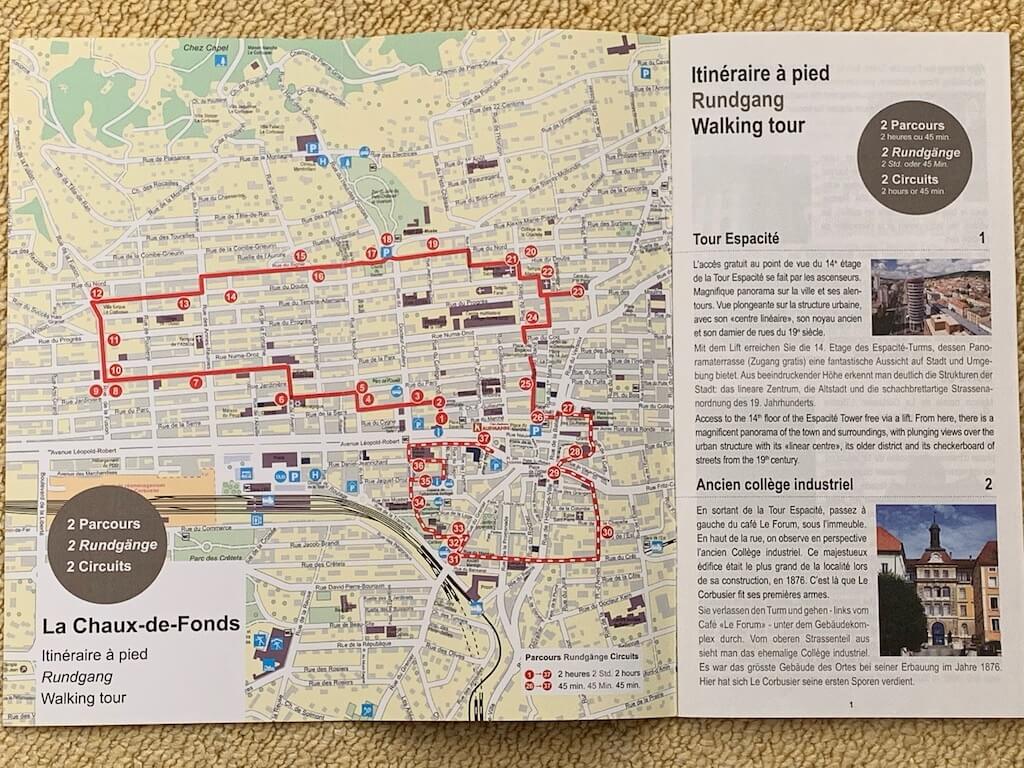 As I expected, the tourist information center was closed until 14:00, because it was closed for lunch break at 12:00. In European cities, tourist information centers are closed for about two hours during lunch break. It means that you should take your time and have a meal. It was cold and rainy, so we had a quick lunch at a nearby restaurant, very cordon bleu. It was very Swiss in a way.
To be honest, it wasn't much of a restaurant, but it was very crowded, probably because there weren't many open restaurants around.
While having a meal, I read through the pamphlet that I was given earlier. Since it's Switzerland, it's available in three languages (German, French, and English), and I can understand some French, but I feel comfortable with English. Since it's not a big city, the main sightseeing method is to walk around the city, and it was written that it's recommended to walk around the Art Nouveau style buildings (such as the town hall) in this city. In addition, the brochure had a lot of guides for the neighboring areas (mainly near Lake Neuchâtel).
Unfortunately, it was raining very hard and cold, so we ended up visiting the Musée des beaux arts in the center of the city, the Musée international d'horlogerie, and The Maison Blanche, a villa designed by Le Corbusier, is located on the northern outskirts of the city. These are definitely the three main attractions of this city. In addition, I visited several buildings designed by Le Corbusier in Switzerland and France during this trip, which I plan to write about separately.
City Museum (Musée des beaux arts)
The first thing I visited was the Municipal Art Museum. It was written in the guidebook that it was the size of there. I remember that there were few tourists when I visited because it was past noon on a weekday. I think that there were many modern works such as Black.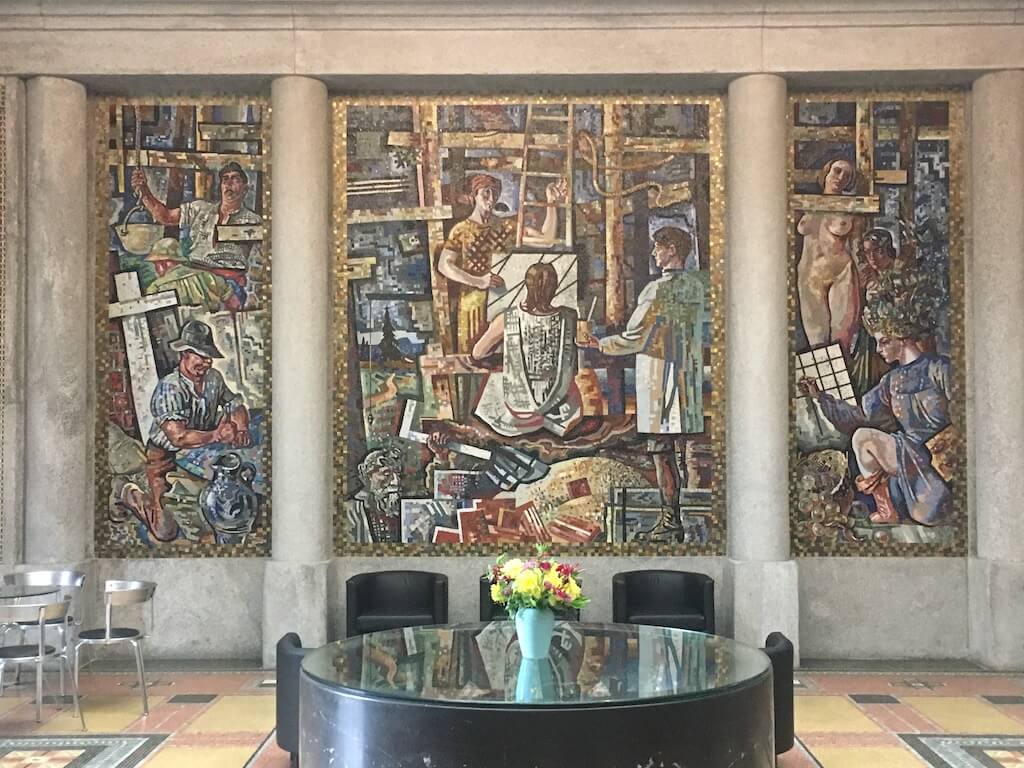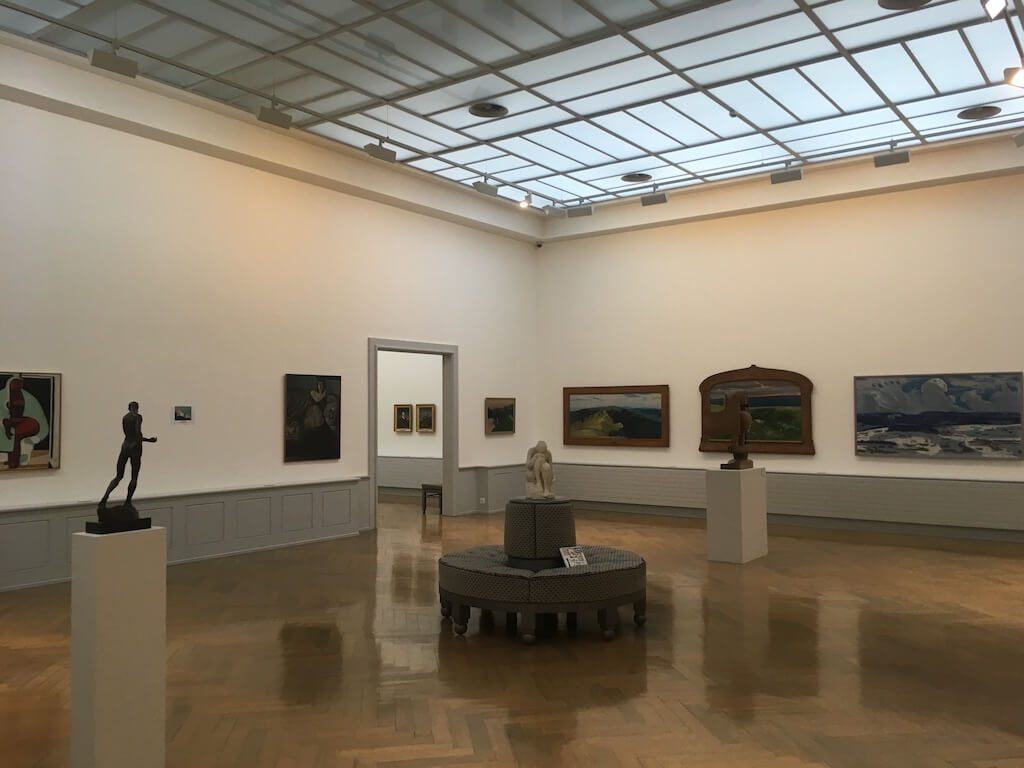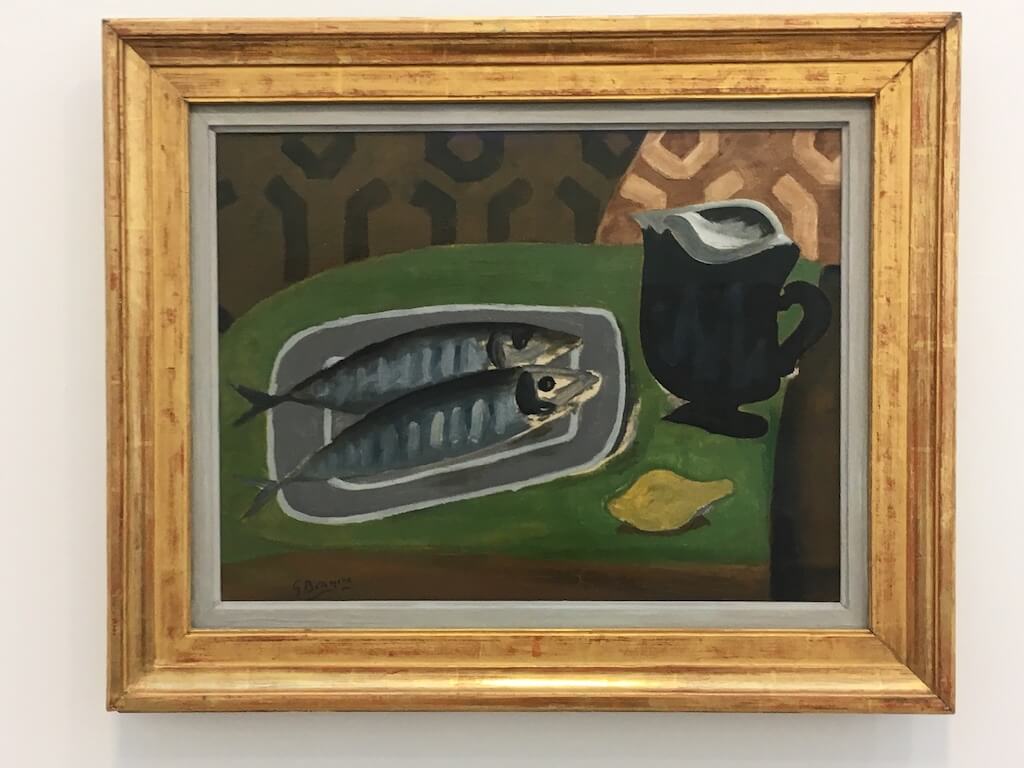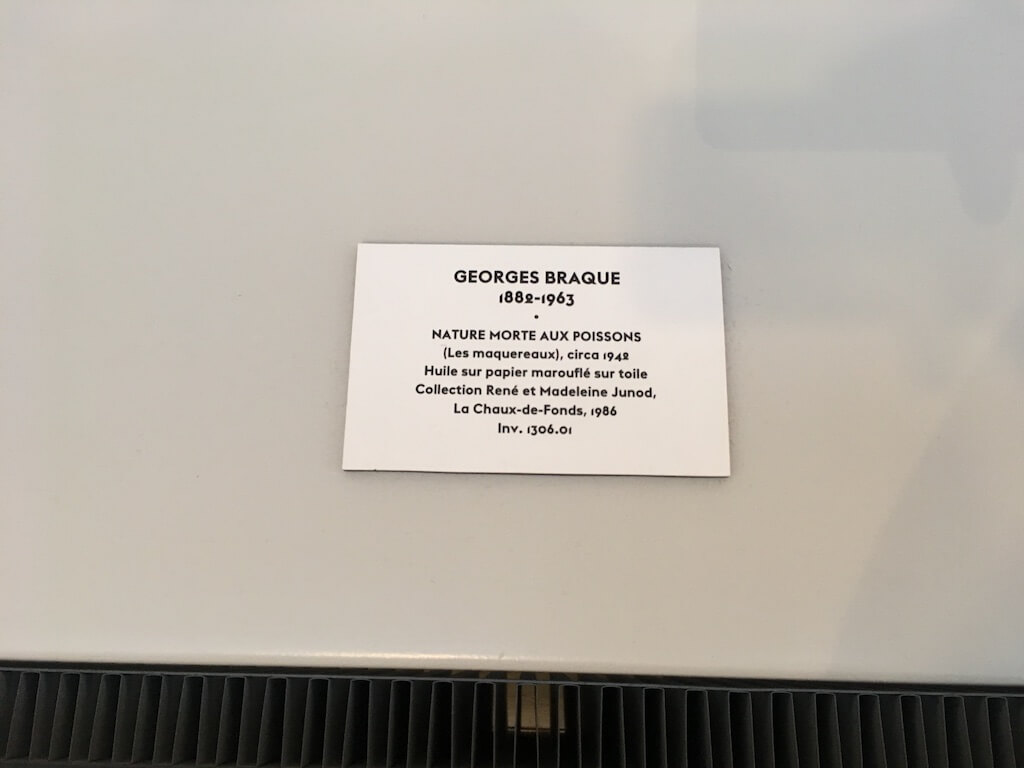 What was impressive was that there was a work by Le Corbusier, which I mentioned a little earlier. He is very famous as an architect, but he was also a painter. His works were in the museum in this city.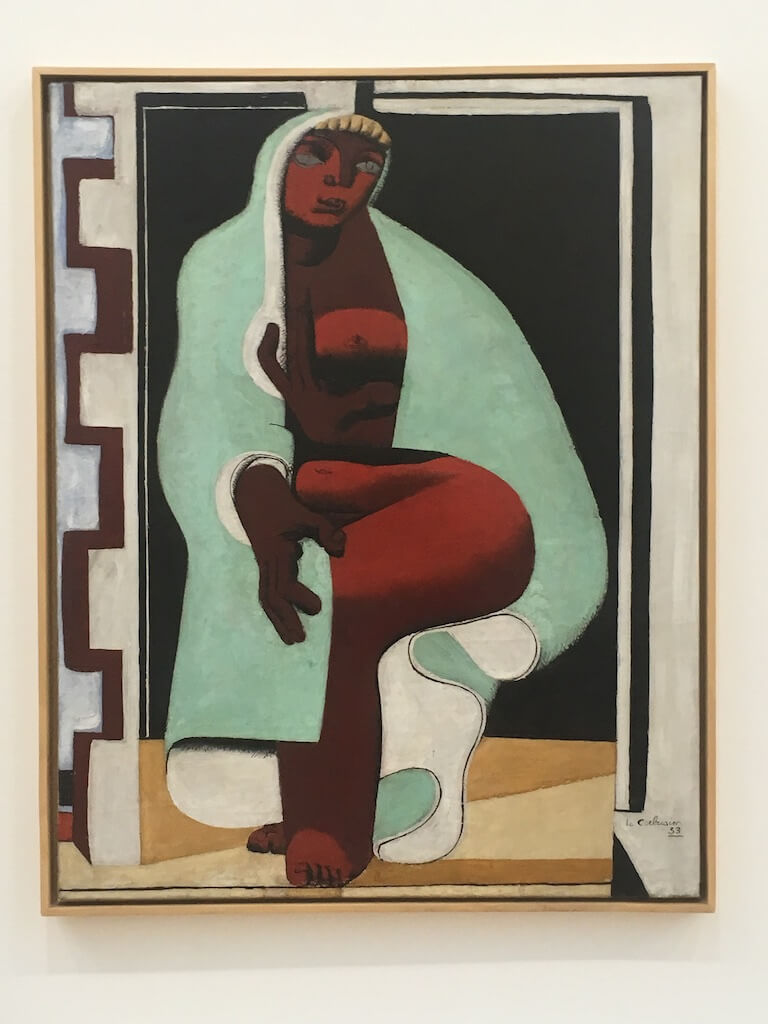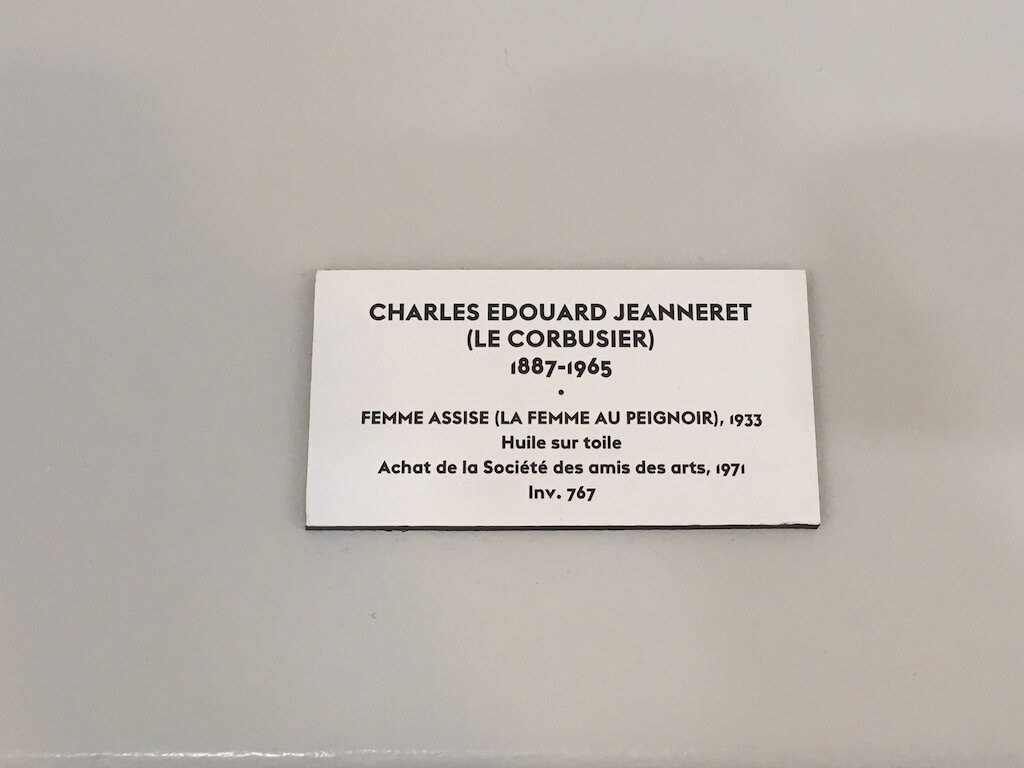 World Clock Museum (Musée international d'horlogerie)
It is the main attraction of La Chaux-de-Fonds. It is located almost next to the City Museum. The clock museum was built in 1902 and moved to its present large building in 1974.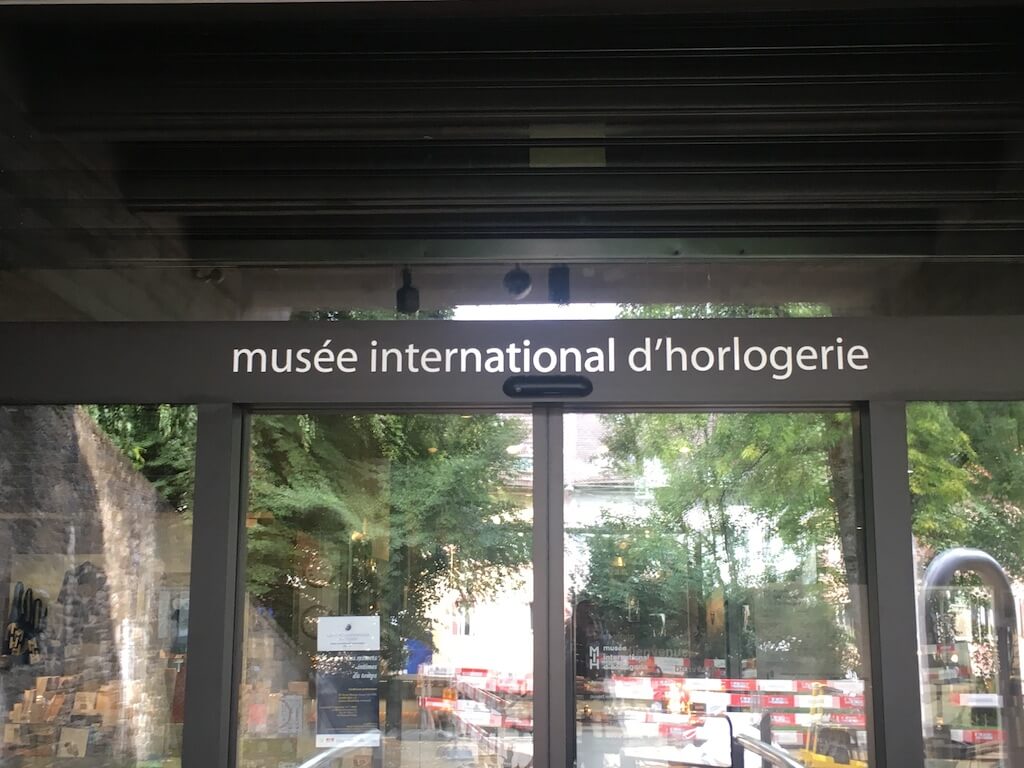 Basically, the exhibition mainly introduces clocks of each period, especially from around the 17th century to the 20th century. This is the content that children and adults can fully enjoy. And the number of clocks on display is quite large, so if you start to look at them carefully, it will take you 2 hours or even more. It is a huge museum more than I imagined.
Nowadays, it is easy to know the time, but in the past, it was very difficult and knowing the time was the most important thing for those in power. I think this is a very interesting and unique museum where you can learn all about the evolution of civilization, starting with church clocks, pocket watches, and even wrist watches.
Explanations and brochures are also available. Of course, only English, French and German are available. But there may be Japanese maps in the museum.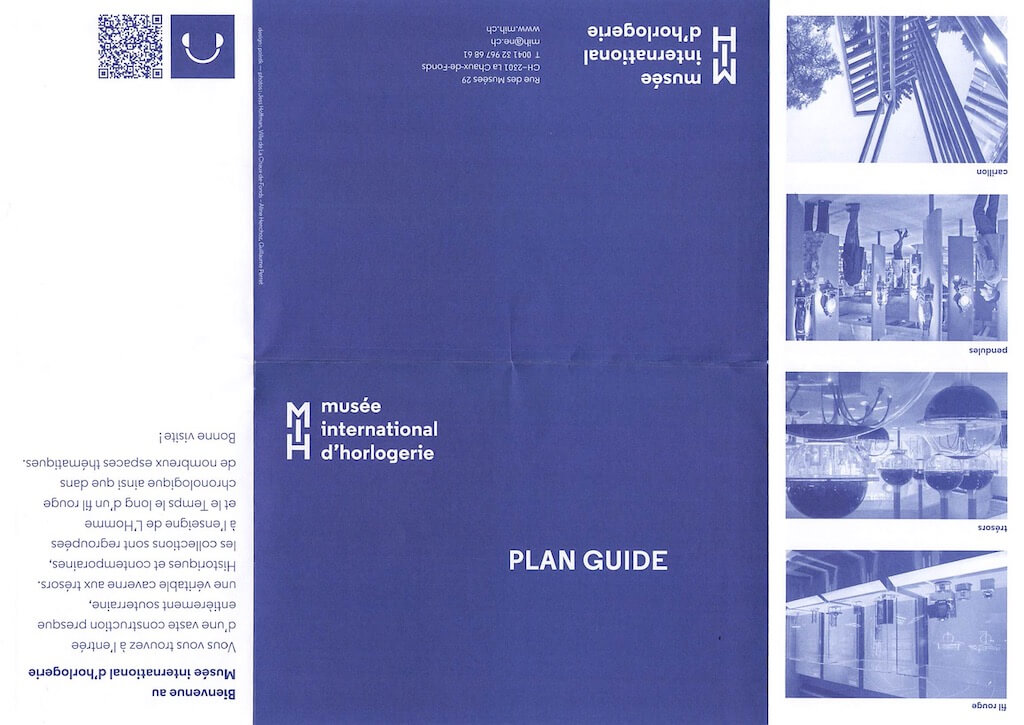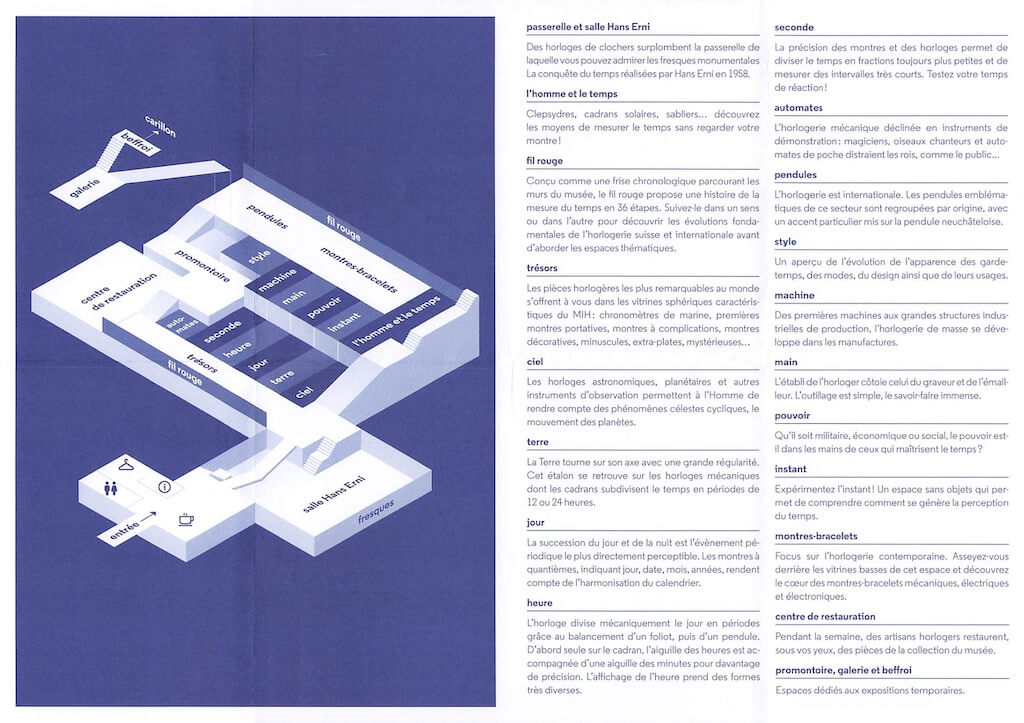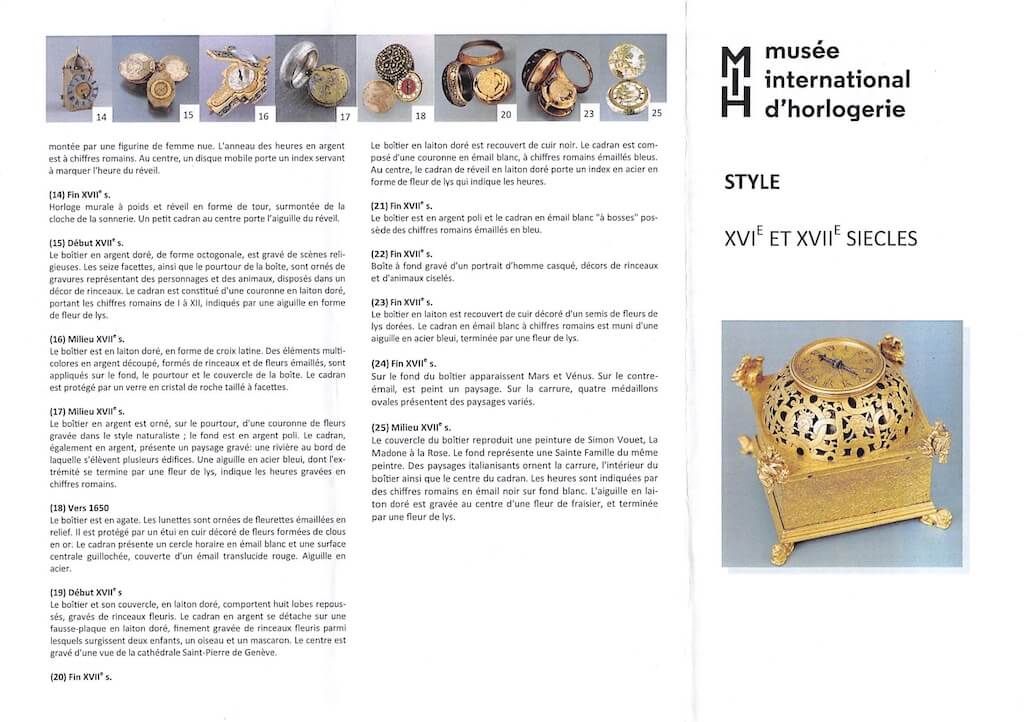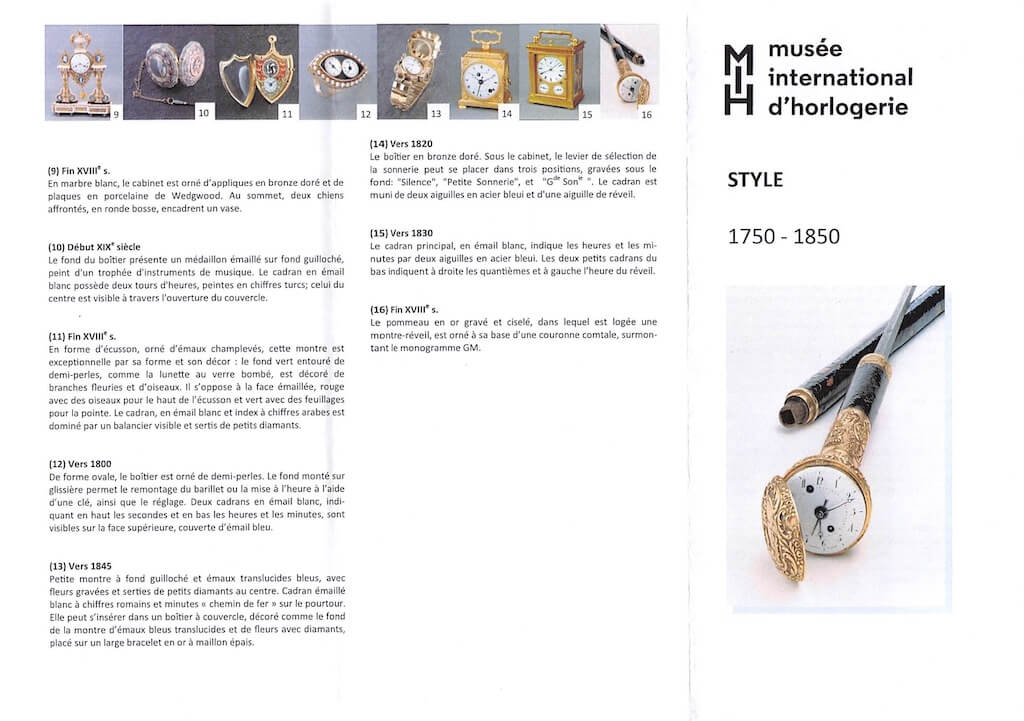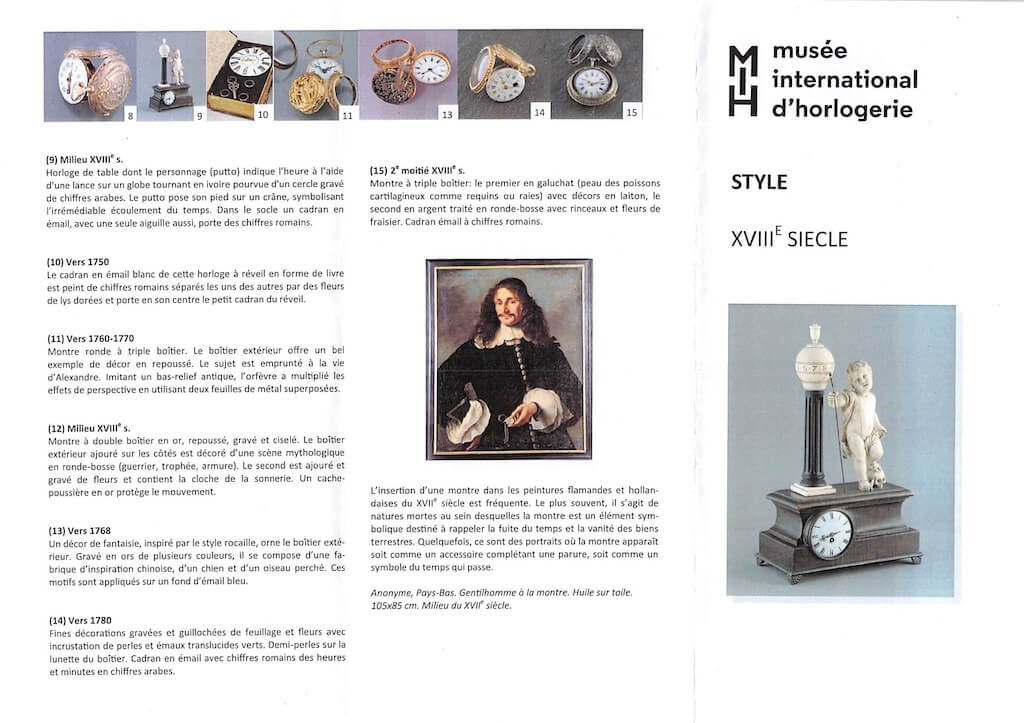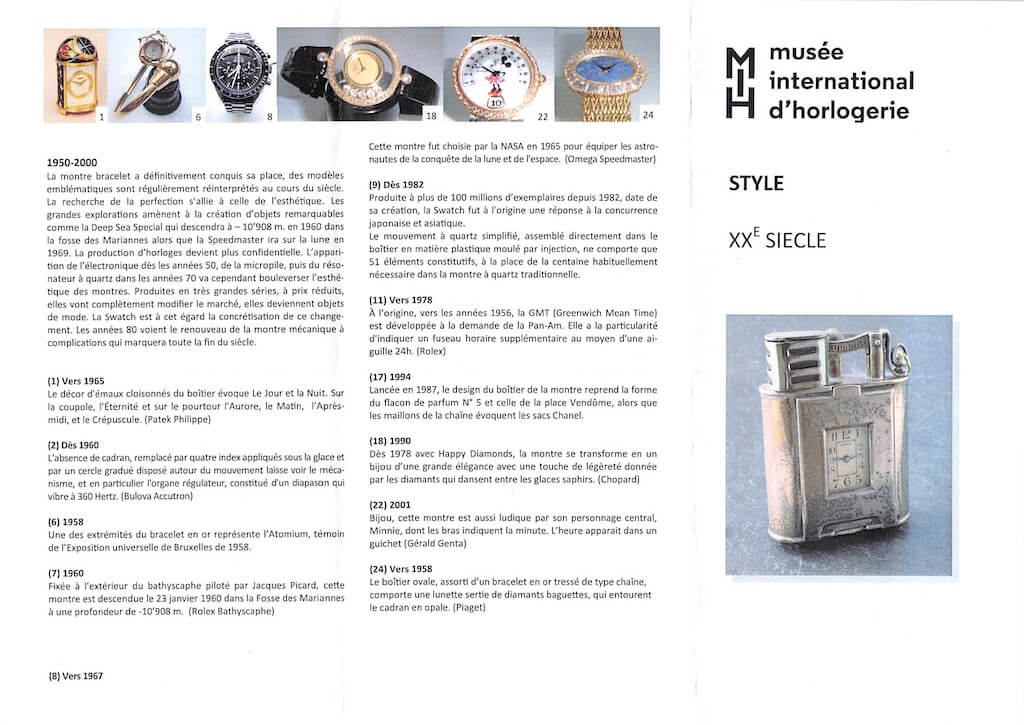 Clocks in Europe were originally built around the 13th century to control daily life in monasteries and churches. Early clocks were mainly installed in church towers. As technology improved, the clocks became smaller and more accurate. They were made for church interiors and for people of high rank in the church.
In the 15th century, the power source was changed from a weight to a spring. The liberation of the pendulum from the watch's power source promoted further miniaturization of watches, and watches that could be carried around, such as the pocket watch, appeared, and during the period of absolute monarchy in the 18th century, watches decorated with tortoiseshell and precious metals were made as ornaments for royalty. A typical example is the pocket watch. It was called « onion » because of its shape. There were so many pocket watches in the museum.
The eighteenth and nineteenth centuries were a time of precision in watchmaking, and it was during this period that brands such as Le Roy and Berthoud (both French names for people) were born that continue to this day.
The period progressed further to the beginning of the 20th century. At this time, there was a breakthrough in design due to the influence of Art Deco.
The second half of the 20th century saw the birth of quartz and the invention of strong watches that could withstand high altitudes.
From the mechanics to the history of watches, the Musée International de l'Horlogerie is a must-visit first stop on your visit to La Chaux-de-Fonds.
I knew I wanted to take my time and explore.
However, when I looked at the pamphlet again, I found that the town was very artistic, with art nouveau style architecture here and there, even though it was industrial. I was disappointed because of the weather, but I still wanted to take a walk around slowly. As always, this area has great food, culture, and sightseeing, so a return visit is a must. See you again someday.