Date of visit: September 21 and 22, 2017
Now that I've finished my series of visits to France's most beautiful villages since 2010, I'm back to my « September 2017 Switzerland and France Travelogue » series.On the 21st, I was just doing villages in the Corrèze Lot department. We finished visiting the 6 places we had planned (and one additional place the next day), and we still had time to visit this castle at the end.
The castle is located about 25 km from Rocamadour, very close to the village of Corrèze Lot, which we have introduced 7 times. This castle was built by Baron Castelnaud in the 13th century. However, the castle was destroyed by fire in 1851 and was abandoned for a while, but it was rebuilt by a tenor singer named Jean Mouliérat who was active in the Paris Opera House from the end of the 19th century to the beginning of the 20th century. It was rebuilt by Jean Mouliérat, a tenor who worked at the Paris Opera in the late 19th and early 20th centuries.
It is a very magnificent castle that you can see from anywhere when you drive around here. But when I visited in 2010, I didn't notice this castle at all. We could see it from the beautiful village of Le Bressac, and we had seen it many times on the way from Karennac to Le Bressac. I guess that's how little time I had to drive back then.
No way. Strike.
When we arrived at this castle, it was around 16:30, but we were informed in advance (by Google Maps) that it would be OK if we entered by 17:00, so we thought it would be OK. However, the gate of the parking lot was left open and it was over. It is a castle in the countryside and the time is near 17:00, so it is common that there are few visitors, but something is wrong. At any rate, parking was free, so I parked the car there and headed toward the castle. Then, there was a sign like this at the gate of the entrance of the castle.
Are you familiar with it when you travel to France? In French, « Grève » means strike of employees. It might be the first time to have a strike in a tourist spot. I've experienced it on trains, airplanes, and at the Opera House in Paris, but this was the first time for me to see a strike at a tourist attraction such as a castle.
At any rate, I couldn't do anything about it, so I went to the inn I had taken nearby. This day was a little bit luxurious, because I had arranged a Michelin-starred auberge. I will report later in this series.
I'll head out first thing the next morning.
The next day, we went to the castle first. After all, the parking lot is paid. I remember that I had to pay 3 euros when I entered. Sorry, it was a year and a half ago, so I don't remember the details. We climbed up the hill to the castle and went to the entrance. It was still a little early for the opening, so we waited at the entrance for about 10 minutes. And at 10 o'clock, the gate opened, and I bought a ticket here. I did not understand it well, but I felt like I was told to spend some time until it starts because there is a guided tour. I'm not sure, but anyway, we went into the castle.
However, the inside was still in the process of reconstruction, and construction was going on in some places. On this day, construction workers were working as usual. Because I was able to enter the building partly, I climbed on the tower that was made in the 15th century.
We spent some time looking at the reliefs and sculptures of the castle, as well as a board explaining how the castle was revived in the 19th century. The rebuilding seems to have continued until around 1930.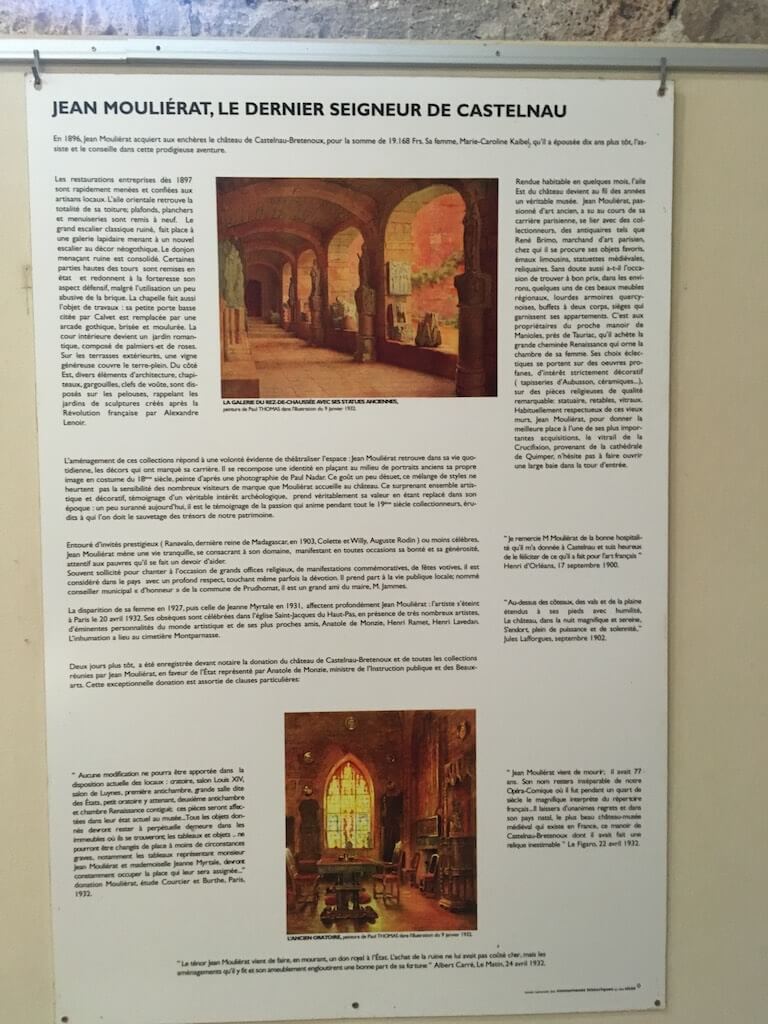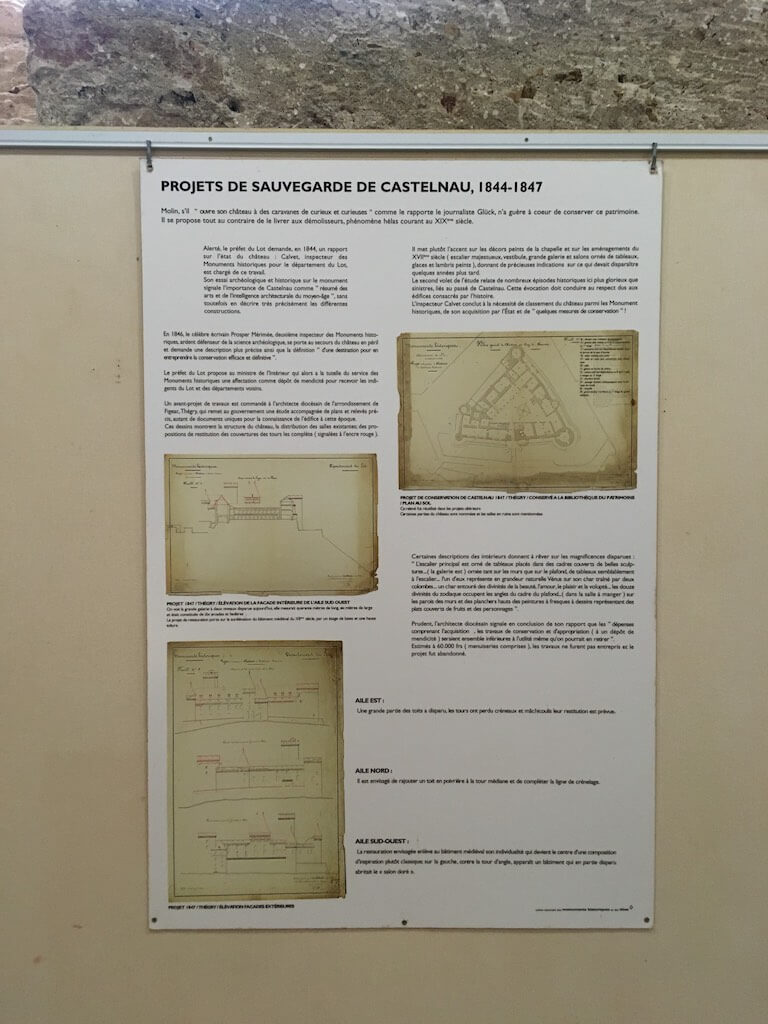 I don't know about you, but I'm starting my guided tour.
Apparently they offer a free guided tour in French, but there was no sign of the tour starting at all even though the time was up, and there were no people except me. There was not much to see, and I was about to leave when I saw a tall, stout man with a beard who looked like a Frenchman. (I think he was in his 30s?). He asked me in English, « Are you going to join the guided tour? He seemed to be a nice guy, and he must be an official guide of this castle, but he smelled too much of alcohol. Well, he didn't work yesterday because of the strike, so he must have been drinking.
While I was doing this, I noticed that there were two other groups of tourists besides me. One was an older French couple, maybe in their 60s, and the other was a couple in their 20s, not French, but they seemed to be fluent in French. The guide was French, but he could speak English too, so he said he would explain in English sometimes. But I told him that I can understand simple French. An elderly French couple spoke to us in simple French. I told them that I was visiting the beautiful villages around here. They said yes, they were too.
Now, the guided tour started. First, the history of the castle was explained, and then we were led to the inside of the castle. It was the place above number 13 on the map in the pamphlet we got at the entrance.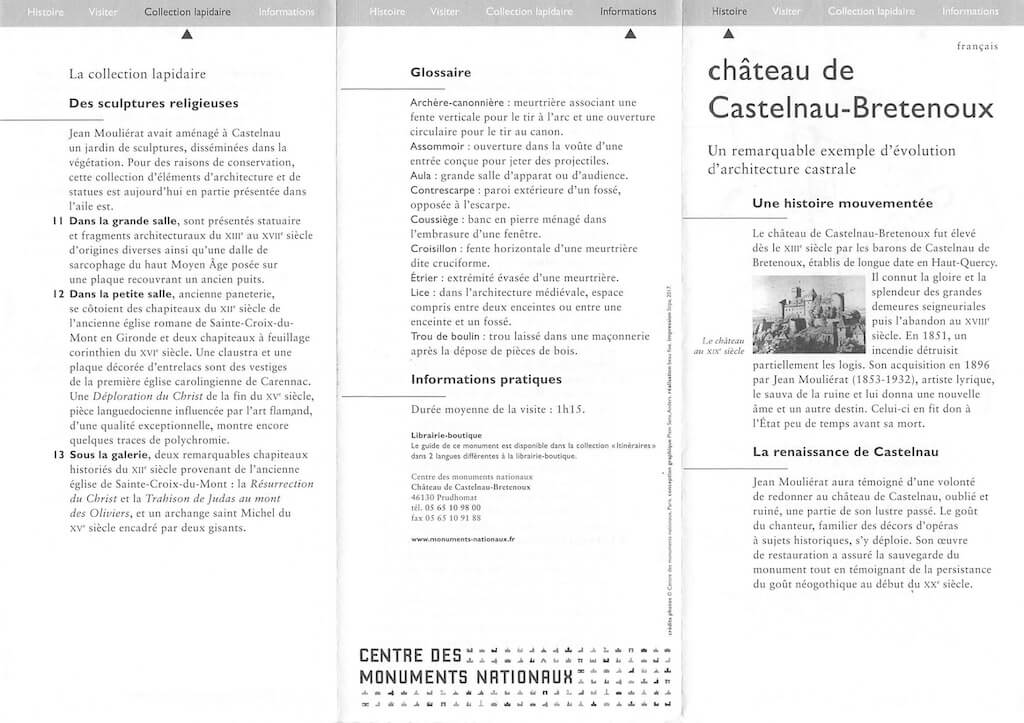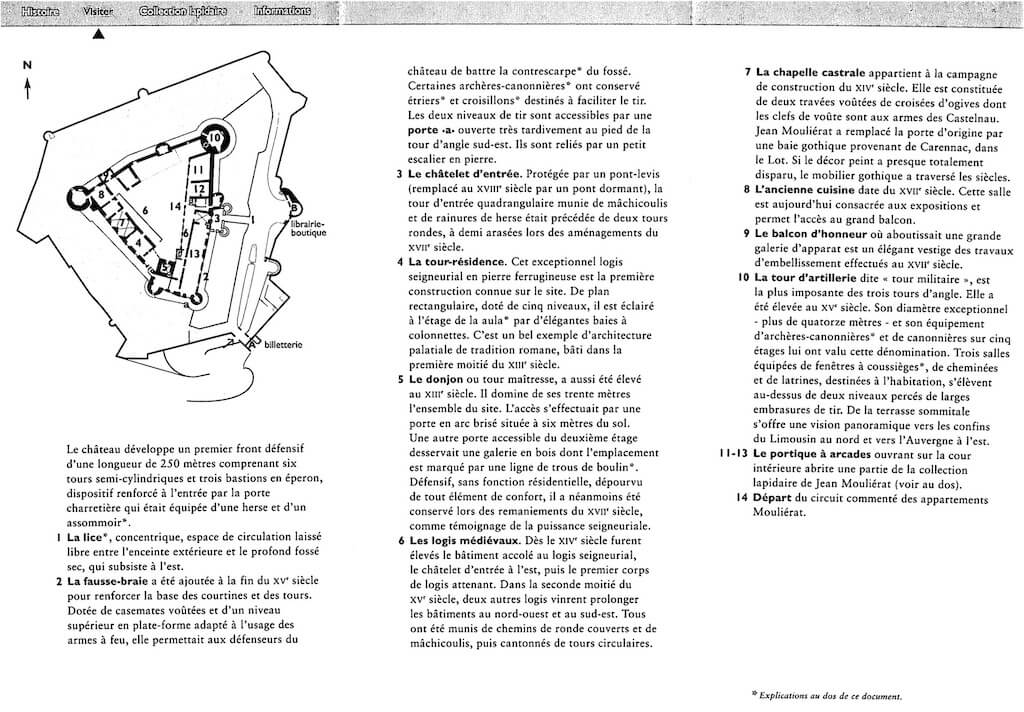 In the end, the explanation was all in French. I didn't understand it well and I already don't remember it lol.
The interior was similar to what you would expect to see in a castle built during the Renaissance and Gothic periods. But to be honest, a lot of it was pretty damaged, and it looked like construction was still going on.
However, the old and somewhat deserted castle is quaint and beautiful in its own way.
There were only a few rooms to see, so I think this guided tour took about 30 minutes. According to the brochure, the approximate tour time was 1 hour and 15 minutes. It was right. Anyway, there are many castles like this here and there, and each of them has various and beautiful designs. I was reminded of the charm of France.