Date and Time of Visit: July 21, 2017, approximately 10:00 a.m.
We left the village of Oulu, where we stayed for two nights at the Michelin-starred Auberge. Before heading north towards Brussels, we visited the beautiful village of Mirwart, about 40 minutes east of Oulu.
We couldn't go into either of these villages in the end, but as the official guidebook says, they have both a nice church and a chateau.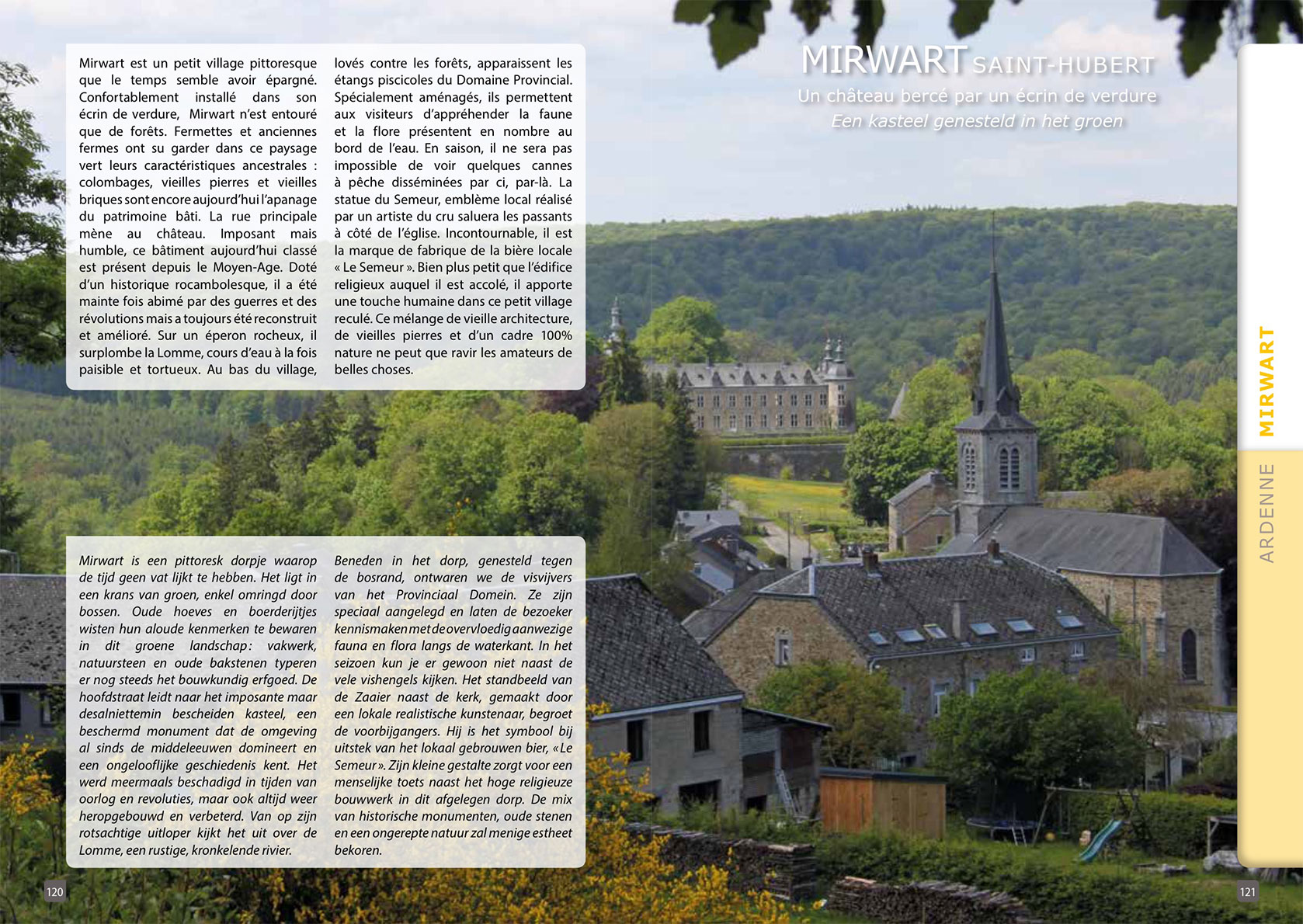 公式サイト: Les plus beaux villages de Wallonie より
The road to the village was also beautiful. It was the first time in a long time that we had to go several kilometers on a one-lane road in the forest, a familiar sight on a tour of beautiful villages. We had to be somewhat careful driving, but I think we had a pleasant drive all the way.
Now the village was located on a slightly elevated hill, through such a forest. There was no such thing as a parking lot, but we were able to secure a spot in the space behind the church, so we parked there.
Overall, it's a very well organized village, but there are more people living here than I expected, that's how I feel. I wondered if it was a villa, because there was a splendid camping facility in the forest before entering this village. It's not easy for Japanese people to spend a long vacation in such a place, but I'd like to live such a relaxed life while working sometime.
The atmosphere of the village is quite nice, not to mention the view of the lovely church and chateau, and the relatively recent new houses. However, the size of the main road that runs through the village really bothers me. I guess it is convenient for living, but…
By the way, I read the text on the official website with my poor French, and it seems that the castle in this village has existed since the Middle Ages. Of course, it must have been renovated many times after that and became what it is today. It may be in a private collection now, so we couldn't see inside. I was impressed that the gardener who manages the garden was working there. I wonder what kind of person owns a castle like this… I guess there are aristocratic people even now.
In addition, there was a hotel with a restaurant in the village. It seems that you can stay there. The hotel itself was quite nice looking. By the way, it's a little late, but you can find information about accommodation in each village on the official site.
http://www.beauxvillages.be/sejourner.htm?village=mirwart&lng=fr
Are there a lot of tourists in vacation season? I guess so. It didn't seem so when we were there…
Overall, though, it was a beautiful village with a great atmosphere and scenery. It is still difficult to visit, but well worth a visit.