Visit Date: April 28, 2019, at approximately 10:00 a.m.
This day was a trip to Tuscany. But we didn't go to the so-called major places (Florence, Siena) this time. We visited two beautiful villages, though they are still minor places. But this day we stayed in San Gimignano, a world heritage city.
On April 28th, our first stop was Buonconvento, a village a little north of Val d'Orcia, which is also a World Heritage Site. It was chosen as one of the most beautiful villages in Italy.
By the way, we passed through Val d'Orcia on the way to here. I noticed later that the town I happened to take a picture of in Val d'Orcia was actually chosen as a World Heritage Site. It was a town called Pienza. I should have taken my time because I had time…. Well, I'll go there sometime.
Now, Buonconvento is about 15 minutes away from Val d'Orcia. I thought it would be empty because it's a small village anyway, but the road was more crowded than I expected. I was wondering why it was so crowded, but actually it was because there was a bicycle race in this town.
Apparently, this is the finish line.
Maybe that's why there were so many bicycle-related goods on sale.
The city is an old walled town built around 1370 during the Middle Ages. Some of the entrance gates were destroyed by the Germans in 1944 during the Second World War, but many of the walls still remain.
There are many parking lots around the city wall. On this day, as mentioned above, it was full.
Although it was a castle wall, it seemed to be a normal residence now.
When you pass through the gate in the photo above, there is one main street to the gate on the other side (where it is said to have been). The side streets are residential areas where people still live today. There are many shops and restaurants on the main street.
On this day, there was a bicycle race, so there were some pamphlets related to the race, and there were also some stalls selling olive oil, cheese, ham, and so on. It's a pity that you can't buy such processed foods when you travel. It's a pity that you can't buy such processed foods when you travel.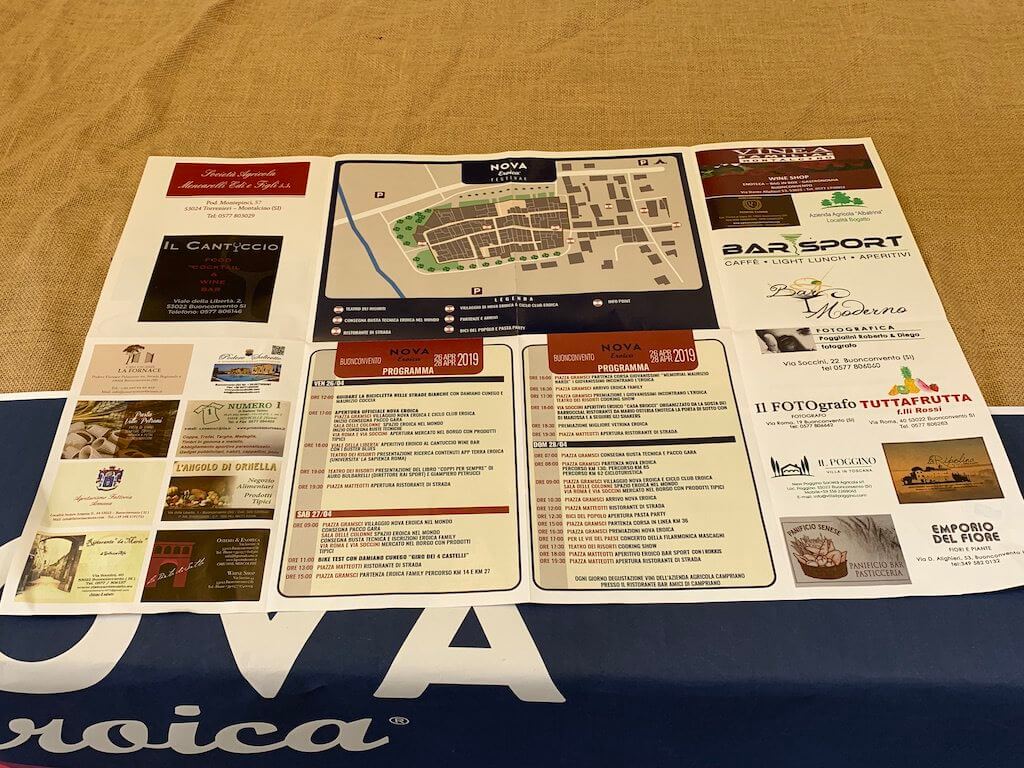 The first thing that catches your eye on the main street is the church. Chiesa dei Santi Pietro e Paolo (Church of St. Peter and St. Paul) was built around 1100, and has been repeatedly restored to keep the same shape as the original. Oops, there is no good photo, so I omitted it.
And this clock tower, full of clocks, is the city hall. The most important symbol of this village. There are only 7 clocks now, but there used to be 9 clocks.
Now, back alley. It's a residence. It seems higher than I thought. The sunshine doesn't seem to be very good. It's strange that even though there's a lot of laundry hanging out, it looks like a picture and doesn't look out of place. That's Italy.
We went around the village in a leisurely manner. I was wondering if the race would start while I was there, but it seemed like it wasn't over yet because it was the finish line. Since I had a next schedule, I headed to the next destination without watching the race.