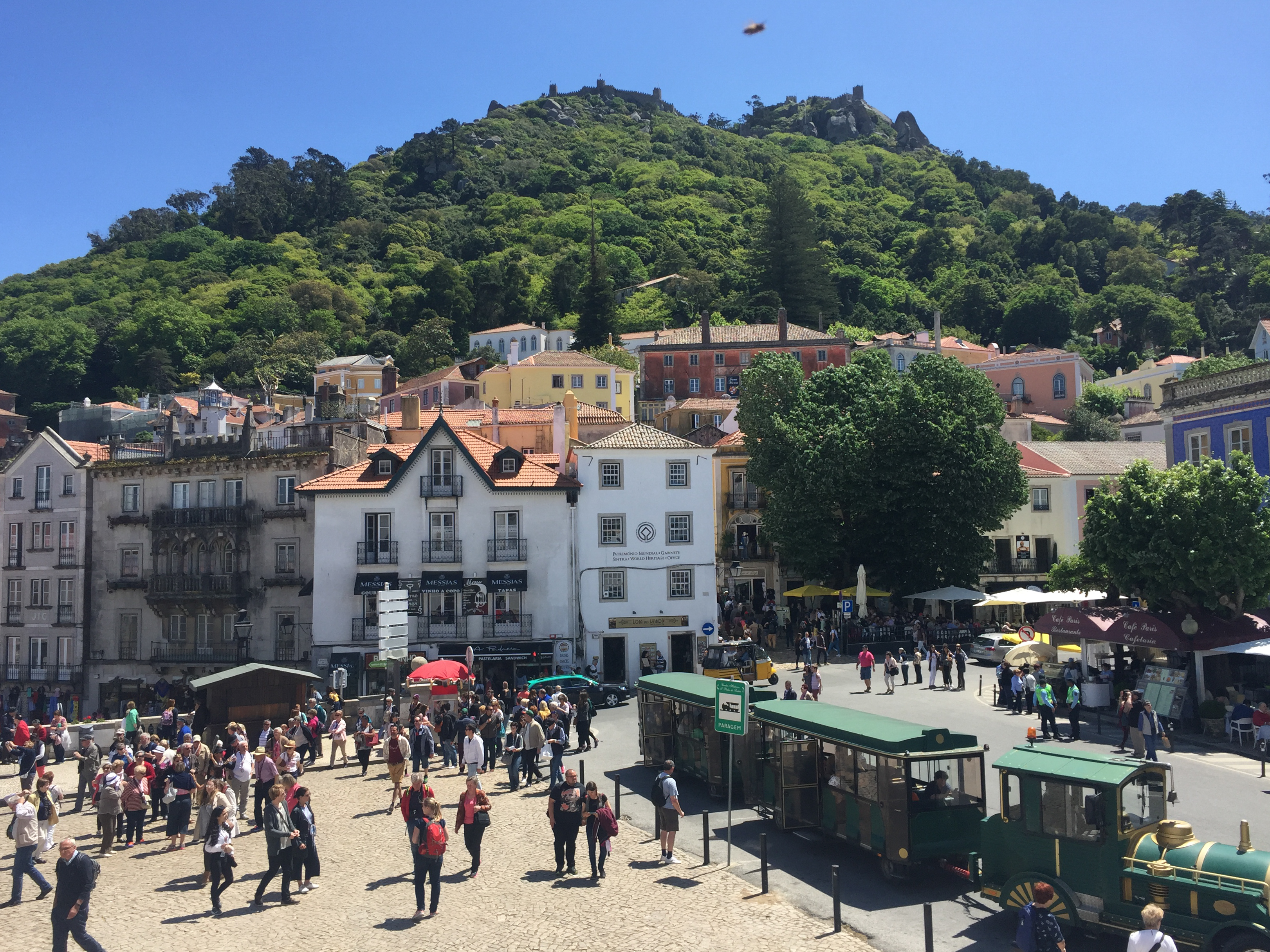 Date and Time of Visit: May 1, 2017 at approximately 1:00 p.m.
On this May Day, we checked out of our hotel in Lisbon and headed to Cape Roca Sintra. It's also one of the most famous sightseeing spots in Portugal, so I'll give you a short introduction. It was a holiday and there were a lot of people, so I skipped a lot of sightseeing.
A very popular tourist destination close to Lisbon
Sintra is famous as a town dotted with the villas of former royalty and nobility, and is now a World Heritage Site. It is a popular excursion because it takes less than an hour from Lisbon by train, and the city is always crowded with tourists.
If you go further west for about 50 minutes, you will arrive at the westernmost point of the Eurasian Continent, « Cape Roca », so many people do a full day tour with this Cape Roca. We also went to Cape Roca just before we came here. I'm going to write about it here separately.
Difficult to park in a cliff town
Well, Sintra is a city geographically located in a narrow mountainous area called hills, so it is very narrow and parking is very difficult! But luckily, when I was wandering around in the congested area in front of the station, I met a car coming out of the street parking space in front of me, and I was able to put it in an empty space. Honestly speaking, I don't recommend to go to Sintra by car.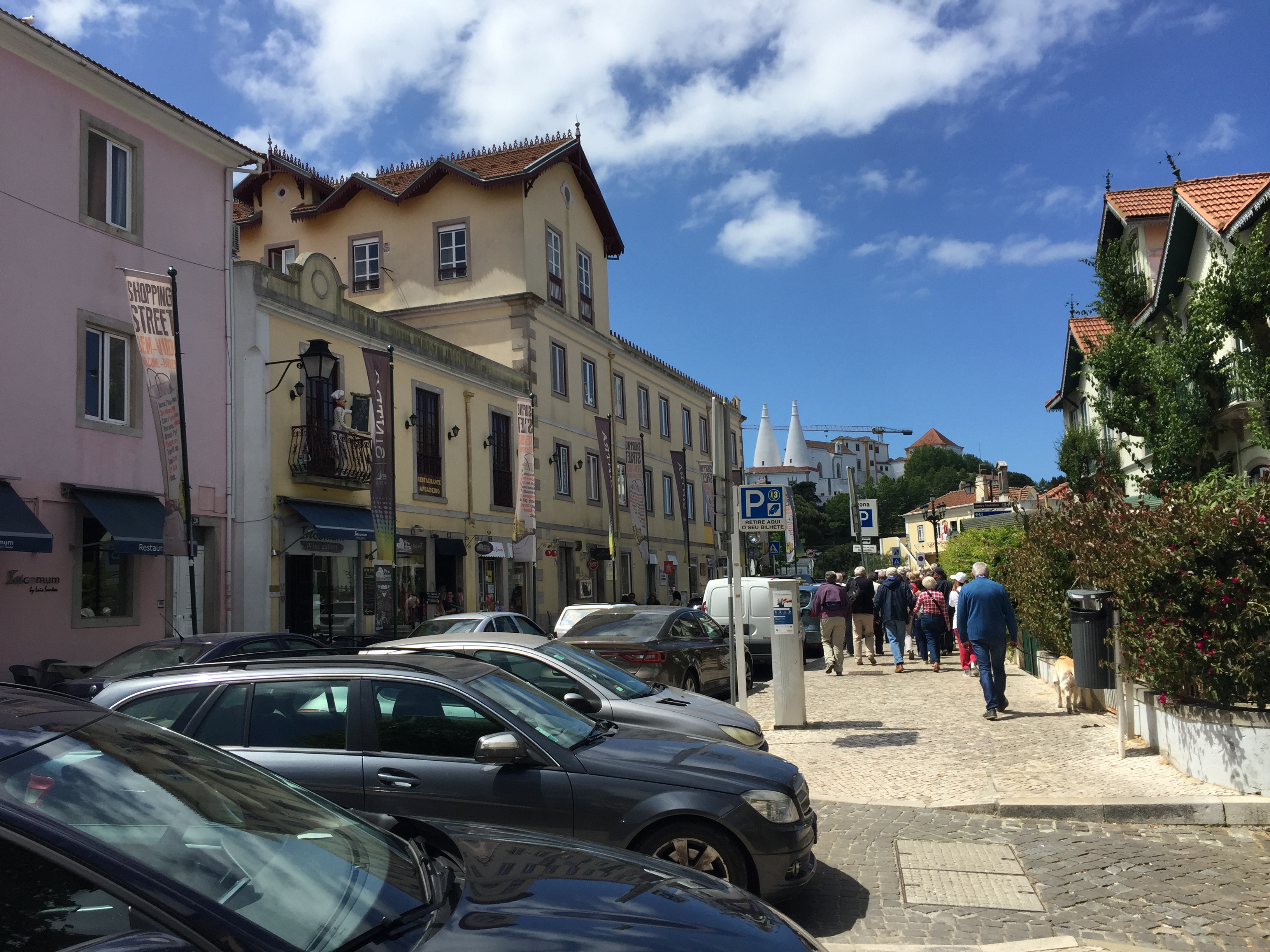 Sightseeing in Sintra Villa
After parking on the street near the station, we walked to the center of Sintra, « Sintra Villa ». There is a royal palace here, and it is a very lively place with many hotels, cafes and restaurants around the palace.
There is a bus service from the station to the villa, but it takes about 5 minutes to walk there. The road to the villa is rather congested, so I felt it was faster to walk.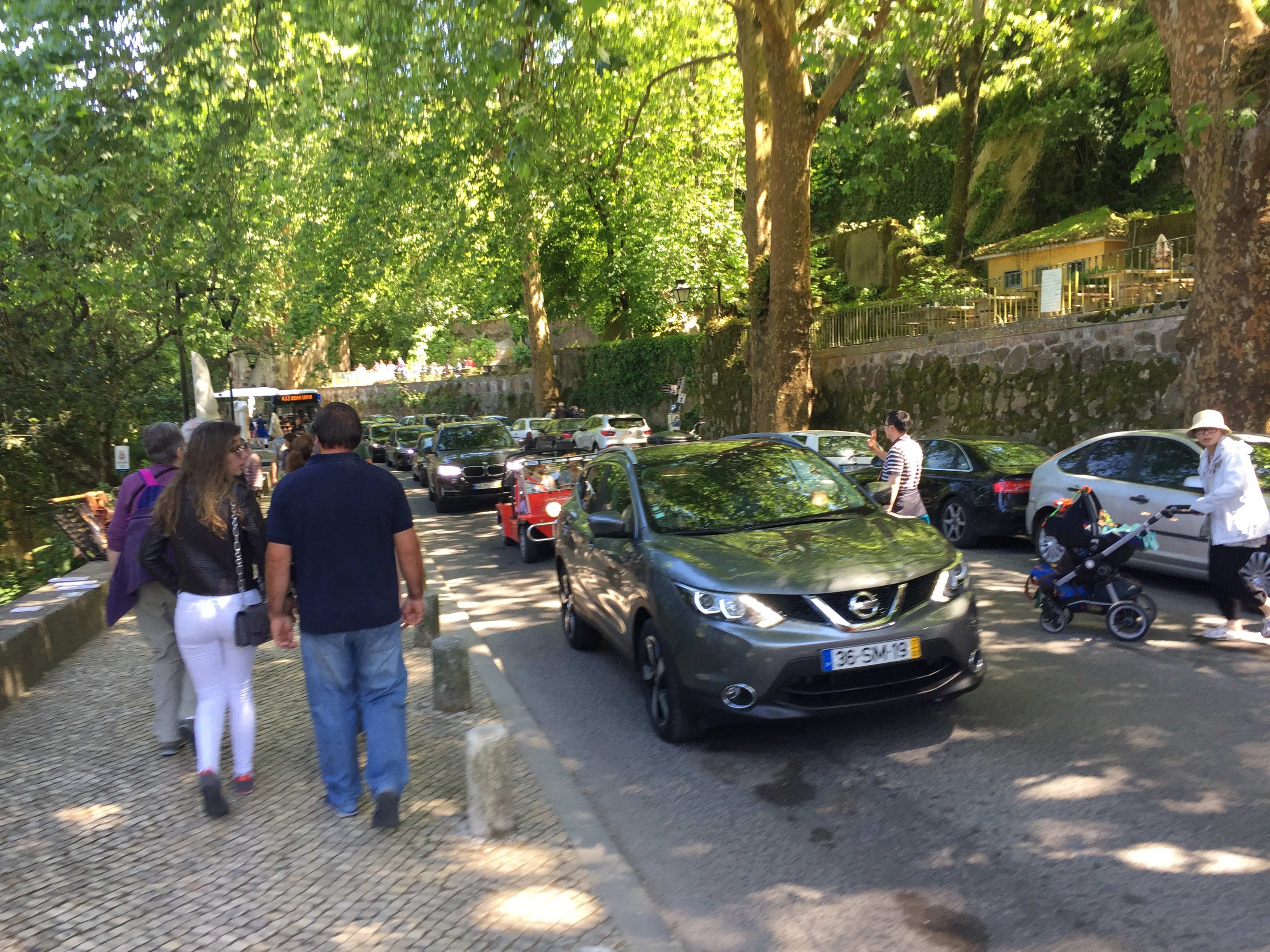 Also, on the way to the villa, there is a Moorish fountain and a work of art by an artist I don't understand, so I really enjoyed the promenade while admiring these. There were also people selling various souvenirs, and although we didn't buy any, it was fun to walk around and look at their products.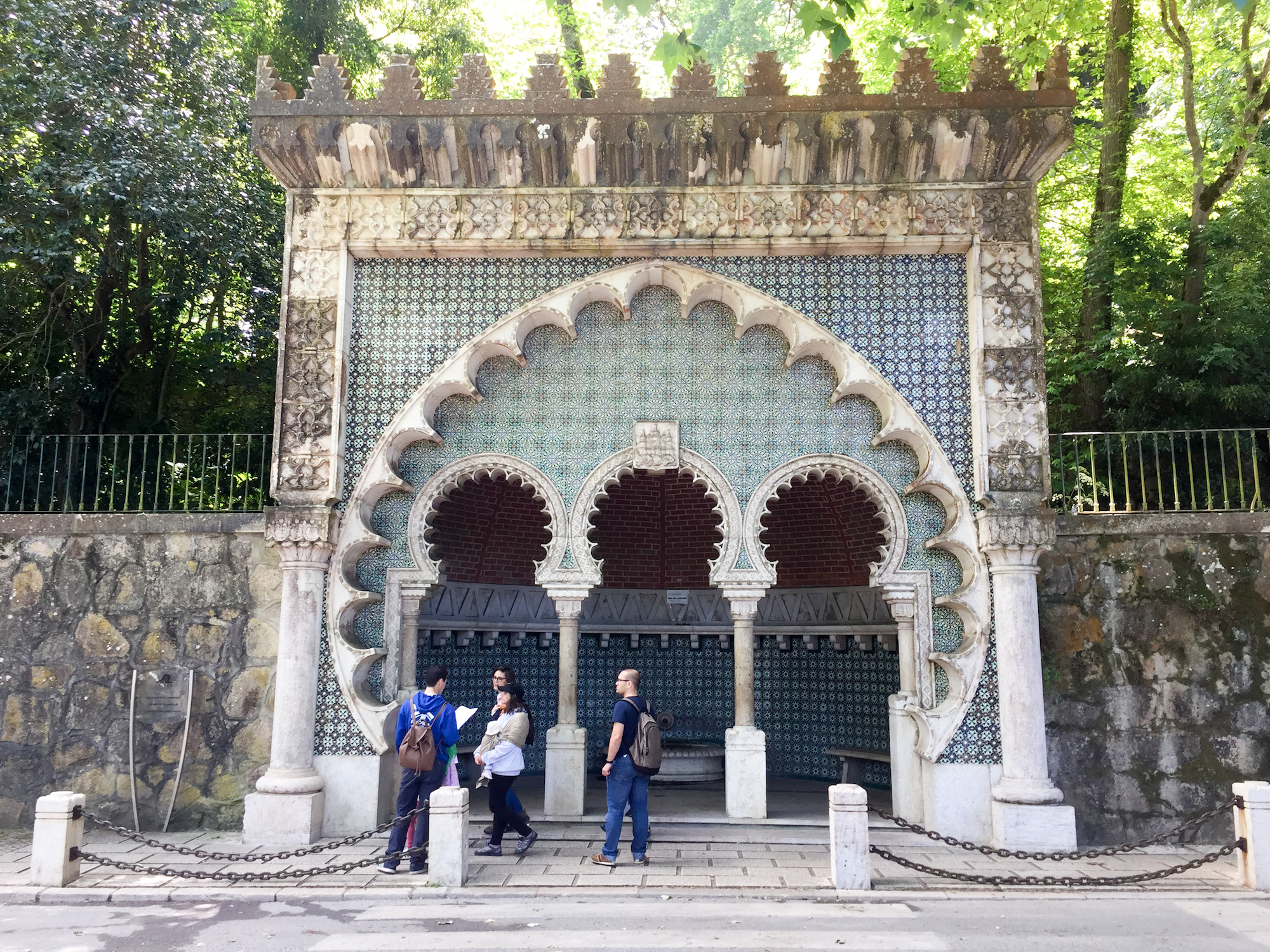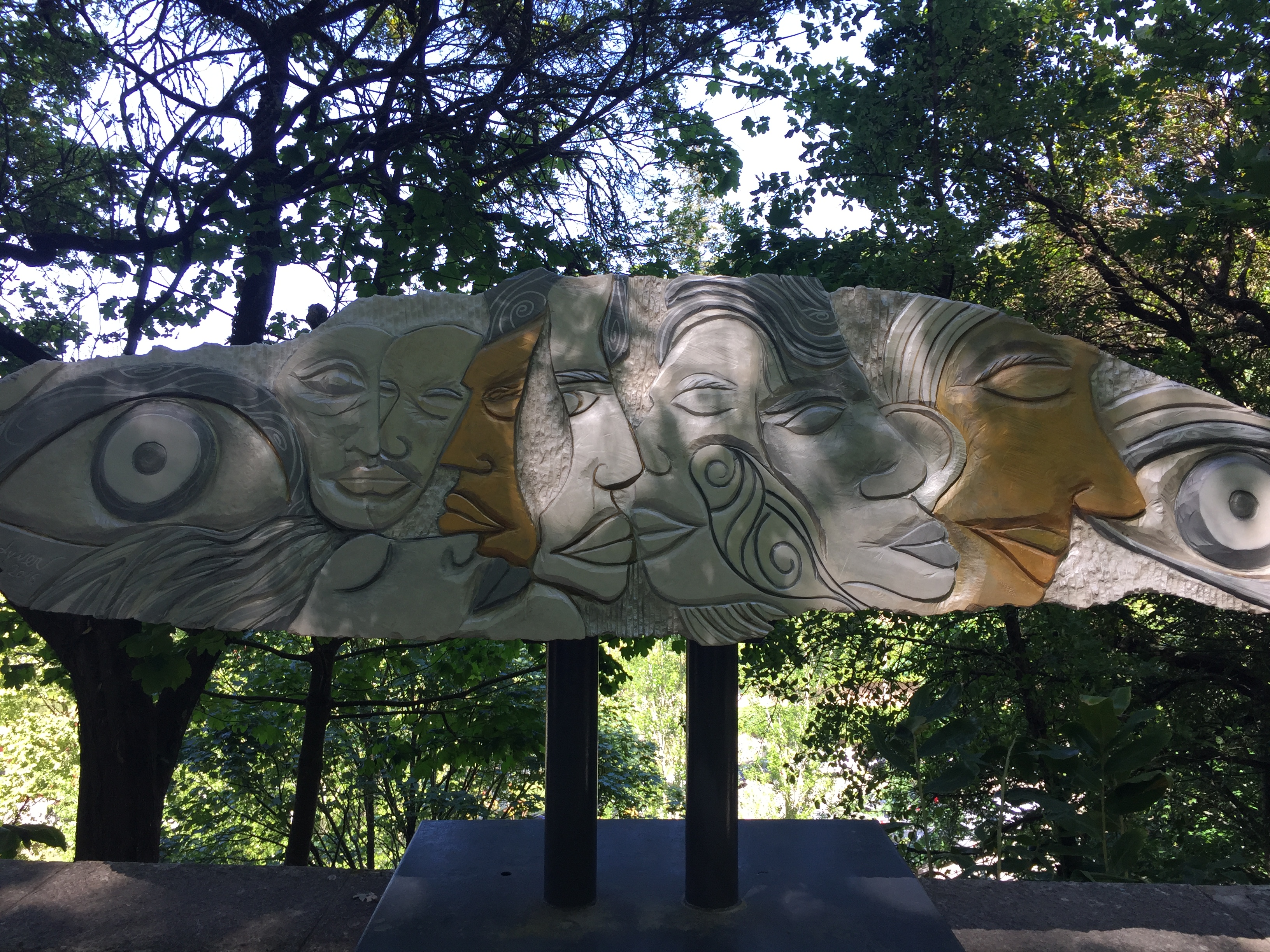 It was noon when we arrived, fortunately the palace was open on May 1st without siesta, so we bought tickets first, had lunch at a nearby restaurant, and started to see the interior at about 1pm. The restaurant we chose was quite good.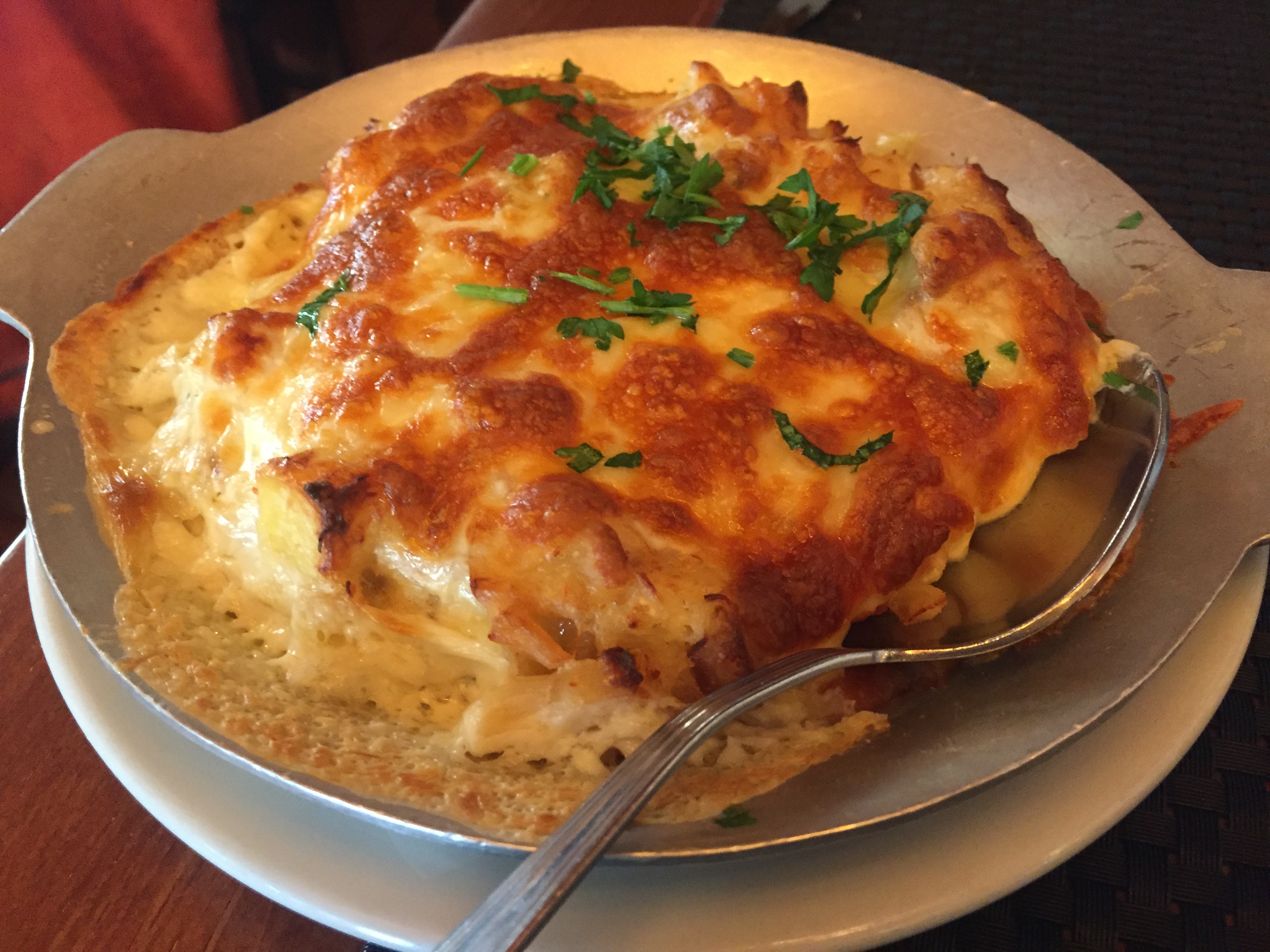 シントラで選んだレストラン:Romaria de Baco
The Royal Palace was once built by Muslims, but after the Reconquista, King João I of Portugal expanded and renovated it. The architecture is diverse, incorporating Mudejar, Gothic, Manueline and Renaissance styles according to each period.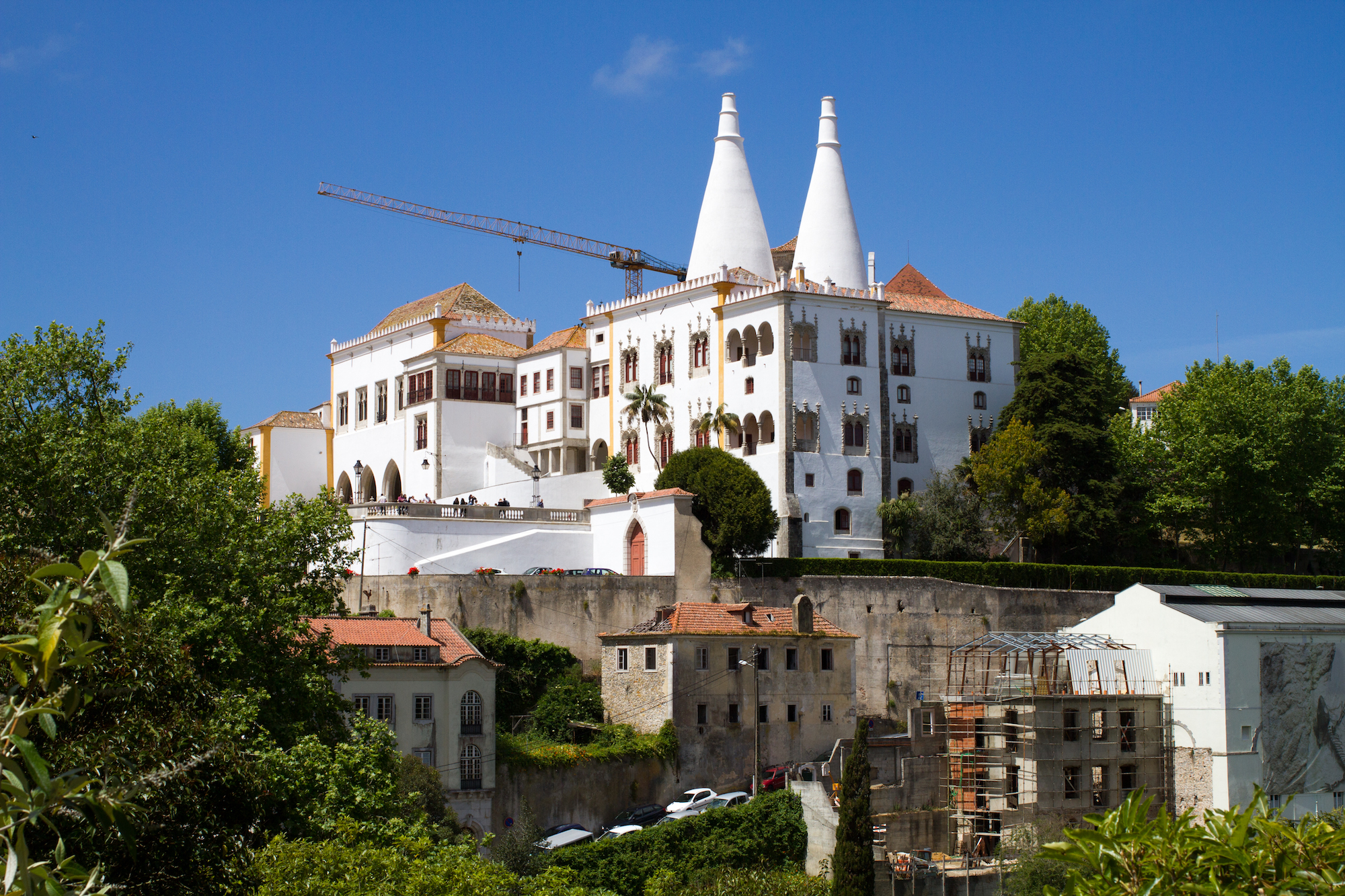 Still, I can't help but feel unmotivated looking at the pictures…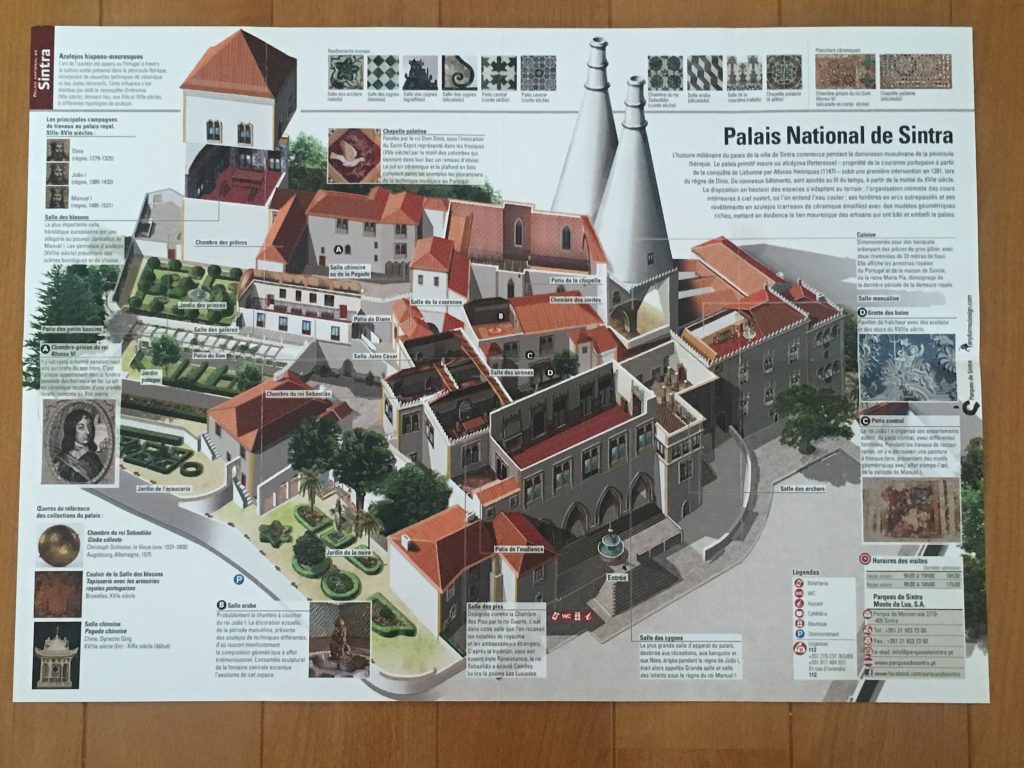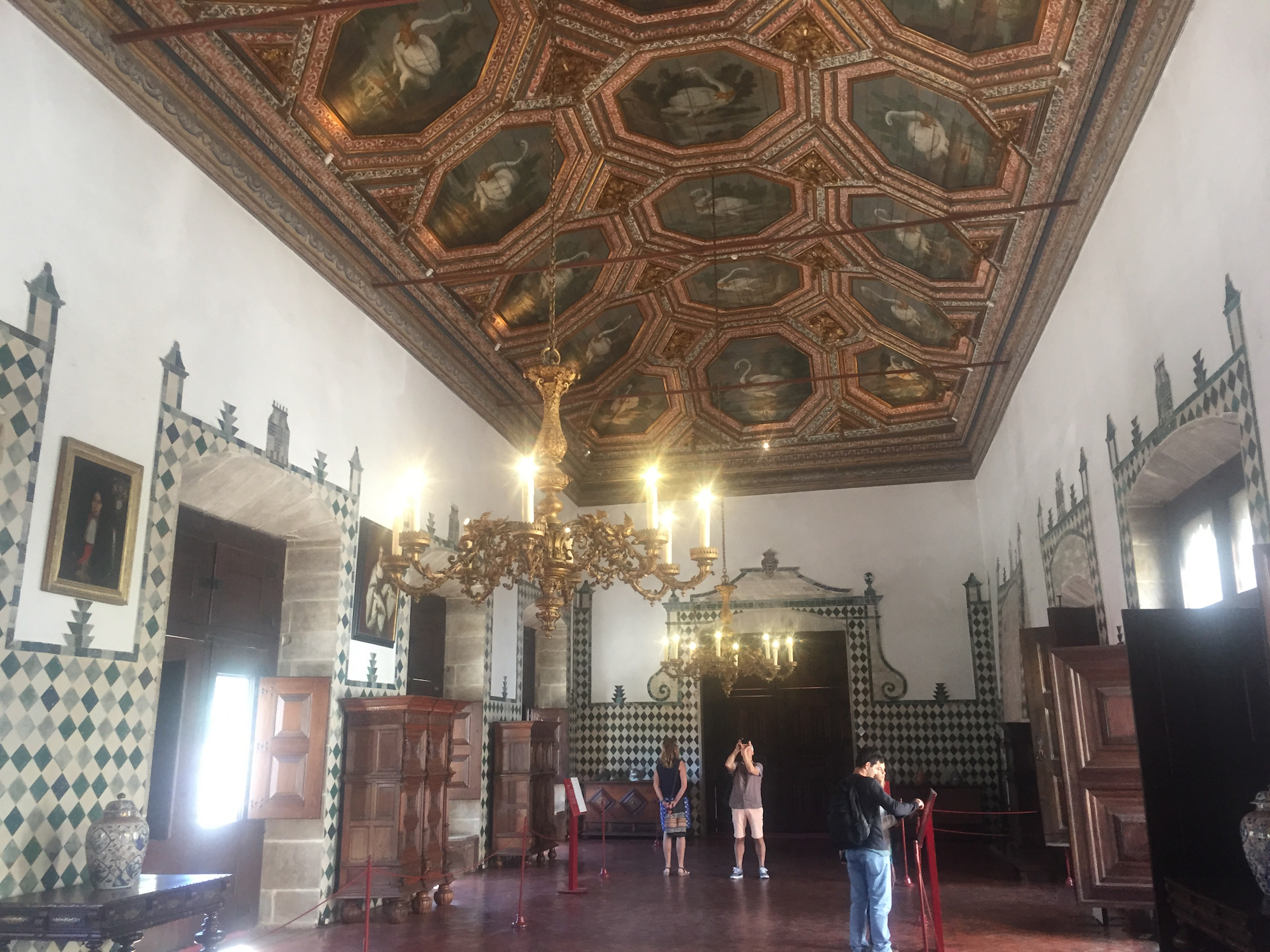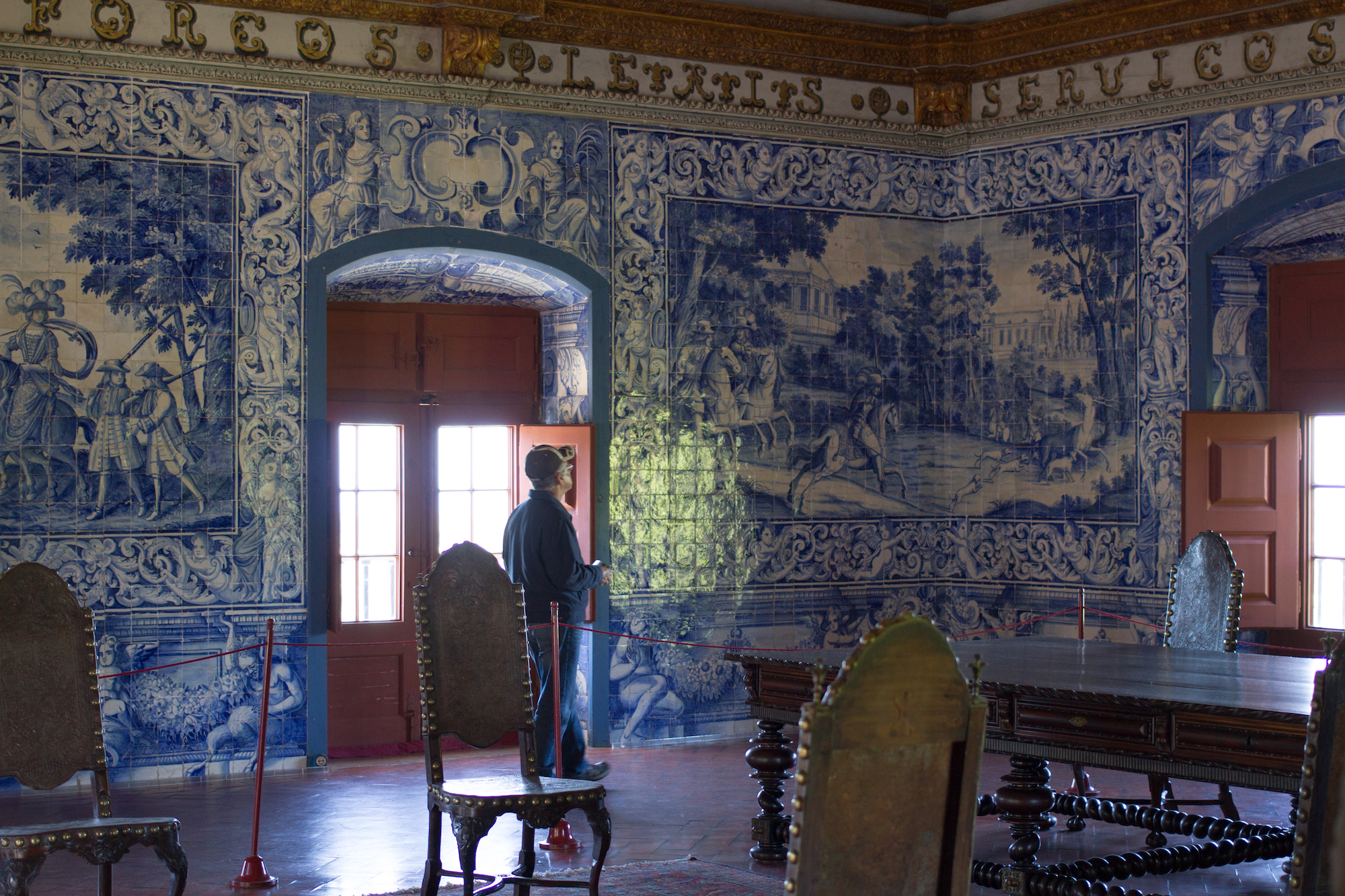 The bus to Vena Palace was so crowded that I gave up.
The most famous and most impressive building in Sintra is the Bena Palace. You've probably seen it in Portuguese guidebooks. In fact, the cover of the Lonely Planet book I bought there features Bena Palace.
To get here, you need to take a bus from Sintra Villa (the center of Sintra). It's very difficult to walk there. But there was a long line for this bus…. As I had a car, I felt it was ridiculous to stand in line, so I gave up to go to Bena Palace.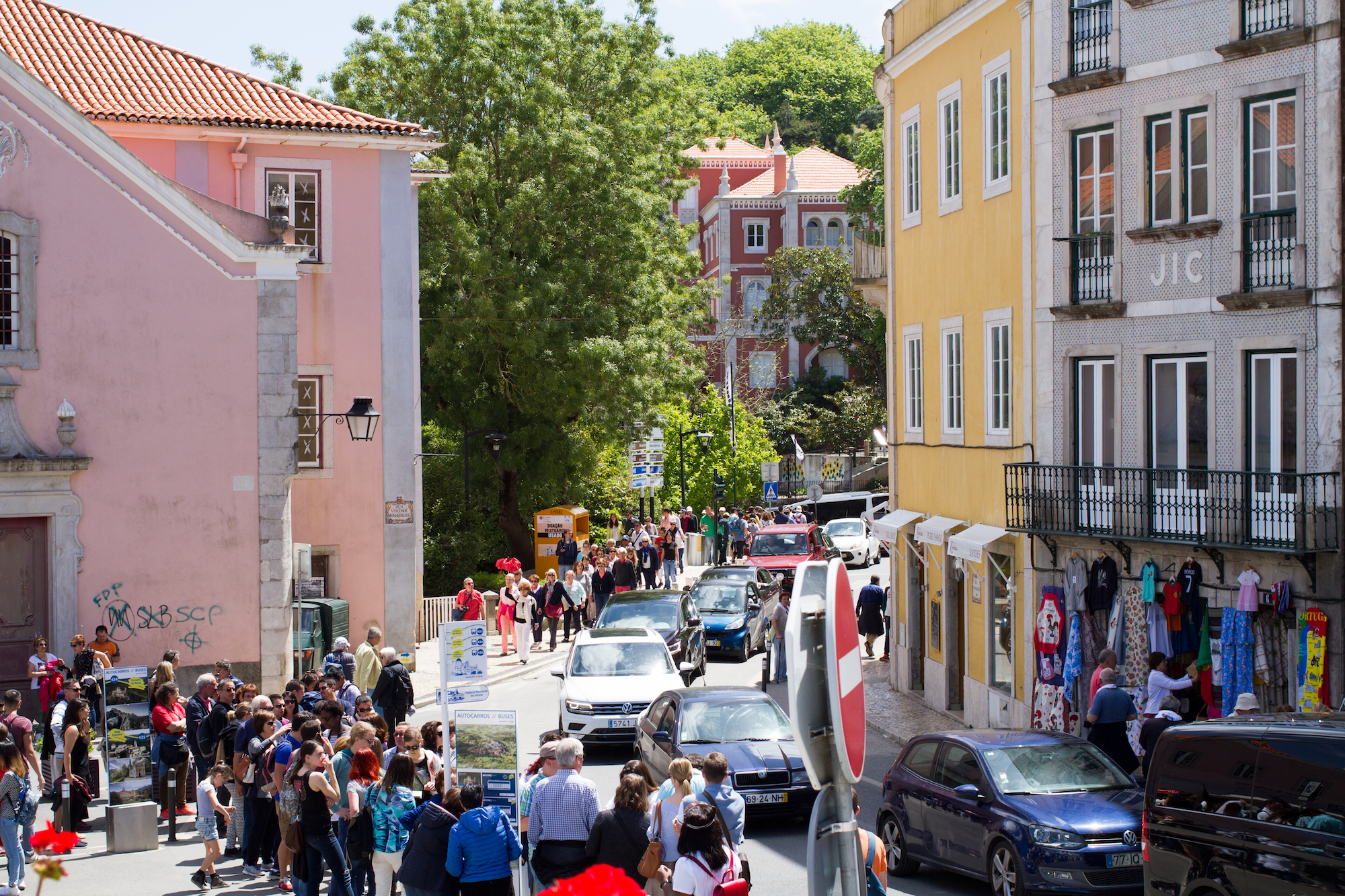 There are also other attractions such as the Moorish Fort and the Regaleira Palace. The Moorish Fort can be seen from Sintra Villa, so we were happy to view it from below, and the Regaleira Palace was closed on May Day, so we didn't visit either. In any case, you should plan to visit this city first thing in the morning and spend the whole day.
2回めにも関わらず相変わらずの駆け足訪問でした。観光客が多いのは苦手です。世界遺産編はまだまだ続きます。終わりがなかなか見えてきません。(続く)