Date and Time of Visit: September 27, 2017, approximately 2:00 p.m.
We visited this place just before returning our rental car in Paris Montparnasse.
The house where Jean Cocteau spent the last years of his life
I visited the Maison Jean Cocteau in the town of Milly-la-Forêt, which is about one hour south of Paris. This is the house where Jean Cocteau spent the last 17 years of his life. Jean Cocteau was born in 1889 in Maison-Lafite, western Paris. He was not only a famous poet, novelist, playwright and critic, but also a painter, film director and scriptwriter.
After Jean Cocteau died in 1963, a man named Edouard Dermit carefully preserved and maintained the house, and later renovated it and made it open to the public. Today, you can see about 500 exhibitions including Cocteau's works, and the study and bedroom that Cocteau actually used. You can also see the study and bedroom that Cocteau actually used.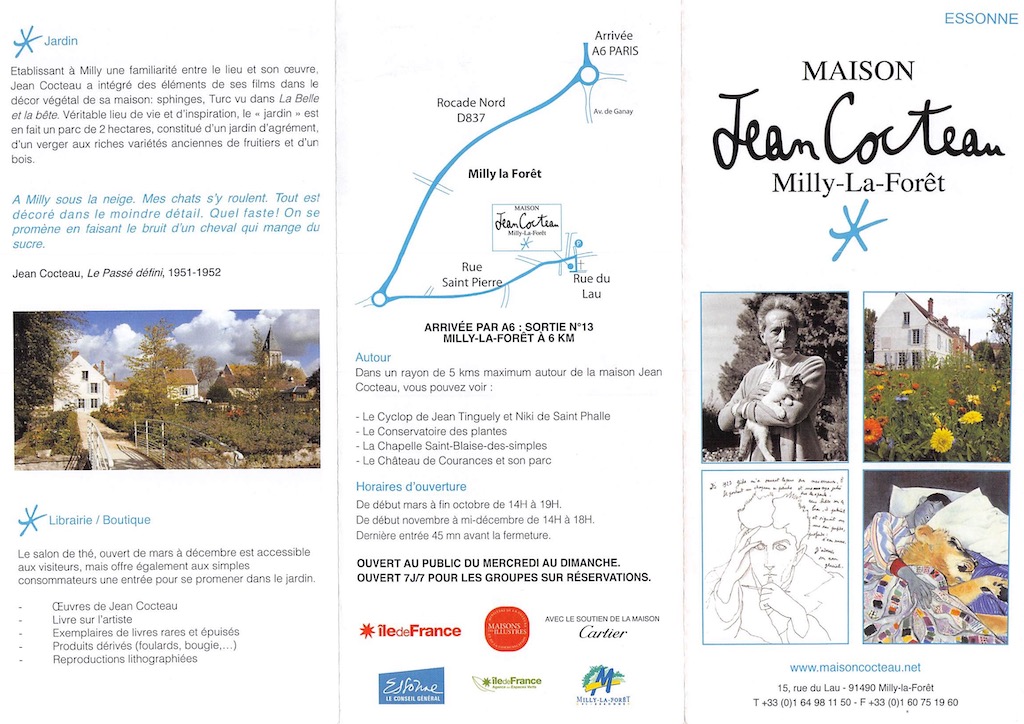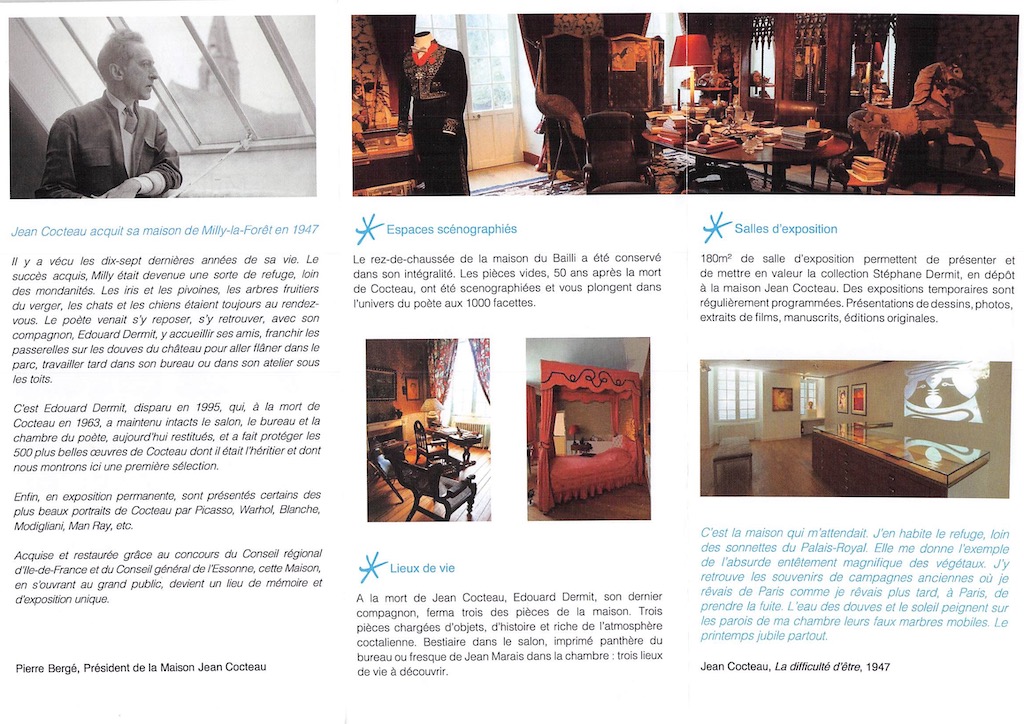 公式サイト:http://maisoncocteau.net
Milly La Foret, the town itself was very nice.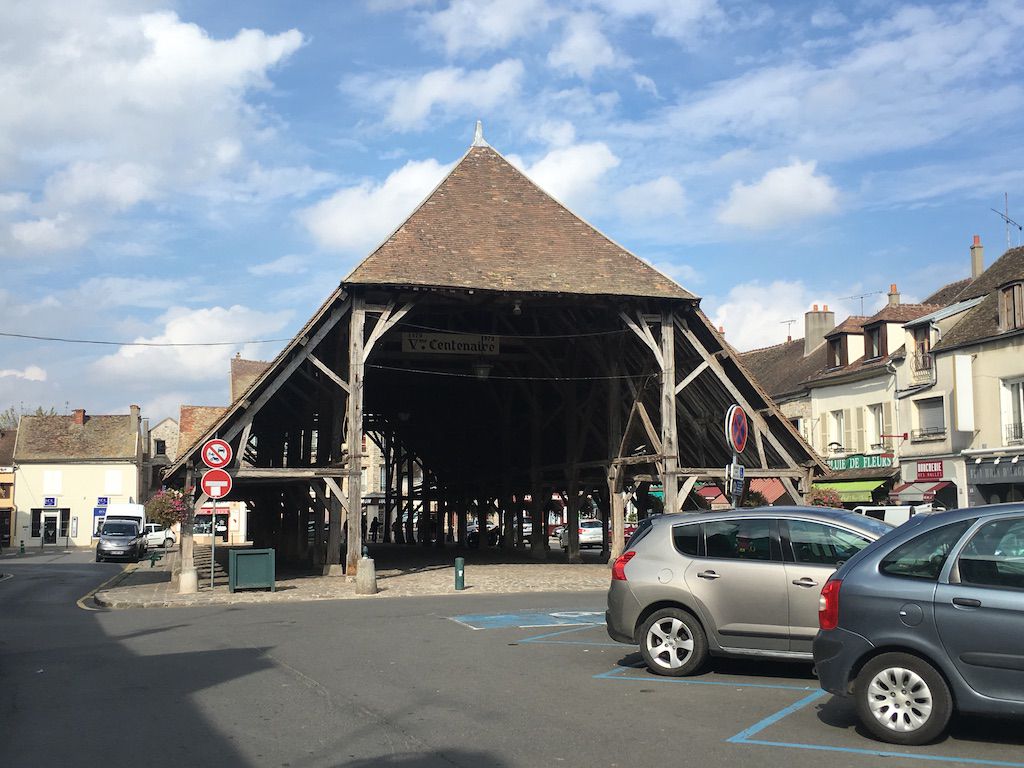 I had to return my car at Montmartre in Paris, so I couldn't take my time, but I wanted to explore again. Jean Cocteau's house was also wonderful, so I'm sure I'll revisit it.
Inside, an unexpected gatekeeper appears.
The museum is open from 2pm to 7pm from March to October, 2pm to 6pm in November and December, and closed in January and February. I arrived at around 2pm. The timing was just right.
ここで入場料を払って中へ入ります。入場料は当時の値段を忘れてしましたが、現在は7.5ユーロです。10人以上ならグループ予約もできるようですが、公式サイト(http://www.maisoncocteau.net/informations-pratiques)
It seems that you can't make a reservation by email from the website, so I think you have to call. You will probably only be able to communicate in French.
First, we move to the building where he actually spent time while looking at the garden.
But…as you can see, there was a big and very cute doggy blocking our way, so we couldn't go inside.
My tail hit the door and it wouldn't open properly! But I felt sorry for him if I woke him up, so I was able to get into the building through the gap in the entrance door that I managed to open.
As you enter, you will see the Espaces scénographies, the study and the bedroom. Each of them was used in the past. Jean Cocteau was also famous for his involvement in the performing arts.
In addition to that, there were many of his photographs, posters and illustrations on display.
上の階では、コクトーの絵画、スケッチ、携わった舞台の脚本やポスターなどが展示されていました。舞台の脚本にかかるイラストやポスターは見ごたえがありました。
The number of exhibits was limited, but it is a must-see for fans.
Was there an exhibition of non-Kokuto works?
Was this Blanche's painting?
This concludes the viewing inside the building. You go out again through the first door you came in through. He's still sleeping…. He moved out of the way a bit, though.
Finally, the visit ended with admiring the garden again. There were no other visitors besides me at this time, so I was able to spend my time very quietly and slowly.
I'm actually a big fan of Jean Cocteau.
By the way, I'm a big fan of Jean Cocteau. It's not that I know so much about Cocteau, but I even took the trouble to hold my wedding ceremony in the marriage hall of the city hall in Manton. It is free to see this wedding hall, but it is a place where photography is usually prohibited, but it was the privilege of the person who held the wedding ceremony to take photos here freely.
The Cocteau Museum, also in Menton, is not normally open to the public, but the wedding party and their guests are allowed to take photos.
At that time, we also traveled for about 10 days, but some of them are recorded in this blog, but it is not a complete series.
At that time, I visited many Cocteau-related facilities, but the best one was « Chapelle Cocteau ou Notre-Dame-de-Jérusalem » in the city of Fréjus.
In fact, I've adopted it for my MacBook Pro desktop image.
It's just on the outskirts of town so it was difficult to visit. There was no parking, and we parked on the street properly at the chapel entrance. And we had to walk about 5 minutes from there.
Cocteau's best.
We stayed for about 1 hour and 30 minutes including walking around the city. After that, I went back to Paris to return the car which I took care of for about 3 weeks. We stayed in Paris for 2 days. And then I'm going back home. I'll be back in Paris in a bit.