Visit Date: April 30, 2019, at approximately 2:00 p.m.
The next stop in Modena was Ferrara, which also developed under the Este family. It is a World Heritage Site. The Este family carved out the city, which during the Renaissance was known as Florence. During this period, the city attracted many artists from all over Italy.
Once back in Bologna, we headed north again.
Modena and Ferrara are not so far from each other, but as you can see in the map below, there is an inverted triangle of northwest Modena, northeast Ferrara and south Polonia, but there is no highway between Modena and Ferrara.
According to Google, it is faster to go back to Bologna by highway and then to Ferrara in the northeast than to go by ordinary road.
We had a lot of trouble finding parking. In contrast to Modena, there were no large public parking lots within walking distance of the old town. The parking lots near Cattedrale and Estense Castle are municipal ones, where you have to leave your key with the attendant and park.
It's not that you can't trust them, but you can't leave your passport and cash cards behind. I always take my passport with me when I walk around the city, because local cities are relatively safe unlike cities.
cathedral
Unfortunately, we could not see the Cathedral and the Cathedral Museum because it was under renovation. It was disappointing because it was the best place to see, but I can't help it.
Estense Castle
The most impressive and immediate sight in the old town of Ferrara is the Estense Castle. As the name suggests, it was the residence of the Estense family. When it was built in 1385, it was for defensive purposes, but in the 16th century, when it was completed, it was a luxurious residence with a beautiful courtyard and an interior decorated with elegant frescoes. We were able to enter here safely.
The frescoes were really beautiful.
As you can see, the frescoes on the ceiling were placed in the middle of the room with a mirror so that you could appreciate them without having to look up. However, I thought it would have been better to look up directly.
We were able to climb to the top of the tower of Estense Castle. The view of the city from here was fantastic.
However, overall, I honestly had a strong impression that the castle was lacking.
Diamanti Palace
When I was walking around Ferrara, I saw posters everywhere for a special exhibition of the painter Boldini at the Palazzo Diamanti in the north of the city. The style of his impressionistic portraits was very nice, so I decided to go and have a look.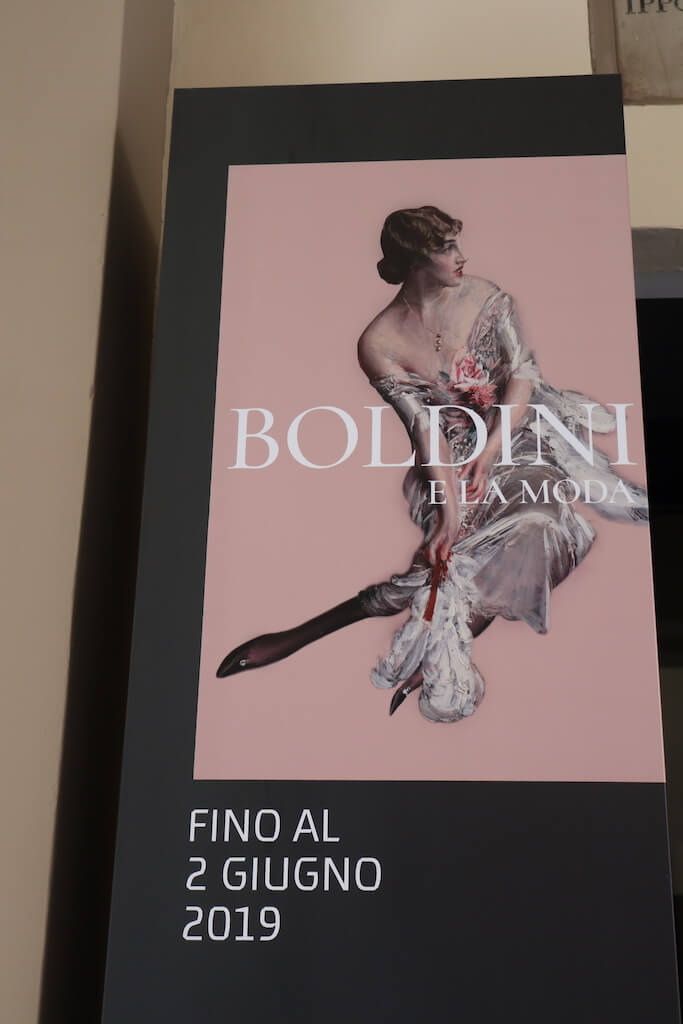 ご参考:特別展のサイト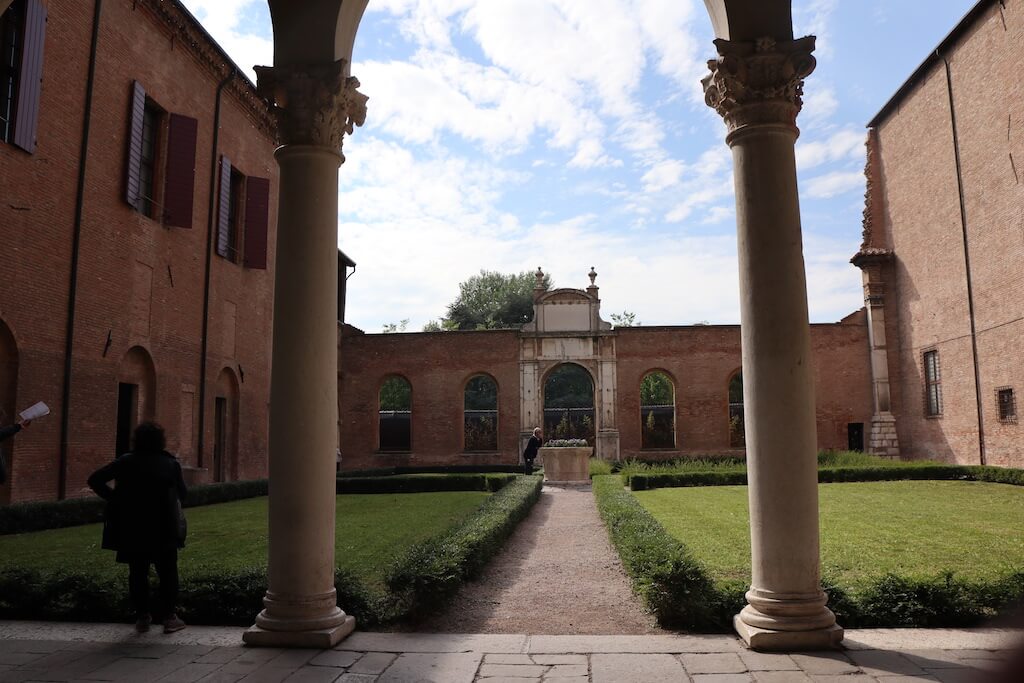 Boldini was an Impressionist painter from Ferrara who was active in the late 19th and early 20th centuries, and is very famous for his portraits of socialites, actresses, writers and composers, especially in Paris. Among the people he painted were the Italian opera composer Giuseppe Verdi.
His style of painting is characterized by beautiful models dressed in modern costumes like those worn at the opera, and he paints them as if they were photographs. When I say « photographic, » I actually mean that his work is said to have greatly influenced the 20th century concept of models posing in a variety of outfits.
Although some of his works were not allowed to be photographed, most of his paintings were allowed to be photographed. It seems that there were many of his masterpieces in the exhibition, because there were so many pictures that even Wikipedia in Japanese published them.
In addition to his works, there was an exhibition of costumes and accessories that were supposedly worn by actual models.
It was a very large amount and a wonderful special exhibition to see.
In Ferrara, I couldn't visit the Cathedral because it was under renovation, and the Estense Castle was not so impressive (although I bought the frescoes at the festival), so I had a strong impression of Boldini which I saw last. Anyway, I would like to have a chance to revisit Cattedrale and the museum next to Cattedrale.